Blackmagic 6K Pro Review: A Filmmaker's Go-To Gear
Rent camera gear from local creators.
Fantastic video quality, thought-out features, friendly interface, affordable price…

Yes, we are talking about Blackmagic Pocket Cinema Camera 6K Pro!
Ultimate Blackmagic Pocket Cinema Camera 6K Pro Review by Corry Raymond
Fantastic video quality, thought-out features, friendly interface, affordable price… Yes, we are talking about Blackmagic Pocket Cinema Camera 6K Pro! Watch Corry's ultimate review or read more below 🎓
What you'll learn
The biggest advantages are Built-in ND filters, Small body size & Tilt screen.
The biggest disadvantages are Base ISO, No IBIS & its Body shape.


What else does this upgraded camera have to offer? Read our review to learn all about the 6K Pro, the go-to for professional videographers and filmmakers.

Want to learn more about film gear? Take a look at our ultimate guide on camera equipment.
Blackmagic Pocket Cinema Camera 6K Pro: Key specs
Dynamic Range of 13 stops
Dual Native ISO of 400 and 3200
6K 12-bit raw recording internally at 6144 X 3456 up to 50 fps and up to 60 fps at 6144 X 2560 resolution in Blackmagic Raw
Canon EF Lens Mount
5 Inch adjustable LCD Touch screen
Built-in IR ND filters 2 stop, 4 stop, and 6 stop
4 built-in microphones with 2 mini xlr inputs and a 3.5 mm audio input
Built-in speaker for playback and a 3.5 mm headphone jack
Full HDMI port a USB-C port and 12V DC Power in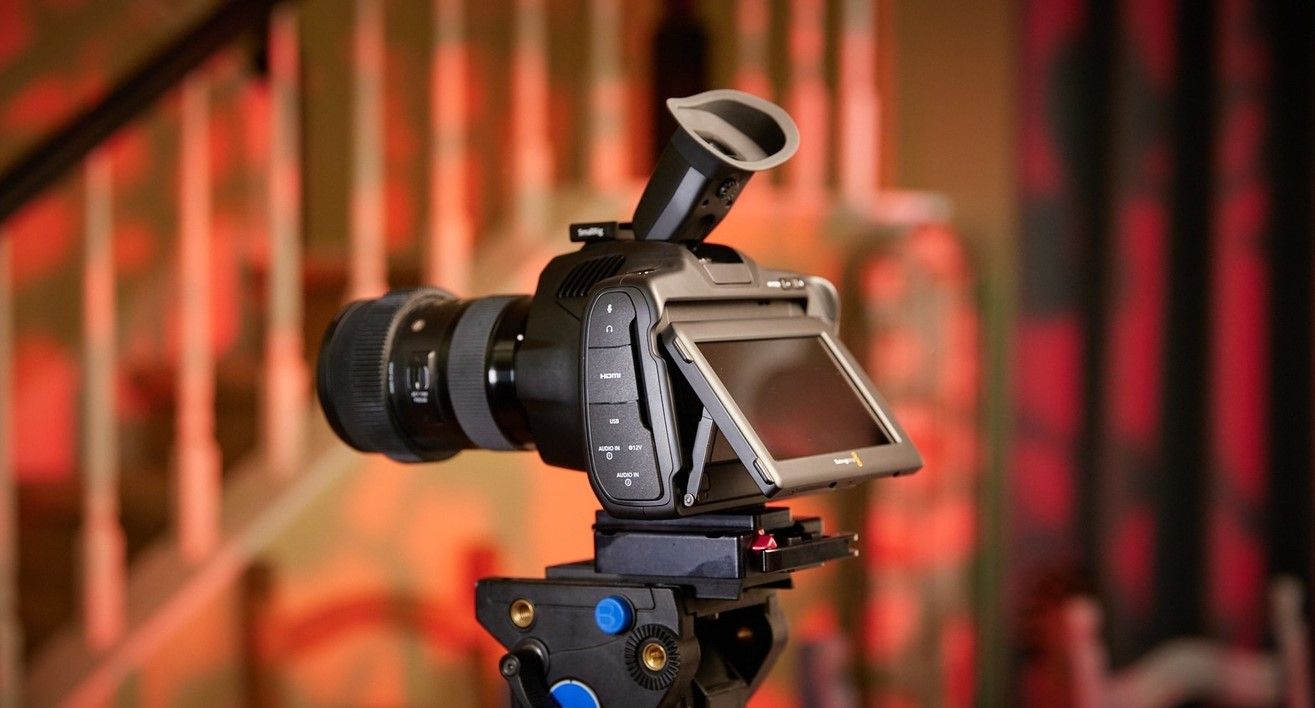 Mighty but weighty
Smooth but grippy, the 6K Pro has its body made from ultra-tough carbon fiber with a matt black surface finish.

6K Pro weighs around 2 kg, which is quite a weight for a camera if you're working with it single-handedly. The weight will increase if you plan on putting the camera in a cage or attaching a microphone.
The camera is dominated by the crisp LCD screen, with buttons made to adjust the aperture and focus automatically for certain types of lenses. It's a full-frame version of its predecessor, Pocket 6K, and has some excellent new features.
Extra-good audio quality
One side of the camera is equipped with two mini-XLR inputs, each worth 48 volts of phantom power, that let you get higher-quality audio than you would get from most photography cameras.

The 6K Pro also features CFast and SD UHS-II card slots, which are necessary for getting high recording speeds necessary to capture high-bitrate 6K footage.
Adaptable lens mount and 6K footage
The 6K Pro has a Super 35-mm sensor which has been one of the most popular sensor formats for filmmakers for decades. The camera also uses an EF lens mount, meaning it has access to a pretty wide range of popular lenses.

Notably, the 6K Pro can shoot up to 6K footage - as evident from its name - and this feature is a rare catch at this price point.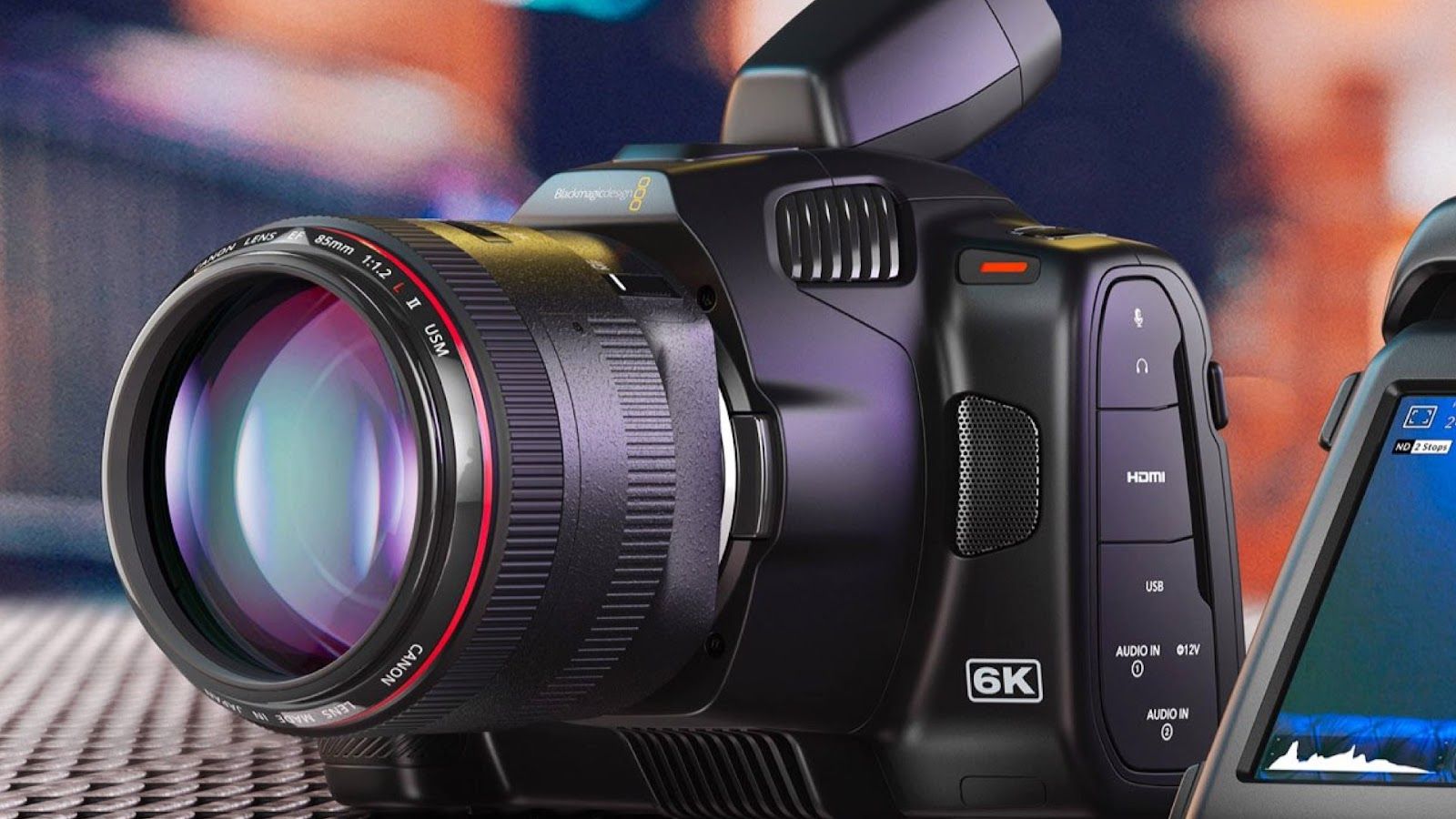 Adjusts to many light situations
The camera prides itself on an impressive 13 stops of dynamic range, with dual ISOs of 400 and 3200. The 6K Pro performs well across a wide range of lighting situations as well.

Talking memory cards, the Blackmagic 6K Pro can work with either an SD UHS-II or CFast card. The latter is required for higher resolution filming.
Intuitive interface and RGB histogram
The touchscreen interface of the 6K Pro is extremely convenient. Frame rate, f-stop, shutter speed, white balance, and ISO - are all visible on the top, showing current settings.
On the bottom of the screen, the Blackmagic camera lovers will be pleasantly surprised to see an RGB histogram. It shows the distribution of all RGB color values, allowing you to see when you're cutting short on blacks or whites, and on specific color channels.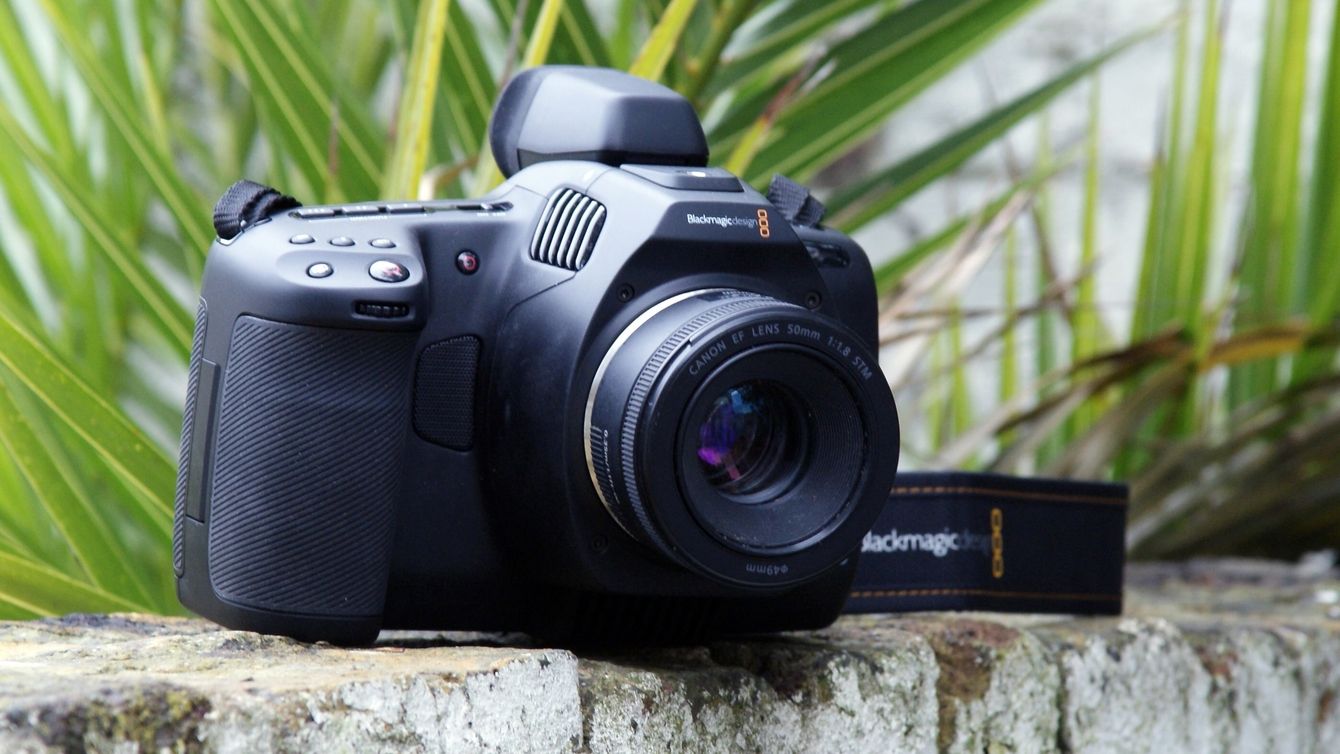 Excellent video capabilities
When it comes to video recording quality, Blackmagic 6K Pro delivers it on a high level. You can choose to shoot in Blackmagic Raw or ProRes, and you have the dynamic range options with Video, Extended Video, and Film.

The Super 35mm enables a greater depth of field than the smaller sensor used on the 4K Blackmagic predecessor.
The footage detail is first-rate, and the 13 stops of the dynamic range play as an added advantage during the post-production as you get an abundance of data to play with when you adjust the curves.

Those videomakers who edit and color grade their videos in DaVinci Resolve will find this feature especially delightful: the 6K Pro comes with a full version of DaVinci.
Questionable battery life
The only drawback of the 6K Pro is its battery life. The camera uses the common NP-F style batteries, and on a full charge, a single battery might last about an hour.
To help offset this, Blackmagic sells a battery grip that can contain two extra NP-F batteries for up to three hours of battery life.

Blackmagic Pocket Cinema Camera 6K Pro: Pros and cons

Pros

Tilt screen
Built-in ND filters
Blackmagic Raw and ProRes for filming
Good adaptability to different light situations
Excellent audio quality
Great video capabilities
Cons

No continuous AF, AE, or IBIS
Heavy when used single-handedly
Average battery life
Resolution and format limitations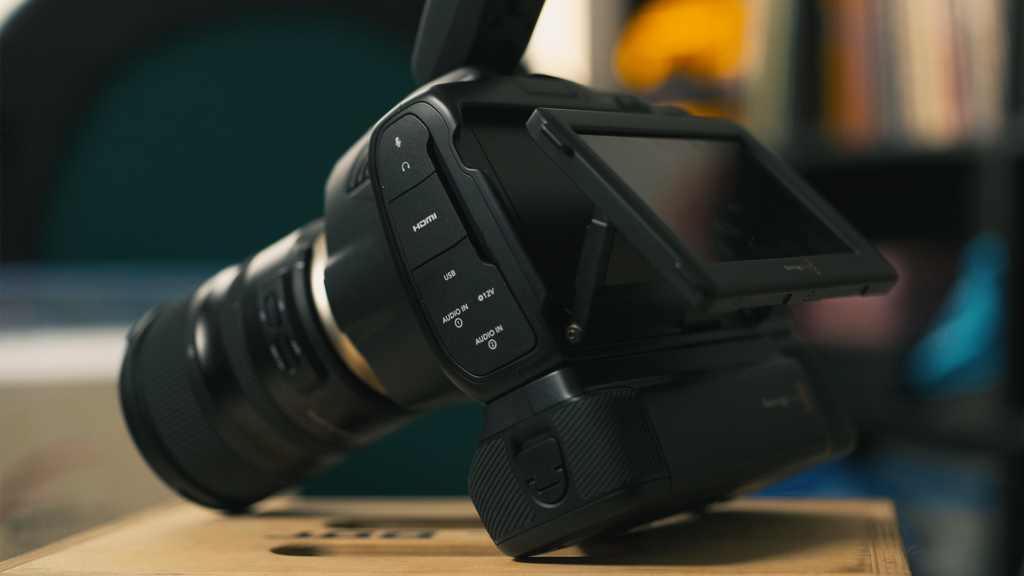 Price and availability
The Blackmagic 6K Pro is available at the price of $2,429 from resellers around the world and for rent for a daily fee.

Final verdict: Who should get Blackmagic Pocket Cinema Camera 6K Pro?
The Blackmagic Pocket Cinema Camera 6K Pro is a professional creative tool for filmmakers of all budgets, especially those who don't want to spend a fortune on production.

This portable camera delivers amazing footage and easily adapts to various shooting situations.

Blackmagic 6K Pro is also a great gear for those who want to upgrade to a professional cinema camera from a DSLR or a camcorder.

This model isn't exactly suitable for beginners due to the lack of automated features but will do a great job in the hands of experienced filmmakers.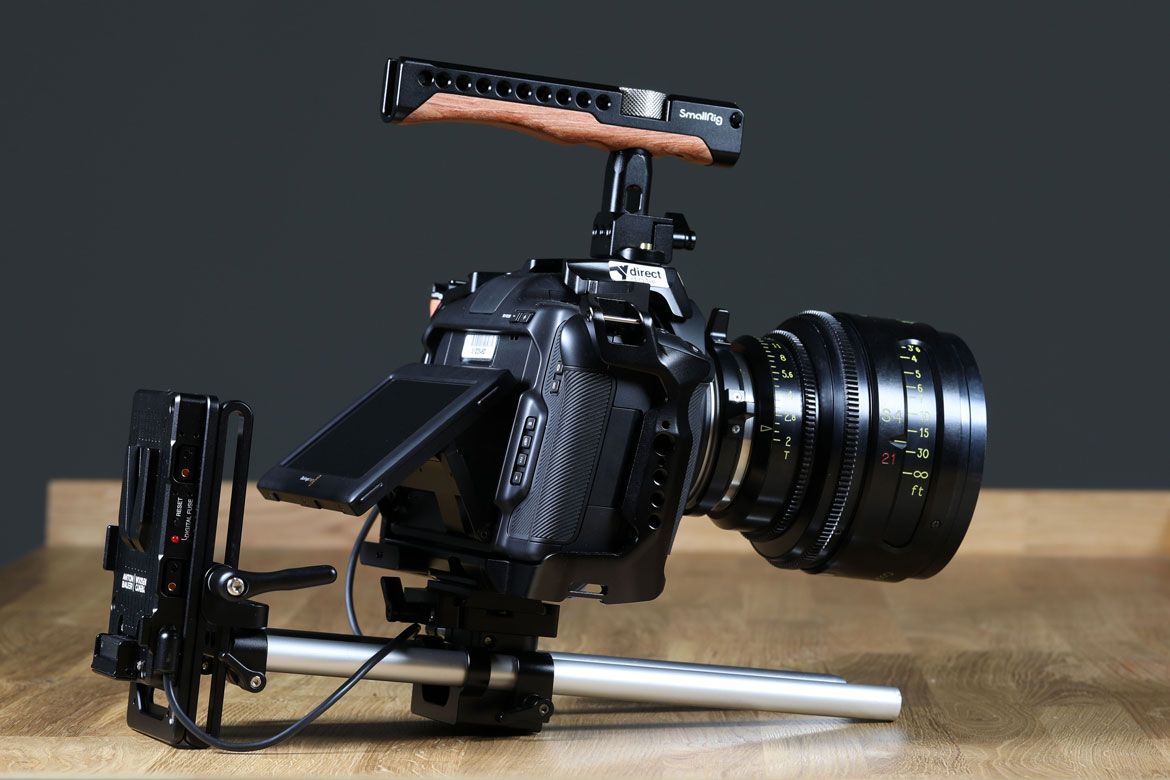 Rent or subscribe to a Blackmagic camera
Blackmagic 6K Pro is definitely any filmmaker's friend - how about you test it and get to know it better? Rent or subscribe to a Blackmagic camera through Wedio today!
Is Blackmagic 6K Pro a full-frame camera?
Blackmagic 6K Pro is a full-frame version of its predecessor, Pocket 6K, and has some excellent new features like built-in ND filters, crisp LCD screen, and amazing video quality.
Does Blackmagic 6K Pro come with DaVinci Resolve?
Yes, the 6K Pro camera includes the complete DaVinci Resolve package.
Does Blackmagic 6K Pro have image stabilization?
No, the 6K Pro isn't equipped with image stabilization or continuous autofocus.