Blackmagic 6K Pro Community Review: A Filmmaker's Go-To Gear
Product Review: Blackmagic 6K Pro
13 other
Overview
Specs
Reviews
FAQ
Alternatives
Research
Blackmagic pocket Cinema Camera 6K Pro
Blackmagic Design
Fantastic video quality, thought-out features, friendly interface, affordable price…
What else does this upgraded camera have to offer? Read our review to learn all about the 6K Pro, the go-to for professional videographers and filmmakers.
Want to learn more about film gear? Take a look at our ultimate guide on camera equipment.
4,9
Based upon15 reviews from Wedio members
Effectiveness
4,9
Usability
4,9
Value for money
4,8
Overall rating
4,9
Is it worth it?
Yes
Blackmagic 6K Pro is great gear for those who want to upgrade to a professional cinema camera from a DSLR or a camcorder, and for filmmakers of all budgets, especially those who don't want to spend a fortune on production. This portable camera delivers amazing footage and easily adapts to various shooting situations.
No
This model isn't exactly suitable for beginners due to the lack of automated features but will do a great job in the hands of experienced filmmakers. It could be heavy when used single-handedly and includes an average battery life.
Ultimate Blackmagic Pocket Cinema Camera 6K Pro Review by Corry Raymond
Fantastic video quality, thought-out features, friendly interface, affordable price… Yes, we are talking about Blackmagic Pocket Cinema Camera 6K Pro! Watch Corry's ultimate review or read more below 🎓
Community reviews
Sony A7S III vs. BMPCC 6K Pro - Breaking Down Each Camera By Kristian Kettner
In his ultimate review discover the key specs, pros and cons, and where the Sony A7S III and Blackmagic 6K Pro shine. You can decide without taking the time to analyze what's inside and how these two compare!
Sony A7S III Overview
114
Why rent out your gear?
hPu9DIXtzEM
Pros
Blackmagic Raw and ProRes for filming
Good adaptability to different light situations
Cons
No continuous AF, AE, or IBIS
Heavy when used single-handedly
Resolution and format limitations
Blackmagic 6K Pro vs. Sony FX6
Blackmagic 6K Pro
Sony FX6
Sensor
Super 35-mm sensor
10.2MP Full-Frame CMOS sensor
Dynamic Range
13 stops
15 stops
ISO
Dual Native ISO of 400 and 3200
800 - 12,800 (extended 160-409,600)
Mount
Canon EF Lens Mount
Sony E-mount
LCD touchscreen
YES. 5″ adjustable
YES. 3.5″
Video resolution
6K 12-bit raw recording/60 fps
DCI 4K/60p
Show more
Complete Blackmagic 6k Pro review
Mighty but weighty
Smooth but grippy, the 6K Pro has its body made from ultra-tough carbon fiber with a matt black surface finish.

6K Pro weighs around 2 kg, which is quite a weight for a camera if you're working with it single-handedly. The weight will increase if you plan on putting the camera in a cage or attaching a microphone.
The camera is dominated by the crisp LCD screen, with buttons made to adjust the aperture and focus automatically for certain types of lenses. It's a full-frame version of its predecessor, Pocket 6K, and has some excellent new features.
Extra-good audio quality
One side of the camera is equipped with two mini-XLR inputs, each worth 48 volts of phantom power, that let you get higher-quality audio than you would get from most photography cameras.
The 6K Pro also features CFast and SD UHS-II card slots, which are necessary to get the high recording speeds needed to capture high-bitrate 6K footage.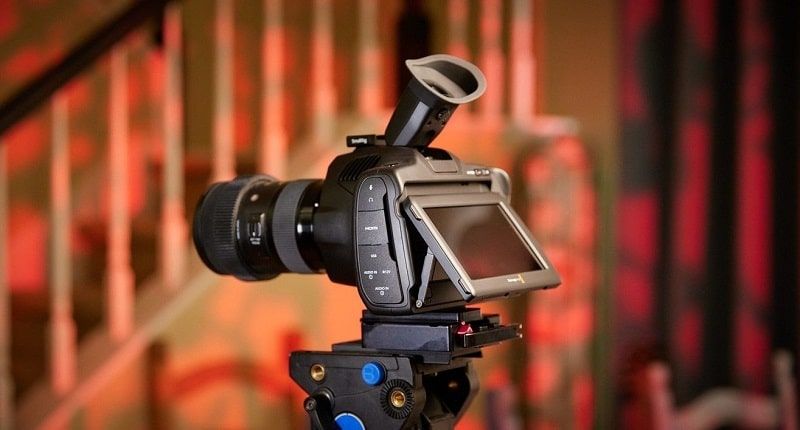 Adaptable lens mount and 6K footage
The 6K Pro has a Super 35-mm sensor which has been one of the most popular sensor formats for filmmakers for decades. The camera also uses an EF lens mount, meaning it has access to a pretty wide range of popular lenses.

Notably, the 6K Pro can shoot up to 6K footage - as evident from its name - and this feature is a rare catch at this price point.
Adjusts to many light situations
The camera prides itself on an impressive 13 stops of dynamic range, with dual ISOs of 400 and 3200. The 6K Pro performs well across a wide range of lighting situations as well.

Talking memory cards, the Blackmagic 6K Pro can work with either an SD UHS-II or CFast card. The latter is required for higher-resolution filming.
Intuitive interface and RGB histogram
The touchscreen interface of the 6K Pro is much more convenient. Frame rate, f-stop, shutter speed, white balance, and ISO - are all visible on the top, showing current settings.
On the bottom of the screen, Blackmagic camera lovers will be pleasantly surprised to see an RGB histogram. It shows the distribution of all RGB color values, allowing you to know when you're cutting short on blacks or whites and on specific color channels.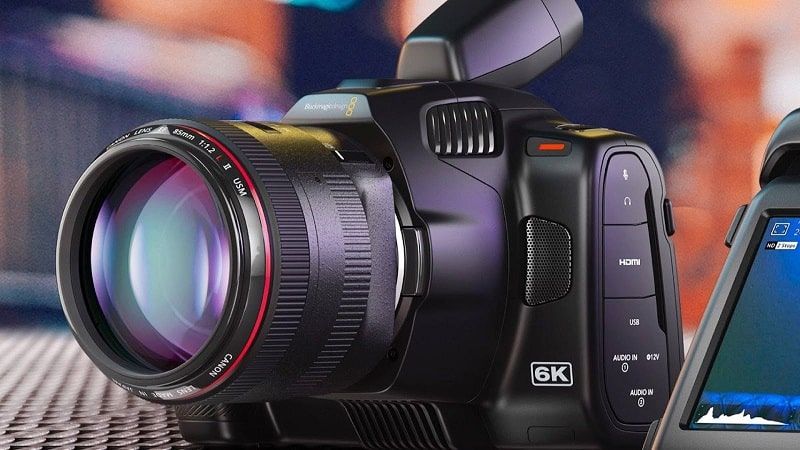 Excellent video capabilities
When it comes to video recording quality, Blackmagic 6K Pro delivers it on a high level. You can choose to shoot in Blackmagic Raw or ProRes, and you have dynamic range options with Video, Extended Video, and Film.

The Super 35mm enables a greater depth of field than the smaller sensor used on the 4K Blackmagic predecessor.
The footage detail is first-rate, and the 13 stops of the dynamic range play as an added advantage during the post-production as you get an abundance of data to play with when you adjust the curves.
Those videomakers who edit and color grade their videos in DaVinci Resolve will find this feature especially delightful: the 6K Pro comes with a full version of DaVinci.
Questionable battery life
The only drawback of the 6K Pro is its battery life. The camera uses the common NP-F style batteries, and on a full charge, a single battery might last about an hour.
To help offset this, Blackmagic sells a battery grip that can contain two extra NP-F batteries for up to three hours of battery life.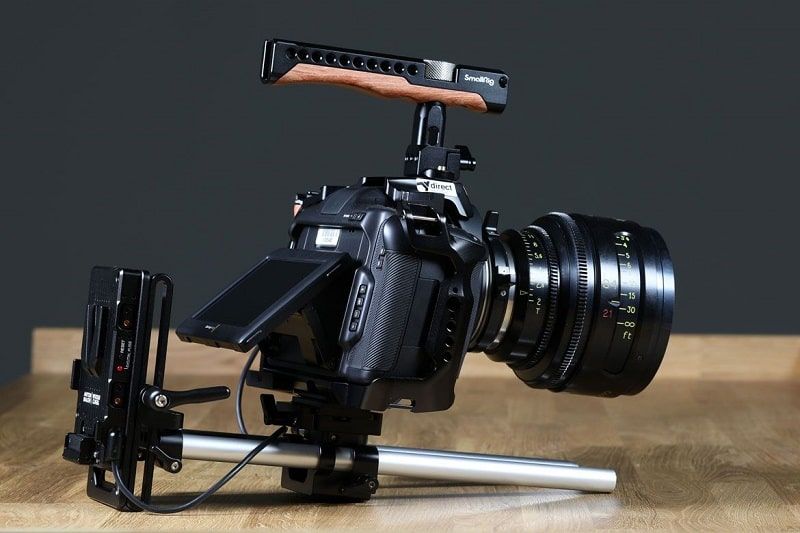 Final verdict: Who should get the Blackmagic Pocket Cinema Camera 6K?
The BMPCC 6K Pro is a professional creative tool for filmmakers of all budgets, especially those who don't want to spend a fortune on production.
It has amazing footage for a portable camera and adapts to different shooting scenarios. For those who want to upgrade to a professional cinema camera, the Blackmagic 6k Pro is a good choice.
This model isn't exactly suitable for beginners due to the lack of automated features but will do a great job in the hands of experienced filmmakers.
What creators like
PL mount, det skaber nemlig nogle andre muligheder en det originale kamera kan
Fantastic video quality, thought-out features, friendly interface, affordable price.
High quality codecs - Prores and Blackmagic RAW. Built in ND-filter, dual ISO and intuitive interface. Lots of inputs for a small package.
Show more
What creators don't like
The biggest disadvantages are Base ISO, No IBIS & its Body shape.
Battery life without external power. Odd form factor for smaller gimbals.
Show more
Frequently Asked Questions
Is Blackmagic 6K Pro a full-frame camera?
Blackmagic 6K Pro is a full-frame version of its predecessor, Pocket 6K, and has some excellent new features like built-in ND filters, a crisp LCD screen, and amazing video quality.
Does Blackmagic 6K Pro come with DaVinci Resolve?
Yes, the 6K Pro camera includes the complete DaVinci Resolve package.
How long does a Blackmagic 6K Pro battery last?
Thankfully, BMPCC 6K Pro goes a different route with a battery than the Pocket 6K or 4K, with a larger NP-F570 battery. If you're shooting 6K RAW at 24FPS, it will last about 60 minutes.
Is the Blackmagic 6K weather sealed?
The device is protected with extra seals to prevent failures caused by dust, raindrops, and water splashes.
Show more
Review by 14 other community members
and
Blackmagic 6k Pro Alternatives
Sony FX6
Sony FX6 is the cinema camera born as a hybrid between the FX9 and the A7S III. The Sony FX6 is the most affordable cinema camera on the market, however, that does not mean a lack of features. Read more
$7,234 at Amazon
Rent from $95/day
Panasonic GH6
GH6 is a desirable camera for demanding videographers that confidently takes on much more expensive rivals with an overall feature set that's unparalleled for the asking price. Read more
$2,197 at Amazon
Rent from $35/day
Sony FX3
The Sony FX3 has marvelous things in store, for any cinematographer who is willing to give it a shot. Expect nothing short of outstanding video quality and great comfort with the Sony FX3. Read more
$3,898 at Amazon
Rent from $40/day
Show more
The research
Why you should trust us
At Wedio, we are on a mission to keep great stories alive. We achieve this by facilitating the sharing of knowledge, tools, and services that help you as a creator craft better stories. Today we help 100,000+ monthly creators become better — together. We believe in the power of the community. Instead of gathering product reviews from one creator, we involve hundreds of creators, and create both video- and written reviews. In that way, we present the essence of the collective rather than one opinion.
How we tested this product
We used a mixed-method design. Our qualitative video reviews, were created by hand-picked Wedio members. We shipped the product to them, they tried it for at least 30 days in real-life projects, and then they did an honest video review. Our quantitative written reviews, were collected from Wedio Renters and Lenders. When renters have rented the product, they have the option to leave a product review. When lenders create a product listing, they have the option to share their thoughts on the product itself.
How we fund this review
In order to keep delivering the best possible reviews for creatives, we have four different revenue streams. This includes (1) commissions from our short-term rentals (10 % from renters 20% from lenders whenever a rental is happening through Wedio), (2) commissions from our subscriptions (we get paid by our retail partners to deliver an order), (3) commissions from brands delivering products, and (4) commissions from affiliate links to other partners (such as retail partners, software, and other creative tools).
Limitations
Even though we try to be as unbiased as possible, we still want to address two limitations of this review. First, our lenders can be affected by the "Endowment effect" when reviewing their gear. They would potentially rate their product higher than they would have done if they rented the product — just because they own the product themself. Second, there is the potential of instructors experiencing "Confirmation bias" when reviewing a product. If they received the product from us, they might have a tendency to look for all the advantages and good things about the product because they want to please Wedio and the product brand. To overcome this limitation, we strictly guide our instructors to be as objective as possible — a low rating is as valuable to us as a high rating. The review aims to guide other creators in the choice of gear.
Get a Blackmagic 6K Pro
https://academy-cdn.wedio.com/2022/06/blackmagic-6k-pro-camera-review.jpg
USD
Buy new
https://amzn.to/3NpM2VB
2535
Rent from
https://www.wedio.com/en/blackmagic-pocket-cinema-camera-6k-pro
50
Popular listings for rentals