Sony FX3 Cinema Line | A Hands-On Community Review
Rent film gear from local filmmakers.
Rent film gear from local filmmakers.
Product Review: Sony FX3 Cinema Line
20 other
Overview
Specs
Reviews
FAQ
Alternatives
Research
Sony FX3 Cinema Line
Sony
Despite its seemingly small stature, the Sony FX3 has marvelous things in store for any cinematographer who is willing to give it a shot.
Expect nothing short of outstanding video quality and great comfort with the Sony FX3. You can also check out other Sony cameras.
Learn more about what kind of camera equipment you need for beautiful shots.
5,0
Based upon22 reviews from Wedio members
Effectiveness
5,0
Usability
5,0
Value for money
4,9
Overall rating
5,0
Is it worth it?
Yes
As for professional creators, the Sony FX3 would be a fantastic investment. The quality far outweighs the cost, and it offers excellent cinematic features that highly improve the content.
No
If you have a very low budget for the camera then the Sony FX30's price might pose a problem.
Pros
Compact cage-free design and XLR top handle
Built-in fan to prevent overheating
Cons
External recorders can't capture 16-bit RAW through HDMI
Specs
Sensor Resolution
12.1 MP
Display Type
Tilting Touchscreen LCD 3″
File format(photo)
JPEG & RAW
File format(video)
MPEG-4 AVC / H
Maximum video resolution
4K
Dimensions
129.7 x 84.5 x 77.8 mm/5.1 x 3.3 x 3.1"
Show more
Sony FX3 Cinema key features:
smooth shots due to built-in image stabilization
variety of angles due to the flexibility of the screen
a pristine design that allows for customization
dual card slots, SD or CF express Type-A
a built-in fan that prevents overheating
incredible autofocus
is suited for photography as well
no EVF
Outstanding performance
Sony FX3's performance can easily be described as spectacular. Although autofocus is generally not condoned for cinematography, the camera quickly proves the contrary.
Its 627 autofocus points (which cover up to 95% of the sensor) allow for excellent framing, movement, and tracking. Face and eye tracking have never been more accessible, as autofocus does all the work for you.
4K in 24fps, 30fps, 60fps, and 120fps
Its video quality is yet another outstanding feature that simply cannot go overlooked. 4k has been the standard in professional shooting for a while now.
Yet, the Sony FX3 has managed to keep that same 4k quality in 24fps, 30fps, 60fps, or even 120fps.
The image will turn out just as crisp and precise, even in low light.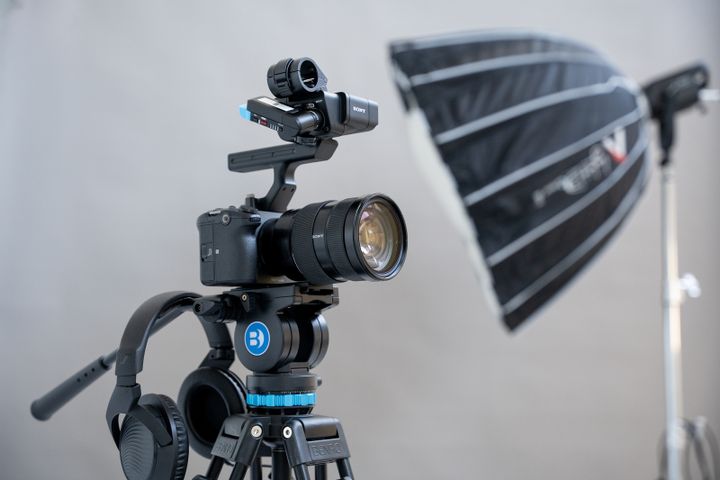 Overpassing overheating issues
Because overheating should always be taken into account, Sony has taken a step forward by implementing a built-in fan that prevents that from happening.
When it was put to the test in a climate-controlled room, the camera lasted 120 full minutes with its heat safety set on high.
Ergonomic design and functional handling
Professional shooting cameras are getting smaller and lighter, despite their technological advancements. The Sony FX3 is a mere 640 grams and 3.06 inches x 5.11 inches x 3.33 inches without the handle, battery or media.
The design of the Sony FX3 is ergonomic, to say the least. It comes with many different amenities that are meant to bring you as much comfort as possible.
6 custom function buttons for improved handling
Its handle is functional and accessible, thus making shooting from a low-angle handheld a breeze. The many tally lights complement the handle as they let you know whether you are recording or not - there's a large one on the back and a red one on the screen.
The camera has 6 custom function buttons and is labeled to their defaults.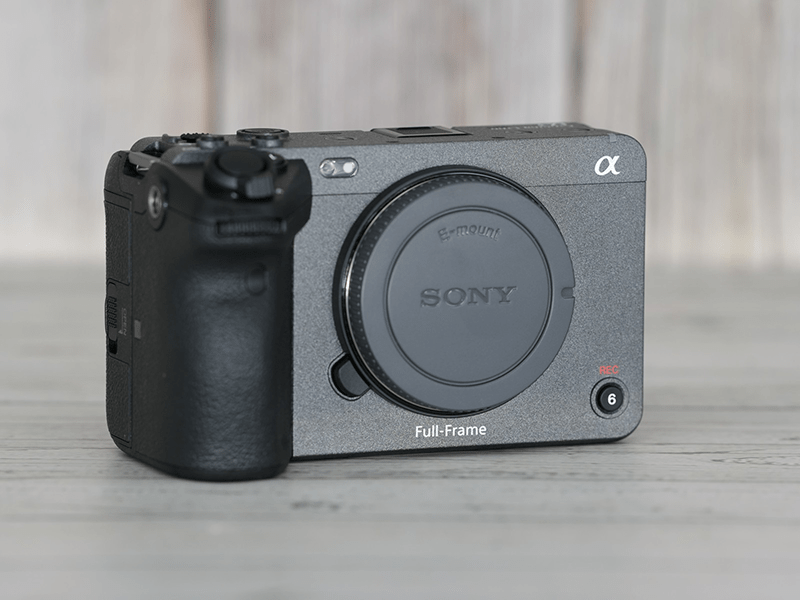 Includes fully articulating screen
Speaking of shooting from many different angles, the camera has a fully articulating screen. It is touch-sensitive, offering menu control and touch auto-focus (AF).
The screen is bright enough to help when brightness is needed but not bright enough for proper HDR monitoring. However, it adjusts to a more viewable angle because it is fully flexible.
Multiple mounting points for a range of setups
The Sony FX3 adapts easily to different setups due to the mounting points found all over the camera.
It has ¼ 20 mounts on all sides except the port side: Three on top, one if you are using the handle, one on the grip side, and the one on the bottom, naturally.
Should you attach the handle, three additional mounts will come into existence — two on top and one on the rear of the handle.
Image and video quality
The Sony FX3's image and video quality are just what you would expect: 4K all around.
While some other cameras have progressed past 4K with higher and higher resolutions, Sony continued with a top resolution of just UHD 4K in the FX3.
Most content creators don't need more than 4K, but it is something to consider. However, the high bit rates in all frame rates at all resolutions should also be noted.
5-axis IBIS
What often contributes to the quality of the content is the stability and clarity of the shots. The camera has a 5-axis in-body image stabilization sensor.
Moreover, if you have a lens with optical image stabilization or OIS, the two result in a more stable shot. Digital image stabilization is internal when the camera is set to active stabilization.
As such, Sony Catalyst can be of great use because it works with metadata to stabilize even more in post-production.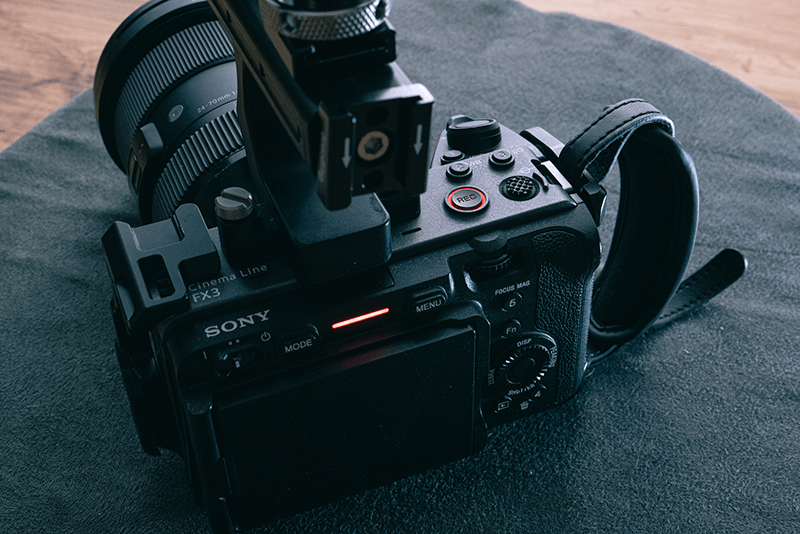 Recording codecs
The Sony FX3 camera allows different recording options. First and foremost, you must know the camera shoots in XAVC. HS 4K, 4K, S HD, S-I 4K and S-I HD.
When shooting in 10-bit, the camera captures H.265 and H.264 8-bit. XAVC HS 4K and XAVC S 4K capture up to 280 Mb/s in 4:2:2 10-bit at 120fps.
Although, the heaviest data rate is in XAVC S-I 4K in 60p, which gets you a 600 Mb/s 4:2:2 10-bit capture. Because cameras are advancing a lot these days, our computers sometimes have a hard time keeping up.
Opt for a compressed or larger file
As such, the camera offers two codec options, depending on what fits your project best.
You can opt for the compressed file (XAVC HS 4K), which is more complicated for your computer to process, or you can go for the larger file (XAVC S- 4K), which your computer finds easier to edit.
Final verdict: Who should get the Sony FX3 Cinema?
The Sony FX3 is the perfect camera for a one-man-band creator, as it's compact, easy to use, and reliable.
It is suited for beginners due to its ergonomics, but the price (approximately 3,000 GBP) might pose a problem.
As for professional creators, the Sony FX3 would be a fantastic investment. The quality far outweighs the cost, and it offers excellent cinematic features that highly improve the content.
Hire film gear from local creators and save up to 40% by checking out our renting feature.
What creators like
Show more
What creators don't like
Battery life can be better.
The lack of custom white balance was my biggest problem with the camera. And not have the best dynamic range.
Show more
Frequently Asked Questions
Is the Sony FX3 a professional camera?
Yes, Sony FX3 is indeed a professional camera due to its outstanding performance.
Is the Sony FX3 worth it in 2023?
Yes, although 4k is currently the norm in 2023, not many other cameras manage to keep that same quality in 24fps, 30fps, 60fps, or even 120fps and be as accessibly designed as the Sony FX3.
Is the Sony FX3 a cinema camera?
Yes, Sony FX3 is a cinema camera as it has the S-Cinetone feature which provides an expressive cinematic look inspired by VENICE colorimetry.
Can the Sony FX3 shoot in RAW?
Yes, it can. Internally you can record up to a 10bit 4:2:2. If that's not enough, you can record 16bit RAW, but only with the help of HDMI.
Review by 21 other community members
and
Sony FX3 Cinema Line Alternatives
Sony A7S III
The Sony Alpha A7S III is the third iteration of the A7 series. It is the most impressive video-centric consumer camera to date. It offers a series of new features such as 10-bit internal video, raw video output, and much more. Read more
Buy at Wedio
Rent from $40/day
Canon EOS R5
The Canon EOS R5 shoots 8K videos at 30 FPS without cropping. It has a 45 MP imaging sensor and features intelligent animal tracking. These are the eye-catching highlights from the beast of a camera presented by Canon. Read more
Buy at Wedio
Rent from $40/day
Sony Alpha A7 IV
The A7 IV boasts essentially the same impressive autofocusing system as the flagship A1 camera, putting a major focus on speed and subject-tracking capabilities. The camera offers crisp and sharp images with fine detail. Read more
Buy at Wedio
Rent from $45/day
Show more
The research
Why you should trust us
At Wedio, we are on a mission to keep great stories alive. We achieve this by facilitating the sharing of knowledge, tools, and services that help you as a creator craft better stories. Today we help 100,000+ monthly creators become better — together. We believe in the power of the community. Instead of gathering product reviews from one creator, we involve hundreds of creators, and create both video- and written reviews. In that way, we present the essence of the collective rather than one opinion.
How we tested this product
We used a mixed-method design. Our qualitative video reviews, were created by hand-picked Wedio members. We shipped the product to them, they tried it for at least 30 days in real-life projects, and then they did an honest video review. Our quantitative written reviews, were collected from Wedio Renters and Lenders. When renters have rented the product, they have the option to leave a product review. When lenders create a product listing, they have the option to share their thoughts on the product itself.
How we fund this review
In order to keep delivering the best possible reviews for creatives, we have four different revenue streams. This includes (1) commissions from our short-term rentals (10 % from renters 20% from lenders whenever a rental is happening through Wedio), (2) commissions from our subscriptions (we get paid by our retail partners to deliver an order), (3) commissions from brands delivering products, and (4) commissions from affiliate links to other partners (such as retail partners, software, and other creative tools).
Limitations
Even though we try to be as unbiased as possible, we still want to address two limitations of this review. First, our lenders can be affected by the "Endowment effect" when reviewing their gear. They would potentially rate their product higher than they would have done if they rented the product — just because they own the product themself. Second, there is the potential of instructors experiencing "Confirmation bias" when reviewing a product. If they received the product from us, they might have a tendency to look for all the advantages and good things about the product because they want to please Wedio and the product brand. To overcome this limitation, we strictly guide our instructors to be as objective as possible — a low rating is as valuable to us as a high rating. The review aims to guide other creators in the choice of gear.
Get a Sony FX3 Cinema
https://academy-cdn.wedio.com/2022/02/sony-fx3-cinema-key-specs-wedio.jpg
USD
Buy new
https://amzn.to/3DwoCcm
3779
Buy new
https://adorama.rfvk.net/Ea36D9
3898
Rent from
https://www.wedio.com/en/rent/sony-fx3-cinema-line
40
Popular listings for rentals