Canon EOS R5: Worth It? [Specs, Price & Review]
Rent camera gear from local creators.
The Canon EOS R5 shoots 8K videos at 30 FPS without cropping. It has a 45 MP imaging sensor and features intelligent animal tracking. These are the eye-catching highlights from the beast of a camera presented by Canon in July 2020.
Canon EOS R5
8K RAW at 30FPS

– 4K at 120FPS and amazing stills with 45MP

5-axis IBIS

– advanced animal autofocus

Dual Pixel CMOS AF in both 8k and 4k

– 8k internal 4:2:2 10-bit
Is it as good as we hoped for?

We've reviewed the product and gathered everything you should know about this full-frame mirrorless flagship.
Read to find out:
What's new
Release date
Price points
Specs
It shoots in 8K at 30FPS
The EOS R5 features a groundbreaking level of image quality. We're talking jaw-dropping resolutions at smooth FPS. This mirrorless camera shoots 8K video at up to 30FPS.
Let's pause here.
8K video. At 30 FPS. Uncropped, using the full frame of the sensor.
Canon calls it a new era in image quality and it definitely beats the classic cinema cameras. Every other camera producer must be feeling the fierce competitive pressure by now.
Some might call 8K overkill. And it might be for most people. But Canon seems to think that's the way the filmmaking world is heading. The technological progress is a sight to behold in any case.
If you need a smaller resolution at high FPS, the EOS R5 is still your friend.
4K at 120FPS and amazing stills
At 4K, the camera can capture at up to 120FPS. All this comes from the 45MP sensor with a 12 fps shutter (20 for digital). The sensor shoots stills in incredible quality. Especially sports shooters will enjoy these stills and high-quality filming.
In short, Canon has stepped up their game in the realm of mirrorless cameras. Any new cameras released next have a lot to live up to.
Double memory cards and more connectivity
Now, better resolution means larger file sizes. When filming in 8K you may need an external hard drive close by. It takes up a lot of space.
Let's look at the data storage. EOS R5 supports both SD UHS-II and CFexpress memory cards, giving you the freedom to choose. And the ability to get more mileage out of your old storage cards.
Bear in mind that recording in 4K, 8K or 120FPS can only be saved on CFexpress cards.
On top of this, the camera features full WiFi connectivity. You can store your files in the cloud. The 5Ghz wifi connection allows you to upload even large files at blistering speeds while out on a shoot.
The EOS R5 also has standard Bluetooth connectivity.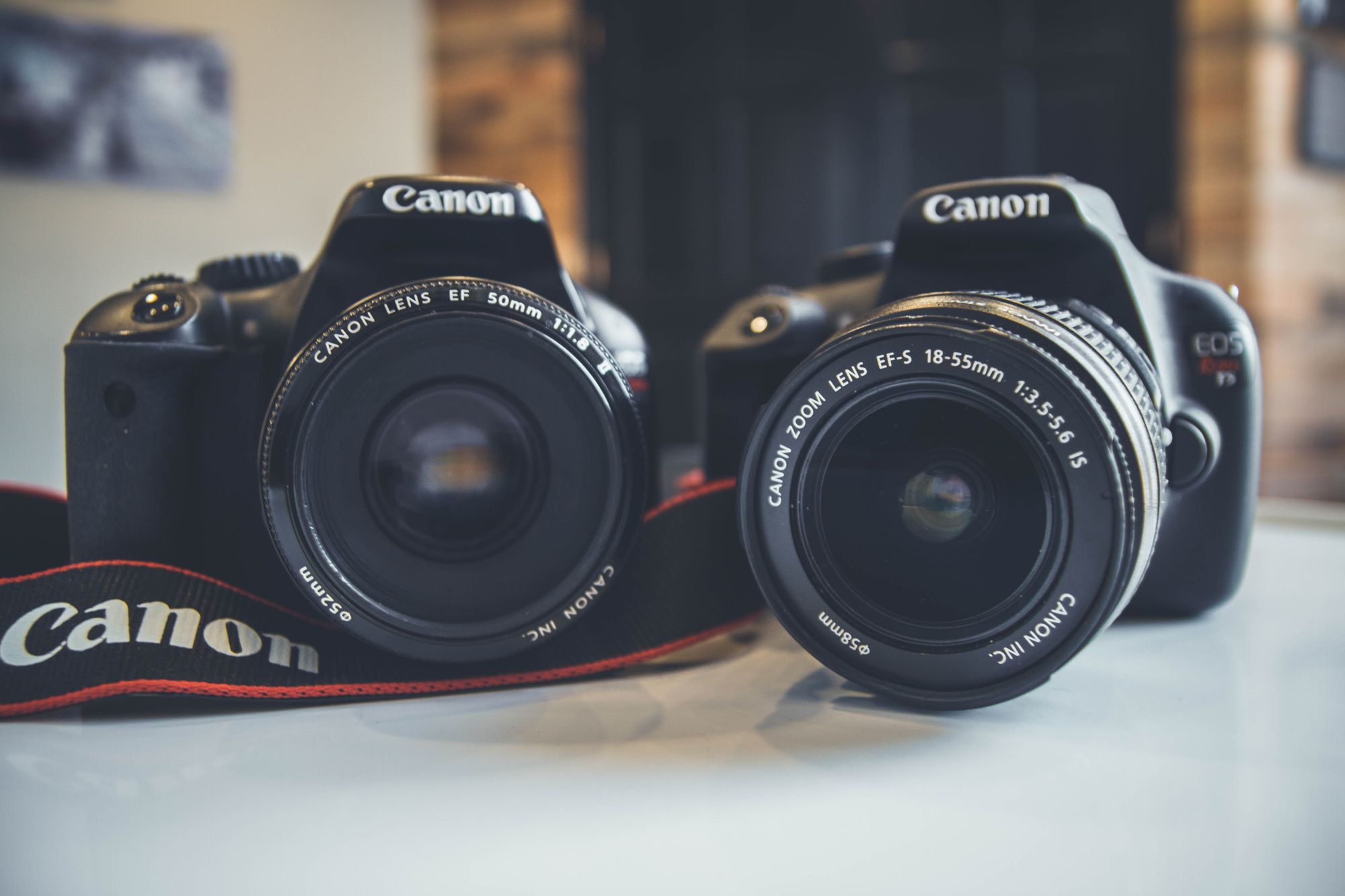 Stability
Canon has never been very fond of stabilization. Instead of having it in-body, the lens had to do the stabilizing job.
The EOS R5 broke this trend. The EOS R5 body features 5-axis IBIS (in-body image stabilization). What makes it unique is how it works in tandem with the lens. It rises to 8 stops with in-lens stabilization.
For all you handheld camera lovers out there, this should be a dream come true.
Advanced animal autofocus
We all love taking photos of animals. But as both wildlife photographers and pet owners know, it can be a pain. This led to a lot of camera makers developing animal autofocus features. Wildlife photographers especially enjoy this feature.
The Canon EOS R5 tracks and focuses on animals in the shot. It recognizes cats, dogs, and birds by eyes, body shape, or face. What's fantastic, it works both in stills and in all video resolutions with all frame rates.
They call it Advanced Animal AF.
And it works astonishingly. The detection is incredibly fast and the level of sharpness goes beyond words. So if you've wanted to shout expletives into the air in frustration over wildlife photography, there's definitely something to check out for you in Canon EOS R5.
Check out this video shared on Fstoppers for some detail.
Design
Fans of the EOS R will be happy to hear that there are heaps of similarities between it and the R5. In fact, the top plate is almost identical to the original EOS R.
It got the fan-favorite LCD screen and the buttons you know and love. The body is 3,6 mm thicker and 70 g heavier, but that comes as no surprise considering the IBIS.
The rear brings to mind another of the series 5 cameras: the 5D Mark IV. A "rate" button allows you to quickly rank the best photos while you still have your camera in hand.
Add the classic control wheel to all this, and even the most critical fans should be content.
Canon mixed the old & the new
Canon has listened to its critics. They reinstated the AF joystick instead of the EOS R's very polarizing touchbar.
In that sense, the EOS R5 is the best of both worlds. The mirrorless functionality and lightweight design married with the classic DSLR offerings.
Disappointment? – Overheating
The camera works great. There is no discussion about it. Sadly, there are some limitations.

When recording in 4K and 8K, the camera may overheat. Frames per second play a crucial role. In fact, when recording in 4K only at 30p, the camera will most likely not overheat at all.
What about more frames?
Tests show switching to 60p (4K) may cause the camera to overheat after 30 minutes. 120p (4K) equals to 15 minutes of recording. Then the camera would shut off and need a cool-down for 10 or 20 minutes.
Canon claims they can resolve this issue with the new firmware. Let's hope so because we would love to be able to record more than 20 min in 8K.
For some, it may be a crucial factor, for others not so much. The camera was not designed to be a primary cinematic camera, but it can be an issue even for a semi-professional. Want to find out more about recording limitations? Check out the overheating analysis made by James Artaius.
Conclusion
The incredible specs and the tech overhauls make the EOS R5 one of Canon's most potent offerings yet.
In this price range, it might be one of the best cameras we've seen. Ever. Especially at that price point.
While 8K filming isn't unheard of, a RED 8K 60 FPS-capable camera will land you closer to the 60,000 USD mark than the 4,000. And it'll be just a little bit bulkier.
There is, however, the factor of overheating. Shooting a lot of short videos or vlogging outside may be problematic. If you do a lot of traveling and need constant access to the camera, it could affect you.
Price: Canon EOS R5
The body alone started at 3,899 USD in the official Canon store. The lenses are going to be at least another 1,000 USD. It might be possible to find the whole set cheaper (perhaps buying it separately somewhere else), although only by a bit.
Comparing the cost of other competitors it is still an amazing bargain. And let's face it. Buying the whole set and configuring it on the producer's website is something we all love.
If you are not ready to buy this camera, there is an alternative. Wedio.com created a platform for lenders who let you rent a camera at a reasonable price. Choose for how long you need it and enjoy your time with it!
Specs
Imaging sensor: 45mp
5-axis IBIS that works with optical image stabilization:
5 stops with IBIS
7-8 stops of correction with IBIS and in-lens stabilization
Frames per second: 12fps (20fps electronic shutter)
Video features:
4K at 120fps
4K @at60fps
8K RAW internal video recording up to 29.97 fps
8K internal recording up to 29.97 fps in 4:2:2 10-bit Canon Log (H.265) and 4:2:2 10-bit HDR PQ (H.265).
4K internal recording up to 119.88 fps in 4:2:2 10-bit Canon Log (H.265)/4:2:2 10-bit HDR PQ (H.265). 4K external recording is also available up to 59.94 fps
8K and 4K video capture without crop factor
Dual Pixel CMOS AF available in all 8K and 4K modes
Canon Log available in 8K and 4K internal recording modes
Dual card slots: CFexpress and SD UHS-II
5GHz WiFi
New Canon lenses for the EOS R5
Canon offers a whole range of lenses and extra equipment. Take a look right here:
Canon RF 24-70mm f/2.8L IS USM Lens (900g)
Canon RF 28-70mm f/2L USM Lens (1430g)
Canon RF 24-105mm f/4L IS USM Lens (700g)
Canon RF 24-105mm f/4-7.1 IS STM Lens (395g)
Canon RF 24-240mm f/4-6.3 IS USM Lens (751g)
Rent Canon cameras at Wedio
Rent Camera Gear: Access Pro Equipment
qqHXJy6AWlc
Camera Hire: Take Your Production to The Next Level
71PttfqWPXk
Camera Rental: Save Money with Wedio
5sHshmF1n_Y
About the instructors
FAQs
Is Canon EOS R5 the best?
It is one of the best cameras we've seen for its price range. Canon R5 is a powerhouse with very versatile options for use. It has excellent autofocus and image quality.
Is the Canon EOS R5 a professional camera?
Yes, EOS R5 is considered to be a professional camera. It is one of the best and most powerful stills cameras Canon has made. It has a high quality of images, improved battery life, and incredible autofocus.
How long does EOS R5 battery last?
The battery should get you through several hours of intensive shooting. The R5 usually lasts somewhere between 300 and 500 shots per battery charge. Using the Power Saving mode can increase this to additional 150 shots.
How much does the EOS R5 cost?
Canon EOS R5 costs £4299.99 / $5750 for the body only. Canon released it in July 2020, and it's still one of the most in-demand cameras.
Rent Canon EOS R5 from local creators.
Save up to 40%.
Global Coverage included.
https://images.pexels.com/photos/7789069/pexels-photo-7789069.jpeg?auto=compress&cs=tinysrgb&w=1260&h=750&dpr=2
https://www.wedio.com/en/canon-eos-r5
Popular listings for rentals