A Gimbal That Fits Any Camera – ZHIYUN CRANE–M3 Review
Rent camera gear from local creators.
Are you tired of trying to walk around with your camera, holding it still but still ending up with shaky footage? Then you should probably get a gimbal.

And I know what you're going to say "there's no great gimbal that fits my small device". Well, that's just not true anymore. Because ZHIYUN designed the CRANE–M3 with small devices in mind. Read along and learn all about it in this ZHIYUN CRANE–M3 review.
Community reviews
ZHIYUN Crane M3 Pro: Hands-on Review by Petros Ioannou from Leon Films
Explore the Crane M3 together with Petros and learn more about its features, purposes and pros and cons 📷
ZHIYUN Crane M3 Pro: The Ultimate Review by Gabriel Miranda
In Gabriel's ultimate review learn more about the key features, excellent connectivity, mic, integrated LED lights and more 🎉
A gimbal is an excellent asset in your gearbox but far from the only one. Explore what else there is of essential camera equipment.

If you're looking for a new gimbal but aren't sure which one, you could always rent or subscribe to one on Wedio!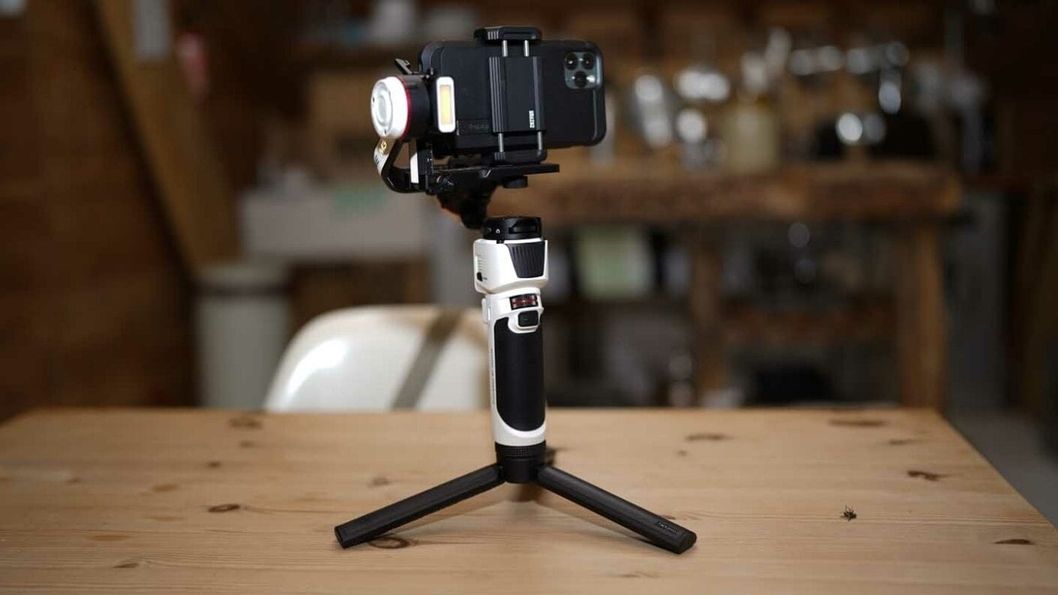 ZHIYUN CRANE–M3 key features

Weight: 1.87 lb / 700 g
Dimensions: 8.2 x 4 x 11.4" / 208 x 102 x 290 mm
Battery runtime: approx. 8 hours
Battery charging time: approx. 2 hours
Output: 5V, 1A
OLED-Touchscreen 1.22"
Built-in Fill Light
Fill light color temperature: 2600 - 5400 K
Fill light brightness: 650 - 750 lumens
Compatible with: action cameras, compact cameras, full-frame mirrorless cameras, and smartphones.
ZHIYUN CRANE–M3 review: pros and cons

Advantages
Awesome design
Lightweight
Compact
Long battery life
Quick charging
A versatile built-in fill light
Compatible with a wide variety of cameras and phones
Disadvantages
Pricey
Can be dicey to adjust
Can be hard to balance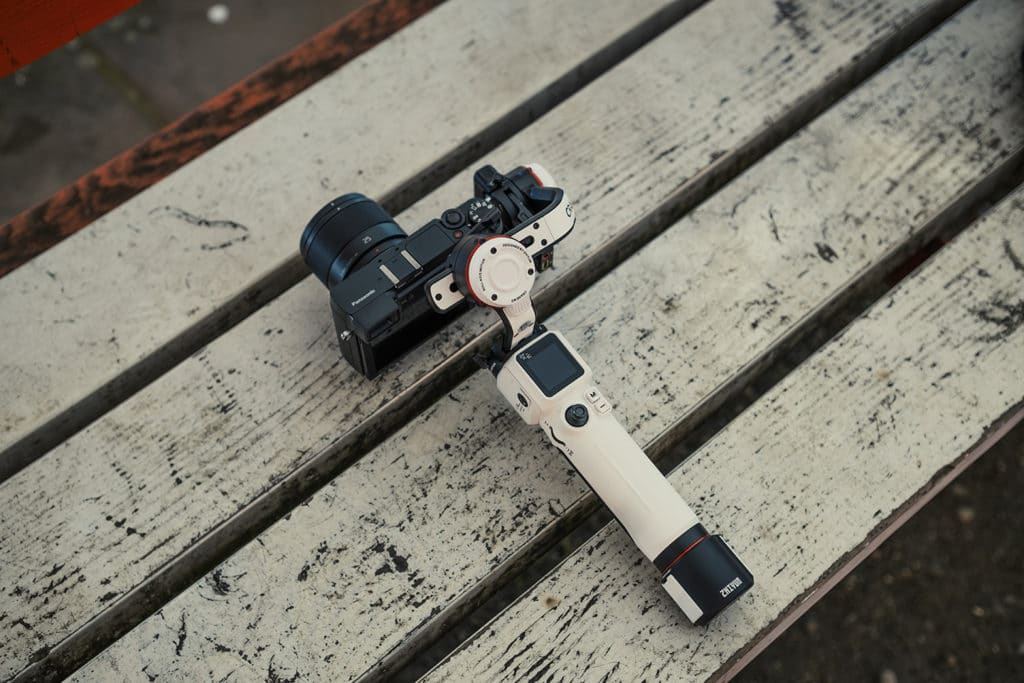 Design, size, and handling
The ZHIYUN CRANE–M3 is made with transportability in mind. It is lightweight and compact and great for using while walking around.

It's size also means that you can't use cameras with large lenses or too heavy cameras. But that's not a design flaw it's just not what it's made for. As the size and weight suggest, the CRANE–M3 is designed for handling smaller devices.  

And it handles devices pretty well. Whether it's a smartphone, a GoPro camera, or an A7III with a smaller lens, the camera handles the stabilization smoothly.

Other than being functional, the ZHIYUN CRANE–M3 also just looks good. It is black with a white finish and has a very modern look to it.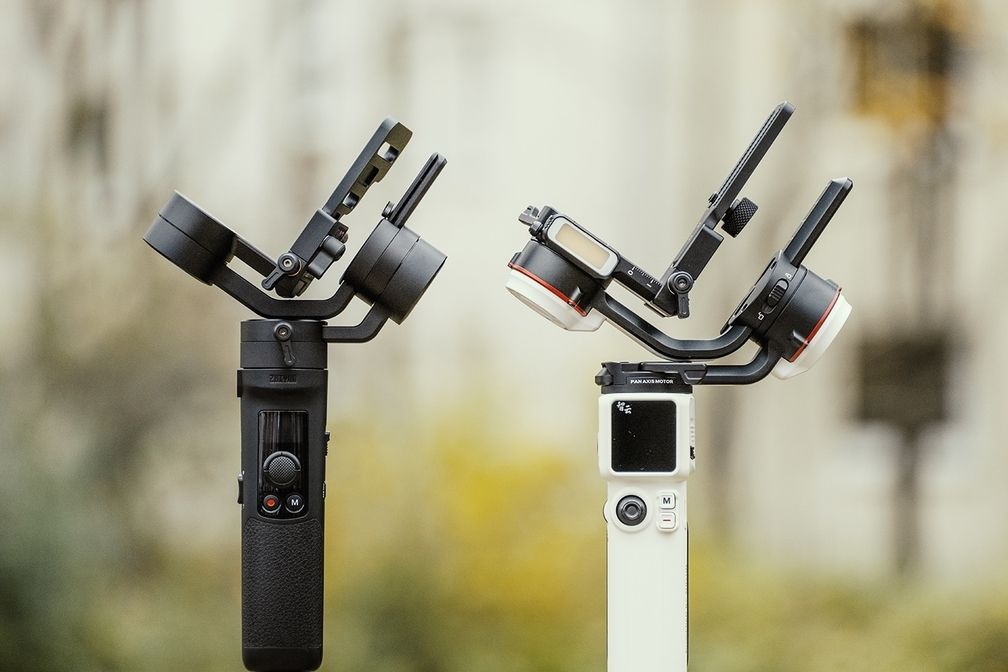 Mounting and balancing
As mentioned earlier, the gimbal is designed for smaller types of cameras, such as smartphones, action cameras, or smaller digital cameras.

What does this mean for the gimbal?
It means that it handles lightweight devices much better than other gimbals. Whereas you'd typically see other gimbals struggle to balance "underweight" devices the CRANE–M3 is specifically designed to handle these.

The gimbal allows you to do a 360° pan, 333° roll, and 309° tilt. Each motor can be locked in various positions, allowing for an easy balance between them.
Intuitive touchscreen
The ZHIYUN CRANE–M3 also has a touchscreen on the back, allowing several options. Besides selecting one of several modes, you can also monitor the balance, calibration, and many other things.

The touchscreen is a 1.22-inch LCD screen that's pretty intuitive. However, if you have big fingers, it might be a bit difficult to properly use them.
Expansion possibilities
When ZHIYUN makes gimbals, they also make sure that they're as functional as possible. And if they're not, they create designed it to be modular, so you can always expand. And the CRANE–M3 is no different.

With the regular version, you get a 1/4-inch expansion port for things like an external grip.
But if you buy the pro bundle, you can get an expansion base that allows you to get an extra expansion port as well as a holder for Bluetooth camera control and mic input.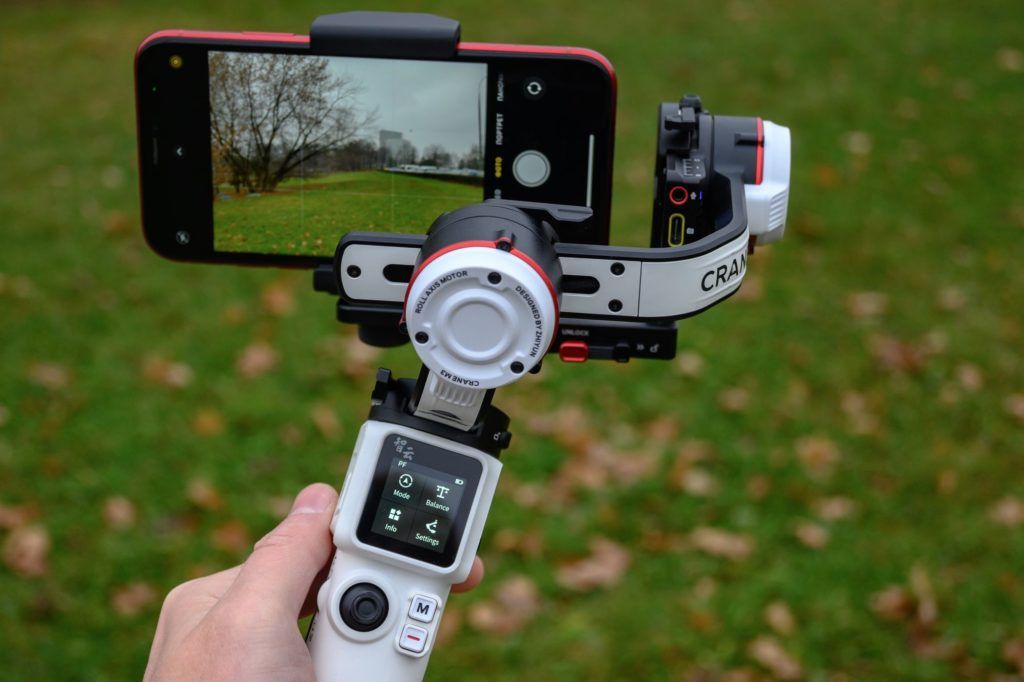 Integrated light
The ZHIYUN CRANE–M3 comes with integrated light in the form of built-in fill light. The fill light has a color temperature of 2600 – 5400 K and a brightness of 650 – 750 lumens.

So there's plenty of variability in the type of lighting it allows for you. It has a separate dial on the front of the gimbal handle, which allows you to manually adjust the brightness.

This fill light is such as great addition, as it adds something to your videos and makes sure that whatever you're filming is always in somewhat good lighting. This makes it especially great for vlogging and filming in dark areas if your camera doesn't have great low-light capabilities.
Final verdict: Is the ZHIYUN CRANE–M3 worth it?
The ZHIYUN CRANE–M3 retails at $369,99, which sounds like a lot, but it does have loads of great functionalities.

First of all, if you have a large camera or a camera with a large lens, don't bother buying the CRANE–M3. It's just not made for that.

Now that we've got that out of the way, consider how much you'll use this gimbal. If you're a newly started videographer, this gimbal can do wonders for your work. This also goes for if you're doing stuff like travel filmmaking.

It's basically great for any videography job where stabilization is required.
However, if you're mainly using your camera at home for your YouTube videos or rarely use your camera, you should consider if spending $370 is the right thing for you.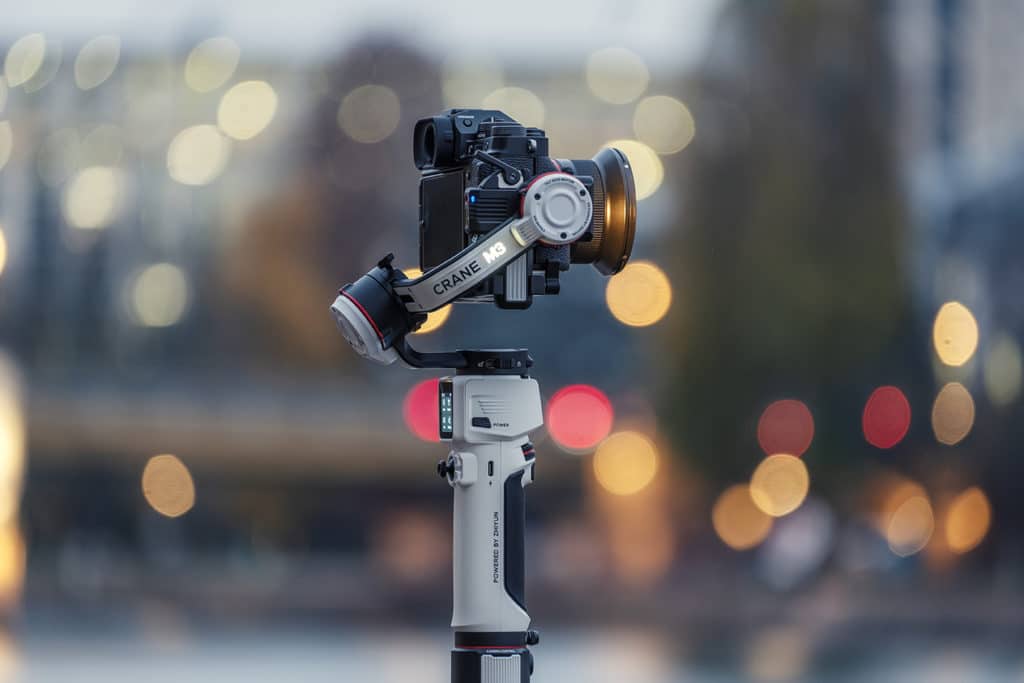 Rent or subscribe to a ZHIYUN gimbal
I hope this article helped you realize the pros and cons of the ZHIYUN CRANE–M3.

If you want to get a ZHIYUN gimbal, but don't want to spend hundreds of dollars, consider renting or subscribing to it on Wedio.
Camera Rental: Save Money with Wedio
5sHshmF1n_Y
Rent Camera Gear: Access Pro Equipment
qqHXJy6AWlc
Camera Hire: Take Your Production to The Next Level
71PttfqWPXk
About the instructors
FAQ
Are ZHIYUN gimbals good?
Yes, ZHIYUN gimbals are good quality, with great features!
Is ZHIYUN Crane M3 worth it?
Yes, the ZHIYUN Crane M3 is worth it if you have a device that fits.
Can you use ZHIYUN Crane M3 for iPhone?
Yes, you can use the ZHIYUN Crane M3 for the iPhone.
Popular listings for rentals