Pre Production Checklist | Download Your FREE Template Here – Wedio
Rent film gear from local filmmakers.
Rent film gear from local filmmakers.
So, you've spent months or maybe even years on getting your first film production green-lighted. And now, the time has finally come for you to produce it.
However, before you get too excited and rush it (which would be understandable), try to calm yourself and take your sweet time to focus on the pre-production.
To help; grab our free pre-production checklist template below:
If you just started your filmmaking journey, you might not be ready to deep dive into all the needed production templates. Instead, start by learning all the filmmaking basics.
What does pre-production mean?
The short answer: Pre-production is the couple-week phase that happens at the beginning of film production and can mean success or failure in the end. A pre-production checklist is a tool to help in this situation.
The pre-production stage is followed by a production stage, in which the actual filming takes place, and then the post-production stage takes place in the editing suite.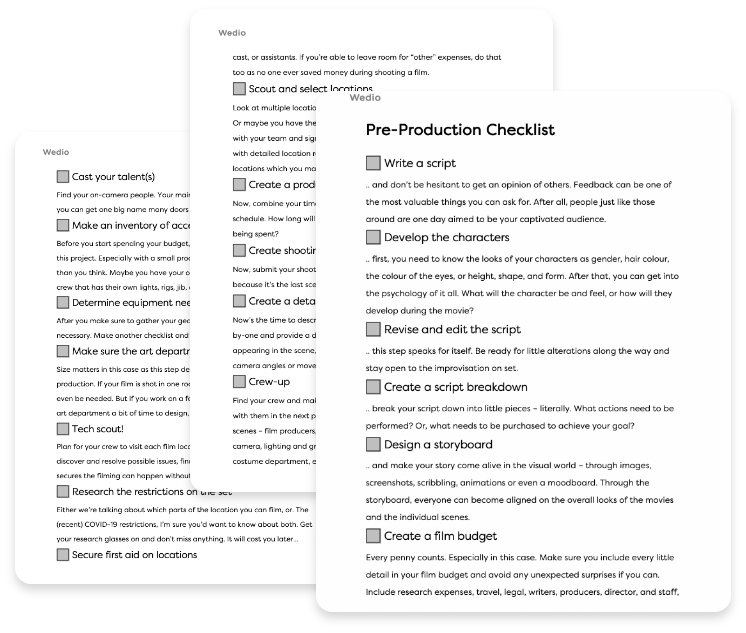 What happens during pre-production?
If you'd like to explore all the steps of pre-production in more detail, then continue reading!
Complete your script
Writing a script might be something that filmmakers consider having finished even before the pre-production stage.
Before someone says yes to your script, you won't be able to prep the film production unless it's an independent film or something you only do for fun.
After writing your script, don't hesitate to involve friends or family to get their feedback on it – especially if it's your first time. Revise and edit multiple times, but leave room for improvisation during the production itself.
In this first step, you will develop the story and the characters. Summarize which steps need to be performed or what needs to be purchased to achieve your goal! Then create a script breakdown where you will transform words into actions and create a summary of your film.
Create a storyboard
The next step is to create a storyboard to visualize your story. Include everything you possibly can; screenshots, hand drawings, little illustrations, or photos and pictures. You can design storyboards for each scene and the movie in general.
If you need a storyboard template, head over here and download it for free!
Set a film budget
No matter how big or small, every production must have a film budget.
When doing your film budget, make sure you include everything ATL (above-the-line). Once you finalize your pre-production, you can then move to BTL (below-the-line) and make sure everything is covered during the production and post.
In the ATL, make sure to think of research expenses, travel, legal, scriptwriters, any rights you need to obtain or expenses connected to producers, directors, ADs, casting, and more.
If you're able to, always leave a bit of room for unforeseeable surprises.
Better to aim for the stars than to get stuck in the middle of the production because you didn't set aside enough money.
Filming is not an easy craft. Make it easier on yourself with our free film budget template.
Scout for film locations
After you've decided on your budget, now's the time to scout and select locations. Locations can create an entirely different atmosphere when chosen wrong so, be careful about this one. Once you know your goal, it should be a bit easier.
Don't forget to check in with your team when it comes to location.
Director and producer can have completely different ideas about some scenes, so talks about the location are needed to remain aligned.
After you find your dream locations for each of your scenes, get location permits and permissions. It's essential to specify in the contract which parts of the locations you'll use and how to avoid legal consequences.
Download the free location release form template to make sure you're all covered.‌
Don't forget the details!
Now, everything slowly starts coming together!
You now need to create a production schedule. Production schedule means combining your timeline and your available budget as you layout when (you already have the where) the money is expected to be spent precisely.
Then you create a shooting schedule. Is the first shot of the movie filmed first or last? How many days or weeks do you need to spend on set to finish the film? Etc.
Then, create a detailed shot list. A list of shots in the planned order, with a detailed description of who will be present in the scene, the props, the atmosphere, camera angle & movement, or extras included.
You can get a bit of help from us with our free shot list template.
Cast your talent & hire your crew
Throw yourself into scouting the best in the business if you know you'll be needing a lot of help. You could also think of hiring a casting director.
Depending on the magnitude of your film, do look into hiring not only your leading actor, a director, a producer and a couple of ADs; but also a co-producer, assistant to producer, artists, choreographers, technical staff, production manager, scriptwriter, script supervisor, runners, extras, gaffers, help for set construction, costumes (and the designers), and make-up artists and many more.
Get help in finding your crew and cast with a free cast list template here.
To avoid any unwanted bumps down the road, download your free talent release form. And don't forget about the minors as you need another contract for the little ones.
Find your necessary camera equipment
Determine your camera equipment needs – cameras, lenses, lighting, drones, adapters, or audio. And remember the accessories! Cards, batteries, sliders, grips or filters.
Make an inventory of the available equipment and then look into the rental options for the rest. If you expect your production to go on for a couple of months, look into the subscription possibilities.
Prep your art department
The involvement of the art department depends on the proportions of your production.
If your film happens in one room only, you might not even need an art department. But if you work on a feature film, you might need to give the art department some time to prep everything.
They will need to be looking at the overall look as well as the design of separate scenes. They will need to build and decorate the sets. They should also make sure to fulfil every little detail possible to fulfil the director's vision and the goal of the whole film.
Secure your locations
Plan for your crew to visit each film location to get familiar with the place. They will need to discover and resolve possible issues or to help find anything that you might have overlooked.
They will need to secure the tech can work at every specific location. Simple questions as "Is there electricity available? How many sockets are there? Are there places for everyone to prep? Or do set colours match the scene and costumes?" Not all questions are equally important to answer.
What else?
Sustainability regulations: If your production focuses on sustainability, make sure it complies with all the rules and include, e.g. recycle bins in specific locations.
Health Requirements: If you're filming in a country with specific health requirements, make sure you prep for that too. There might be specific COVID-19 restrictions that you need to obey or different vaccinations you need to undergo before proceeding into the second production stage.
Let's not think of the worst, but still, injuries can happen to anyone, especially when there are stunts involved! Secure first aid kits for the set and have that health safety officer on standby.
Insurance: Ensure you also get insurance for this specific project and double-check your production insurance and liability coverage.
Last but not least, triple check your permits, releases, and other documents.
Want to get everything you need for your next production in one click? Head over to our film production template collection and save them all in one go here.
Popular listings for rentals