Product Review: ZHIYUN FIVERAY FR100C
Rent film gear from local filmmakers.
Rent film gear from local filmmakers.
Product Review: ZHIYUN FIVERAY FR100C
0 other
Overview
Specs
Reviews
Features
FAQ
Similar products
Research
Rent or buy
FIVERAY FR100C
ZHIYUN
4.9
Based upon1 review from Wedio members
Is it worth it?
Yes
ZHIYUN Fiveray FR100C is exceptionally customizable, has smart, slick design and solid build as well as excellent brightness and color accuracy.
No
The selector wheel and buttons are a bit too sensitive and there's no ability to the AC adaptor separately.
Specs
Color Temperature Range
2700-6200K
96/97 CRI/TLCI
0-100% dimming
Light shade for diffusion
Integrated
Batteries
Built-In rechargeable 2600mAh 6S/2600MAH
Runtime
40-Minute at max power
Max power mode
Power 100W
Operation temperature
10°~40°
Show more
Community reviews
ZHIYUN Fiveray FR100c: Complete Review by Malcolm Modele
Hold up! ZHIYUN just released a light? Yes, that's right! Malcolm brings you a quick overview of the FIVERAY FR100c. Learn about the specs, pricing and if it's really worth the money 💸
Why rent out your gear?
hPu9DIXtzEM
Community appreciation
Show more
Community critique
The device needs work, the hand-held light is uncomfortable to hold, also the buttons and dials seem very cheap and quite difficult to use.
Show more
Best features
Performance
This ZHIYUN lamp is a high-quality performer that emits a powerful light to match and adjust to your photography or filmmaking needs without serious lighting equipment. Instead, the 100WATT portable light stick offers users pro-level lighting quality in a single package.
Luminosity & weight
ZHIYUN promises the light stick to weigh less than competitors' alternatives but still outperform them in luminosity – as much as 5 times more. The FR100C can produce up to 21,195 lux and is equipped with 100 dimming steps, which helps it meet the requirements of the scene with extreme preciseness.
Color temperature
The ZHIYUN's lamp color temperature has an adjustment range from 2800 to 6200k and offers 100W of powerful illumination, making it easy to match the FR100C with the ambient light. You can also change the RGB values to your liking with the dial on the grip of the light. The FIVERAY is equipped with a CRI of 96 and TLCI of 97, which makes the colors as accurate as possible.
Brightness
The FIVERAY FR100C is packed with an astounding amount of power, kicking it to 100% with an hour of usage. The maximum brightness setting, acting like a power boost, drives the lamp incredibly bright when activated – however, the run time of the lamp, in this case, is reduced to 20 minutes only.
Design
The FIVERAY FR100C is made in a stick-like form with excellent aesthetics and a slick design. The lamp's build quality is excellent, with six holes on the back for the small fans to prevent overheating, a large diffusion panel that softens the LEDs, a small screen, and a dial on the grip.
Handling
The FR100C is relatively easy to maneuver. It has an ¼-inch thread on the base, allowing it to be mounted on a tripod or used on a handhold. The lamp is perfectly portable with its powerful in-built battery meant to supply the light with power. This feature makes FIVERAY much more versatile than any AC-powered lighting equipment and a good solution for portrait photography and videography.
Frequently Asked Questions
How much does the ZHIYUN Fiveray FR100C cost?
You can get the Fiveray FR100C for $199, or for $249 if you prefer your lamp in a package with a 120W power adapter.
What is the ZHIYUN Fiveray FR100C release date?
The Fiveray FR100C is expected to become available in stores from 1st August 2023.
How much does the Fiveray FR100C weigh?
The weight of FIVERAY is 930g.
Does the Fiveray FR100C overheat?
Integrated fans prevent overheating at max power.
How long does the battery last on the Fiveray FR100C?
40-Minute Runtime at Max Power or around 2 hours on 50% power.
Show more
Who should get the ZHIYUN FIVERAY FR100C?
The ZHIYUN FIVERAY FR100C is an excellent choice for both photographers and filmmakers, enthusiasts and professionals.
It does wonders in fashion, product photography, and video making and is highly versatile and adaptable to different lighting requirements.
It's an excellent addition to any creator's portable, compact, and mighty lighting kit.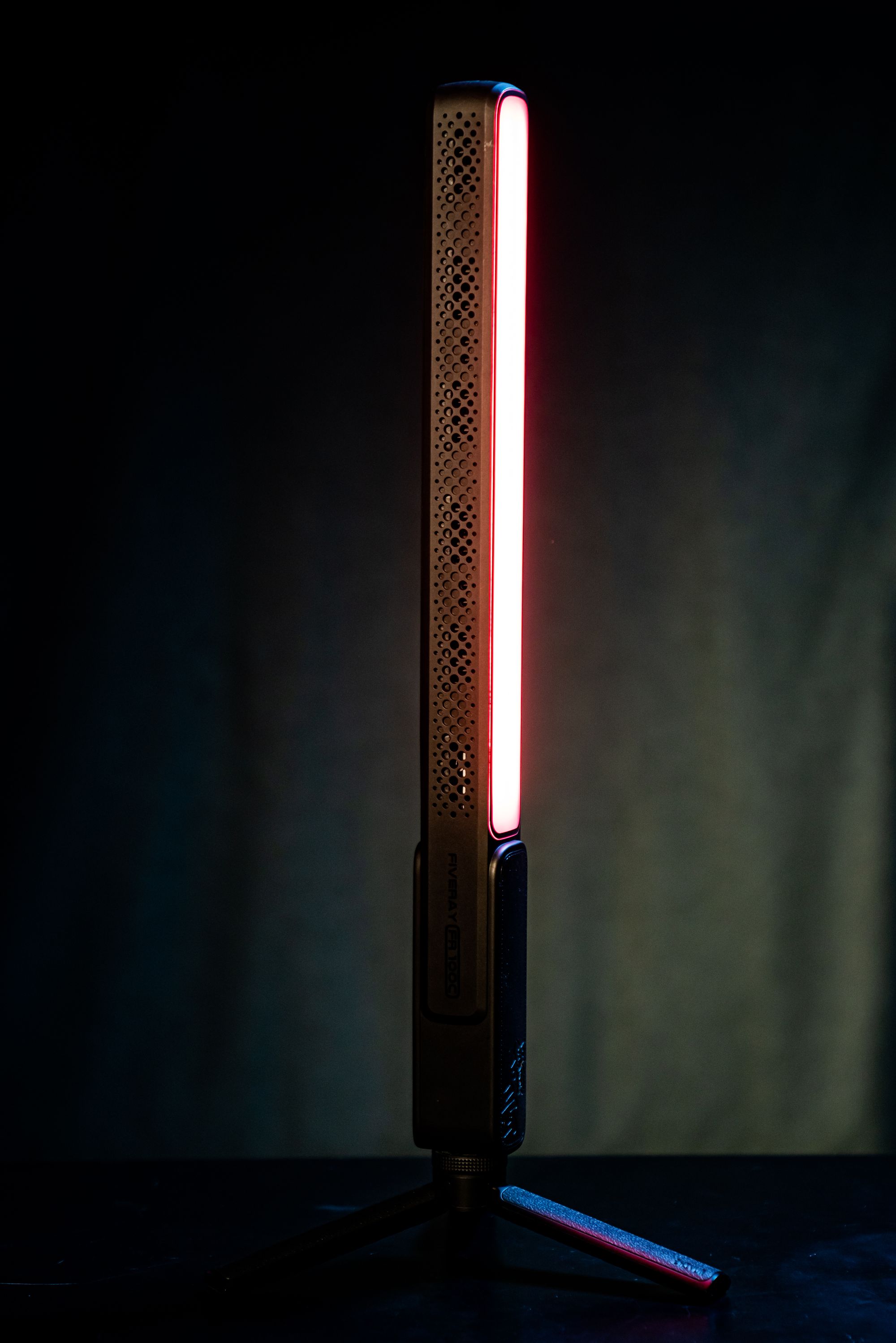 Final verdict: Is the ZHIYUN FIVERAY FR100C worth it?
The FIVERAY FR100C is an excellent light with great potential for different photography and video-making needs.
Its easy-to-hold stick form, brightness flexibility, and outstanding color temperature adjustment feature make it an extremely versatile gear for illumination.
It is packed with customizable settings needed to create artistic lighting and works as a great starting point if you're looking for a new lighting rig or thinking of adding another one to your collection.
The FIVERAY is undoubtedly a professional lighting setup, coming in a compact size and comfortable handling, and can adapt to almost any setting you need.
Similar products
Show more
Rent or buy
Review by Malcolm Modele and 2 other community members
The research
Why you should trust us
At Wedio, we are on a mission to keep great stories alive. We achieve this by facilitating the sharing of knowledge, tools, and services that help you as a creator craft better stories. Today we help 100,000+ monthly creators become better — together. We believe in the power of the community. Instead of gathering product reviews from one creator, we involve hundreds of creators, and create both video- and written reviews. In that way, we present the essence of the collective rather than one opinion.
How we tested this product
We used a mixed-method design. Our qualitative video reviews, were created by hand-picked Wedio members. We shipped the product to them, they tried it for at least 30 days in real-life projects, and then they did an honest video review. Our quantitative written reviews, were collected from Wedio Renters and Lenders. When renters have rented the product, they have the option to leave a product review. When lenders create a product listing, they have the option to share their thoughts on the product itself.
How we fund this review
In order to keep delivering the best possible reviews for creatives, we have four different revenue streams. This includes (1) commissions from our short-term rentals (10 % from renters 20% from lenders whenever a rental is happening through Wedio), (2) commissions from our subscriptions (we get paid by our retail partners to deliver an order), (3) commissions from brands delivering products, and (4) commissions from affiliate links to other partners (such as retail partners, software, and other creative tools).
Limitations
Even though we try to be as unbiased as possible, we still want to address two limitations of this review. First, our lenders can be affected by the "Endowment effect" when reviewing their gear. They would potentially rate their product higher than they would have done if they rented the product — just because they own the product themself. Second, there is the potential of instructors experiencing "Confirmation bias" when reviewing a product. If they received the product from us, they might have a tendency to look for all the advantages and good things about the product because they want to please Wedio and the product brand. To overcome this limitation, we strictly guide our instructors to be as objective as possible — a low rating is as valuable to us as a high rating. The review aims to guide other creators in the choice of gear.
The Wedio community reviews everything we recommend. When you buy through our links, we may earn a commission. Learn more
Get a FIVERAY FR100C
https://images.wedio.com/blog-images/all-images/zhiyun-fiveray-fr100c-wedio.jpg
USD
Buy new
https://amzn.to/3AgMbEy
199
Rent from
https://www.wedio.com/en/lighting
10
Popular listings for rentals