ZHIYUN CRANE–M3 Pro Review: The Almighty Gimbal Kit
Rent camera gear from local creators.
ZHIYUN CRANE–M3 has rightfully earned the title of a gimbal that perfectly fits small cameras.
ZHIYUN Crane M3 Pro: The Ultimate Review by Gabriel Miranda
In Gabriel's ultimate review learn more about the key features, excellent connectivity, mic, integrated LED lights and more 🎉
The kit was released with some great additions to the feature set, now tapping into the smartphone users.
Curious what this Pro update has brought to the table? Then keep reading this review of the ZHIYUN CRANE–M3 Pro kit!
For every photographer and filmmaker, having a set of go-to gear is essential. Explore what other equipment you might need.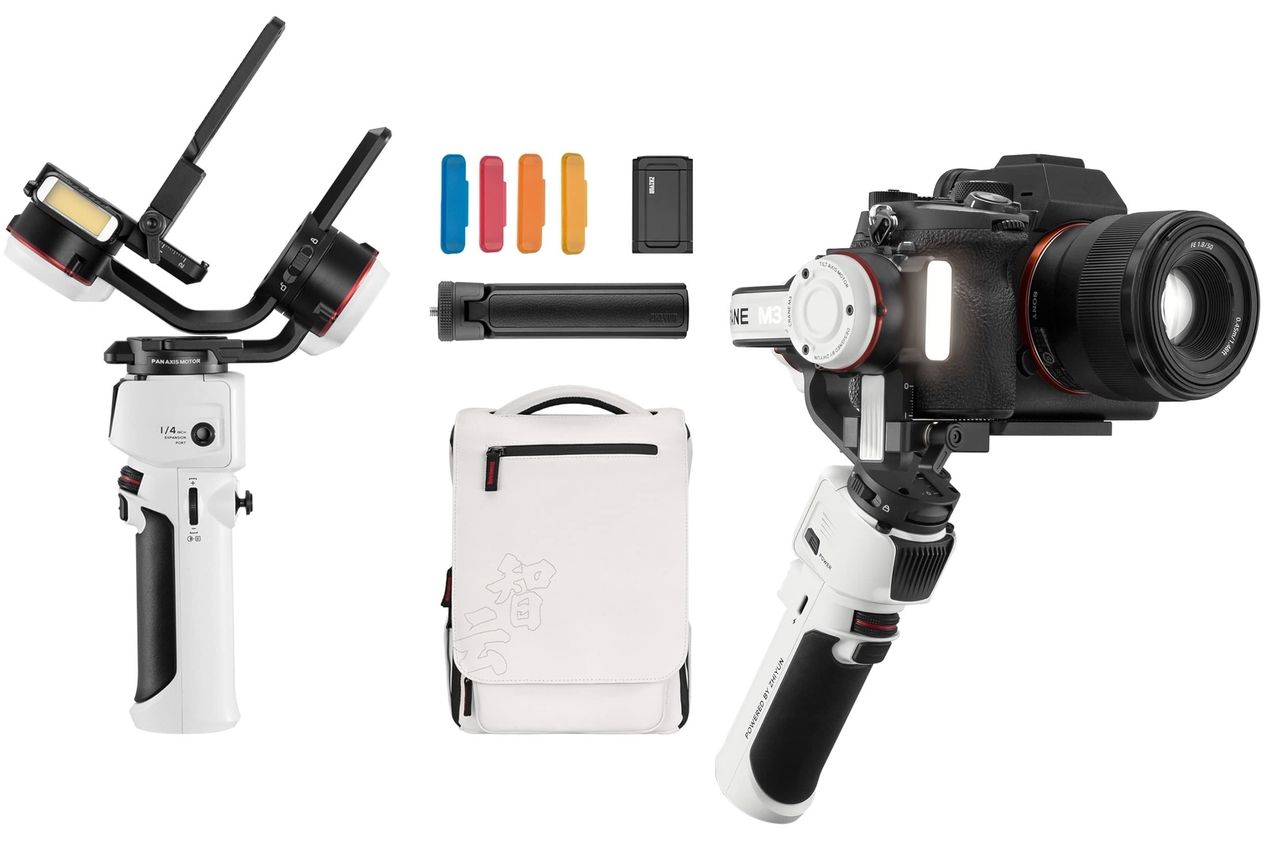 ZHIYUN CRANE–M3 Pro: Key specs

Battery Capacity: 1150mAh; 8-Hour Runtime
Charging Time: 5H; Charging Current: 180mA - 4700mA
Bluetooth: Bluetooth 5.0; Operation Voltage: 9.6V - 12.6V
Touch Screen Size: 1.22inch;
Touch Screen Brightness: 420cd/m2
Camera Charging: Able to charge for 5V/1A cameras
Operation Frequency: 2.4GHz
One-Button Quick Release Camera System
Mic, Backpack & Phone Clamp in Pro Kit
360° Pan, 309° Tilt & 333° Roll Rotation
Six Operation Modes
Supports Action Cams via Optional Mount
1.22" OLED Color Touchscreen
Adjustable Color Temperature


ZHIYUN CRNAE–M3 Pro: Overview
The ZHIYUN CRANE–M3 Pro kit comes with the gimbal, including the built-in modeling light, filters, Type-C cables for various cameras, handheld tripod, expansion base, microphone, and cables.

The kit is perfectly compatible with a variety of devices - smartphones, action cameras, compact cameras, and full-frame mirrorless cameras with certain lenses.

One thing to bear in mind: you will need an accessory mount if you're planning to use the gimbal for smartphones and action cameras.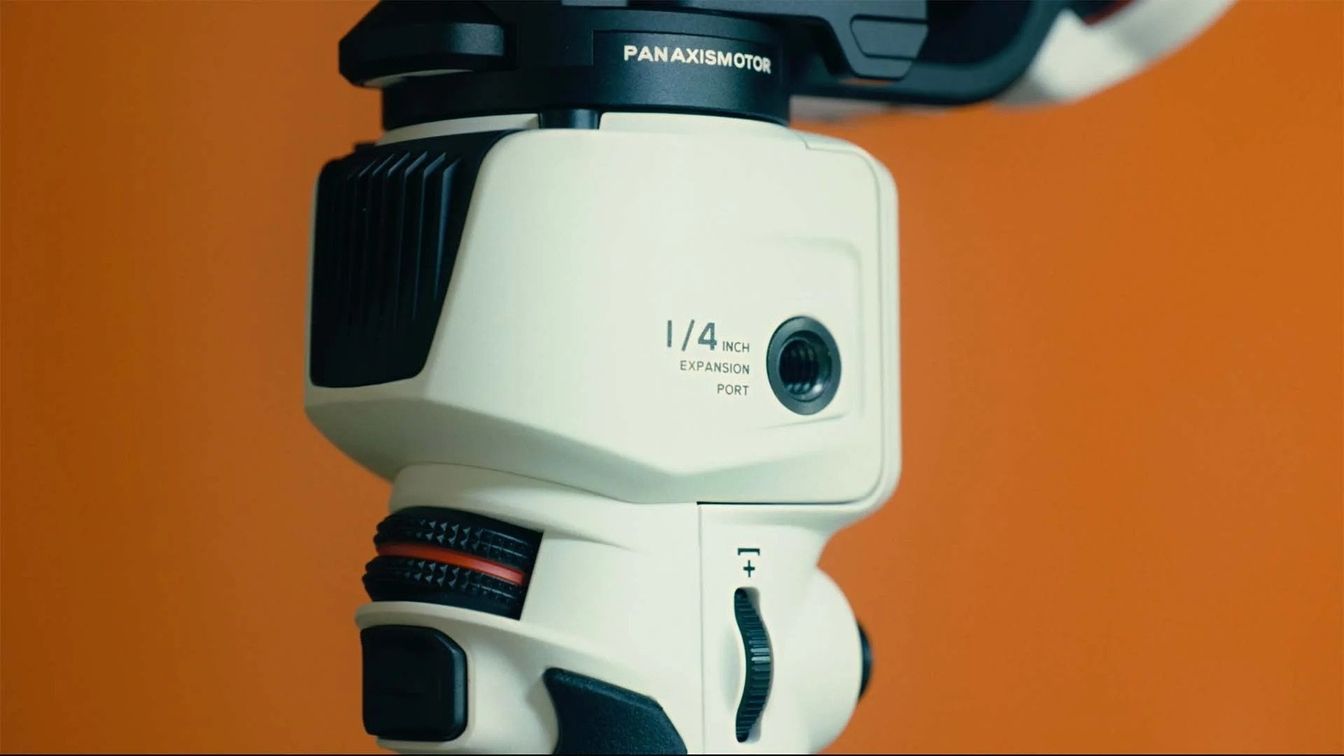 Excellent connectivity and app control
The CRANE–M3 Pro kit can proudly offer excellent Wi-fi and Bluetooth connectivity and very handy app control.

Over built-in Wi-Fi, the gimbal can sync up with a Wi-Fi-enabled camera that supports remote zoom, shutter, and video start/stop control. Through the built-in Bluetooth, the camera connects with a free-to-download ZY Play mobile app for iOS and Android.

The app provides remote control for many functions of the gimbal and has features that filmmakers will find especially useful - time-lapse, panorama, and slow-motion capture.

There is also a Sync Motion that comes in the kit which allows the iPhone or iPad's gyroscopes to decide the direction in which the camera points. This feature is a great control method for those who don't want to deal with an on-screen joystick.
A self-powered mic
An upgrade from the standard kit of ZHIYUN CRANE–M3 Pro is a self-powered microphone with a full-size XLR connection.

The mic can be switched from a cardioid pattern to a hyper-cardioid, and thanks to the XLR cable that connects it to the expansion port can make up a complete package for ambitious filmmakers.
Integrated LED lights
The integrated LED lights in the CRANE–M3 Pro kit let you use a fill light for your subject without needing the external lights. It can even adjust to dark environments and keep the noise levels low.

You can control the power of the light manually as well as the temperature - the latter goes between 2600K and 5400K. And the last golden nugget - you can enjoy five different color gels.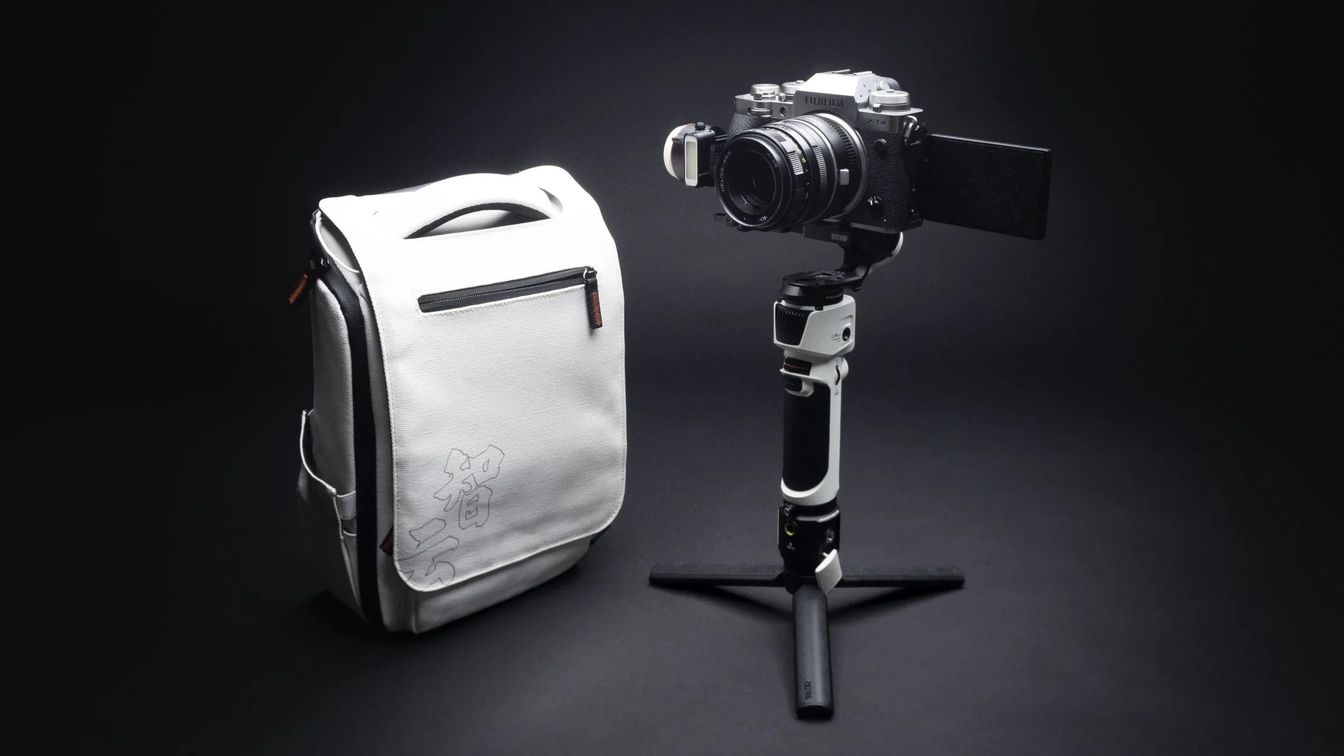 A go-to for videographers
The ZHIYUN CRANE–M3 Pro looks like it's tasked to deal with multiple problems that a would-be YouTube vlogger or a filmmaker needs to deal with if they want to take their productions to a next level.

The Pro kit is compact, but don't let this misguide you: it's mighty in its sophisticated motion stabilization and steadiness beyond the entry-level smartphone gimbals on the market.
ZHIYUN CRANE–M3 Pro: Pros and cons

Pros
Compact and lightweight
Build quality
Quick charging, long-lasting battery
Easy to balance
Perfect for both smartphones and cameras
Built-in lights
Cons
Mileage will vary with full-frame cameras
Only a few cameras can be controlled via the gimbal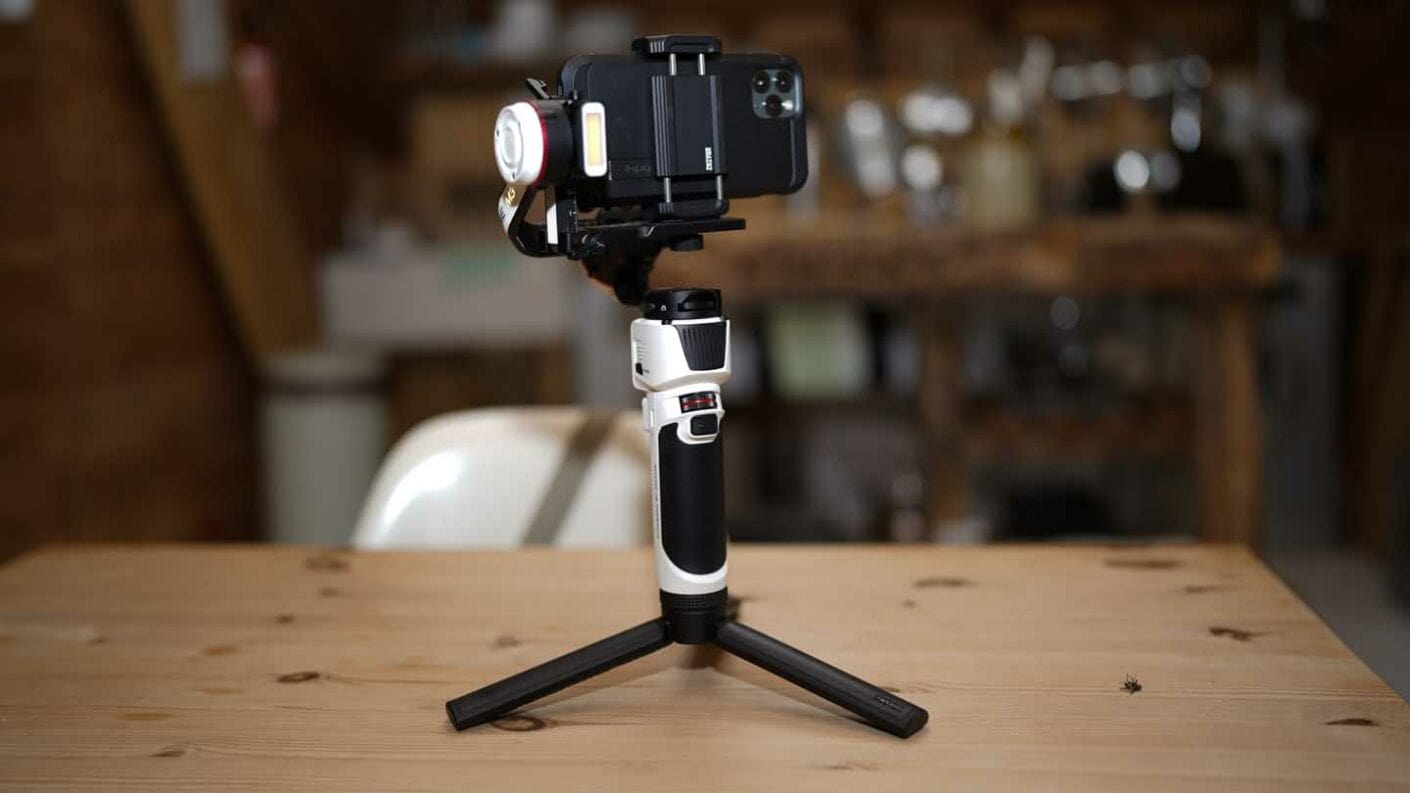 Final verdict: Who should get the ZHIYUN CRANE– M3 Pro?
Performance-wise, CRANE–M3 Pro has impressive motor power, smoothing out the usual handshake and wobble associated with handheld footage. It's also incredibly easy to use with the direct controls on the handgrip.
The Pro kit can be a perfect fit for a variety of users thanks to its compatibility with a variety of devices and excellent stabilization on all of them.

However, the direct camera control from the grip doesn't work for just any professional camera out there, so be sure to check the compatibility with your particular model.
Overall, the ZHIYUN CRANE–M3 Pro is relatively smaller than other gimbals presented by the brand, but exactly because of its compactness and power it makes an amazing tool for filmmakers and videographers.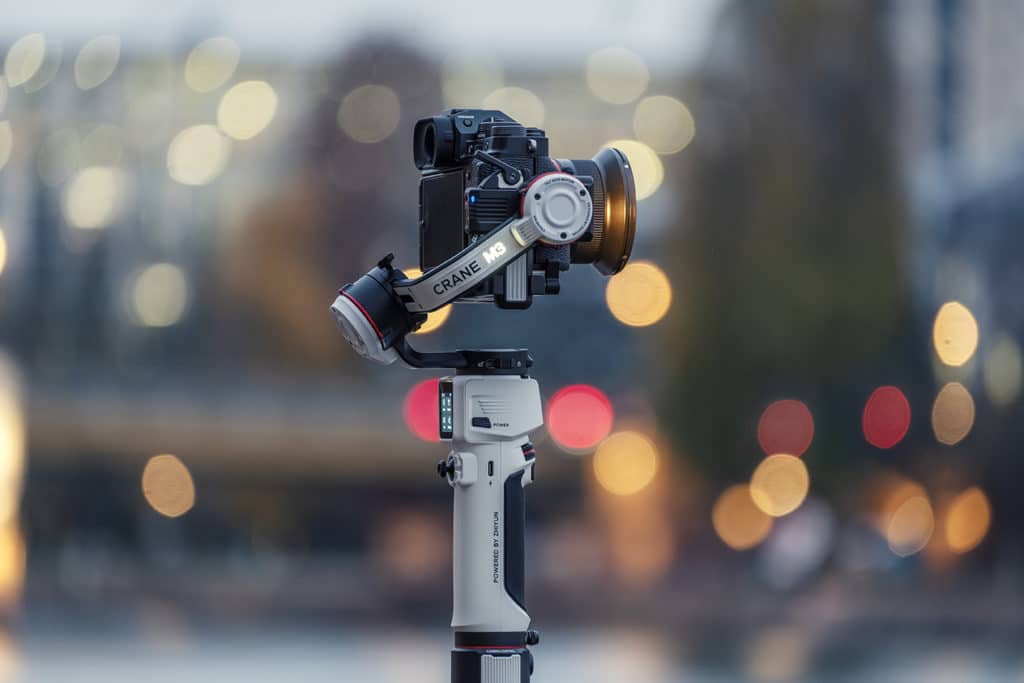 Rent or subscribe to a ZHIYUN gimbal
Before buying any new piece of gear, it's always good to test it before investing hundreds of dollars.

Rent or subscribe to a ZHIYUN gimbal of your choice and give it a test drive with Wedio.