Set Up the Perfect Studio with the Essential Podcast Equipment
Rent camera gear from local creators.
Have you ever seen a video of a podcast and thought, "that's a lot of equipment for a homemade radio show"?
Well, believe it or not, that equipment is necessary to capture great audio. After all, there is nothing more annoying than a podcast with bad audio quality.
Recording a podcast, you'll need a mixer, headphone amplifier, microphone, pop filter, etc. If you think all of this sounds confusing, then fear not. We have found the best podcast equipment for you.
If you're still not sure what a podcast is, don't feel ashamed! You're not the only one. That is why we made an article answering the ancient old question, what is a podcast?
Minimum podcast equipment setup
Regardless of the budget, some gear is necessary for recording a podcast. While some apps might tell you that you can do it all from your phone, no one is going to listen to a podcast recorded through a phone microphone.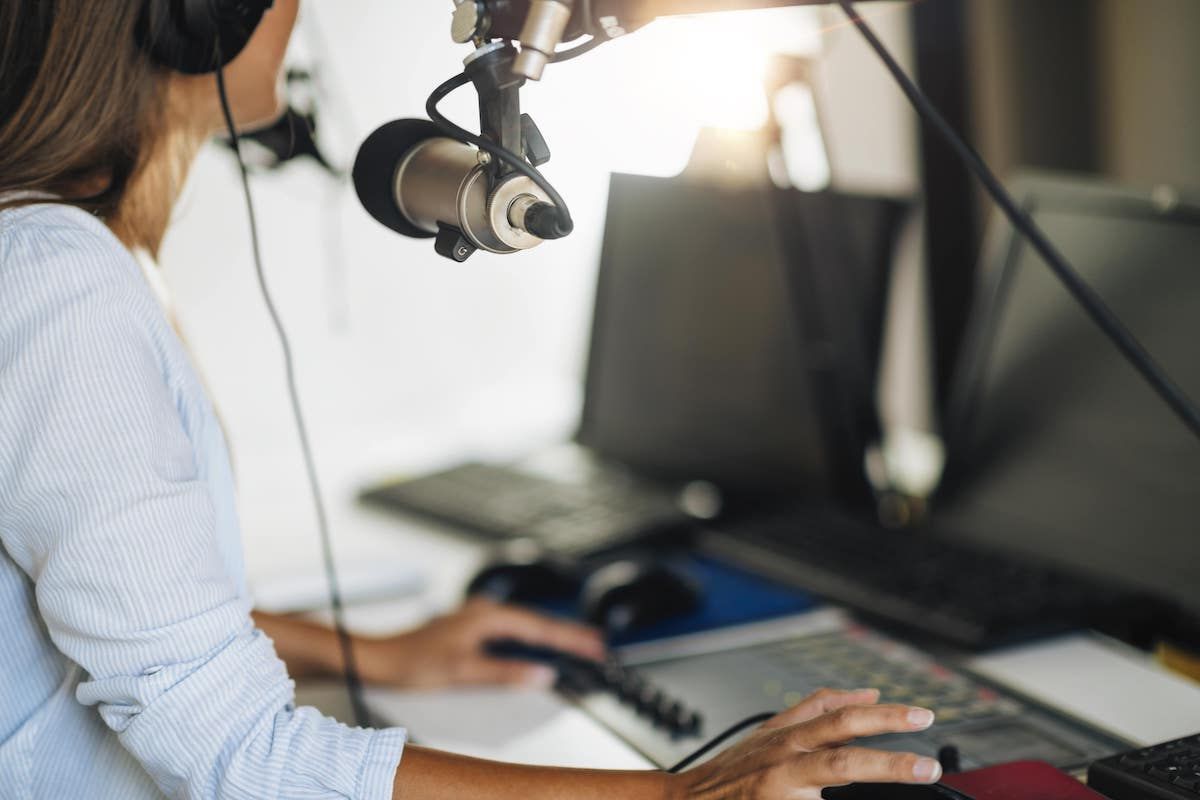 A computer
The first thing you will need is a computer. You'll need something to record your audio and edit your podcasts. While you could hypothetically do it on your phone, it would be less than optimal.
You will have to do some software hunting if you want to record more than one microphone at once.
Having a computer will allow you to record, edit, mix and master your audio and upload your podcast to different platforms. Without a computer, this can quickly become quite a hassle.
Having a computer at hand is also great for editing video podcasts together if you choose to go that route. Furthermore, you can use your computer to keep your topics in check and implement it in your podcast if you are doing video reactions.
3 Top computers for podcasting
MacBook Pro
Razer Blade
Microsoft Surface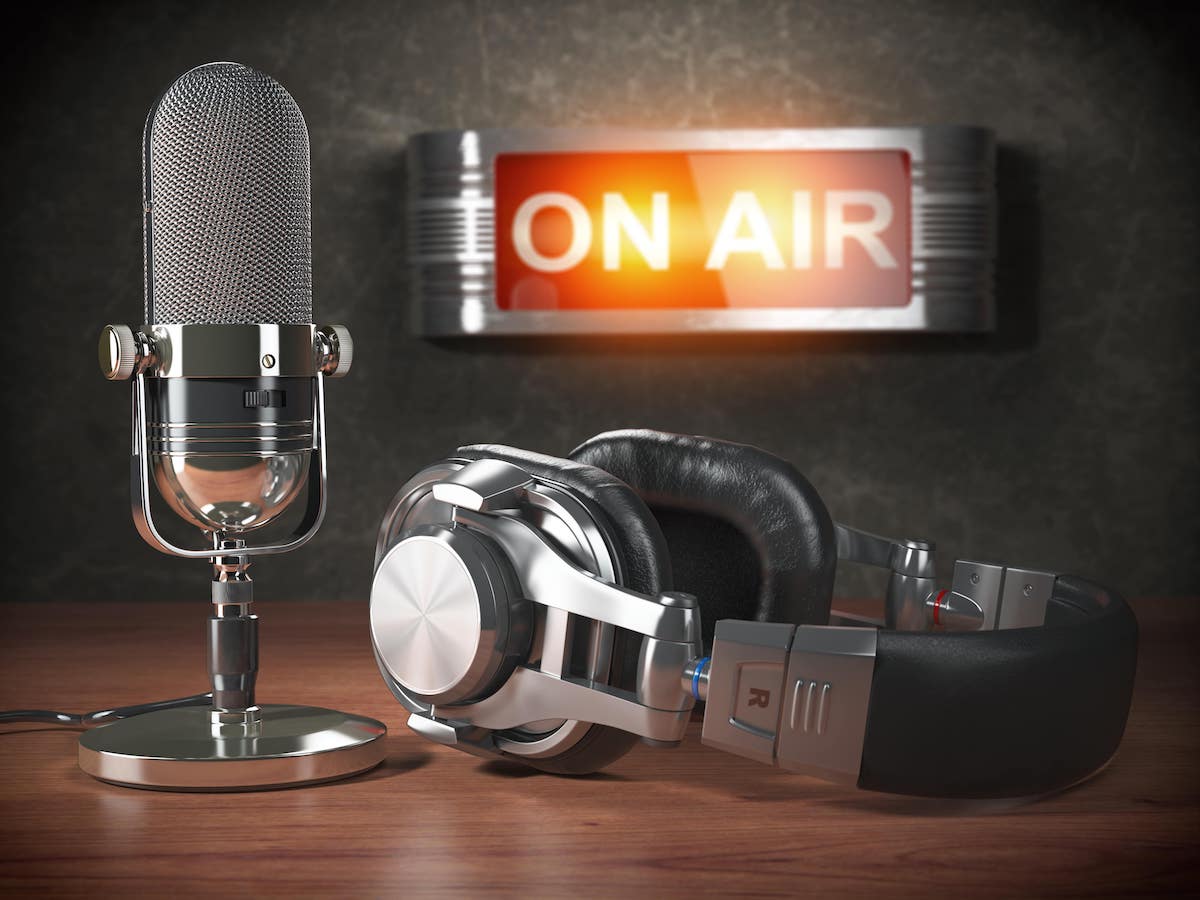 A microphone
A microphone is one of the most vital pieces of equipment for a podcast. Do not bother recording a podcast if you don't have a good microphone. No one is going to stick around with you for 60 minutes, listening to what might as well be a live phone call.
Not only is a great microphone needed for people to enjoy your podcast, but it also gives off a sense of professionalism for your listeners. Think about it. Even amateur filmmakers try to get a decent camera before releasing their films.
And if you're more than one person on the podcast, don't cheap out and use the same microphone. There are many problems associated with using the same microphone.
If someone is breathing into the microphone while the other person is talking, you can mute their audio track. Some people also naturally speak louder than others, and it is a lot easier to mix the audio if you have separate audio tracks.
3 Top microphones for podcasting
Blue Yeti
RØDE NT1 Kit
Heil PR-40
Extra: Essential podcast equipment
We have also gathered a list of extra essentials you can use for your podcasting endeavors. While these aren't necessary, they will enhance your podcast quality. It would be very advisable to at least consider adding them to your podcast kit.
We have found the following, which we believe is the best podcast equipment you can get.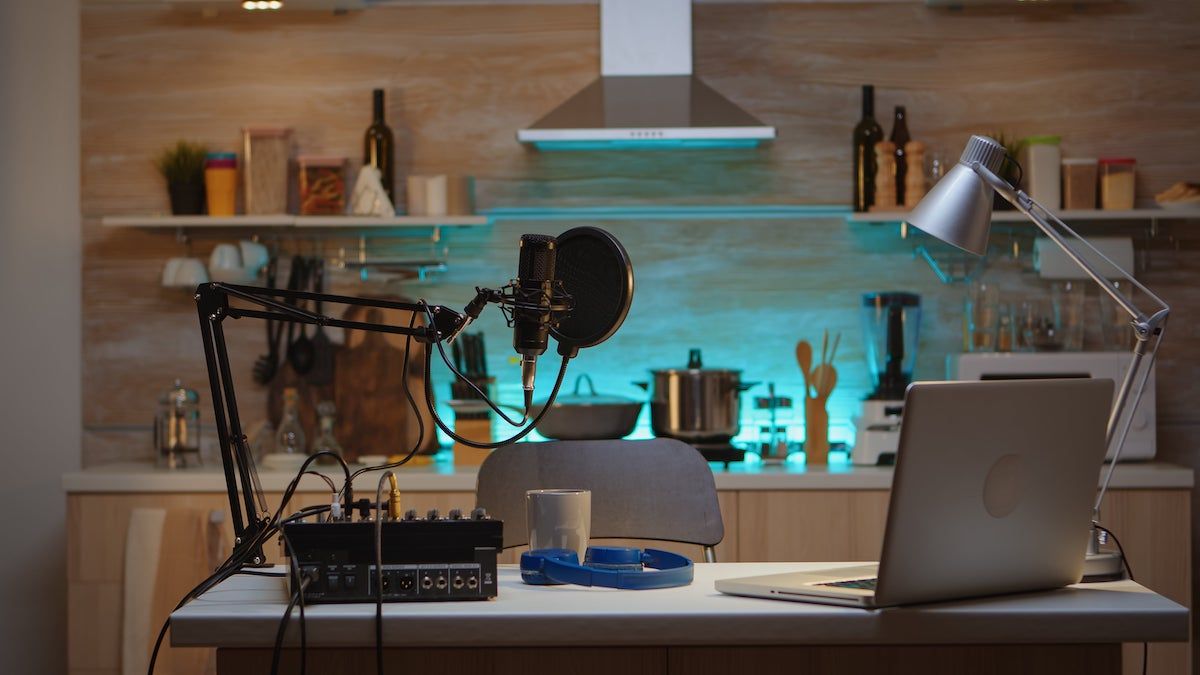 Audio interface
An audio interface is a USB device allowing you to convert analog audio into digital. It essentially allows you to record your voice onto your computer, with a smaller loss of quality.
It also allows you to keep track of your microphones in real-time, which is extremely useful if you are more than one speaker.
It will give you the ability to turn up and down for each microphone in real-time.
We suggest: M-Audio M-Track 2x2
Mixer
You'll need an audio mixer when doing podcasts with multiple people. Like the audio interface, it requires you to plug in different microphones. However, a mixer has more settings available than an audio interface.
It is a part of the podcasting kit of every famous podcaster. You can control the EQ, levels, gains, and more with the mixer.
We suggest: RODEcaster Pro Podcast Studio
Pop filter
If you have ever seen a video podcast, you've seen a pop filter. A pop filter is essential for eliminating or, at least reducing, annoying pop sounds. You will hear these popping sounds when people pronounce words that start with K, T, and P.
The sounds can be dreadful to listen to in your ear, and if you've only ever listened to professional podcasts, you've probably never noticed them.
But trust me, they are there.
And you will scratch your head thinking whether you are just bad pronouncing words when playing back your audio.
Noise-canceling headphones
Having noise-canceling headphones is another great addition to your podcast kit for audio tweaking and other benefits.
It will allow you to hear your voice in real-time, so you can check if anything is wrong with the audio you are recording. If you are more than one, it will also allow both of you to focus solely on what the other person is saying.
Furthermore, you can both look out for audio pollution that would otherwise go unnoticed.
When using headphones, you will hear what the audience is hearing. You will save yourself from a lot of time spent mixing and editing.
You want to have a good pair of closed-back headphones. In this way, the sound doesn't spill into the microphone.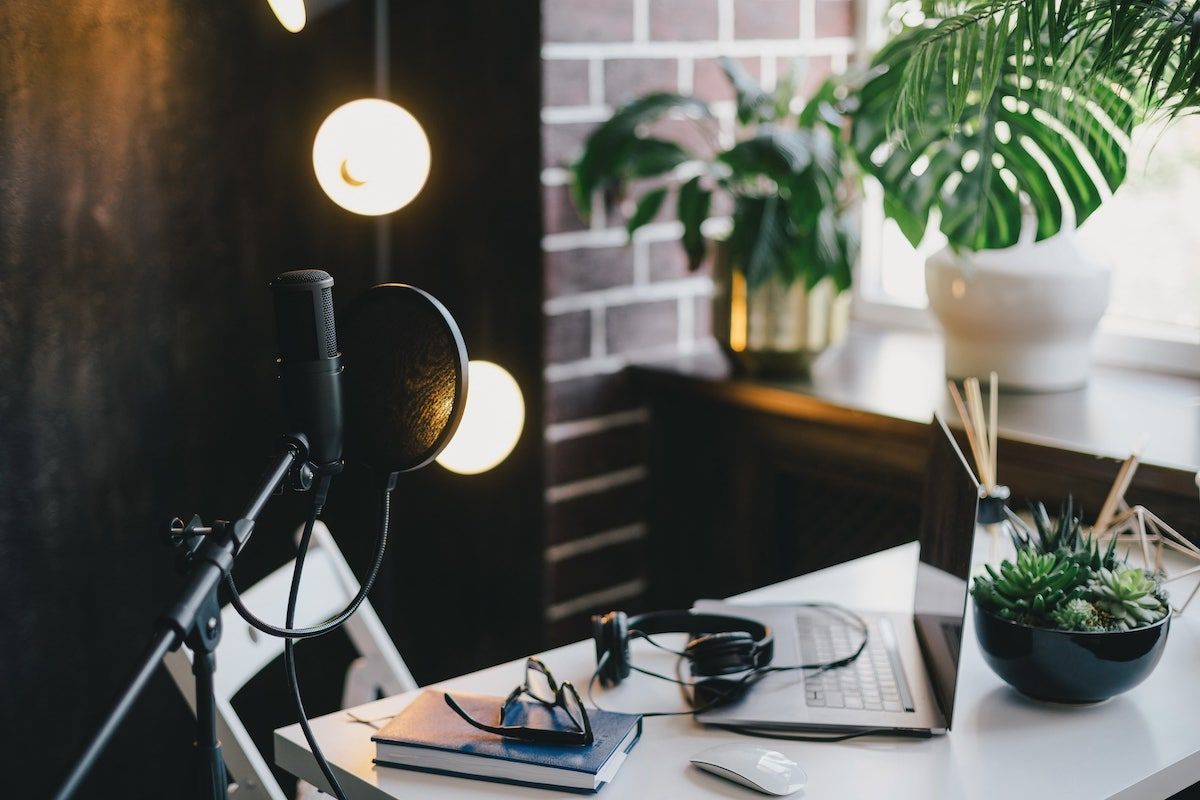 Headphone amplifier
A headphone amplifier is an external device you can use for your headphone to amplify the sound quality.
It isn't necessary to use a headphone amplifier, but it is useful. It effectively boosts the quality of your headphones and lets you hear crisp sounds.
By having a headphone amplifier, you can be more than sure that if the audio you hear is clear, the audience's audio will be clean as well.
Mic stands
If you have ever seen a professional podcast or radio studio, you know that they use mic stands. The reason is that handheld microphones risk vibration sounds or sounds created by changing the microphone's position.
With a mic stand, you avoid all of this unnecessary noise pollution.
A mic stand will also allow you to keep your hands free, making it easier to control your equipment or read from your computer/script.
Shock mount
A shock mount is a device that keeps your microphone constantly in place. What it does is that it reduce the vibrations that occur when someone is moving the mic stand. It also reduces vibrations coming from other sources.
Having a shock mount is another ideal addition to your podcast kit if you want to reduce the noise pollution coming in from fidgety hosts.
Microphone cables
If you want to record proper sound quality, you'll need an XLR cable. The XLR cable is a thick cable that transports audio from your microphone to your computer, mixer, or audio interface.
An XLR cable is the type of cable you typically see in podcast and radio studios. A great XLR cable is usually the difference between mediocre and great microphone audio quality.
Acoustic treatment
Acoustic treatment is the weird-looking panels you typically see in a recording or sound studio. The panels catch sounds and make sure that as little sound as possible escapes the room.
And what is probably even more important, it also makes sure that as little sound as possible enters the room.
If you're having problems with noisy neighbors or living in the city, you should consider using acoustic treatment in your preferred podcast recording area.
DAW
A DAW is also known as a Digital Audio Workstation. Having a DAW is used for monitoring your microphone live feed. It is also used for editing and mixing your audio.
When you're done recording a podcast, you can't simply upload it. If you want to achieve great quality, you will have to listen through it and mix and edit your audio.
Perhaps you're breathing into the microphone while someone else is talking, or maybe you're catching some background noises that you didn't notice.
Whatever is wrong with your audio, you will have to check it out and edit it as best as you can. That's why you should consider learning how to use a DAW.
To learn more about which DAW could be good for you, check out our article on the best DAWs.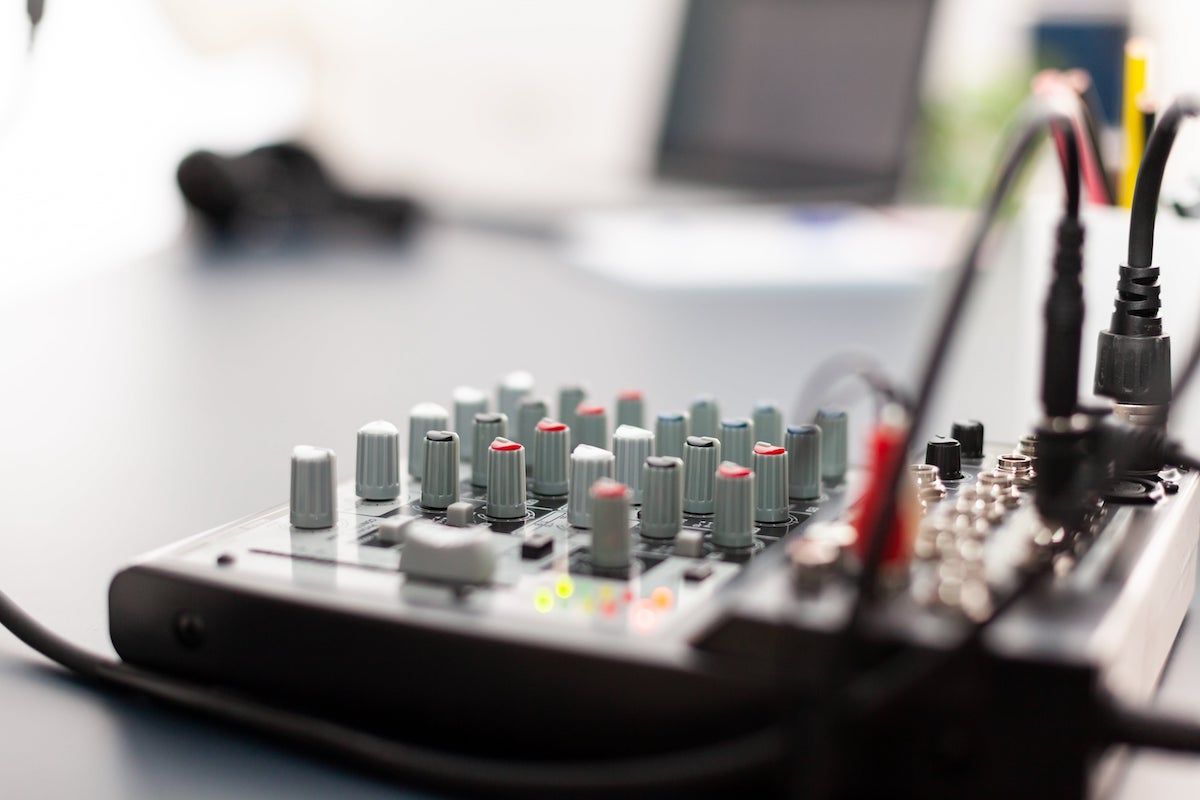 Podcast hosting provider
Having a podcast hosting provider is extremely helpful when you're releasing your podcast episodes. It will allow you to upload your podcast to several platforms at once.
It can also provide you with tools that can help you grow your audience, and it will generally make it easier for you to manage your episodes.
A solid recording space
Lastly, you are going to want to have a solid recording space. You want to have a place where you can record without being interrupted by noise or people.
You'll also need to make sure that the room you're in doesn't echo or have creaking floors.
Solid recording space is soundless and has space for all the hosts, guests, and equipment.
Find the best microphones for podcasting
I hope this article helped you, and that you're now ready to start your podcast.
Get excellent audio quality from the outset of your podcast career with the best microphone for podcast.
If you don't want to spend a ton of money before your adventure becomes successful, consider renting or subscribing to a microphone.
It will give you access to quality equipment without spending thousands. After all, you're only recording once a week.
Camera Hire: Take Your Production to The Next Level
71PttfqWPXk
Camera Rental: Save Money with Wedio
5sHshmF1n_Y
Rent Camera Gear: Access Pro Equipment
qqHXJy6AWlc
About the instructors
FAQ
What equipment is needed for doing a podcast?
The only thing you need is a computer and a microphone.
How to set up podcast equipment?
You will need a soundproof studio with space, a computer, audio mixer, microphones, headsets, and XLR cables.
What are the best microphones for podcasts?
The best microphones for podcasts are the Blue Yeti, RØDE NT1 Kit or Heil PR-40.
Popular listings for rentals