Go Live or Go Home: Why Live Streaming Is the New Black in 2023
With the spread of COVID-19, the opportunities to get out there and shoot new exciting content has been, well - limited. By now you must be craving new ways to create compelling video content.
Enter: Live Streaming.
The rise of live streaming
Back in 2015, the new kid on the block was online video marketing. Fast forward to 2023 and the online video marketing field is being overhauled by the next new thing – live streaming.
What's so special about live streaming?
Do you remember that awesome live streaming session from Coca-Cola, where they took you behind the scenes to show you exactly how they make their famous beverage? Me neither. But it sounds exciting, right? That's precisely the point with live streaming. Live streaming creates dynamic, authentic, and engaging content regular videos simply can't.
With live streaming, you don't have to explore the depths of the Bermuda triangle to create intriguing content. You can create and connect from the comfort and safety of your own home.
It's no longer "Go Live or Go Home", but rather "Stay Home and Go Live". See what I did there?
The unfortunate situation of COVID-19 hasn't slowed down the importance of live streaming. If anything, the pandemic has only helped manifest why live streaming will continuously play a major role in how video content will be produced.
Don't worry if you're not a pro when it comes to live streaming. We've got you covered in this round-up of why and how you should start live streaming.
The power of live streaming in 2023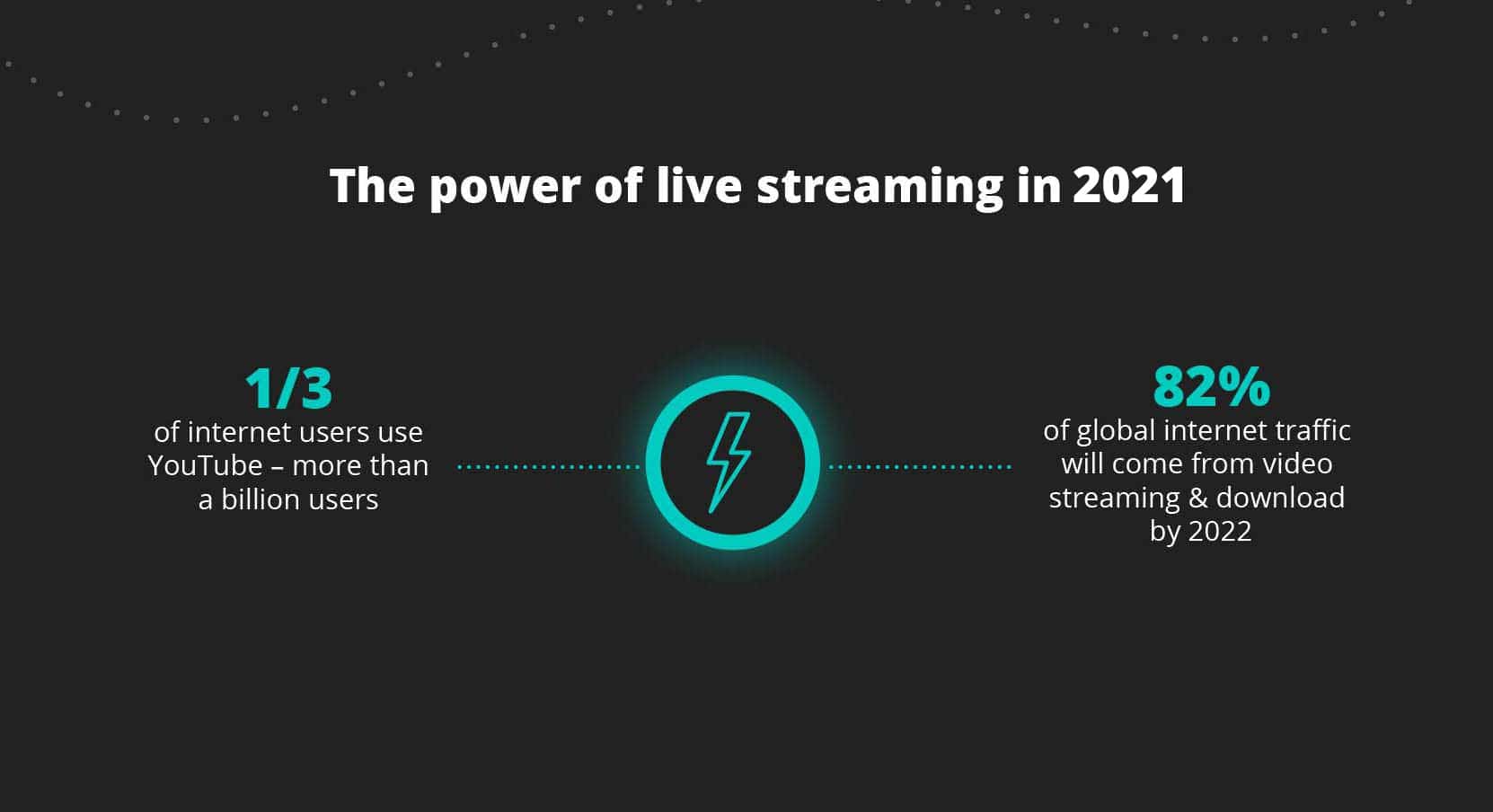 As of now, you are probably aware of video marketing's popularity. It's really no surprise that YouTube has over a billion users – almost one-third of total internet users.
Rest assured – the hype of video marketing isn't going away anytime soon. Quite the opposite - it is estimated that by 2023 a jaw-dropping 82% of the global internet traffic will come from video streaming and download.
The thing about video marketing is that it's been around for quite some time, and viewers are getting used to videos being part of their marketing feed. So, if you are looking for a new innovative video streaming experience for your audience. Look no further, live streaming has arrived.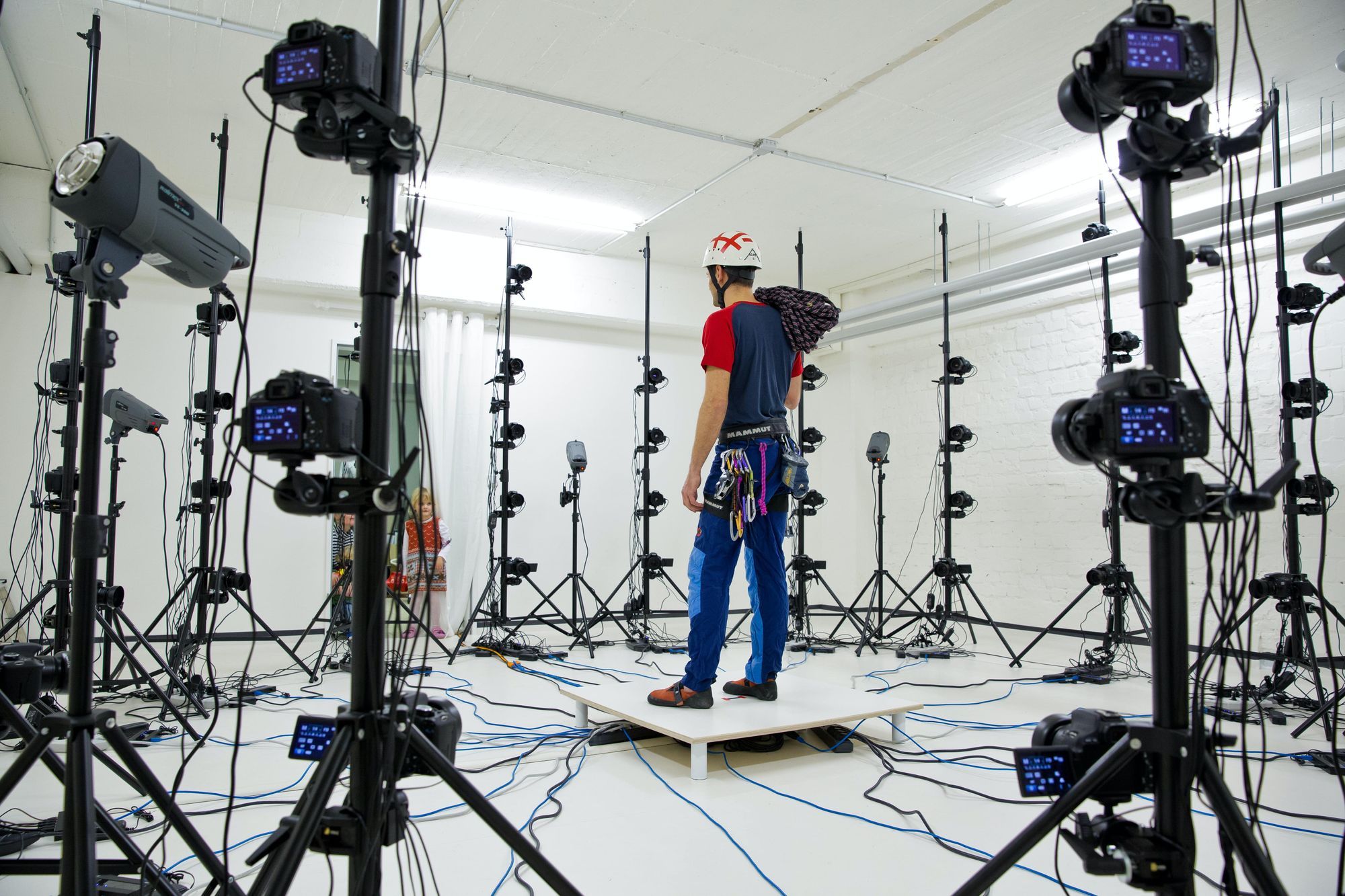 Let your audience take a peep behind the curtain
In its early day's TV broadcasting did indeed use to be live. But it didn't take long before editing took its threshold in this community. Now, in 2023, it seems that shift is being challenged. More and more viewers are joining the live streaming bandwagon.
Most of us have probably experienced staying up all night to see the Oscars or the Superbowl. Why do that when you can just see it the next day on YouTube? Because it's live! LIVE is the magic word here.
In a world filled with ads and sponsorships, live streaming allows you to be that one exception. Live streaming allows your audience to take a peep behind the curtain and discover all the wonders about you (or your brand). Letting your audience have a front-row seat allows them to feel included and connected with you. Ultimately opening up for a whole new kind of engagement.
You already know what high engagement rate leads to. That's right, sales!
Prepare your live stream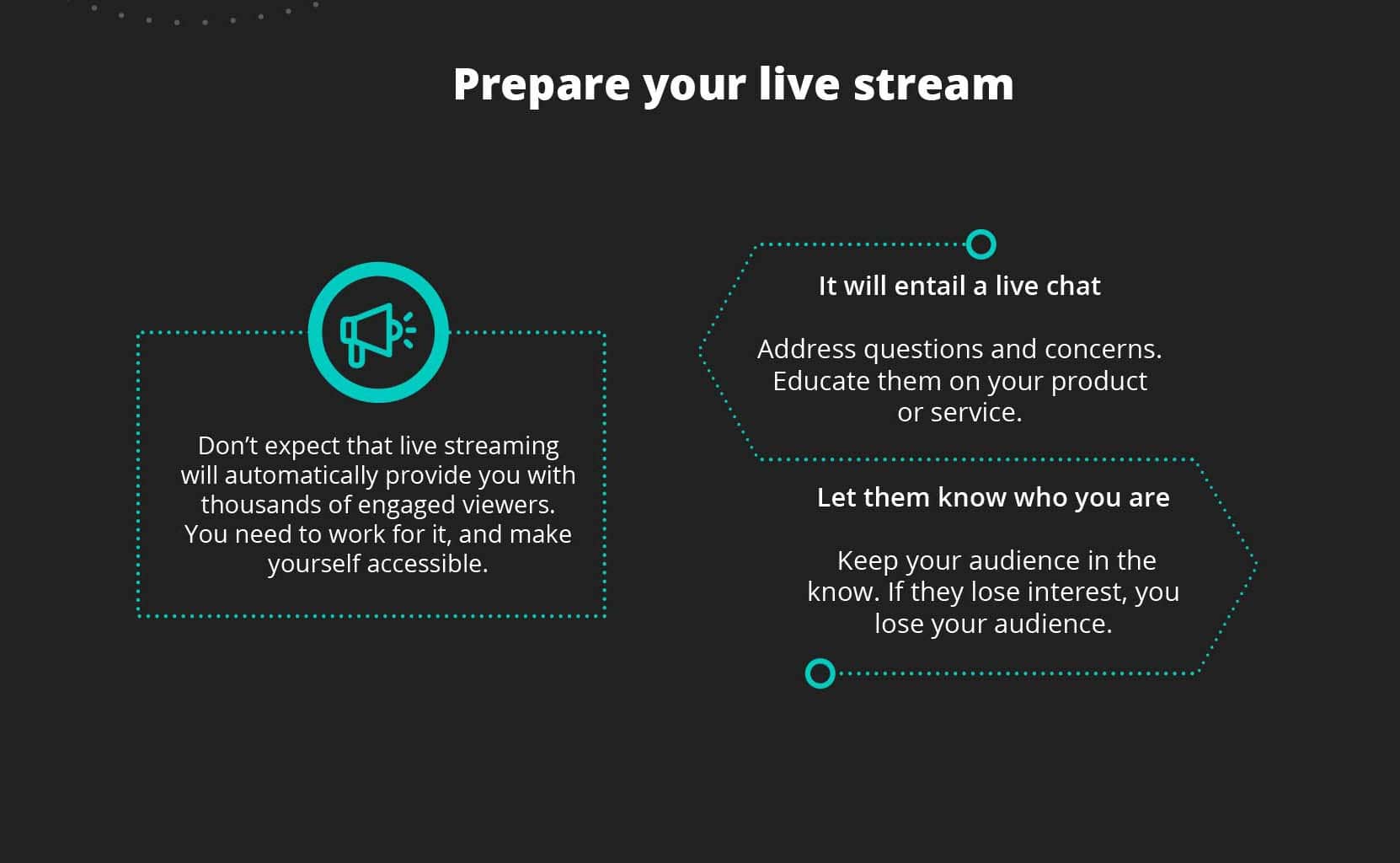 With that being said, don't expect that live streaming will magically provide you with thousands of engaged viewers. To reach that high level of engagement, you need to make yourself accessible.
Most often, live streaming also entails a live chat - use it! Address your audience's questions and concerns, include them in your live stream, educate them about your product and services. Let them be a part of your live stream.
Make sure that you always keep your audience "in-the-know". Unlike a recorded video, your audience won't be able to skip forward to something specific that interests them. This means you need to make sure that when your audience tune into your live stream – they instantly know who you are. If your audience doesn't know what's going on – they will lose interest, and you will lose your audience. Needless to say, you don't want that to happen.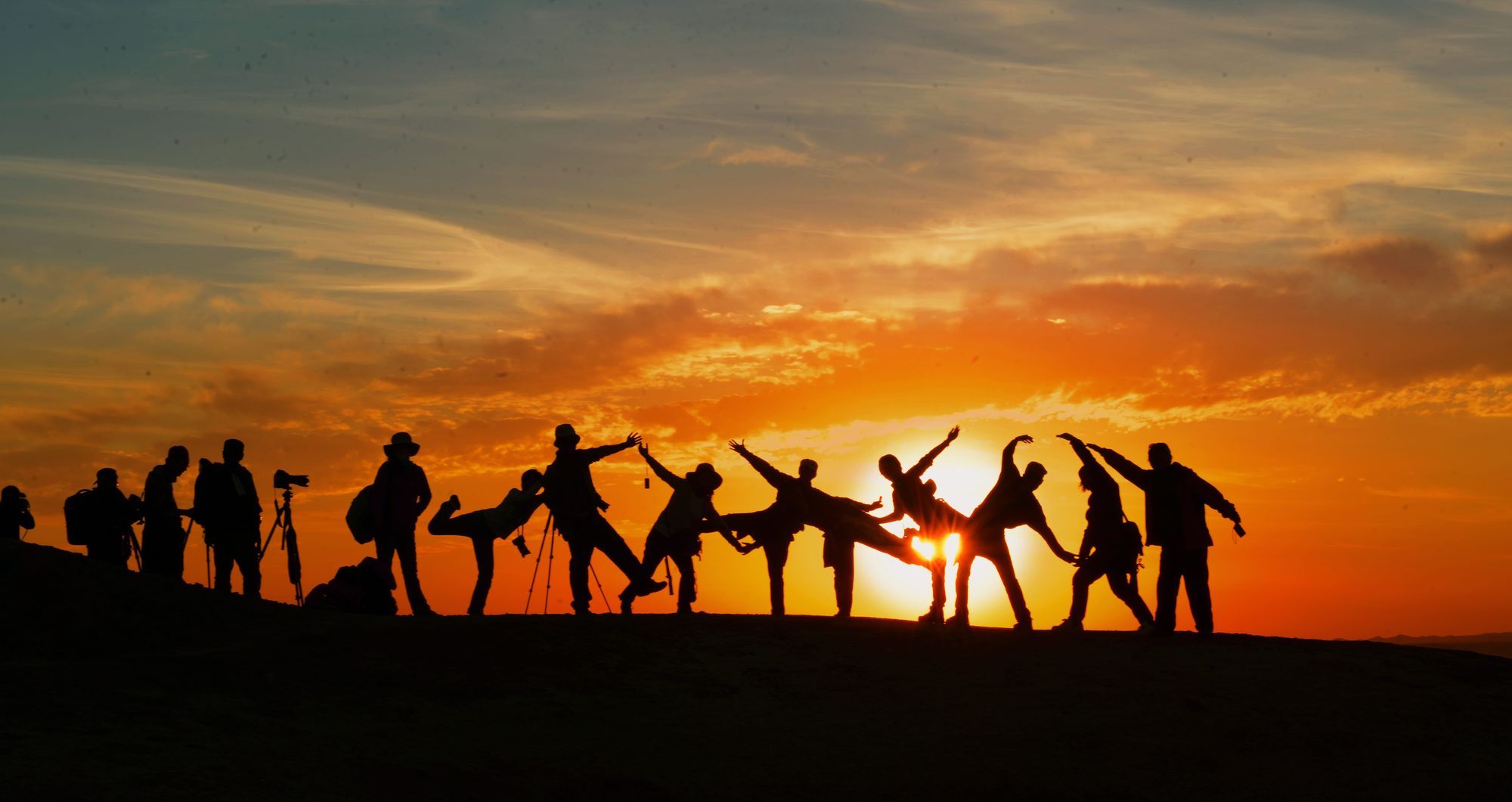 Create a community around your brand
The live chat is not only for interacting with your audience, it's also where your audience can interact with each other. When your audience has the opportunity to interact, a community is created. Letting your audience feel like they are part of a community means that they are more likely to promote, share, and encourage others to follow you (or your brand).
So, not only is live streaming generating millions of viewers daily, creating a high level of engagement, and contributing to brand transparency, it's also forging a community on your platform. Mind-blowing, right?
I bet you are pretty sure by now why live streaming is important, right? Good, but hold on – we've got more coming.
Applaud your mistakes
The reality of doing live streaming - there will be hiccups, silent moments, or other slips, no matter how long you spend planning your live stream. For those watching, these hiccups and awkward moments are exactly what your audience wants to see.
Did you know that the phrase "Friends Bloopers" has more than 20 million results? Why is it so funny to watch our six favorite friends make mistakes? Because it's authentic, it's real, it's… well, human.
Besides, what is life really about if we're not taking a few chances here and there?
I am not encouraging you to go completely rogue once you start your live stream. You should have a pretty firm idea of what you want to do and say before you start. Set yourself up for success – do a soundcheck, seek out the best lighting, and include a microphone.
What's important to remember is that despite your immense planning efforts, mistakes can and will most likely happen. This is part of the wonders of doing live streams. Creating that authenticity and sincerity that your audience craves.
Cost-effective solution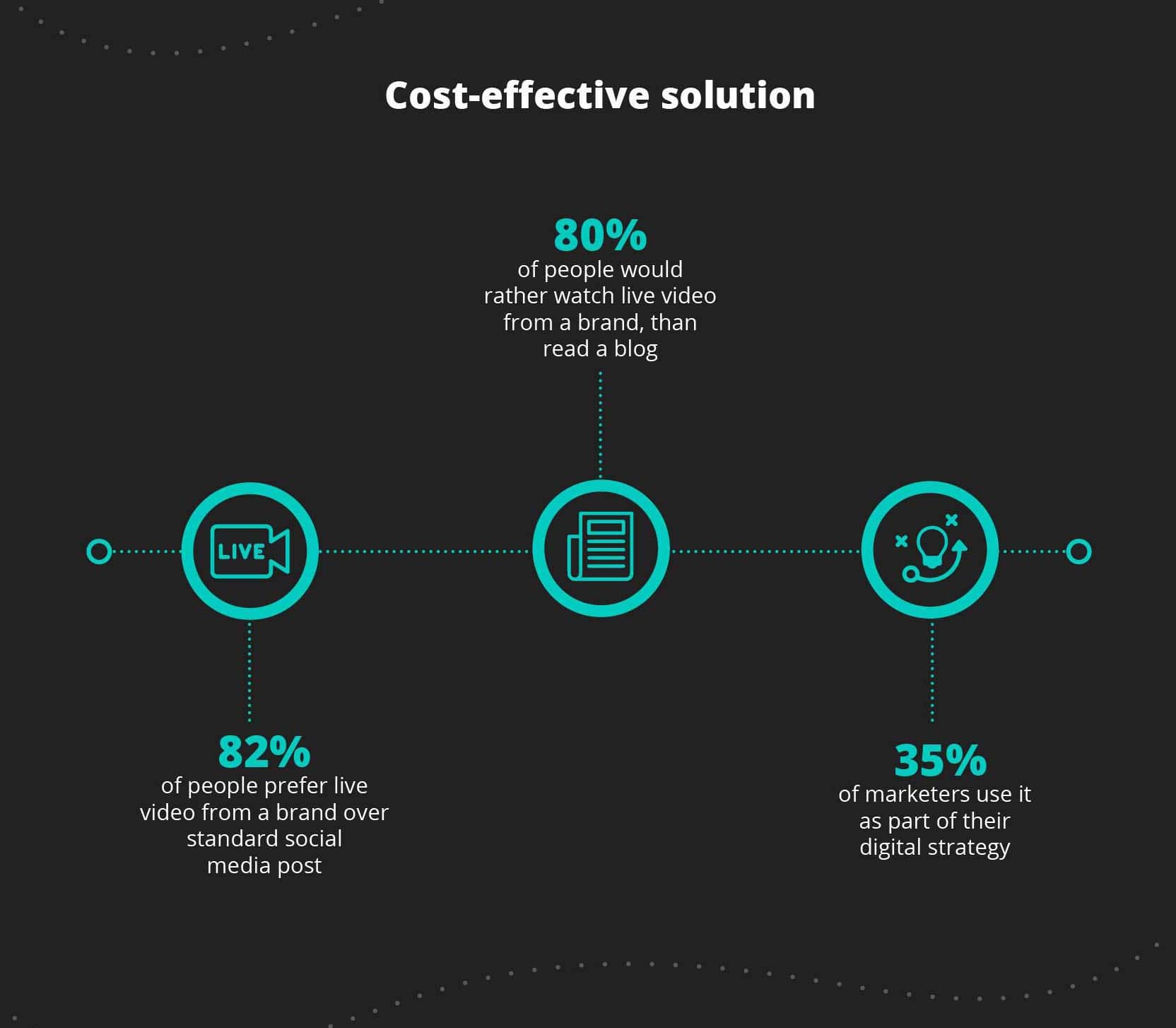 This probably isn't the first time you read about a must-have innovation. The thing about these innovations is that they don't come cheap. Before you just blindly take on these initiatives – you want to know there will be a decent ROI. That's why we've decided to do some research for you:
Live streaming isn't any more expensive than your conventional video. All you need is a stable internet connection and a proper live streaming camera. Now, unless you're sitting somewhere remote on Antarctica, that should be fairly achievable.
With all this in mind, why is it that only 35% of marketers use it as part of their digital strategy?
Live streaming is like that Apple stock you weren't sure was worth investing in. I mean, I get it, it didn't seem that convincing – a college dropout and a former expelled student in a garage… well, look who's laughing now. Point being, it is only a matter of time (maybe even minutes) before live streaming will be oversaturated and your competitive edge will dissipate.
Getting started with your live stream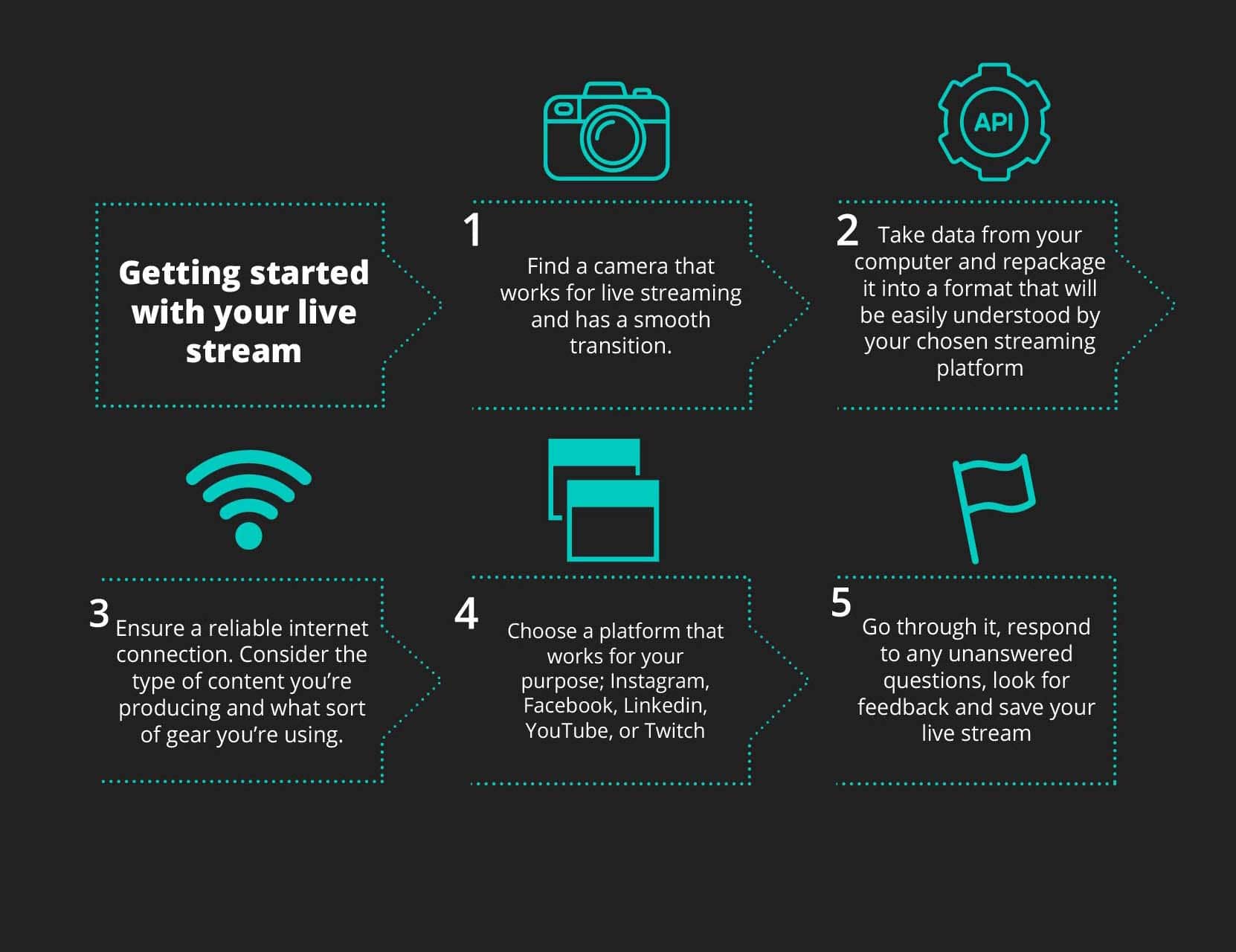 Alright, alright - you get it. Live streaming is important. The burning question now - How to get started? I'm glad you asked! Keep reading.
When it comes to live streaming the key rule is: there are no rules.
Live streaming is one of those rare opportunities that allow you to experiment, without coming off as unprofessional.
That being said, your streaming setup should follow a few basic guidelines. Lucky for you, I've created a checklist containing five clear steps, so you'll know exactly how to do live streaming.
1. Find the right equipment
This might seem obvious – you're going to need a camera.
While it is possible to live stream without special equipment, wouldn't it be great if the viewers could enjoy your stream in crystal clear video quality? We think so too! So, we've created a blog post that takes you through the cameras that work best for your next live streaming session.
A correct camera, however, isn't the only equipment necessary for a great live stream. You also want your live stream to remain steady, or to have smooth transitions if you move from location to location. Nothing too fancy, you just want to avoid recreating a running scene from a mission impossible movie. Speaking of this, have you ever seen a film with Tom Cruise without a running scene? Like ever?
Here, you can use:
Tripod: To prevent camera movement
Small Tripod: In tight situations where a standard tripod is too large
Stabilizer: Helps you avoid blurry or shaky footage when moving around.
Aside from stabilizers, tripods, and cameras, you may also want to invest in a powerful graphic card capable of rendering your screen to your audience during your live stream. Without a dedicated GPU to support your live stream, it may cause issues such as lagging and fps drops, especially if you are live streaming gameplays. Here, you can try the powerful Nvidia RTX 3090, which has a score of 205,468.
2. Getting the right format for your content
You are going to need an encoder. You may have never thought about what an encoder is – but encoders are actually found in machinery across industries.
An encoder is a sensing device that provides feedback from the physical world and then converts motion to an electrical signal.
Still not sure what an encoder is? Don't worry. The key thing to remember is that you'll need to find a device that can take data from your camera and repackage it into a format that will be easily understood by your chosen streaming platform.
3. A stable internet connection
Let me paint you a picture. Picture your favourite Star Wars movie, you got your favourite pyjamas and popcorn in hand. Princess Leia and Han Solo are finally about to be reunited, and then… the screen freezes... and all you are left with is that "loading" image. Thanks Disney+! I mean, I'm all for a great cliffhanger, but that's just a mood killer.
You don't want to leave your audience hanging. So, make sure you have a stable internet connection, because if not, may the force be with you...To ensure you have a reliable internet connection, you should consider the type of content you're producing and what sort of gear you're using.
You should also check the specific bitrate your chosen stream platform recommends. Then, cross-check to see whether you can maintain an upload speed necessary to maintain the stability of the stream.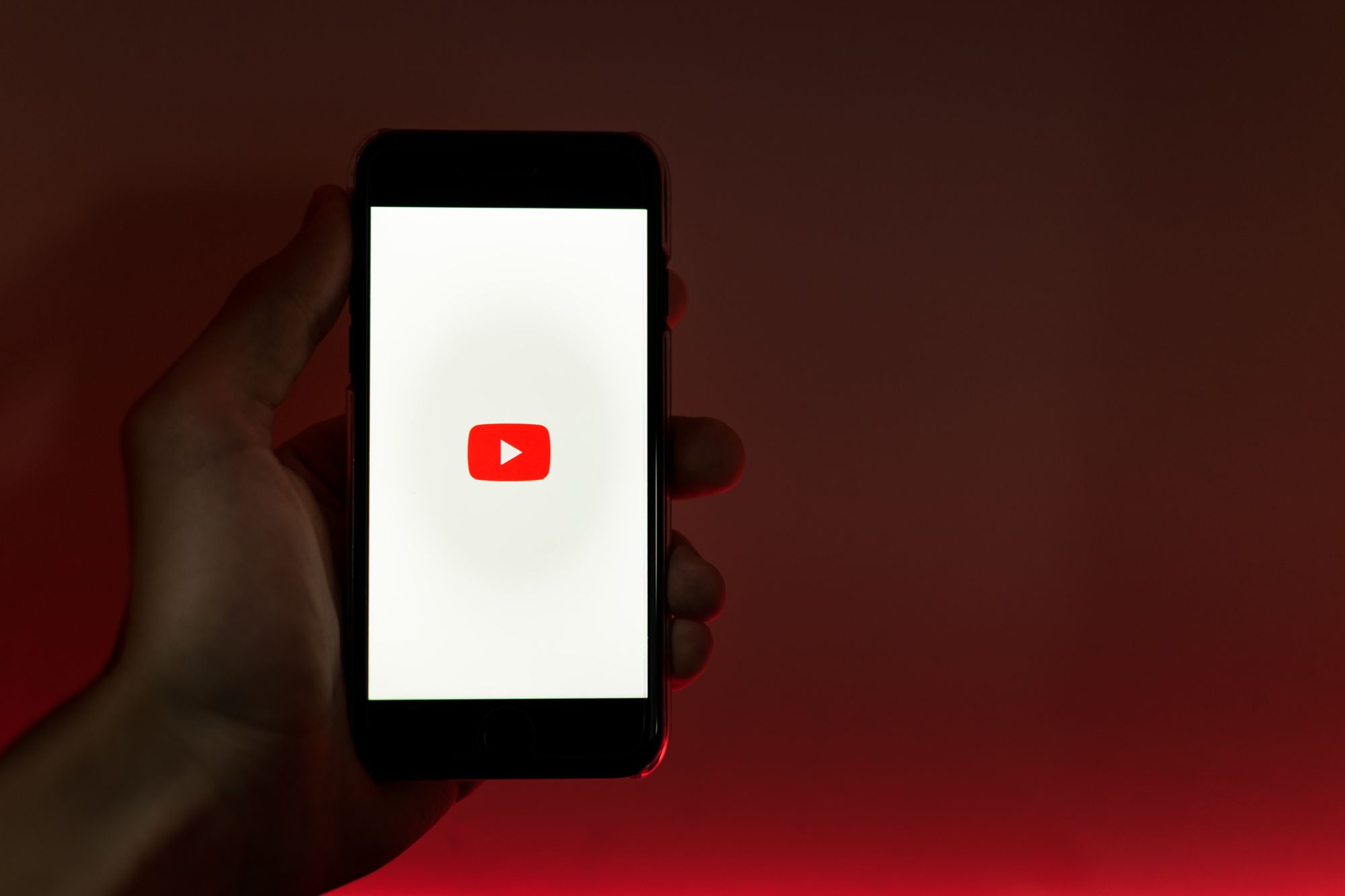 4. Choosing your streaming platform
It's possible to do your live stream on multiple platforms if you know that your audience are spread across different mediums. However, since this might be your first time, it might be best to ease into it – decide on one streaming platform and use it as your guinea pig until you feel ready to get more experimental.
There's no lack of live streaming platforms out there. If anything there's too many to choose from. To make things more manageable, I've broken it down to the five main ones.
Instagram
Instagram Live works as part of the Instagram Stories, which now has more than 500 million daily active users – that's a whole lot of eyeballs, potentially watching your live stream.
What works so brilliantly with Instagram Live is that followers who haven't turned off their Instagram Live notifications will get a message notifying them of your live stream as soon as you hit live! Meaning, you can forget about trying to beat the Instagram algorithm. Pretty sweet, right?
Facebook
Facebook Live has recieved significant growth since its launch in 2016 – Why? Because it's easy to set up, fun and an engaging way to promote you (or your brand).
Facebook Live is the ideal option if you want to communicate your brand story, and build authentic relationships with your audience – in real time.
LinkedIn
LinkedIn Live is relatively new – don't be fooled by this, however. LinkedIn Live has shown impressive results since its launch. It allows you to build deeper connections and drive greater engagement, within the world's largest professional community.
Use this platform to launch new products, showcase who is behind your brand, or do a live masterclass on leadership.
YouTube
Get onboard with YouTube Live as soon as possible! Using YouTube Live is a great way to transform your online video into an interactive experience with your audience.
With more than 500 hours of video uploaded every minute, you need to create buzz around your video. How do you cut through this? - Make it live!
Show exclusive reveals, deliver announcements, and even have guests join your live stream.
Twitch
What kind of guide would this be without it mentioning Twitch?
Even though it's a gamer-first kind of platform, it's still a major player when it comes to the arena of live streaming.
Recently, there has been a growing interest in other types of content as well, including shopping trips, travel, and tutorials.
Even with industry titans like YouTube, Facebook and Instagram, Twitch is still very much a leader of the pack, and the place to be for every live streaming enthusiast.
I bet you still have a lot of questions when it comes to how you can do live streaming on these platforms. We've got you covered. Get our ultimate live streaming guide to skyrocket your career in the live streaming game.
5. Plan for after live stream has ended
Congratulations! You just finished your live stream. Yes, you are allowed to celebrate.
And admit it – your inner adrenaline-junkie loved the challenge and excitement it brought right?
Just remember, your live stream might be over, but there is still work to do (yay!).
Once you finished your live stream go through it; respond to any unanswered questions, look for feedback, and make sure to save your live video stream – that way you've also recorded a video ready to post – talk about a win!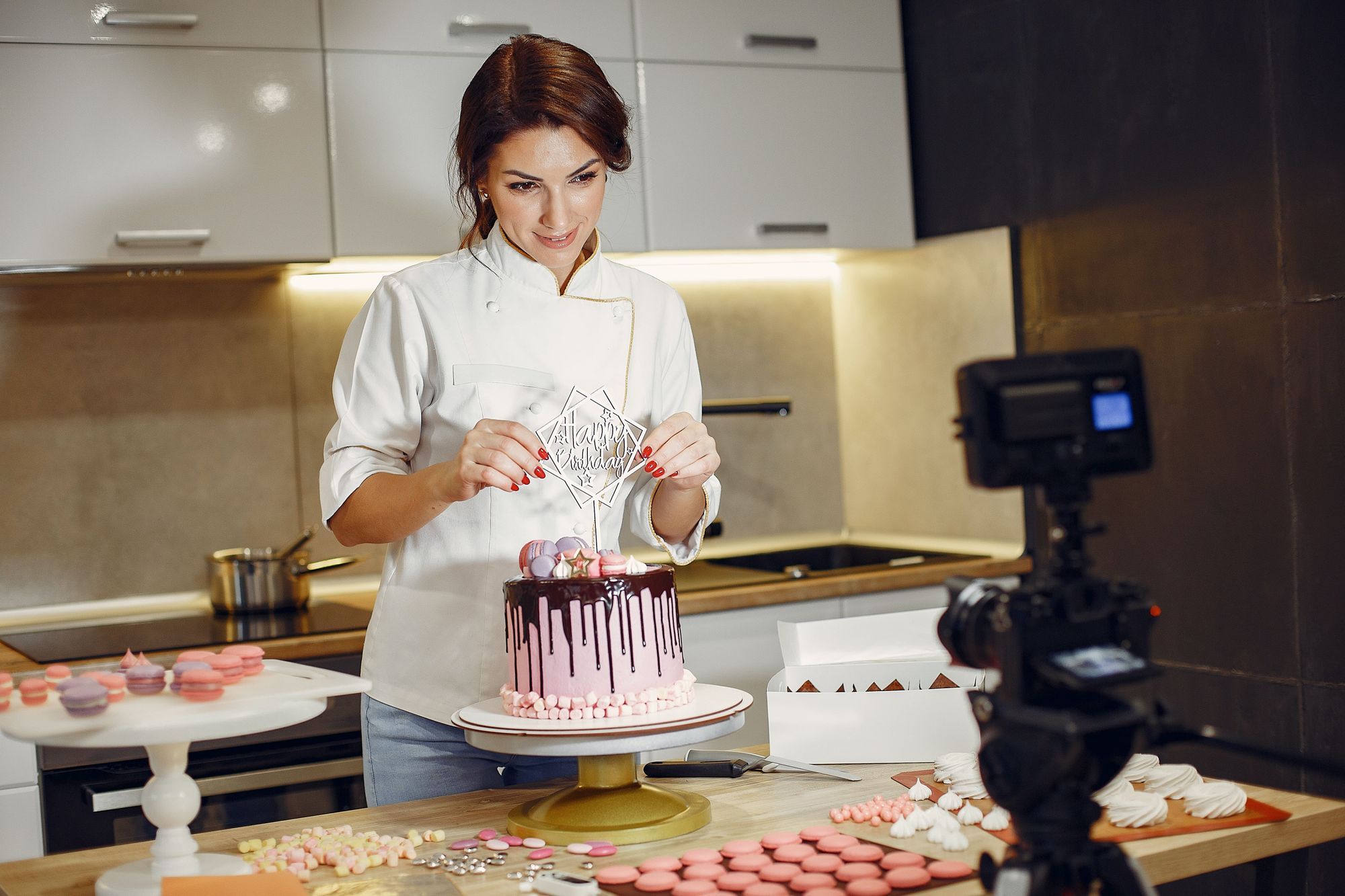 Live streaming methods that can work for you
Now you understand why you should do live streaming and know the best practices behind it. You need to think about what live streaming methods will work best for you (or your brand). Remember no fingerprint is exactly the same, and neither is a brand. What other brands do and works for them might not be the same for you.
That being said, I don't think it will hurt to give you some inspirational tips for your next live stream:
Interviews and Q&As – Host an exclusive interview with, an influencer or expert - one that can offer valuable and actionable information. Offer your audience an in-depth look at a specific topic while conveying credibility and authority about your brand.
Behind-the-scene company tour – Give your audience a behind-the-scenes look at your brand. Show your audience how you brainstorm, develop, or create your product or service. Let your audience gain access to exclusive insights, that make them connect with you and your brand on a more personal level.
Product or brand updates – Have an upcoming product release? Perfect, tease your audience with a live stream, giving them a taste of this new product. Psst, this is also your opportunity to get instant, direct, and free customer feedback.
Tutorials – Tutorials or how-to videos are the perfect way to connect with your audience. Start a live stream showing your audience how they can use your awesome product or services.
Important to remember is that no matter what method you choose – you need to build suspense. You know how you can get people to watch your live stream, but you also need to make sure that they know that you are even doing a live stream. Inform your audience about your upcoming live stream and be sure to mention, which platform you're using, time and date it's happening, and what topic you'll be discussing.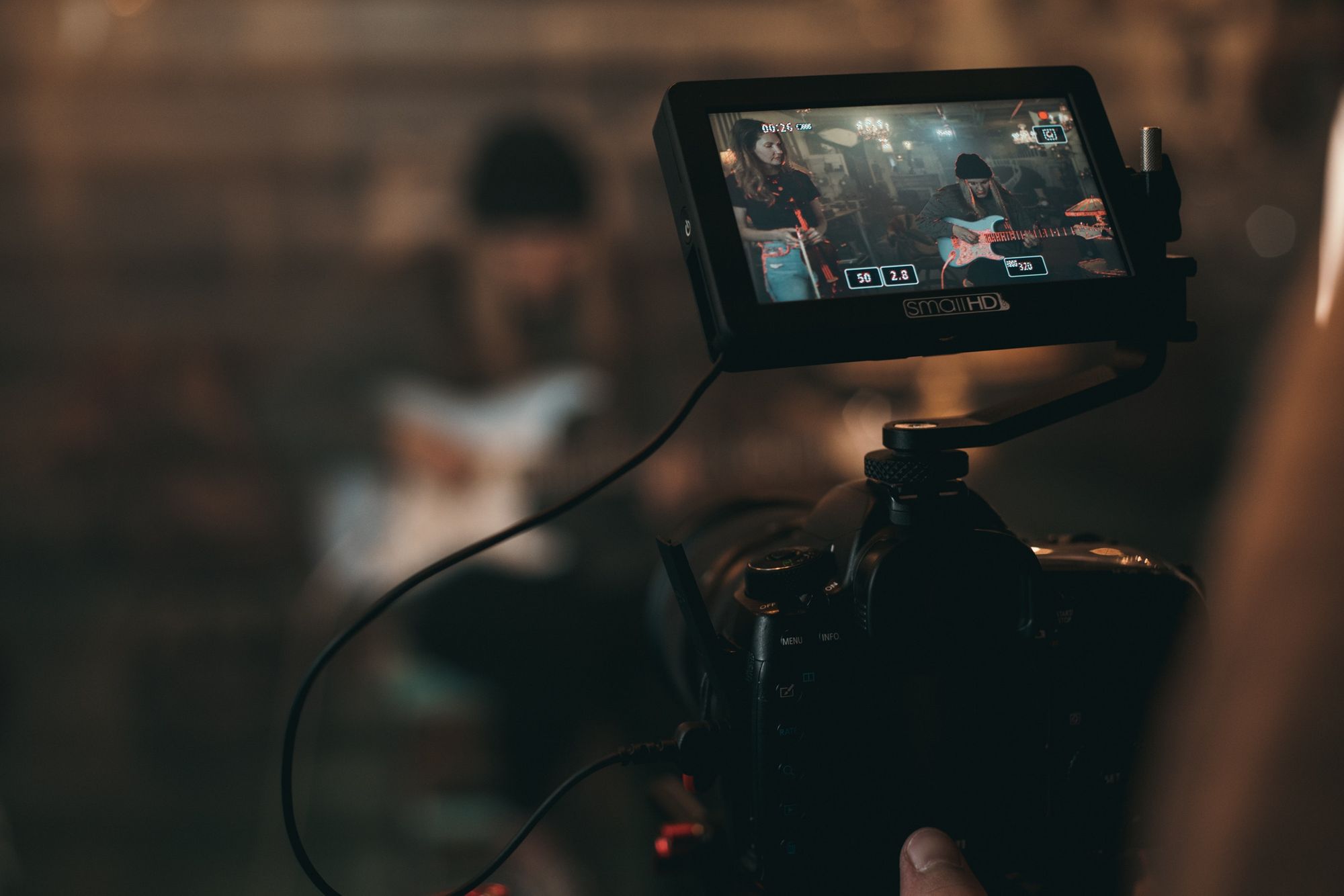 Final thoughts
Live video is the new black in the digital world. With its ability to hold your audience's attention longer, keep them engaged cost-effectively, there's no question that a great opportunity has arrived!
Looking to do more than the casual live streaming-sesh? Learn all the essentials of the filmmaking process.

Popular listings for rentals