New to Streaming or Already a Pro? Find the Best Live Streaming Camera for Your Ambition
Rent camera gear from local creators.
A good camera for streaming is essential if you want to be successful on video platforms such as Youtube Live, Facebook Live, or Twitch.
With a streaming camera, you not only get the opportunity of having your audience watch your videos online – but you can also make live streams and interact with them.
Fortunately, a streaming camera doesn't have to be expensive. And if you rent cameras instead of buying, you have the possibility of getting good quality gear on a small budget. In this article, we help you get started with advice on what to choose for your next streaming session.
Wedio top picks
Best camera for live streaming in 2022
What is a streaming camera?
To understand what a streaming camera is, you first have to understand the basics behind streaming.
As a live streaming session differs from the filmmaking process (which you might be familiar with), let's break it down.
When you stream a video, you allow people to watch it real-time on the internet without actually downloading it to their device. They can watch the video several times and whenever they want, but they are dependent on an internet connection.
When you live stream, you give your viewers the possibility of streaming the video while you are recording it. This means that the recording and the broadcasting are happening at the same time – normally only with a few seconds of delay.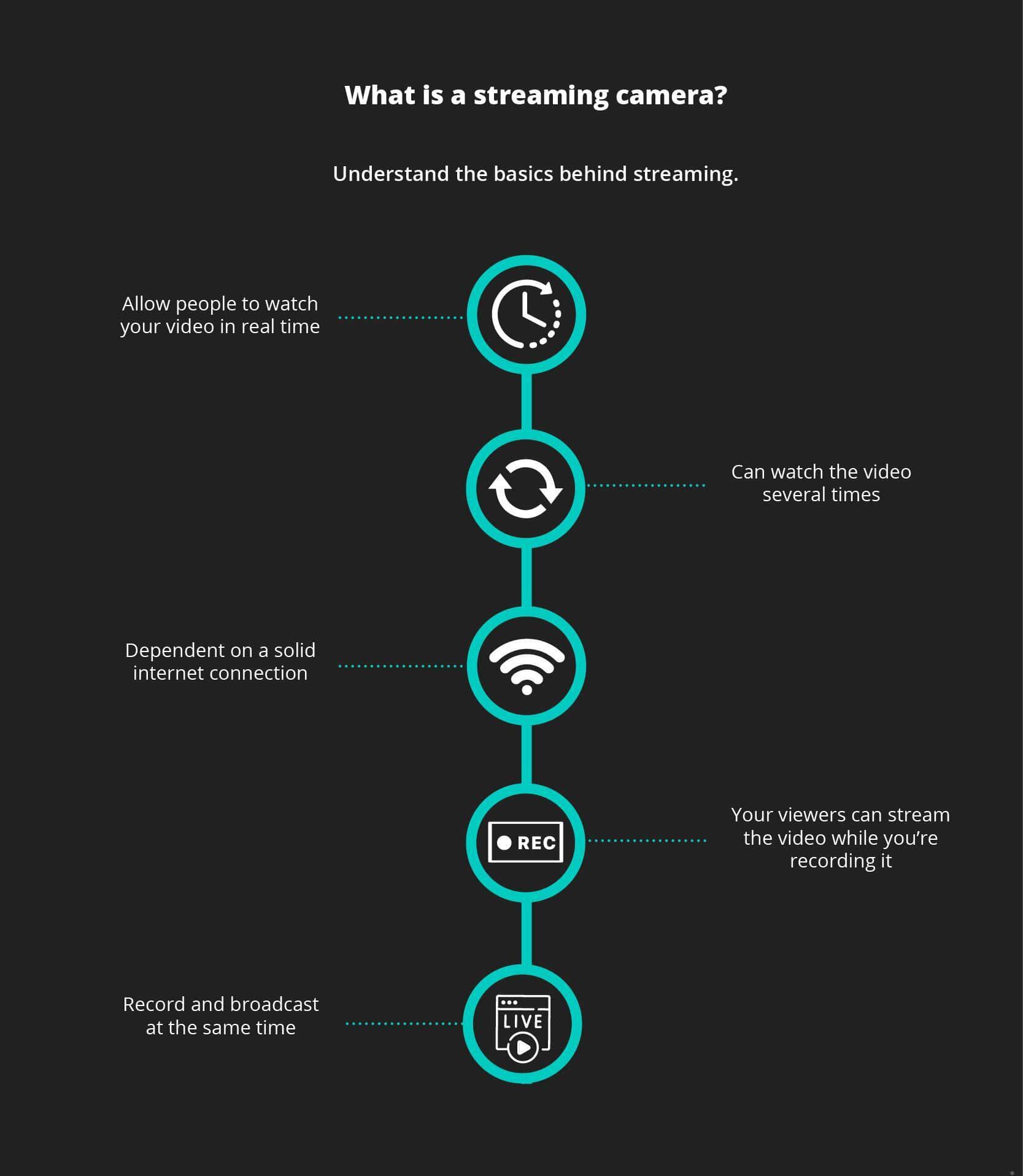 Important qualities in a streaming camera
A streaming camera can be any type of camera, meaning that it doesn't need to be made for online video uploading – although that does make especially live streaming easier.
Rather it is a camera equipped with the right type of audio and software for uploading or connecting videos to the internet. In some types of cameras, these may be built-in.
For other types of cameras, you may need extra features, for example, an HDMI input or a capture card. This all depends on how your camera is (or is not) connected to the internet and your computer.
Your requirements for a streaming camera may also vary according to your unique needs. If you are doing a gaming video or review, the webcam on your computer may do. But if you are going to move around a lot or want to do a bunch of after-editing, you might need a more advanced video camera.
Looking to go live with a live streaming video camera?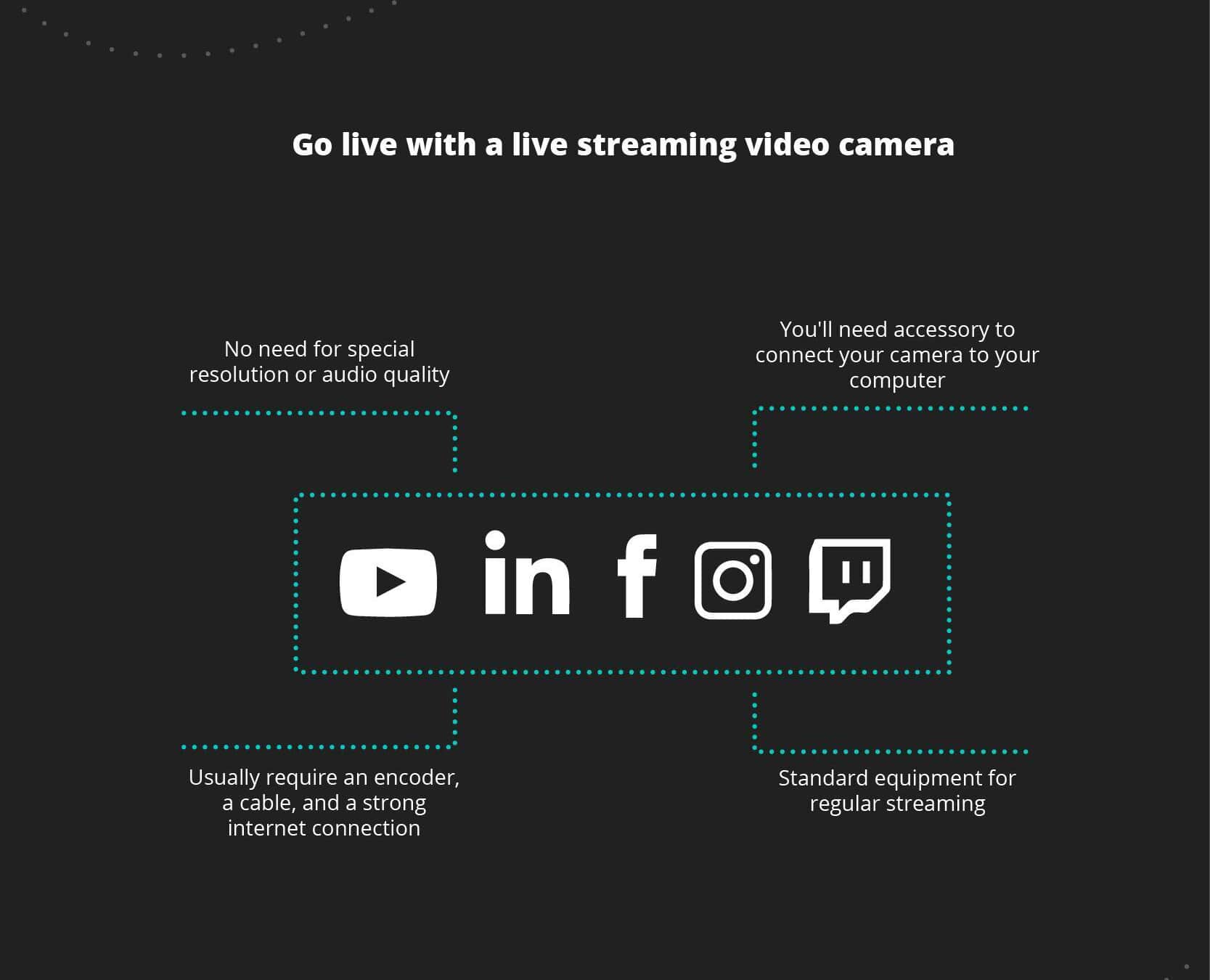 By now almost all of the big video uploading platforms like Youtube and Twitch offer the possibility of live streaming.
Live streaming doesn't differ much from normal streaming – except for one important aspect. The recording and streaming takes place simultaneously. Normally this also involves a live chat, where viewers can comment and ask questions.
This gives you the opportunity for a more dynamic and engaging streaming experience. But it also raises new demands for your streaming camera.
Special requirements for a Twitch, Facebook Live or Youtube live streaming camera
You don't need any special resolution or audio quality for a live streaming. The standard that you set for your equipment for regular streaming will do just fine here. This also means that you don't necessarily need two different types of cameras for streaming and live streaming.
What matters here is the accessories that will connect your camera to your computer and thereby to live streaming services such as Youtube, Facebook or Twitch. This usually includes an encoder, a cable, and a strong internet connection.
In this article, you can read all you need to know about the special requirements for Twitch, Facebook Live or Youtube Live streaming cameras.
From beginner to pro – find the best camera for streaming that suits your needs
What are your ambitions with your streaming videos? What message do you want to convey, and how technical do you want to get?
These are the questions you should be asking yourself before you invest in a camera for streaming. This is because the best camera for streaming may vary according to your individual needs and your level of ambition.
Confused? Don't worry. Below we have gathered a collection of some of the best cameras for streaming and live streaming that suits both the beginner and the professional.
Beginner or semi-pro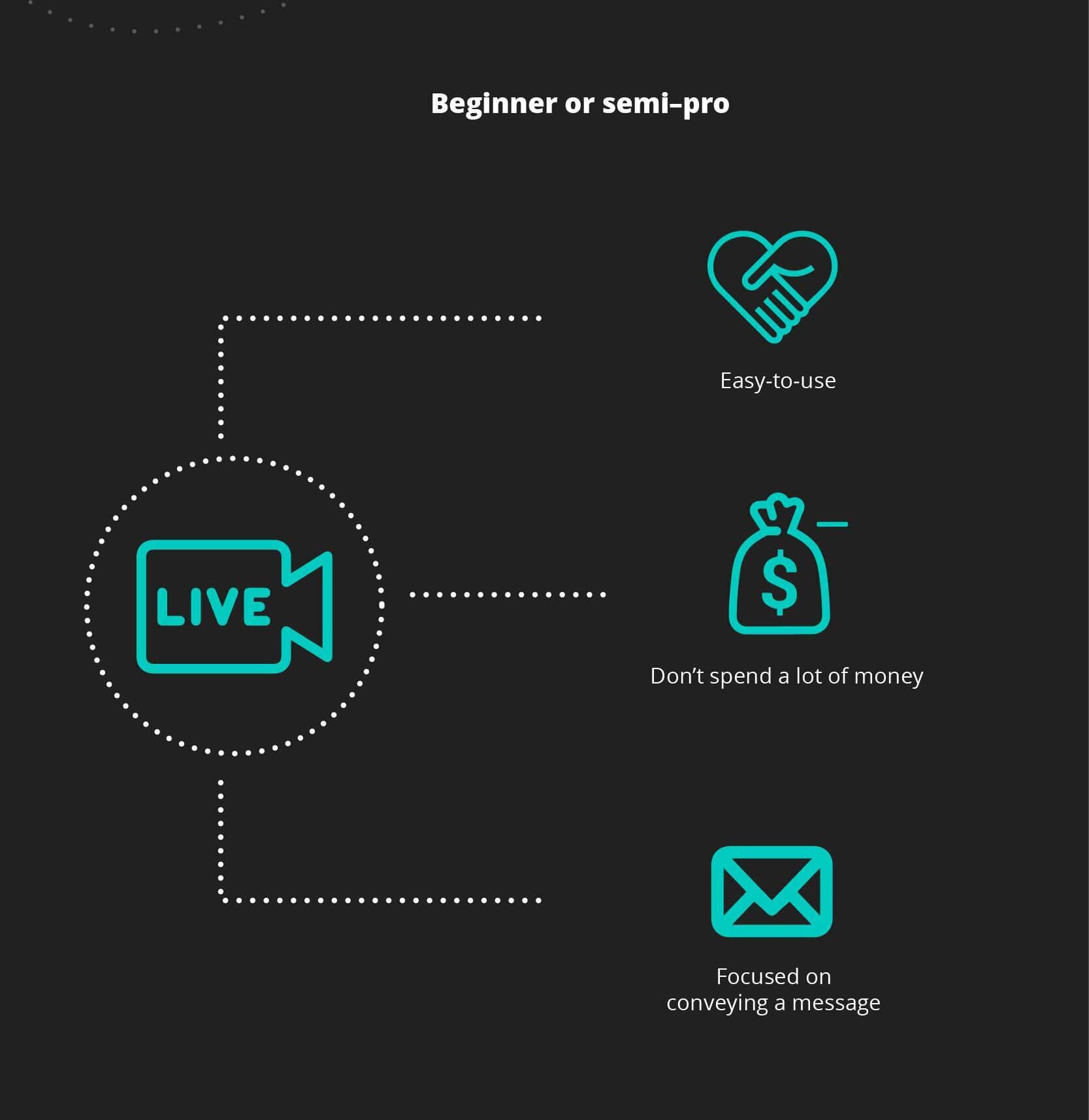 Maybe you don't know much about streaming – yet. Or maybe you are more focused on conveying a message or showing a play-through than on the quality of your audio and resolution.
In that case, an easy-to-use and not too expensive streaming camera is the way to go. You might be able to just go with the built-in webcam in your computer or with any regular webcam. But you'll quickly find their limitations in FPS and resolution, offering subpar image quality.
But you may also want to step up your game just a little. In that case, we have some good camera suggestions for you:

If you want usability and compact size, a GoPro may be the way to go. And with the Hero 8 Black, you get a lot of value for money. The resolution and image quality is high, the small size taken into consideration. Also, this camera is easy to take with you everywhere, making live streaming possible wherever you go.
Some users complain of having issues using the HDMI out. But when you get it to work, this is one of the best streaming cameras on a budget.
Explore our listings of GoPros here.
If you like the feeling of a regular live streaming video camera between your hands, this might be a good place to start. The Panasonic Lumix has many of the qualities of a classic mirrorless camera. But it is easy to use and works well with live streaming.
Check out our listings here.
Semi-pro and more ambitious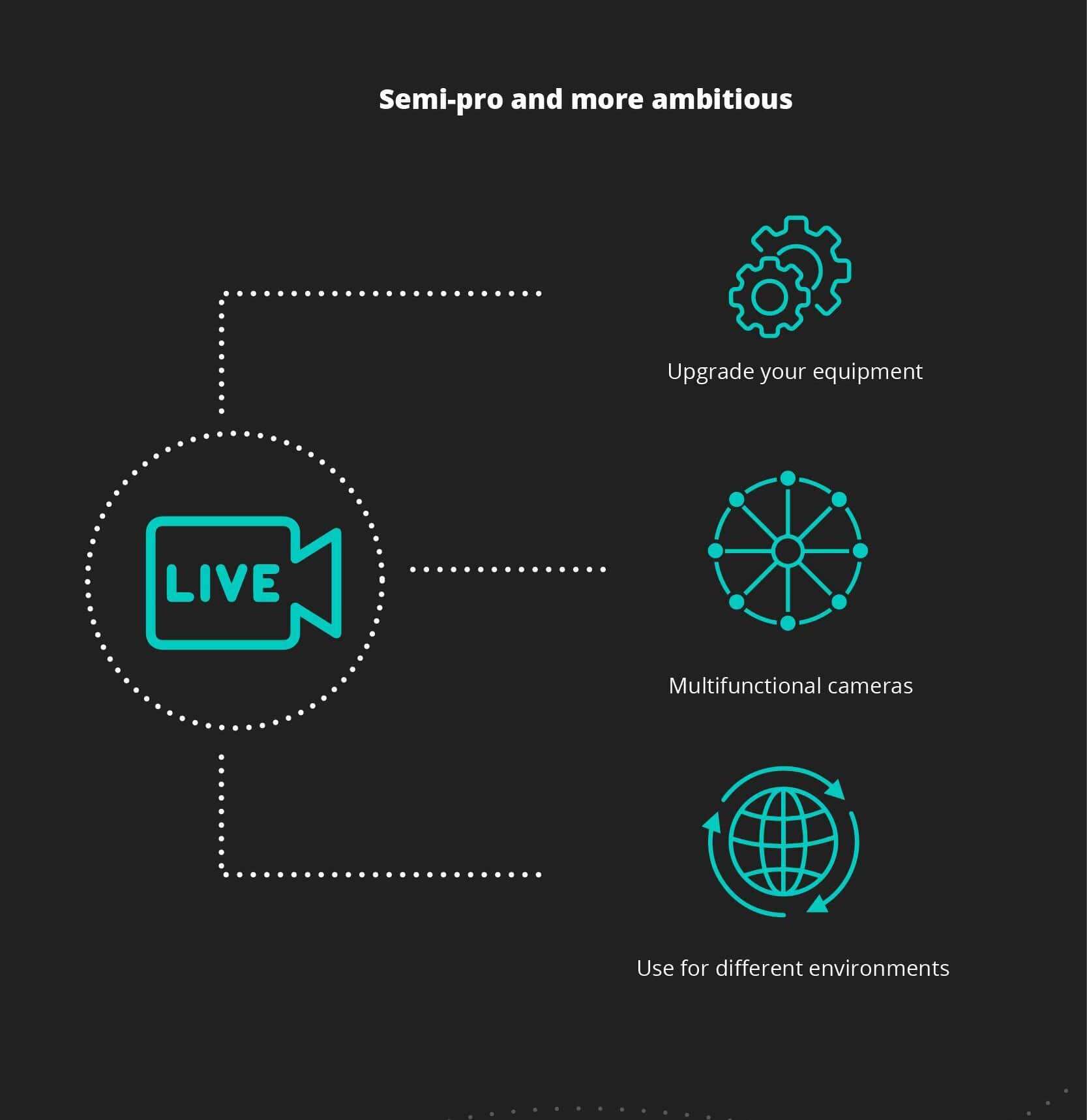 After exploring the world of streaming for a while, you might have a better idea about what you like and what you can do. This also means that you might want to level up on your camera equipment.
This might also mean multifunctional cameras that you can use for different types of content and in different environments. We have the following suggestions for you:
Sony A7III
The camera is getting up there in age, but is still one of the most rented cameras on the Wedio marketplace. Offering top-of-the-line stabilization and stunning image quality for the price, you won't go wrong with the Sony A7III. Check it out here.
Blackmagic Design Pocket Cinema Camera 4K
We've recommended this camera for streaming, vlogging on Youtube and for professionals. Why? It offers a very good quality image and video capture for a very cheap price. It's easy to use and easy to acquire. Check out our listings here.
Canon 80D
The 80D is getting pretty old. But make no mistake - it's still competitive. Superb quality and is very easy to use. For the up-and-coming enthusiast, you can't go wrong with the Canon 80D. Discover listings here.
Best streaming cameras for professionals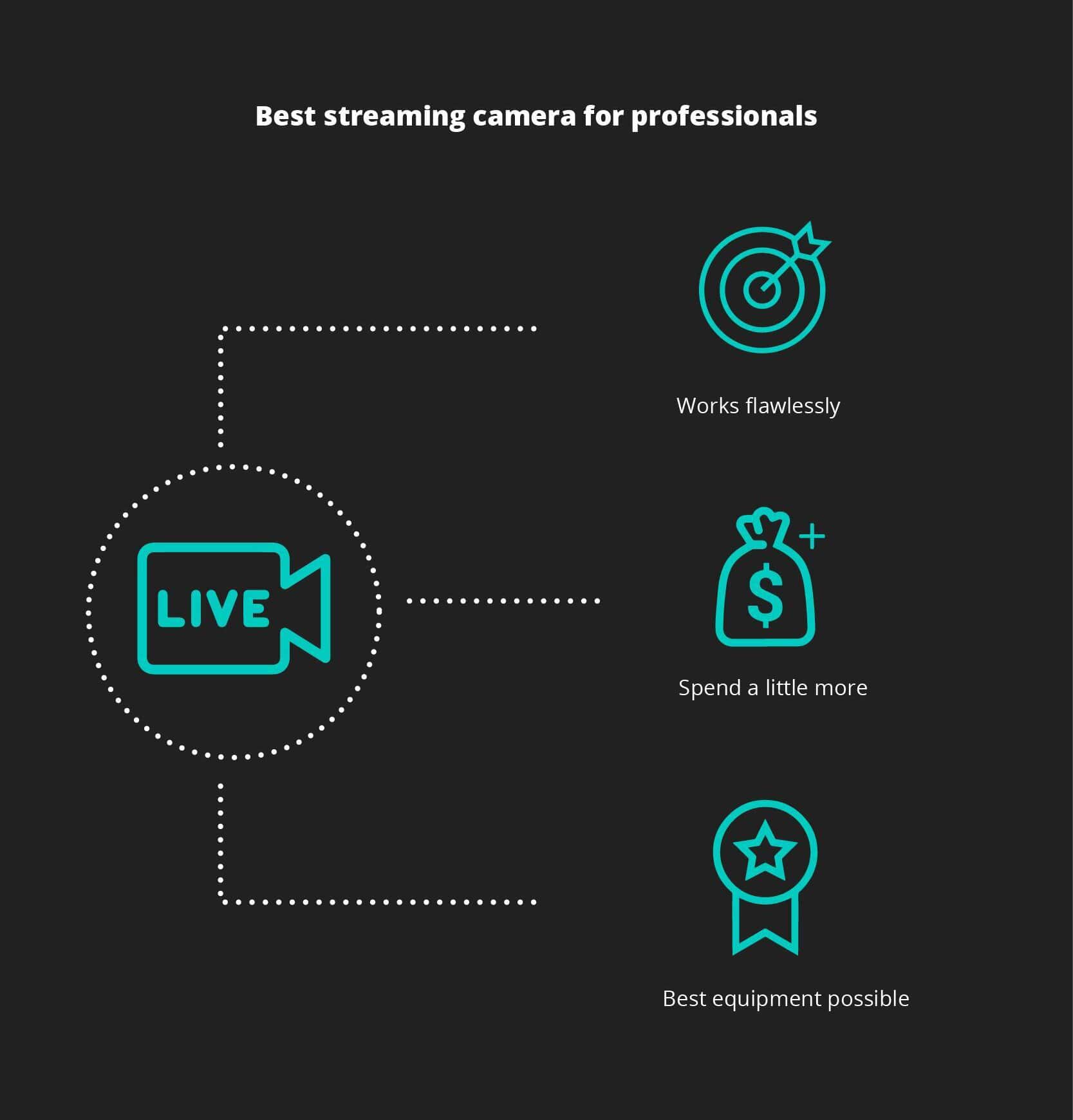 If making videos and live streams is a part of your professional life, it is no wonder that you want the best equipment possible. This includes a streaming camera that gives you the possibility of making killer content through editing that also works flawlessly while live streaming.
We suggest the following models:
Blackmagic Design Pocket Cinema Camera 6K
The more skilled big brother of our semi-pro suggestion. It is still accessible and great to use and as the name suggests, offers stunning 6K footage for the streaming pro. Browse the pocket camera here.
Canon EOS C300 MK II
An ambitious camera that even makes waves in the filmmaker industry. Easy to use, quick to grab and great image quality. What's not to love? See where you can hire it here.
Sony FX9
Advanced face-tracking and autofocus is a handy helper for the streaming star. Stay ultra-sharp and focused even if you dance around in your computer chair. You might think it's overkill, but video quality is one way to stand out amongst the crowd. Browse our listings right here.
Remember that you have the advantage of being able to test if a certain type of streaming camera works well for you when you hire or subscribe to equipment through Wedio instead of buying.