Product review: Canon EOS C300
Product Review: Canon EOS C300
1 other
Overview
Specs
Reviews
FAQ
Alternatives
Research
Canon EOS C300
Canon
4.65
Based upon2 reviews from Wedio members
Effectiveness
5
Usability
4
Value for money
5
Overall rating
4.65
Is it worth it?
Yes
If you're a professional filmmaker willing to invest a considerable amount of money into a quality camera, it's your cue. Although the C300 doesn't shoot 4K, it still tops many other cinema cameras with its pro-level features.
No
If you're looking to shoot documentaries, events, or other types of videos and films without broadcasting options, you can look for an alternative camera. Additionally, spending $15'000 might be painful for some budgets, so unless this price fully justifies your production costs, you can always find a competing option.
Canon EOS C300 review
Time passes, and tech evolves, but some cameras still survive their competition and can offer feature richness and superb image quality. We're talking about an oldie but goodie, the Canon EOS C300.

Keep reading this review to find out why this camera is still worth it in 2022, check its key features, and compare it to a newer model, C300 Mark II.

Feel like you can't keep track of all the camera updates on the market? Consult our ultimate guide to camera equipment and become a true gear pro.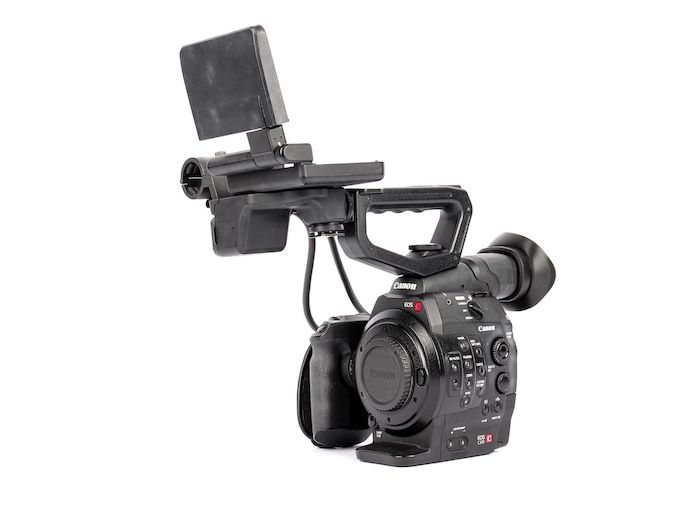 The Canon EOS C300 meets the high production requirements of the motion picture industry today by combining remarkable imaging performance with outstanding mobility and expandability. This camera is a beast in low light. Canon explains it scientifically, but in essence, they have a 4K chip that has been downscaled to full HD, allowing more power to reach the sensor without adding any more noise or grain. With all of the characteristics of a professional camcorder but the ergonomics and mindset of a digital SLR, the C300 is priced lower in the professional range at $15,000.

Pros
Supports Canon lens system
Sharp electronic viewfinder
Multi-step in-camera neutral density filter
Cons
Video maxes out at 1080p30.
Image sensor isn't full-frame
AF system struggles in dim light
Lacks onboard shotgun mic
Canon EOS C300 vs Canon EOS C300 Mark III
Canon EOS C300
Canon EOS C300 Mark III
Sensor type
Super35mm CMOS
Super35mm CMOS
Dynamic range
12 stops
16 stops
ISO sensitivity
320 - 80000
100 to 102400
Shutter speed
1/3 to 1/2000
1/12 to 1/2000
Video capabilities
1920 x 1080
4096 x 2160
Continuous recording time
Up to 205 minutes
up to 401 minutes
Show more
What creators like
Super godt kamera, HD kvaliteten er virkelig god, samt at det er et NetFlix supporteret kameratype
Show more
What creators don't like
Man skal være professionel for at bruge det, det kræver at man ved hvad man laver!
Show more
Design and build
The C300 is set up effectively, with controls that are simple to reach on the left side, and is ready to use right out of the box. The accompanying grip unit attaches quickly and easily to the side, giving the camera the feel of a Canon DSLR while adding just enough weight to give the impression that you are carrying an actual ENG camera. You get an additional set of customizable buttons from the attachable display module in addition to the enhanced menu and playback controls.

The additional controls on the rear include the Func. button, which switches between shutter, ISO, and aperture adjustments, and a monochrome rear information panel. The dual CF card slots and the majority of the I/O ports are also located there. These include connectors for the external modular LCD, Sync Out, Genlock, Time Code, and HD/SD SDI for broadcast applications, as well as a clean HDMI output for attaching an external recorder, a remote control port, an SD slot for firmware updates, a headphone socket, and the DC power input.

Lens mount
The EOS C300 is supported by a stellar cast of high-performance EF lenses thanks to its EF lens mount, in addition to the extensive selection of interchangeable EF lenses for EOS SLR cameras that have gained the faith and respect of photographers all over the world. The C300's peripheral illumination correction, when used with a Canon EF lens, automatically corrects for vignetting in accordance with each lens' optical properties and permits iris adjustment from the camera.

Image quality
The C300 boasts the same stunning image out of the box as a digital SLR, but with a higher dynamic range. These developments have allowed editors to extract an incredible amount of data from a scene utilizing the C-log gamma curve.

The majority of the picture profiles on the C300 are customizable. Canon's "C-log gamma" is one of the selling points of this camera - it flattens the image considerably but not as much as Sony's S-log, and does not cost an additional two grand. This Log gamma delivers image quality with suppressed contrast and sharpness for maximum versatility in post-production editing and processing. There is also the EOS Standard appearance available.

Video capabilities
Up to 1080p30 resolution video can be captured by the C300. That is inferior to the 1080p60 video that the C100 Mark II can offer. The C300 has a higher color sample rate and records MPEG-2 video to CF cards in 8-bit 4:2:2 quality at a bitrate of 50Mbps, which meets broadcast standards and preserves sufficient data for usage with a green screen and color grading.

Final verdict
The Canon EOS C300 strikes the ideal blend between user friendliness and customizability. The absence of automatic features keeps things straightforward. There is no shutter speed, ISO setting, exposure adjustment, or autofocus. Others who are familiar with using a DSLR will be comfortable with this, but those coming from a more conventional video background may need to make some adjustments.

Although the Canon EOS C300 is a very good video camera, the cost may be an issue for you depending on how you plan to use it. It is obviously designed for broadcast and film production because it costs close to $14,000. However, unless your budget is extremely limited, you should probably upgrade to the C500 for those uses. If you just want the greatest film for your documentary or event videography and don't need the broadcast tools, you can look for alternatives - we've mentioned 4 of them below.
Canon EOS C300 alternatives
Canon EOS C300 Mark III
The EOS C300 Mark III has excellent image quality. You'll be able to take some stunning videos with the option to shoot in 4K RAW. Five-axis electronic image stabilization is included in the camera. The Dual Gain Output sensor allows you to shoot photos with stunning saturation and colors that are true to life. For independent filmmakers doing narrative movies, documentaries, or music videos, this camera is excellent. For more info, check out our Canon EOS C300 Mark III review. Read more
Buy from Amazon
Rent from $90/day
Sony FX6
When compared to Sony cinema cameras' already remarkable quality, the FX6 has numerous features that are better. It shoots at DCI 17:9 C4K rather than just 4K, has XLR audio, built-in ND filters, and all the regular handling advantages of a specialist video camera. It also performs better in low light. And for this price, it offers unquestionably the finest value for a full-frame cinema camera. For more info, check out our Sony FX6 review.Read more
$6,534 at Amazon
Rent from $100/day
Sony FX9
The FX9 includes a full-frame sensor and hybrid AF from the Alpha mirrorless series in addition to all the professional features of a genuine video camera, including as XLR audio connectors and long battery life. Additionally, it incorporates a dual native ISO sensor for outstanding low light performance as well as the exquisite color science of Sony's top-of-the-line Venice motion picture camera. For more info, check out our Sony FX9 review. Read more
$10,998 at Amazon
Rent from $160/day
Show more
Frequently Asked Questions
Is Canon C300 still worth it?
You can get Canon C300 in 2022 and not regret it if you're ready to spend $15'000 on a professional cinema camera. However, you can also find a DSLR with almost the same features or another cinema camera that is more affordable.
Does Canon C300 shoot 4K?
Technically Canon C300 was set to shoot 4K, but the maximum video resolution is only 1920 x 1080
What is Canon C300 used for?
Canon C300 is a cinema camera that is essentially video-centric.
Is Canon C300 Netflix approved?
The original Canon C300 isn't Netflix-approved, but its newer model, C300 Mark III, is.
When did Canon C300 come out?
Canon C300 was initially released in 2012.
How much does Canon C300 cost?
Canon C300 is available for $15'000.
Where to rent the Canon C300?
You can rent Canon EOS C300 through Wedio and other camera rental houses.
Review by 1 other community members
and