15 Wedding Photographers in London You Should Know in 2022
Ahh, weddings. A celebration of love and the start of a new chapter in the happy couple's lives.
Still, it's easy to get swept up in the festivities. How will you remember the big day years from now?
With photos, of course! Check out our list of amazing wedding photographers in London in 2022.
1. Nataly Jennings
Nataly Jennings is an adventurous wedding photographer, whose goal is to take genuine, fun, and relaxed photos of the wedded-to-be on their big day.
Born in Brazil, Nataly also lived in Atlanta before settling down in England and becoming a wedding photographer in London.
She's not a great fan of posed photos, and instead, she catches "in-between" moments. Check out Nataly's portfolio:
2. Luke Bell
For Luke Bell wedding photography is more than an occupation, it's a lifelong passion.
Luke is dedicated to making his clients comfortable, so his pictures are not only beautiful but also authentically you.
He always seeks great light, colors, and interesting compositions.
Find more of Luke's contemporary photos here:
3. Emma Jane Lewis
Emma Jane Lewis documentary wedding photographer is heavily inspired by fashion, and it shows in all her work.
She took romantic, dreamlike images of couples all around the world on different destination weddings. She told us a bit about her work:
What makes your style unique?
"I blend my fashion work with my wedding work to create images that are distinctive and creative- telling the story of the couple while making use of the backdrop and the couple's personalities to the fullest."
What has been your favourite project to work on?
"I have loved working on my destination weddings, particularly Atlanta, Marrakesh and Italy. I'm looking forward to hopefully getting back on a plane soon!"
How did you get started with wedding photography?
"I started in Devon where I grew up- starting in weddings before moving to London to develop my fashion work. Here I started to blend the two styles to create the work I produce today."
Emma also has an attention to detail that won her multiple awards in the industry. Find her beautiful photos at:
4. Alexa Penberthy
Alexa Penberthy found her passion for the craft in 2011, and it only grew with each passing wedding.
Initially shadowing her husband, Matt, a fellow wedding photographer in London, Alexa now works independently with weddings in and outside the UK. She also took the time to answer our questions:
What makes your style unique?
"Telling the story of a wedding day so that when a stranger looks at the images they feel like they've been there. Also, my style has been described by most people as 'romantic' so it stuck with me!"
What has been your favorite project to work on?
"For me, the people at the wedding make a day fantastic. When you're treated as a real person, get a smile from a guest, being offered a glass of water and a short chat its the best! They are my favourite weddings to shoot."
How did you get started with wedding photography?
"When my husband Matt started his wedding photography business almost a decade ago, I started to shadow him for fun on most weddings, until one day he started to get double enquiring for the same date so he pushed me to book the first wedding on my own. The rest is history."
Alexa's approach is to capture the details that make each person and event unique, and she's always open to new experiences!
See more of Alexa's work here:
5. Lyndsey Goddard
London-based Lyndsey Goddard is dedicated to being almost invisible when she blends into a wedding party to capture special moments from the tiny gestures to the biggest ones.
She likes to approach images with humor, providing beautiful, yet unpretentious photos that make you smile. She tells couples' stories without neglecting the supporting cast: the guests, friends, and family.
If you're looking for brilliant storytelling that fascinates all viewers and preserves your memories vividly, check out Lyndsey's page:
6. Lily Sawyer
Lily Sawyer is looking to capture your wedding day for generations to enjoy. She'll let you focus on your celebration while she takes care of your worries.
She'll capture all key moments without rushing your wedding party, and creates images with a warm and dreamy feel.
In her free time, Lily pursues other creative prospects, like painting or redecorating.
Find out more about Lily:
7. Heather Sham
Heather Sham describes her work as "emotive and non-cheesy wedding photos for couples who don't know how to pose". She's friendly and excited to capture all the real, vulnerable, and joyful moments a wedding entails.
In her free time, Heather is obsessed with DIY and being a proud plant mom, and she self-identifies as a sucker for memories.
Check out Heather's work at her website: https://heathersham.com/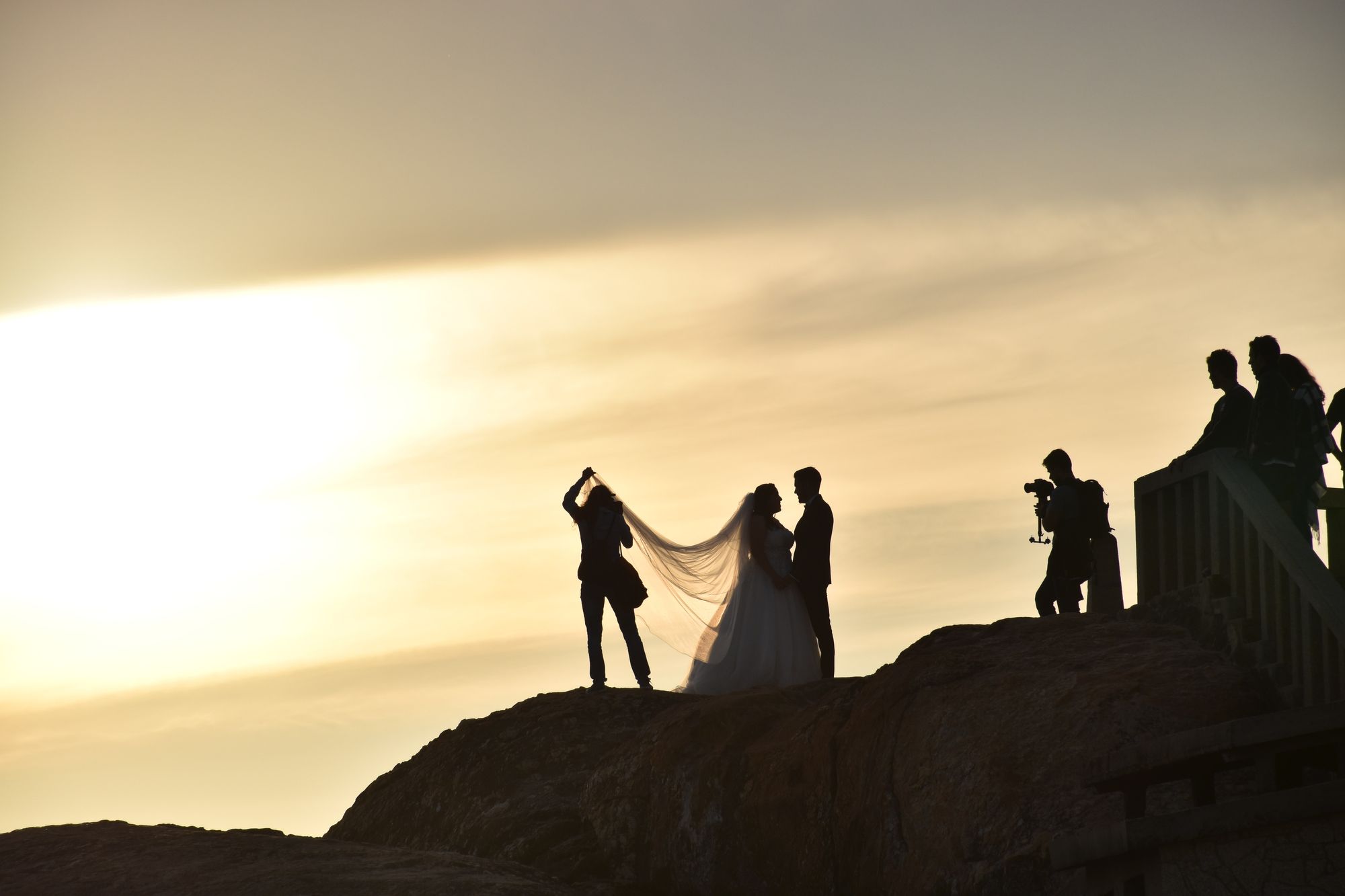 8. Adam's Photography
Adam moved to London in 2002 and gave up his job as an international IT trainer to focus on his passion for wedding photography.
Adam always dreamed of a career in the field but didn't dare to make the leap until 2007. Since then he shot over 200 weddings!
His natural and relaxed images left clients happy worldwide.
Find Adam's portfolio at:
9. Fiona Kelly
Fiona Kelly is a photographer dedicated to taking relaxed and yet vibrant images of your wedding day while making sure you're still having fun!
Besides weddings, Fiona works with family portraits and even commercials.
She will take part in supporting and planning your photography experience to make sure she captures all moments you wish to treasure.
Find out more about Fiona:
10. Kristian Leven
Kristian Leven discovered the perfect subject for his photos after a lot of experimentation: people. He enjoys taking real, spontaneous, emotive photos that capture people authentically.
Since he started his career in the field, Kristian lives and breathes photography. He's obsessed with the craft, and always strives to create timeless photos.
Check out Kristian's work: https://kristianlevenphotography.co.uk/
11. Nick Rose
Nick Rose's photography style is fresh, fun, and contemporary.
Nick enjoys every single day as a wedding photographer, and his vision is to tell his clients' stories through his lens.
He took images of weddings around the world, including places like India, Iceland, Singapore, and the US.
Check out Nick's international portfolio:
12. Nick Ray
Nick Ray had his career start in a different way than most wedding photographers: he was working for The Times in London covering conflicts and different extraordinary global events.
Since then Nick has changed direction, and now he's committed to taking wedding photos with depth and narrative.
His passion for documenting real life did not change, it just makes him stand out more from other wedding photographers in London! Nick's goal is to showcase what makes his clients' wedding day unique and amazing.
Find out more about Nick:
13. Lynn Shapiro
London-based Lynn Shapiro calls the UK her home, but she takes modern and romantic images of happy couples around the globe.
She always loved weddings - and she won't miss a single moment when she's covering one. She promises a collection of beautiful, memorable photos you can treasure for a lifetime.
She's very sentimental and she'll make sure to capture the magic in the air on your special day.
Find out more about Lynn:
14. San Shawe
Award-winning wedding photographer San Shawn is all about the candid emotions behind beautiful images.
She believes her clients' happiness always comes first, and she will stop at nothing to make sure that happens. She blends into your wedding party unobtrusively, and avoids taking photos that you'd deem "generic".
On request, San's happy to do posed photographs, but she makes them as carefree and fun as possible.
Explore San's website:
15. Sasha Weddings
Sasha is all about building connections with her couples, and she prides herself on the ability to be in the right place at the right time.
Sasha finds it liberating to capture real life. She tells the genuine stories of every couple in a beautiful and exciting way.
Her three favorite things are creativity, love, and the sea.
Find out more about Sasha:

Closing thoughts
Did you find the perfect person to immortalize your celebration? Hopefully, our list of talented wedding photographers in London was at least great for inspiration.
Or did you get the urge to hire your first camera and get started in the photography industry?
London is never short-staffed on talented photographers. Is video more your speed? Find our list of best wedding videographers in London here.