Enhance Your TikTok Videos With 5 of the Best TikTok Light Stands
Rent film gear from local filmmakers.
Rent film gear from local filmmakers.
Do you want to take your TikTok game to the next level? A simple way to do this is to improve the lighting in your videos.
Lighting doesn't mean everything, but it will help make your TikToks stand out. Keep reading for our top 5 recommendations for light stands for TikTok.
Before you get your lighting gear all sorted, consider learning how to actually use TikTok so you can put your purchases to good use! Check out our page on How To Use TikTok for our best tips.
Do you need good lighting for doing TikTok?
No! You don't need anything to make TikToks other than the app and yourself. But that said, good lighting and visuals can help you out a ton when you want to gain followers and engagement.
Having well-lit videos ensures that users who watch your content can see what is happening in the videos and know that you put some effort into their production!
5 Best TikTok light stands
1. Sunpak 12" Bicolor LED ring light kit
This 12" kit comes with pretty much everything you need to have professional-looking lighting on your TikTok videos. It comes with an expandable tripod, an adjustable mount for your phone or camera, a USB remote, all in a cute little carry bag.
Pros:
It comes with a Tripod and Stand, which helps surround your video with light and keep it balanced rather than focusing the light in one location.
It comes with a remote so you can adjust settings from afar.
Cons:
2. Neewer ring light kit
As with the Sunpak light kit, the Neewer ring light kit is on the more expensive side. However, it has 5,000 5-star reviews for a reason! It comes with an adjustable 18-inch ring light which can be brightened or dimmed.
It also comes with white and orange filter sets (fancy!) and a holder for your phone, as well as a hot shoe adaptor for a DSLR camera, a remote control, and a carry case for when you're filming on the go.
Pros:
It comes with a stand for the ring light and your phone
You can add filters to your videos with this kit.
It has a remote control so you can adjust settings from afar.
Cons:
It is $160 when not on sale!
Quite a bulky kit to carry around.
3. Inkeltech 21" ring light with tripod and phone holder
This lighting kit has Amazon reviewers raving! You can adjust the lighting brightness and dimness via remote control. It comes with 416 LED beads, so it is extra bright. This ring light is cool because it has heat vents on the back to keep your light cool. It also has a USB port to charge your devices with!
Because the light is 21", this makes it perfect for outdoor shooting!
Pros:
416 LEDs, so the light is very bright and has a long life.
It comes with a remote to control brightness settings.
Has heat dissipation vents and USB charging port.
Cons:
A bulky kit to have around, so it isn't the most portable thing in the world.
It is $100!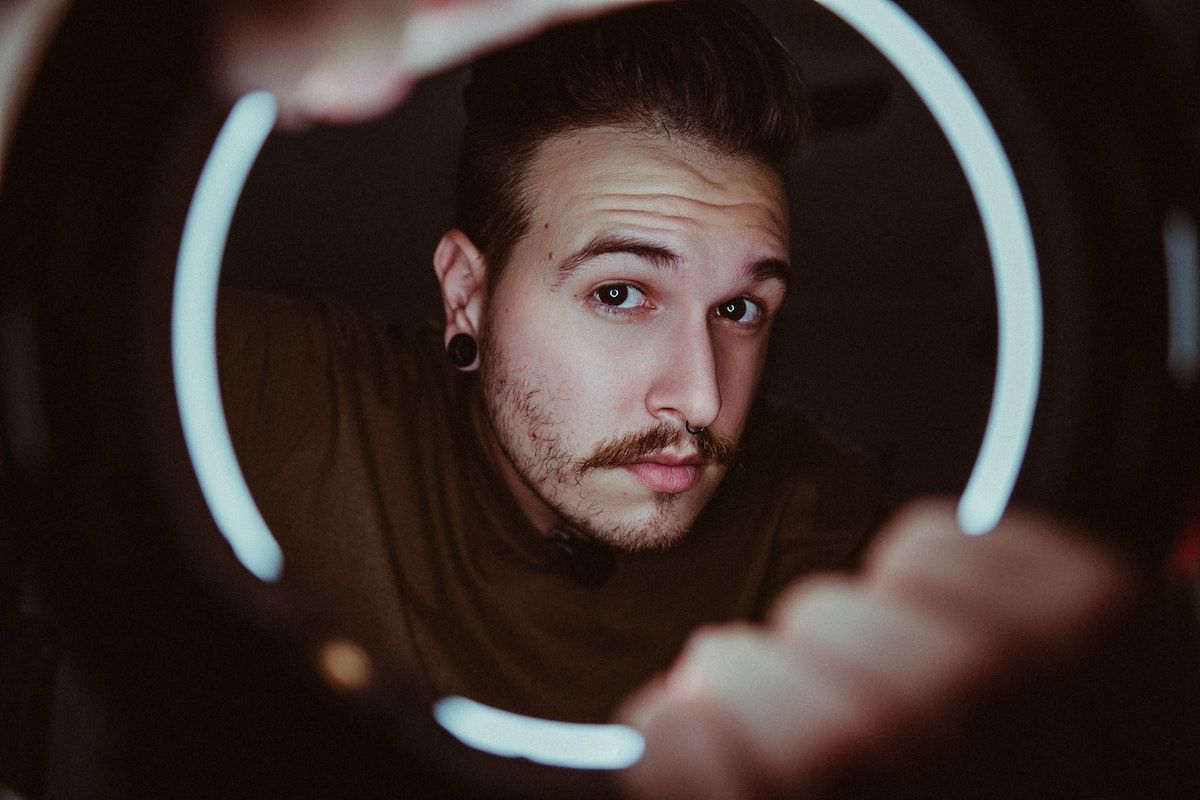 4. YBLNTEK LED circle light cell phone ring light
This ring light is perfect for TikTokers on the go since it clips neatly onto the top of your phone to give you an even distribution of light while you're filming.
Pros:
It comes with 40 LEDs which means it's super bright.
It has three different light settings, from warmer to cooler tones.
Portable
USB chargeable
Cons:
It doesn't come with a stand, so you do have to clip it onto your phone.
Since you have to use it on your phone, it could obstruct your videos. Be careful when using your front camera!
5. Spectrum Aurora 18" Diamond Luxe III ring light
This ring light is a must-have for those in the beauty community or anyone shooting their face! It comes with a rechargeable battery pack and can last up to 2 hours on non-stop use.
It's also really adjustable- so you can light up at any angle you want. It also comes with a mount for your phone or camera that has 360-degree rotation. It also comes with a USB charging port!
Pros:
comes with plugs fitting the outlets in your country: US, AU, UK, and EU sockets are available.
Comes with an adjustable mount.
Capable of lighting at different angles (even bird's eye view!)
Cons:
It can cost up to $278 plus shipping!
Closing thoughts
Now you're (hopefully) a little more enlightened when it comes to light stands.
If you want to take your filmmaking to the next level with your new and improved lighting, check out our page on filmmaking to be able to stand out on the platform.
Light Stand FAQ
What do tiktokers use for lighting?
You don't have to have professional lighting to make TikToks. But if you want to make yourself stand out, it's good to have well-lit videos. TikTokers generally use all variants of ring lights for filming.
How much are the ring lights for TikTok?
Prices can vary a lot depending on size, quality, etc. You can find little ring lights on Amazon for as little as $10, or you can deck yourself out with a complete kit that costs $300.

Or you can rent or subscribe to lighting on youtube for a more affordable option.
What ring light does Charli D'Amelio use?
Charli has been seen to use many ring lights, but most famously the 18" from RingLightPlus. She and Dixie also have their ring light collection!
Popular listings for rentals