Platform Updates (February 2021)
We've been working caffeine-doping-hard on preparing some changes for all of you — our awesome Wedio members.
So, let me give you a little tour of what has happened since our last update.
Hassle-free communication between members
Every time some of you cast a vote on something we can improve, within Wedio, we make an e-note of it. And let's just say many notes were filling up our hard discs for this one.
The current process of going through a rental, whether you're a lender or a renter, was relatively complicated and contained too many steps. So, we've tuned our rental-engine and prepared a little something so you can get a smoother rental experience.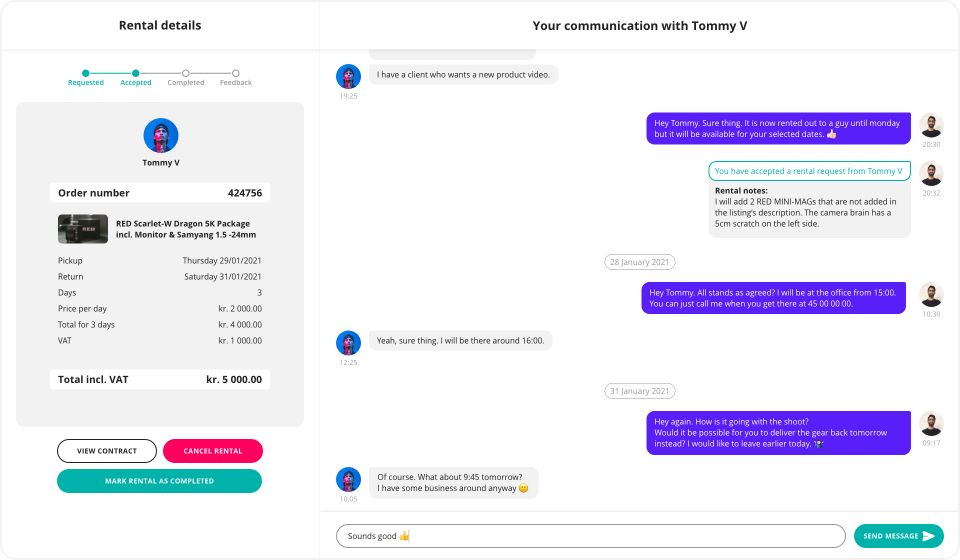 The signing of the contract
The first little pit stop we did, was regarding the signing of contracts. Usually, you would need to go into a third-party system, prepare your contract, sign it, and then you could send it to the renter. Then the renter would have to go to that third-party system, sign it… and just like that, the rental deal was approved.
However, it wasn't "just like that". So, we decided to get rid of the middleman and integrate the generation of a contract automatically within Wedio. This means you won't have to fiddle with an unknown site but stay on your well-known (I hope) Wedio site. And don't worry, we might have reduced the rental steps, but we have not reduced the level of security.
Lender: get yours
Previously, both parties could mark the rental as completed. Yes, that led some renters to mark a rental as completed before the gear was brought back to its owner (not pointing any e-fingers). Furthermore, it could happen that the lender at times didn't mark the deal as complete even though the renter already had returned the gear, leaving a deal open for weeks.
You get the problem, right? So, we tinkered with the wheels, gave them a little grease and ensured only the lender now can mark the deal as completed. Plot twist, as a lender, you will need to mark the gear as returned if you want to get your money. After all, we get that it's your gear, so you should have full control.
Cancellation rights for the lender too
If you've found yourself suddenly needing your camera equipment but already agreed to rent it out and then couldn't do anything about it — lack of lender cancellation rights was the problem. And this new feature update is the cure.
As a lender, you can now also cancel a rental deal if need be.
We kept our cancellation policy the same as it's always been. If you're not sure, what our exact cancellation policy is, you can read it right here.
Upgraded billing tab
The billing tab has found its rightful place (at least for now – we'll be awaiting your verdict). We have redesigned our billing tab, so it's easier and more manageable to find your bills.
Automatically generated VAT billing
If you're a company or part of one, you may have noticed that you would need to sign up for our invoice system, SMART, to generate and upload a VAT deductible bill.
Now that's changed. If you've signed up as a company, your VAT deductible bill will be generated and uploaded automatically. Making for a quicker and less frustrating process — that's the plan at least.
Fast editing of your listing
It might seem weird now, but previously it wasn't possible to edit your listings in an easy way. Meaning, if you wanted to change, for example, the price of your gear, you'd need to start over with your listing. That's changed.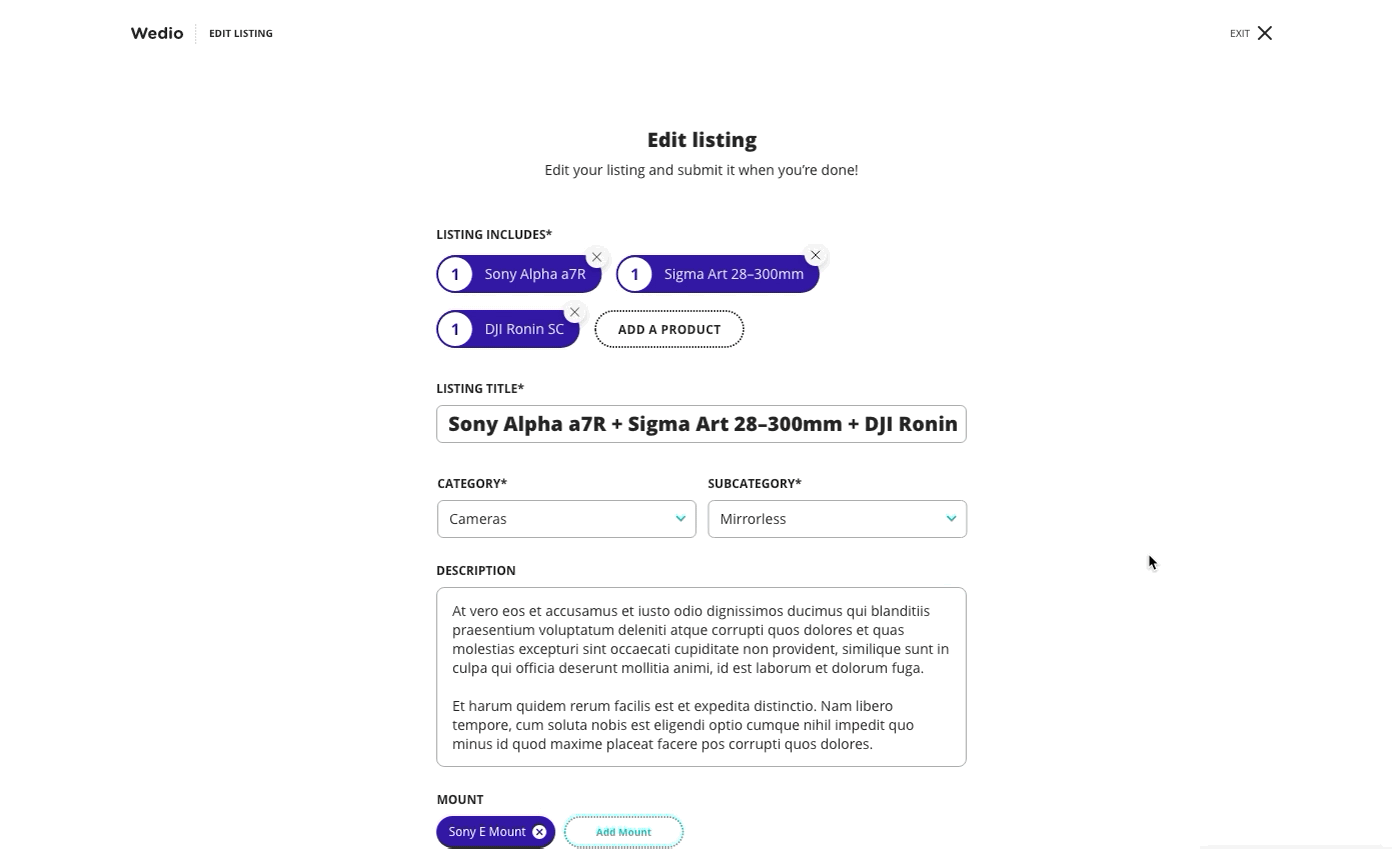 No need for de-tours anymore. We've made sure that you can edit your listings as much as you'd like — from one single page. Hopefully, this will make your process much easier and faster, making for a much smoother experience — you'll let us know, yes?
Fresh and clean homepage
Today, you'll notice a shinier looking homepage, I say shiny — it got purple. Moreover, we've added a couple of things to our homepage. Firstly, there's now a blog-section to give you easy and fast access to our blog universe. We've also added quick searches and put our trending camera gear on display.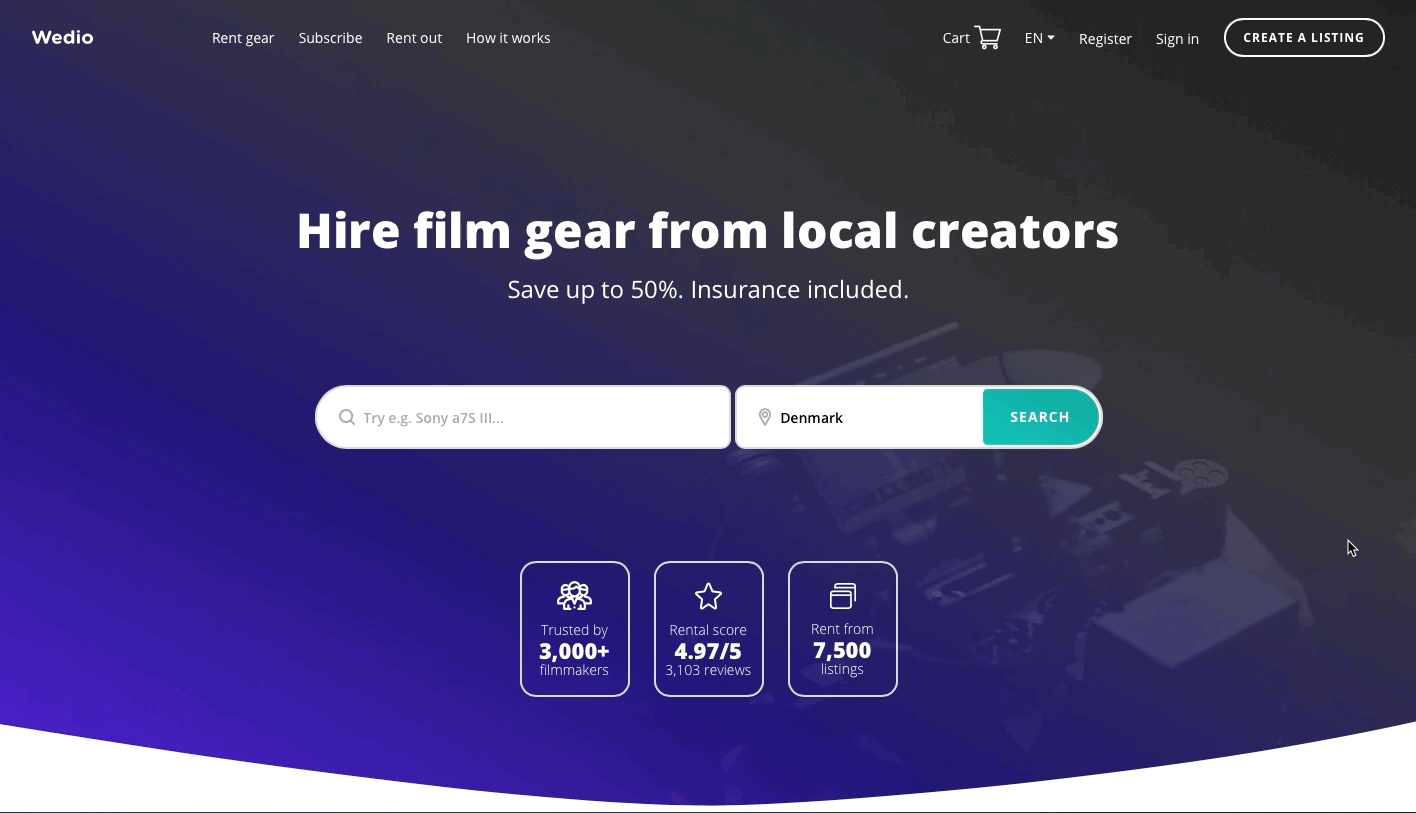 The primary purpose of this new look? To prepare for the next big thing. We're working towards upgrading our search engine to give you a better experience. (Psst* it will be here shortly).
As always, these are just another step in our constant self-improving journey. We're still making an e-note for every request coming in from you all, and more updates will be coming.
Stay tuned!