Platform Updates (January 2021)
What makes Wedio, well, Wedio? You – all of our awesome members!
And you've been keeping us busy these days! We're always excited in listening to your ideas and requests when it comes to how we at Wedio can improve.
So, we've listened and over the last couple of weeks, we've tried to gather your ideas into three overall updates. Based on your feedback, we are now introducing:
Speedy listing creation
Track performance with Lender Activity Dashboard
Quick access to your gear with Listings Tab
(Psst!) These updates will be coming frequently. We'll tell you what's new, what it is and why we did them. We hope you enjoy checking them out as much as we love putting them together.
Now, let's just break down exactly what these updates entail:
Speedy listing creation
Creating your gear listings have gotten easier and more importantly – faster!
Like I said these updates are based on your feedback and we checked; drumming up lengthy listings wasn't exactly on your wish list this year (why I don't get). So, we've opted for a process where you won't need to write any plain text when creating a listing.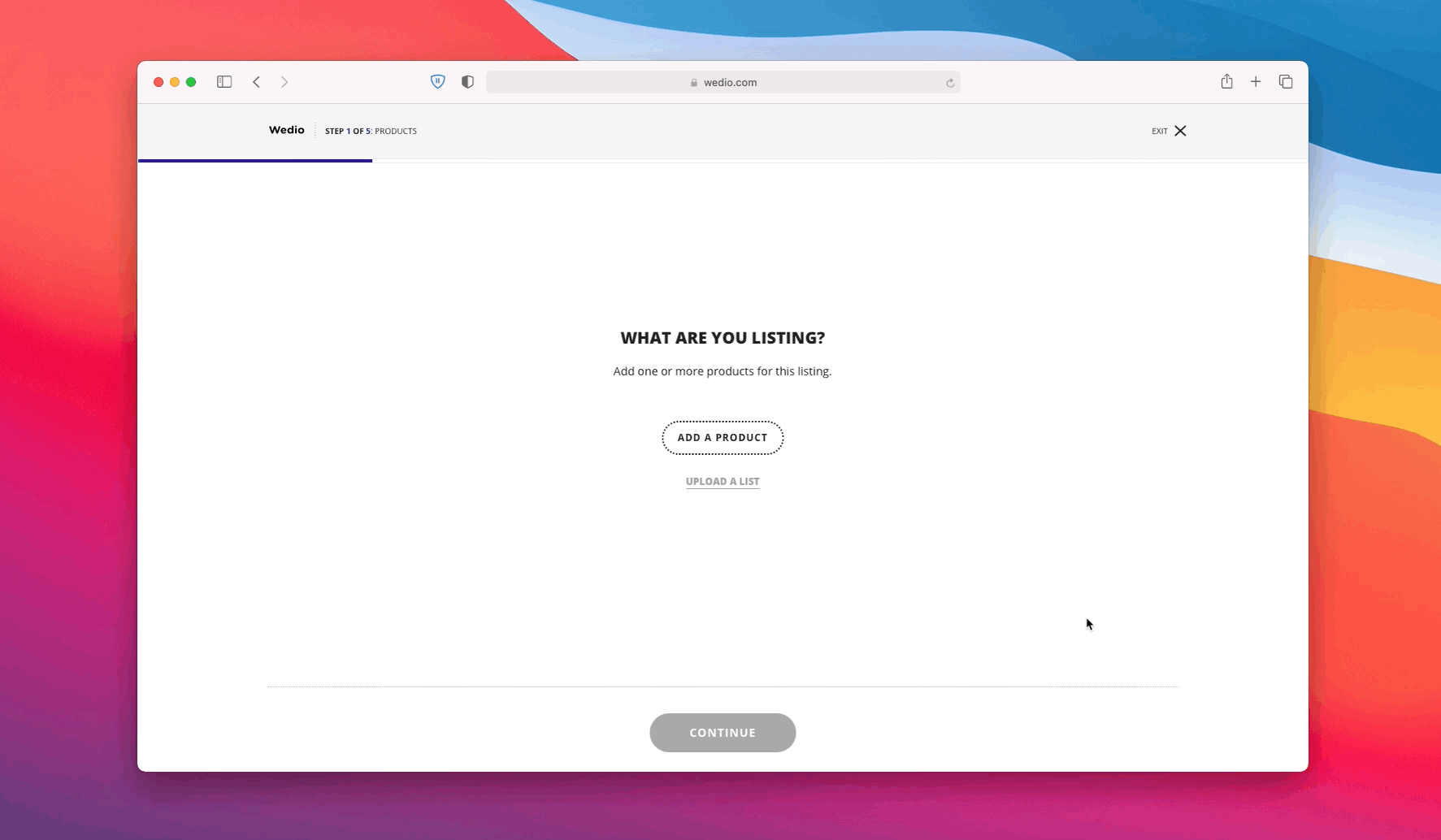 Let's say you want to rent out your RED Scarlet-W. As you start writing we'll provide suggestions for what you've begun typing, as you select 'RED Scarlet-W' we'll fill in all the relevant information.
Remember that thing about sourcing a nice picture or researching what the rent price should be? Well, this new flow does that for you – unless of course, you'd prefer doing it yourself! The list of products is continuously growing and will in the future include many more.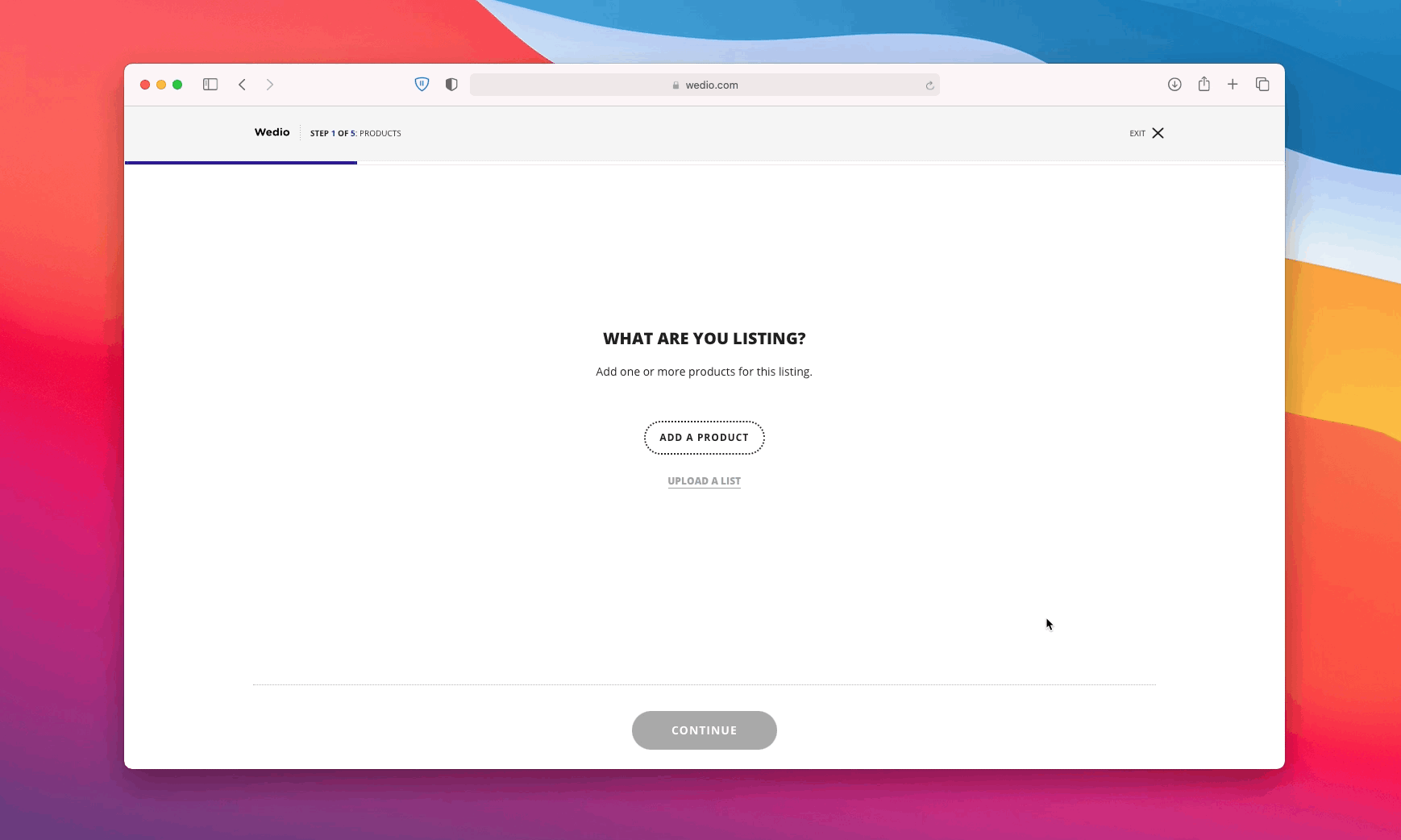 This way of creating listings means that you're also creating product tags. These allow us to show more relevant search results to your prospective renters, meaning greater visibility and accuracy to your renters' searches.
Got a lot of gear? We get that even with this updated listing flow it can still be a time-consuming task if you have a lot of equipment. If you're nodding at this – don't worry! Send us your gear list in any format, and we'll create all your listings for you.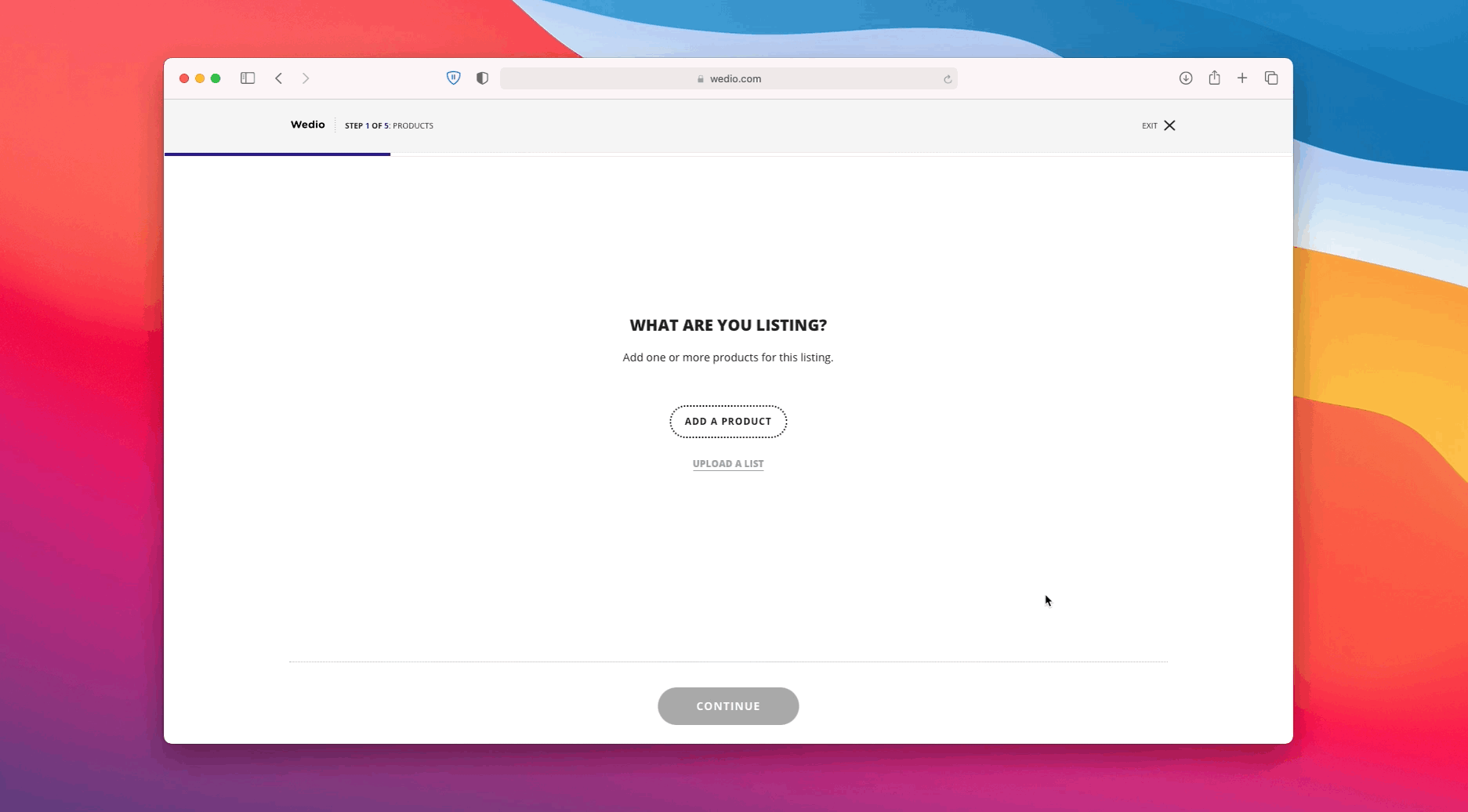 Try out the new listing creation flow.
Track performance with the Lender Activity Dashboard
The Lender Activity Dashboard will show your most relevant statistics and provide an overview of your progress within Wedio. So basically, it's a dashboard that shows your lending activity (we thought long and hard of a proper name for this update…).
It will showcase which of your listings is bringing you the greatest return. This is meant to give you an overview of what elements those listings contain, and possibly make it easier to see whether those elements can be 'transferred' to some of your not as profitable listings.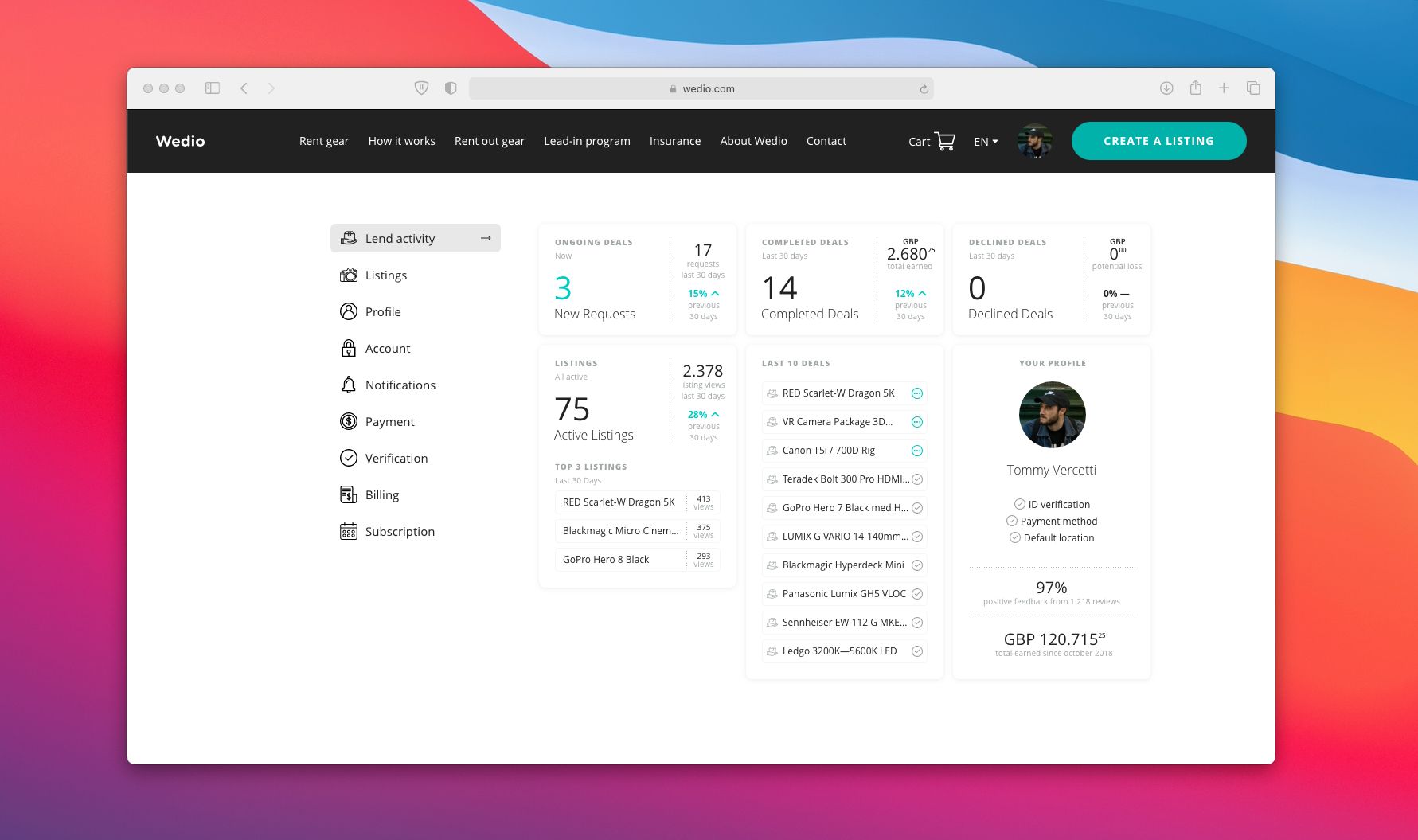 The dashboard will also allow you to see any new requests quicker, compared to the previous flow – meaning you'll be able to respond to those rental requests faster.
We've covered a lot of features, mostly focused on our lenders. Renters – we haven't forgotten about you. Exciting changes are on their way and will be here soon.
Go to your dashboard and track your performance.
Quick Access to Your Gear with the Listings Tab
It's not that it wasn't possible to keep track of your listings, previously – but we admit, it wasn't always that easy. The purpose of this Listings Tab is to ensure that it'll be much easier. This tab will display your inventory in your dashboard and allow you to set custom listing availabilities.
To give you that flexibility you've been asking for and the opportunity to strengthen your acceptance rate, you can now choose which days your camera should or shouldn't be available to rent.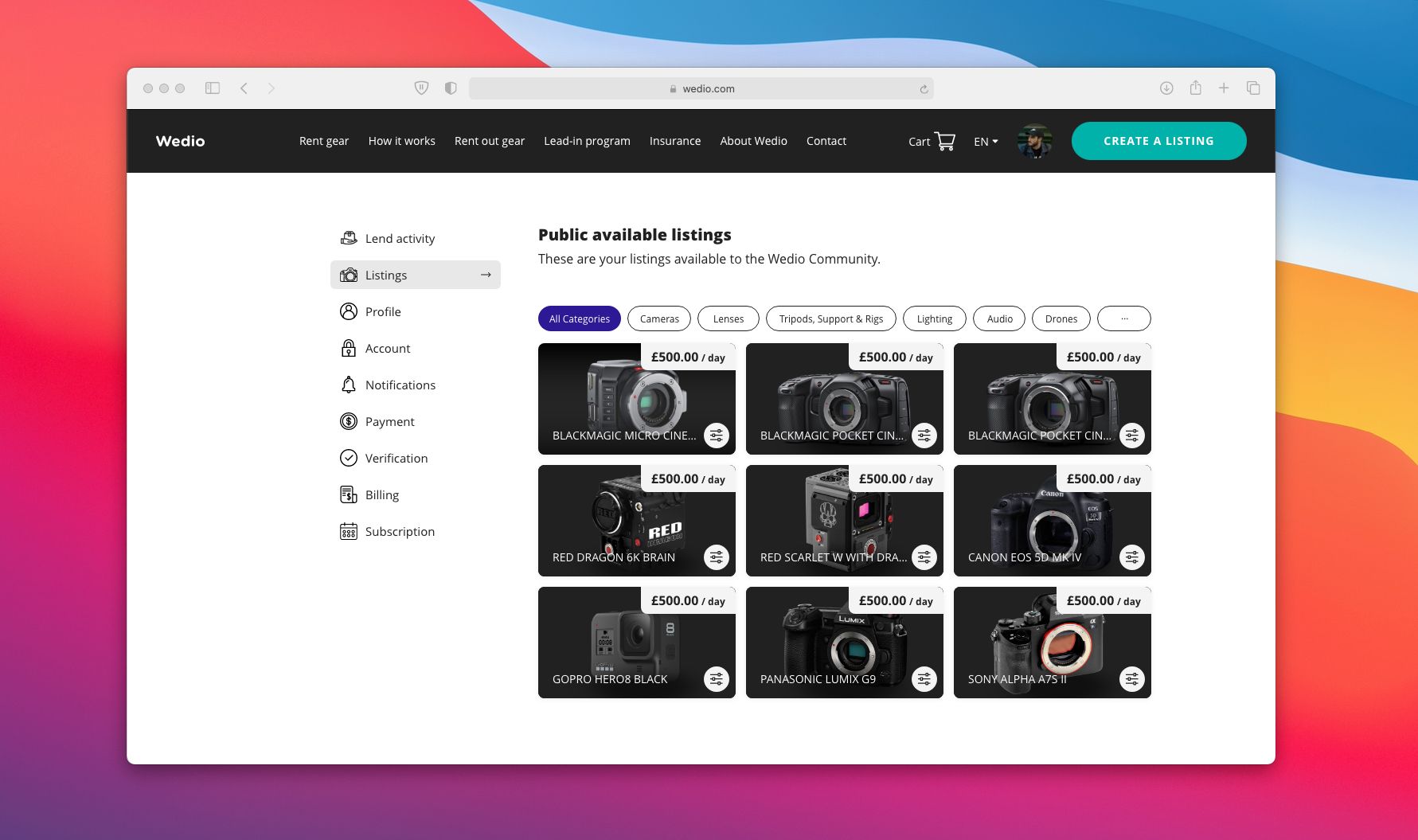 We're also introducing something we like to call the "Click & Go". The Click & Go function is for when your camera needs to take a little break. You can put all your listings into holiday mode. This will disable all your listings until you get back.
Manage your listings with listings tab.
Popular listings for rentals