Review of the ZHIYUN Weebill 2 Pro Combo
ZHIYUN Weebill 2 PRO COMBO
Reviewed by: Malcolm Modele
A collaboration with
In partnership with ZHIYUN, Wedio and the community is testing out their new products to get real hands-on experience, and feedback from their followers so they can improve based on real-life testing.
Malcolm took out the Weebill 2 for a night out in London and this is his ultimate review on ZHIYUN Weebill 2 Pro Combo 📷
ZHIYUN Weebill 2 Pro Combo: The Ultimate Review by Malcolm Modele
In his ultimate review learn more about the key features, camera compatibility, prices, functionality and more. Also, compare it to the DJI Ronin and calibrate it properly with Malcolm 🎥
Weebill 2 vs. DJI Ronin
427
Why rent out your gear?
hPu9DIXtzEM
Product review chapters
Key Features
The way that ZHIYUN has structured and laid out this gimbal is quite different from what we are used to with other handheld gimbal devices. This one has an unusual I-shape. Switching between shots is quick and easy, thanks to a locking mechanism at the back of the grip. It has three locking safety measures.
In addition to two quarter-inch screw mounts, it comes with a hot shoe mount to attach anything you like.
Inside the Weebill 2 Pro Combo package, you get your little case with it, just like with the DJI.
One of the disadvantages of this device is that you can't change the batteries. The overall setup of the Weebill 2 was easy and seamless, even balancing the FX6 was simple.
ZHIYUN VS DJI
There is a 130-pound price difference between the Weebill 2 and the DJI RS 2. For that 130-pound difference with the DJI, you are getting an interchangeable battery, and you are also getting 12 hours of battery life rather than the nine hours of battery condition, which you get on the Weebill 2.
The good thing about The Weebill 2 is that you can connect a USB-C cable with a power bank at the bottom, where you can charge it.
Aside from the ergonomics and layout of the Weebill 2, the focus wheel on the side and the button system make functionality and usability easier.
In terms of the visuals of the Weebill 2, the performance is smooth. With the DJI RS 2, if you knock it, it starts to do crazy things compared to the ZHIYUN Weebill 2, which seems more controlled than any other gear.
Testing
Malcolm recently took the Weebill 2 out to Portobello road in London to shoot model stuff with Daisy Louvre. They intended to shoot a slow-motion creative video using some of the Weebill 2's settings. They used the Follow mode, the Lock mode, the Pan mode, and the Vortex mode. All motions and slow shots were very seamless and smooth.
ZHIYUN has set up the Weebill 2 with functionality and usability. The gimbal comes with quick locking removable hand guards, pins to lock the gimbal away itself, and a quick release plate.
The gimbal is designed, so that if you're quickly moving around or moving from one location to another, it's easy to take apart and put back together, and it fits in storage bags nicely.
Before you decide to jump in and rent the first gimbal you see on the video platform, you should check and find out what you're shooting, what camera systems you're going to be using, and what gimbal is best for you.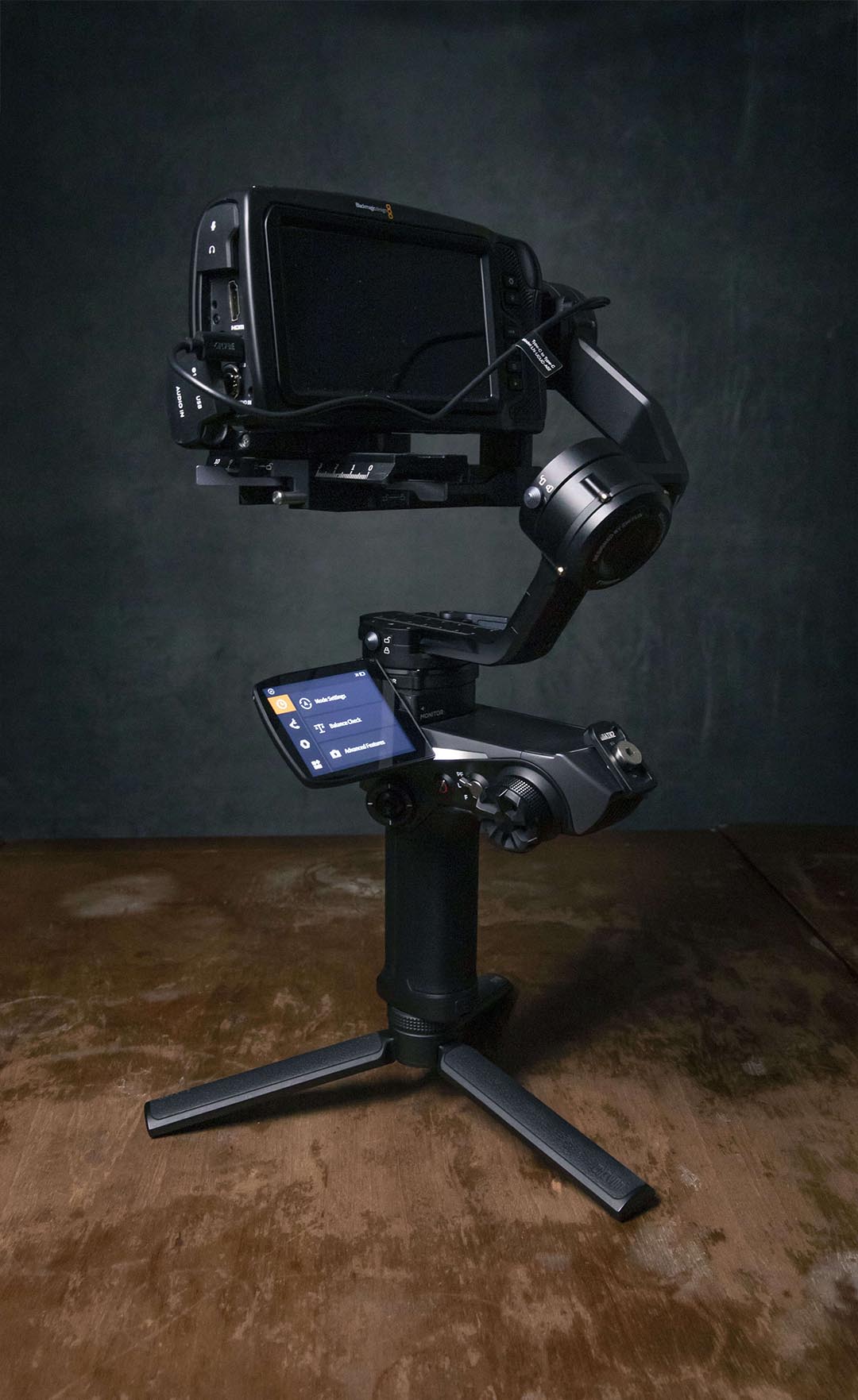 The ZHIYUN Weebill 2 has a three-and-a-half kilogram payload and has excellent connectivity and versatility with most cameras.
For a camera system with larger lenses, bodies, and V-lock batteries, consider a gimbal system, such as the DJI RS2, which has a four-and-a-half kilo payload rather than the two-and-a-half kilo payload. However, if you're using a DSLR or mirrorless camera for an event shoot or a music video, then the ZHIYUN Weebill 2 is perfect for you.
When you rent these devices, there are a lot of parts in the packaging, so make sure everything is there with the right cables for connecting your device.
Since the ZHIYUN and DJI both come in small two-compartment carry cases, everything has its own space, so it is better to control everything and return the equipment in the same way you found it.
Balancing
When it comes to balancing any gimbal, it is important, that you get it right. The reason is that if you don't get it right, your actual shots will be jeopardized and compromised, and you won't get the smooth seamless shots that you're hoping for, because of the balance and the device, which is struggling to keep the balance. It will also drain battery life considerably if you don't balance it correctly.
About checking out the roll axis, if it is balanced, we should be able to move the camera to most positions. When we run a calibration check, it is called a balanced check in the ZHIYUN menu function, and it is in the first menu function with the little clock, which helps to turn on the balance check. You should be able to see what parameters are struggling and what aren't. Your camera is perfectly balanced if there are no issues or struggles.
Final Thoughts
Choosing the ZHIYUN Weebill 2 over any other gimbal device will get you a phenomenally designed ergonomic, aesthetically pleasing gimbal device. Weebill 2 is cheaper than DJI RS 2, but both devices produce great content and shots.
Unlike other manufacturers, ZHIYUN thinks outside the box and tries to stamp its footprint on the gimbal market by incorporating new designs, features, and structures.
You purchase the Weebill 2 in four different packages. You can buy it on its own as just the Weebill 2, and you have the Weebill 2 Combo, which gives you the cables and the carry case. With Weebill 2 Pro Plus, you get a beautiful little monitor with joysticks and functionality capable of changing and controlling the Weebill 2 wirelessly.
About Your Instructor
Malcolm Modele
Director, Filmmaker
London, United Kingdom
"You get an aesthetically designed ergonomic gimbal from a company that are thinking outside of the box, they're not following the same patterns, they're trying to place their own footprint on the gimbal market by incorporating new designs, new features and structures."
Malcolm Modele is a director, award-winning actor, filmmaker, and entrepreneur. In 2014 Malcolm set up his film and tv production company called Unity Vision.
Furthermore, he continues to land roles in major, global productions as an actor. He has got skills in having strong knowledge of business, marketing and strategy.
Malcolm's plans for the future are to set up his filmmaking academy with one dream in mind, to teach, educate and inspire those that just want to be creative.
Do you want to learn more about camera equipment? Read more about The Must-Have Gears.
Popular listings for rentals