Product review: Insta360 X3
Rent camera gear from local creators.
For today's creators, making your videos stand out among millions of other content pieces is a tricky task, but it's a lot easier if you own an Insta360 X3 camera!
This versatile, all-in-one solution has become a go-to for many content creators out there. Read our review of the Insta360 X3 to explore what it has to offer - key strengths, comparisons, and our verdict.

Get the hang of other types of action cameras with our guide to camera gear.
Insta360 X3 Review: Is it worth it?

Yes (If)
If you're a content creator or a vlogger, the Insta360 X3 is an essential kit pi0ece. It's a great option for amateur and enthusiast use, especially if you're planning to go no further than social media videos.

No (if)
If you're a videographer and have more serious plans, then it's a good idea to look for something more sophisticated yet compact. There are three alternatives to the X3 at the end of this article - check them out for inspiration.


Insta360 X3 review
According to Insta360, this is today's version of the point-and-shoot camera. However, with this one, you can shoot first and aim later, allowing you to reframe your 360-degree video or still images into standard "flat" videos and pictures that focus on any desired aspect of the scene.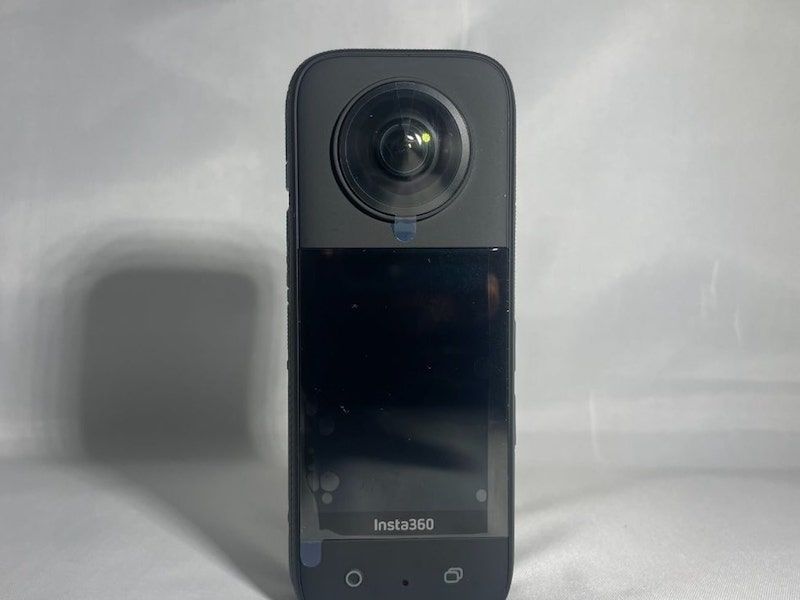 It creates a continuous 360° spherical image of everything surrounding the camera by combining the output of back-to-back 180°+ fisheye lenses in-camera. It is capable of capturing 72MP still photos and 5.7K spherical video.

Insta360 X3 Review pros and cons

Pros
Slim, pocket-sized dimensions
Easy to use
Bigger touchscreen
4K single-lens shooting
Shot Lab feature for the adventurous

Cons
Active HDR can look washed out
SD card slot is a little fiddly to access

Insta360 X3 vs Insta360 One X2  

Focal length: 6.7mm vs. 7.2mm
ISO: 100 to 3200 vs. 100 to 3200
Single lens mode: 4K vs. 2.5K
Microphones: 3 vs. 2
Resolution: 72MP vs. 18.4MP
Waterproof: Yes vs. Yes
Battery: 70 mins of video vs. 60 minutes of video
Weight: 180g vs. 149g
Price: $449 standalone vs. $429 standalone


Insta360 X3 review

Design and build
The Insta360 X3's large touchscreen display, which takes the place of the One X2's circular display, is the feature that users will notice the most right away. While the eccentric circular display had its charms, this more conventional rectangular display is much simpler to operate.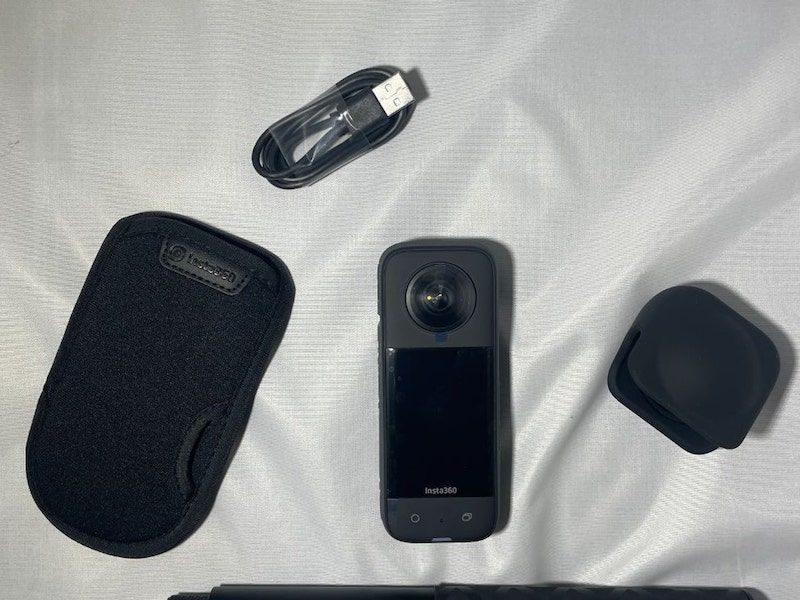 With its new screen, the gadget has a slightly retro appearance that makes us think of the big phones from the early 2000s. Of course, the bulging lenses that protrude from either side as well as the device's rear, which closely resembles its predecessor, swiftly destroy that idea.

Two buttons are on the side and two are below the display on the Insta360 X3. A power button and a fast menu button are located on the side. You may access custom preset modes using the fast menu, which is a great method to swiftly swap between your preferred shooting settings. A record button and a lens selection button are located beneath the display. The lens button on either the outer or inner camera can be tapped to switch between 360-degree footage and single lens capture.

A tripod thread on the base enables compatibility with a wide range of accessories, and it may be simply modified to work with mounting similar to those for GoPro cameras. A water-sealed flap that covers the USB-C connector and a replaceable 1800mAh battery that takes up a sizeable chunk of the camera's frame is located on the side opposite the buttons.

360 video and 8K timelapse
Each of the two lenses on the Insta360 X3 has a 1/2′′ sensor, which is twice as big as the previous version and bigger than those in almost other action cameras, 360 or not.

The camera can capture more light, detail, and color thanks to these bigger sensors. The size and caliber of a camera's sensor are typically the main determinants of how well it can capture images and films.

With the X3, shooting in indoor, low-light, or dark environments produces more dynamic video with less noise than was previously possible. The larger sensors actually provide 360-degree video of greater quality than we have seen in a 360 camera of this size and price, even under ideal lighting conditions.

The Insta360 X3 can capture 360 time-lapse videos at 8K resolution. This is a significant update that produces time-lapse videos that look incredibly sharp—one it's of my favorite shooting modes.

Image quality and stabilization
The FlowState stabilization in Insta360 is really great. Simply strolling while lowering the camera to the ground, squeezing it through openings, or elevating it above head height would smooth everything out flawlessly. The 6-axis gyro keeps everything flat and level regardless of how the camera is positioned—whether it is tilted, turned, or even horizontal.

There is also excellent visual quality. A "stabilization shimmer" or a somewhat fuzzy join does occur occasionally, but not frequently. If you use the software's sophisticated reframing features for subject tracking or panning, you will only be using a section of that captured image, thus exported 'flat' video is only 1920 x 1080 quality. Video and stills look incredibly crisp when viewed as immersive 3D material in a proper player.

AI features and Me mode
A lot of the work involved in resizing your video with this camera is eliminated by AI technologies like DeepTrack. Additionally, employing one of Insta360's ShotLab templates will allow you to produce some amazing effects. These templates provide anything from fluid hyper-lapse productions to surreal cloning and mirroring effects.

Instead of having to reframe a 360 movie to achieve the same effect, the X3's new Me Mode feature enables you to make an invisible selfie stick film that is instantly stored as a video file. It's a creative technique to use both lenses while shooting in the conventional video format, but where framing is also important.

Final verdict
The Insta360 X3 is incredibly simple to use, produces excellent pictures, and can now double as an action camera or even a dash cam! The larger battery, screen, and sensors are all fantastic additions.

The Insta360 X3 is definitely one of the best immersive video cameras. It captures literally everything around you, making it simple to create 3D VR content. You can also use its software-based reframing tools to edit your scenes as regular, "flat" video, where you can track subjects, make panning shots, and essentially point the camera wherever you like after you've shot your video.

It delivers fantastic value for the money and is a significant improvement over its predecessor. The fact that it has a wide variety of shooting settings and features makes it extremely adaptable and, perhaps most significantly, a ton of fun to use. The X3 is simple to use and quick to start filming because it is a small, waterproof, all-in-one package that is handy to take everywhere.

Insta360 X3 alternatives

GoPro Hero 11 Black
The GoPro Hero 11 Black is a fantastic tool for content creators because it combines superb video quality with high-end capabilities, best-in-class stabilization, and a new 8:7 sensor. It can capture 5.3K video at up to 60 frames per second and boasts greater still performance than the Action 3 thanks to its 27MP picture sensor. With the help of the Max Lens Mod Kit, the Hero 11 may be converted into a small cinema camera. For more info explore our GoPro Hero 11 Black review.

Insta360 One RS
The Insta360 One RS is a fantastic device that is an improvement over the One R. It is appreciated that the image, audio, and picture quality have improved and that the camera never feels slow thanks to the speedier processor. It succeeds in being a capable action camera with a broad toolkit, and the ability to switch quickly between 2D and 3D video is a significant plus.

DJI Osmo Action 3
The DJI Osmo Action 3 strikes the perfect price/quality combination for the majority of producers. The stabilized 4K footage has superb visual quality, and the camera is incredibly tough and capable of operating effectively in challenging circumstances. By providing as many best-in-class features as it can at a reasonable price, this camera outperforms the competition. For more info explore our DJI Osmo Action 3 review.

FAQ
Is the GoPro or Insta360 better?
The Insta360 X3 is definitely one of the best immersive video cameras. It captures literally everything around you, making it simple to create 3D VR content. It delivers fantastic value for the money and is a significant improvement over its predecessor.
Is Insta360 a Chinese?
Ista360 is a Chinese company with offices in Los Angeles, Tokyo, and Berlin.
Is Insta360 X3 waterproof?
Yes, Insta360 X3 is waterproof, up to 10 meters without a special case.
How much does Insta360 X3 cost?
Insta360 X3 is available for $449 standalone.
Popular listings for rentals