Where Can I Fly a Drone in London – Photographers' Guide
Rent film gear from local filmmakers.
Rent film gear from local filmmakers.
As the third-largest European city by population, London is not the first place that comes to mind when thinking about drone photography. That doesn't mean you can't fly drones in London at all!
It's important to understand that drone laws change. Always check with local authorities and the Civil Aviation Authority if you're uncertain about where, when and how you can fly your drone.
In this guide, I aim to help you get started! I'll walk you through what sort of licence you need, what drone laws to watch out for, and where you can fly your drone.
Do you need a license to fly a drone?
You have to be a registered drone operator to fly aircraft equipped with a camera, or heavier than 250g. Luckily, the path to becoming an operator is pretty straightforward! Once you've registered with the Civil Aviation Authority (CAA), you can complete an awareness test online. Then label your drone with your Operator ID, and you're ready for takeoff.
Operator vs Flyer ID
A drone operator is a person over 18 years old who is responsible for managing a drone. This includes drone maintenance and making sure that anyone flying the aircraft has a Flyer ID. An Operator ID costs £9 annually.
Adults and children who pass the CAA's theory test can get a free Flyer ID that permits them to fly drones as long as they comply with relevant guidelines. The age requirement for a Flyer ID has been removed in 2021 February.
Drone laws and regulations
The CAA's drone code determines the regulations you must follow when flying your aircraft. Make sure you're always up-to-date with it!
The key points are:
As the drone operator, you're responsible for flying safely.
Always keep your drone in your direct sight.
You should be able to see your drone without having to use binoculars, telephoto lenses, etc.
Stay below 120 meters (400 ft)
The distance is measured from the surface of the earth. This means you may need to adjust your path over hills, cliffs or mountains.
Keep a distance of 50 meters from people.
Including those in buildings or transport. Don't fly over people, go around them. This doesn't apply to the people that are accompanying you.
Avoid crowds and keep at least 150 meters distance from residential, recreational, commercial and industrial areas.
Always stay away from airports and airfields.
If you endanger the safety of an aircraft, you could face prison time of up to 5 years.
Check for restrictions and any hazards before you fly.
Rule 4 applies differently to small drones below 250g or in the C0 or C1 class, like the DJI Mavic Mini.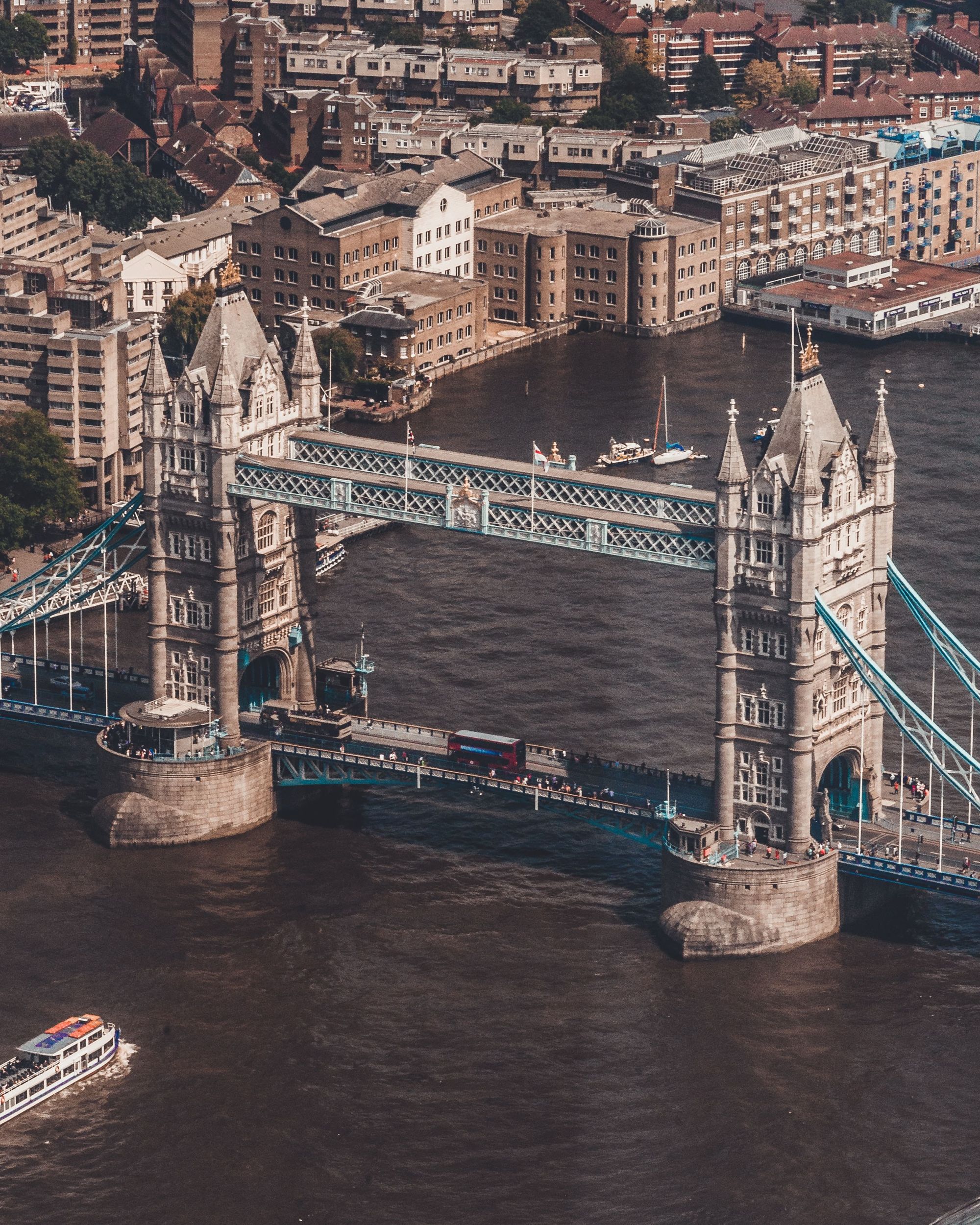 Locations to fly
In the UK, drone flights fall into one of three categories. These are:
Open: Low risk to third parties, with no CAA authorization required.
Specific: More complex operations, with permission needed.
Certified: Very complex flights that present an equivalent risk to manned aviation.
Most recreational and several commercial pilots should fly in the open category.
So, where can I fly a drone in London?
Richmond Park has a great drone fly zone that is always a safe bet.
Other open locations in London to fly your drone include Hanworth Park, the lower field of Boston Manor Park, the permitted fly zone in Moden Park, Duke's Meadows, and Wormwood Scrubs.
Fun fact: while flying over the Tower Bridge is illegal without permission, you can grab some great landmark shots from the east side.
You can find more open locations all over the UK on https://dronescene.co.uk/.
Obviously, to fly a drone, you need one in the first place. Hire or subscribe to a drone at Wedio.
Weather
Always check the weather before flying a drone too. Most drones are not waterproof, and strong gusts of wind can turn a fun flight into a disaster.
The UAV Forecast app provides helpful info when it comes to planning a flight. It covers local wind speeds, visibility and more.
Privacy
As a photographer or cinematographer make sure you're aware of privacy and data protection regulations when flying a drone in London.
Don't film inside private homes or gardens without explicit permission.
Be visible at all times when you're piloting, so people can find you if they want to talk about your drone.
Always let people know if you're recording, and never share anything publicly that could be harmful to anyone.
Closing thoughts
Piloting a drone can an exciting way of recording awesome footage from a new perspective. Still, you have to be careful about knowing what you can and can't legally do in given areas.
Always keep to safe and legal ways and locations to fly your drone.
If you're looking for more inspiration, check out these awesome drone videos of London landmarks, or read about these amazing drone pilots in London who make the coolest aerial shots happen.
Explore more gear, in our article on all the various camera equipment you'll need as as beginner.
London Drone FAQ
Can you fly a drone in London?
Yes, as long as you follow the laws and protocols
Where can you fly a drone in London?
You can fly in places like Richmond Park, Hanworth Park, the lower field of Boston Manor Park, the permitted fly zone in Moden Park, Duke's Meadows, and Wormwood Scrubs.
Can you fly a drone over the Thames?
The Port of London Authority (PLA) does not regard the Thames as a safe flying zone.
Do I need a license to fly a drone UK?
You need to register as a drone operator with the Civil Aviation Authority (CAA). Furthermore, you will need an Operator ID and a Flyer ID.
Can you fly a drone in a public park UK?
Yes, you can fly in public parks, but you have to keep a distance of 50 m between your drone and other people.
Can I hire a drone for my film?
Yes, you can easily hire a drone on sites like Wedio. Hire or subscribe to it now.
Popular listings for rentals