11 Quirky and Unique Wedding Photos to Try Out
With a bit of out-of-the-box thinking and creativity, wedding photographers capture memories that clients will cherish forever.
Looking to spice up your wedding photography? Stun the newlyweds with these unique and fun shots when they finally get their hands on their wedding album!
Wedding Photography:
Complete Guide by Nikola Auterska
Interested in Wedding Photography? Check out this Masterclass with Nikola and get the best wedding photography tips!
What is wedding photography?
30
Types of wedding photography
60
Wedding photography prep
153
Wedding photography location
390
Wedding photography lighting
472
Camera settings for wedding photography
570
Best equipment for wedding photography
651
Post-processing wedding photography
775
What you'll learn
Accept you only get one chance (at every wedding).
Pack extra batteries and plenty of memory storage.
Make a shot list to ensure you capture everything.
Bring a flash for every wedding to put on your camera.
Prepare a mood board for easy picture inspiration on hand.
Pack snacks for you and your assistant to eat during the day.
Scout a good picture location – somewhere with plenty of natural light.
Avoid losing your work by backing your files up twice on separate drives.
Read our complete guide to wedding photography to improve your craft, or read on to get 11 quirky and unique photo ideas.
11 quirky and creative wedding photos
Use the following creative wedding photography ideas in your next project to wow your clients.
1. The hobby shot
Motorbiking, tennis, or pottery – don't be afraid to incorporate the couple's interest with a unique hobby shot. Don't be scared to get a bit messy, either! Get to know your client's hobbies and discuss which resonates the most.
Organize a shoot before or after the big day and include the wedding party for even more fun. Have them get into it to get the most authentic shot.
This way, you can capture one-of-a-kind pictures that represent your client's personality.
2. The "Cheers!" shot
Getting your wedding party to relax is the key to making authentic and fun photos. If your clients drink, consider the classic "Cheers" or popping the champagne shot!
The more, the merrier, so get the whole party, groomsmen, or bridesmaids to get together and share a drink to get the party started. Move around without interrupting to swoop in for the perfect photo at the right moment.
Get the right shot before the drinks keep flowing. Makeup gets smudged, or the ties and shoes come off as the night progresses.
3. The photo booth prop shot
A photo booth can be an exciting way to get the whole wedding party involved. But the fun doesn't have to stop there. Break out the classic photo booth props like the glasses, masks, and iconic fake mustache and let loose.
When relaxed guests have fun, they'll provide all the inspiration and creativity you need. Give them the props to work with! These silly shots can be a great source of laughter and will be treasured by all.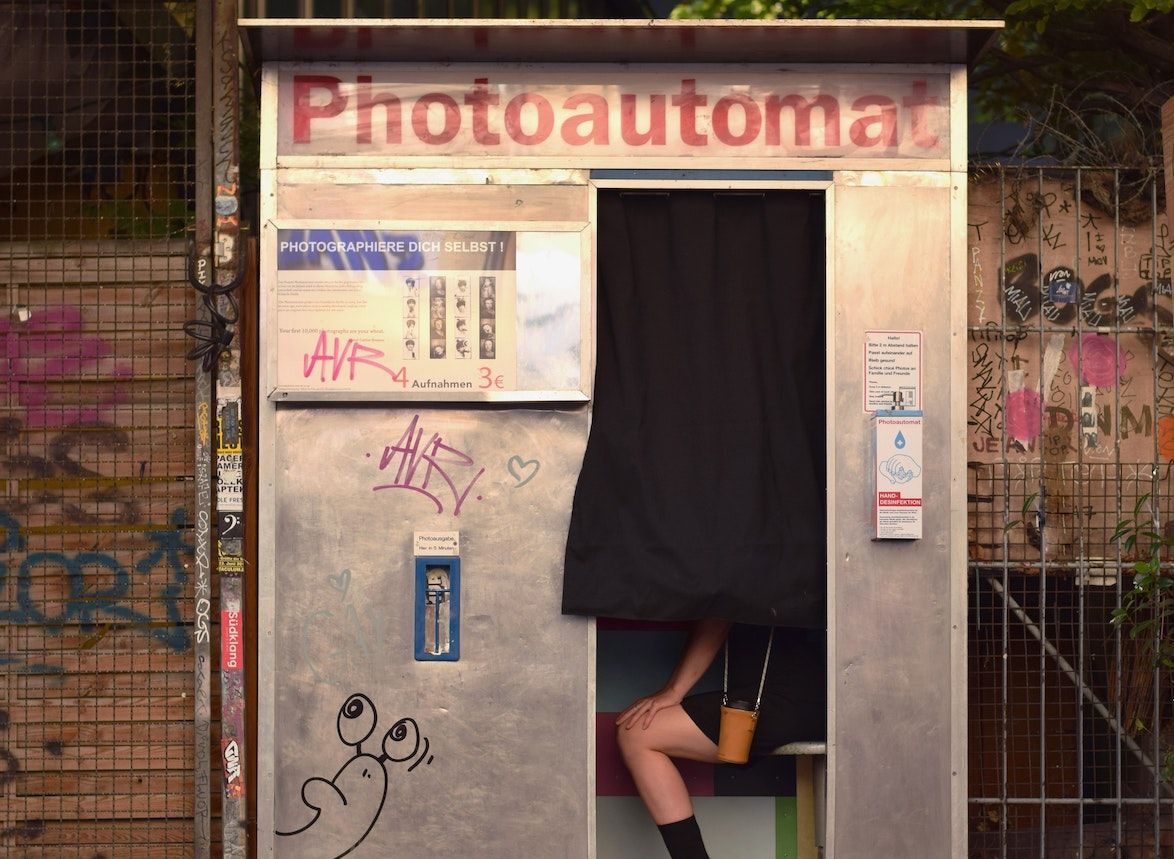 4. The framed shot
Framing is always an essential element of photography, but you can't go overboard when it comes to creative wedding photos.
The sky's the limit to what objects you can use. A picture frame is a straightforward choice, but clever angles like wedding rings or even wine glass can create even more unique results.
Experiment with props and angles for the best results and incorporate objects from the ceremony for an even higher sentimental value.
5. The sneaky snack shot
Friends and family love to get a sneak peek into the wedding behind the scenes. The day can be exhausting for the couple, and it's almost guaranteed that they'll grab a quick snack alone at some point!
Capture the down to Earth moment with a fun shot where the couple grabs McDonald's or munches on some chips. Be quick and respectful! Grab that shot and get out to give the couple some well-needed privacy.
6. The forever single shot
Being "the single one" happens to most of us at some point in life. There's no shame in showing up to a wedding solo, but if everyone is game, this shot can be a novel way to poke lighthearted fun at that forever single friend.
If everyone in the wedding party brought a date except for one, have them line up in their couples with your single friend at the end. Make some silly faces and have hilarity ensue!
7. The new perspective shot
Don't get stuck on the stereotypical! A bird's eye view of all the guests dancing or even a  cool low angle of the bridesmaids can spice up the wedding album. Explore camera angles in film for inspiration and let your creativity fly.
Out-of-the-box thinking creates novel shots, and novel shots will impress clients if done right. Take the time to get your photography basics right, so the pictures will come out exactly as you imagine them.
8. The reflection shot
Turn to the reflection shot for a classy take on creative wedding photography. Using an ornamental mirror or a body of water can give an artsy feel to your classic portraits. Be on the lookout for reflective surfaces around the wedding venue and play on the strengths it has!
A variation to the reflection shot could be using broken glass to create exciting visuals or even utilizing multiple mirrors.
9. The work with the weather shot
Life can be unpredictable. Bad weather on the big day is often the biggest fear of couples. It will happen if it happens, but you can't let it ruin the pictures!
Prepare some cute or custom umbrellas for the potential downpour, or use snow to your advantage and create romantic winter portraits.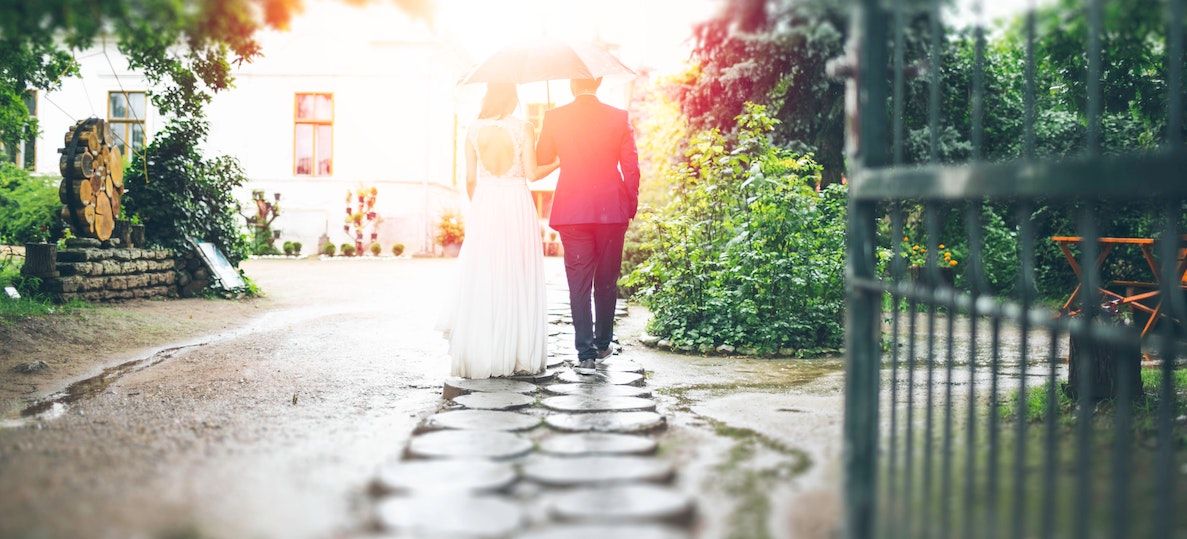 10. The creative lighting shot
Ask any professional, and they'll tell you that lighting makes a world of difference. Creative wedding photography often features practical light sources that you can find around the venue, like beautiful chandeliers or even candlelight.
Seek inspiration from the best wedding photographers for creative lighting ideas, or experiment yourself to find your unique style.
11. The under the veil shot
Another fun, creative wedding photo you can take is by taking on a whole new perspective: getting under the veil! The bride will look beautiful in this intimate photo, with natural light softly filtering through the transparent veil.
You can even involve their partner by having them get close to each other and have fun. Be prepared for a bit of awkwardness if you're not comfortable with your clients.
Closing thoughts
Creative wedding photography can make the day for your clients while helping your portfolio stand out too! Don't forget to have fun and enjoy the process; that's how the best creative photos are born.
Learn more about the basics of photography to impress your clients.
Happy shooting!
Creative Wedding Photography FAQ
What are the different styles of wedding photography?
Besides creative wedding photography, photojournalistic, contemporary, editorial and fine art are all popular wedding photo styles.
Which type of photography is best for wedding?
The best type of wedding photography is up to your preferences! Explore editorial, documentary, or portrait style before reaching out to photographers.