The Best Camera & Equipment for Filming High-quality Music Videos
Rent camera gear from local creators.
Whether it's singing along to the lyrics of "What Does The Fox Say?" or looking at Kanye West short-film "Runaway", – music videos have managed to excel as an art form.
Often expressing and condensing some deep emotions and stories into a three- or four-minute-long clip (well, in Kanye's case, a little hour – but that just Kanye being Kanye).
The one thing that these two (widely) different music videos have in common? A music video camera was involved.
The best type of music video camera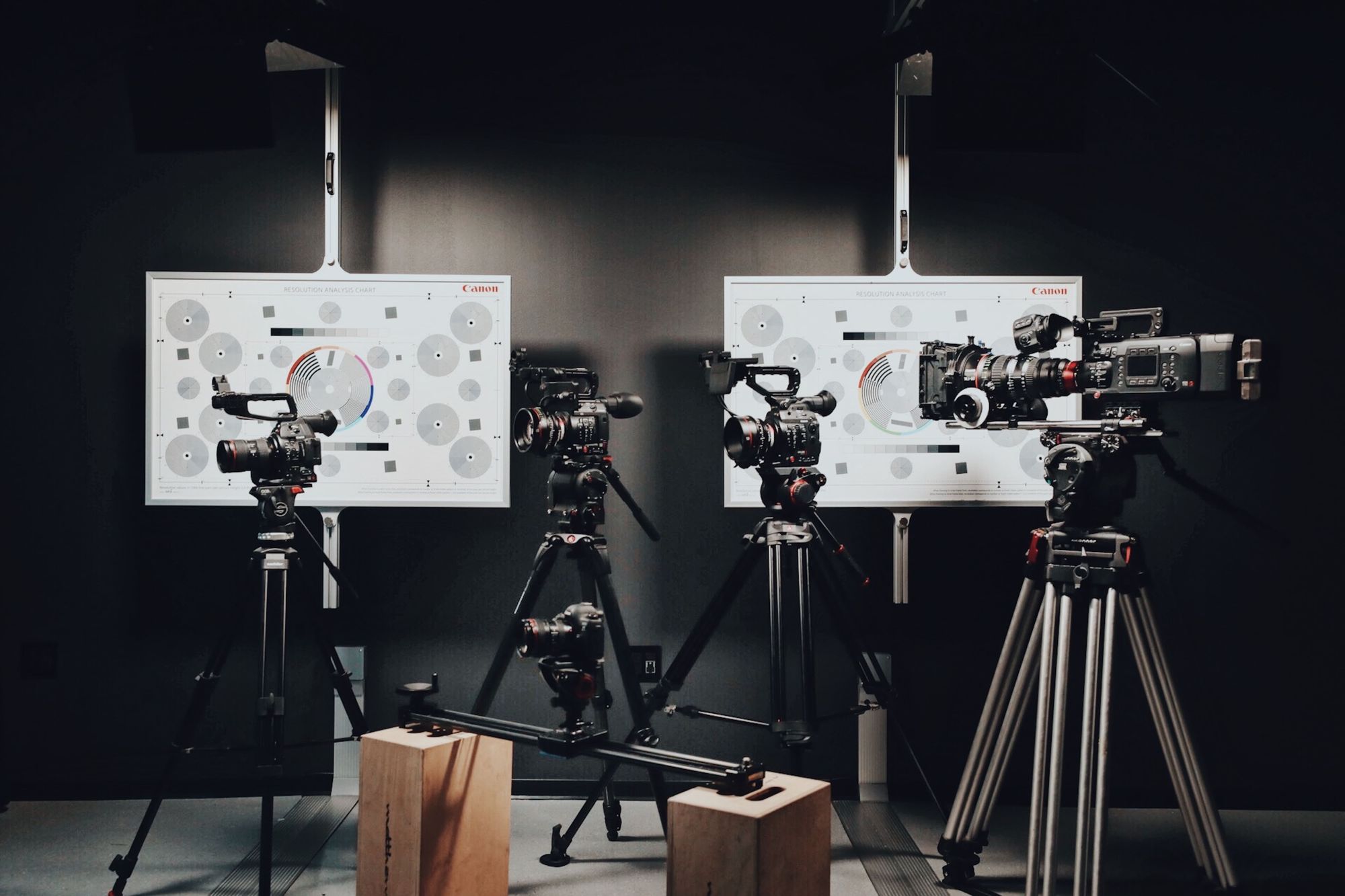 What to look for in a music video camera
Whenever shooting music videos, you want to invest in a good camera, preferably one that records in HD, maybe even 1080p or 4K resolution.
You need to consider several things, things like budget (this is, of course, remedied if you choose to rent or subscribe to a music video camera – just saying).
You should also consider camera quality and the features the music video camera carries.
In terms of the best types of camera for your music videos?
Your best option is to either look at a hybrid, mirrorless  or cinema cameras.
These types of cameras are great for multiple purposes because of their overall quality, sensor sizes, versatility with interchangeable lenses and control over depth of field.
Furthermore, they have exceptional auto-focus speed, which is extremely important when shooting a music video – you don't want the image to get all blurry right as the beat drops.
Best cameras for music videos while on a budget
Canon EOS M10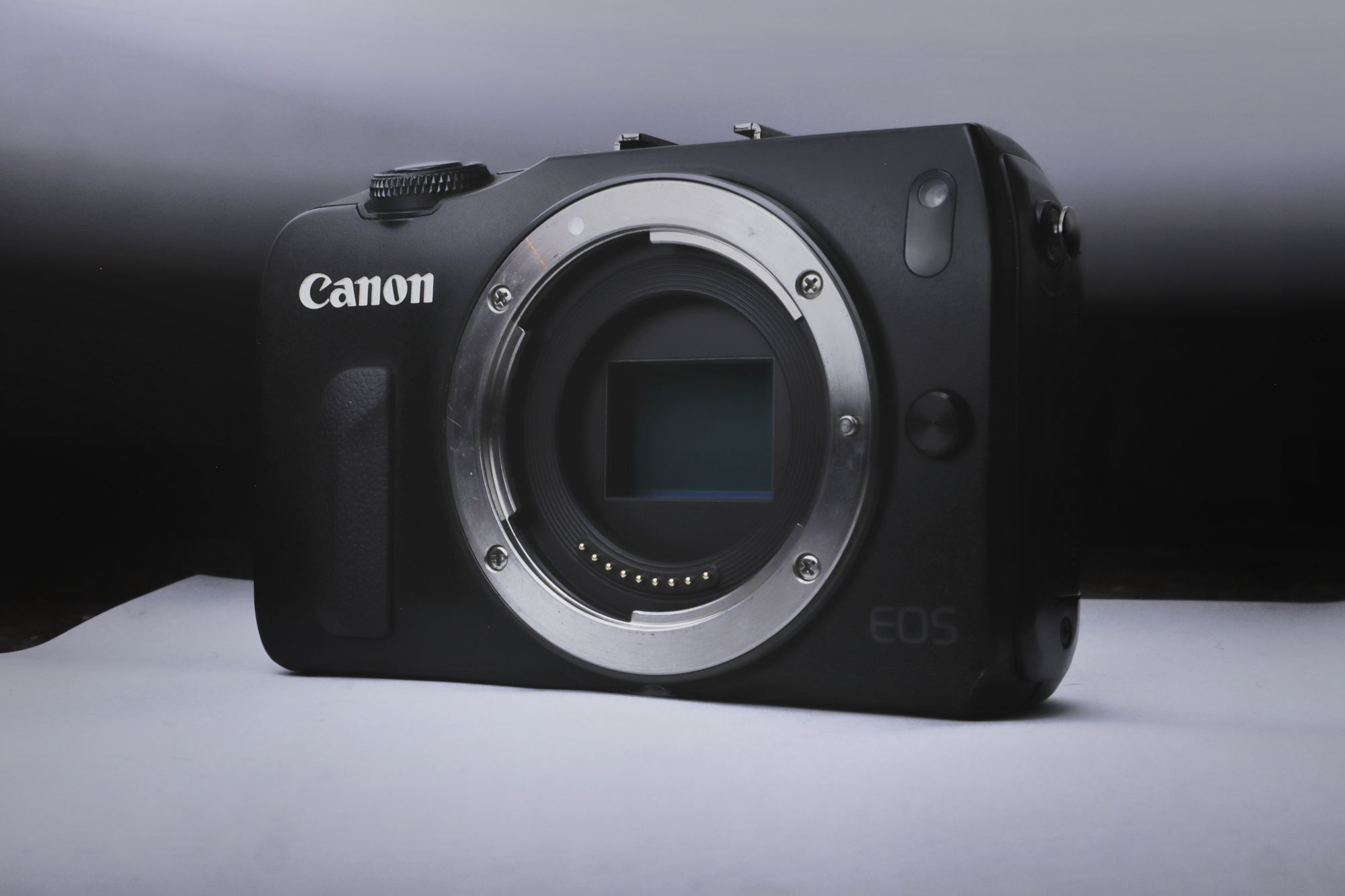 A feature-rich camera, great for first-time music video shooters.
It has a ton of easily accessible image settings: control lighting, focus and coloring. With Creative Assist, you can decide brightness, background blur, filter effects, and more.
It's easy to use and pretty low budget. Still, it manages to be one of the best cameras for music videos.
It delivers stunning footage, also in challenging lighting situations. You can shoot in full HD 1920x1080 at 24p and 30p in MP4 format.
Canon EOS M50
Although the Canon EOS M50 is an entry-level camera, make no mistake, this camera delivers a good image in both 1080p and 4K.
However, it is worth noting that not everyone has been that impressed with its 4K performance. It crops in 1.6x onto the sensor, making it difficult to get wide shots in 4K. Its 1080p capabilities is a whole other story, though.
The DPAF is brilliant, and it performs surprisingly well for such a small and cheap camera. And worth a thought if you're looking for the best music video camera for beginners.
GoPro HERO 9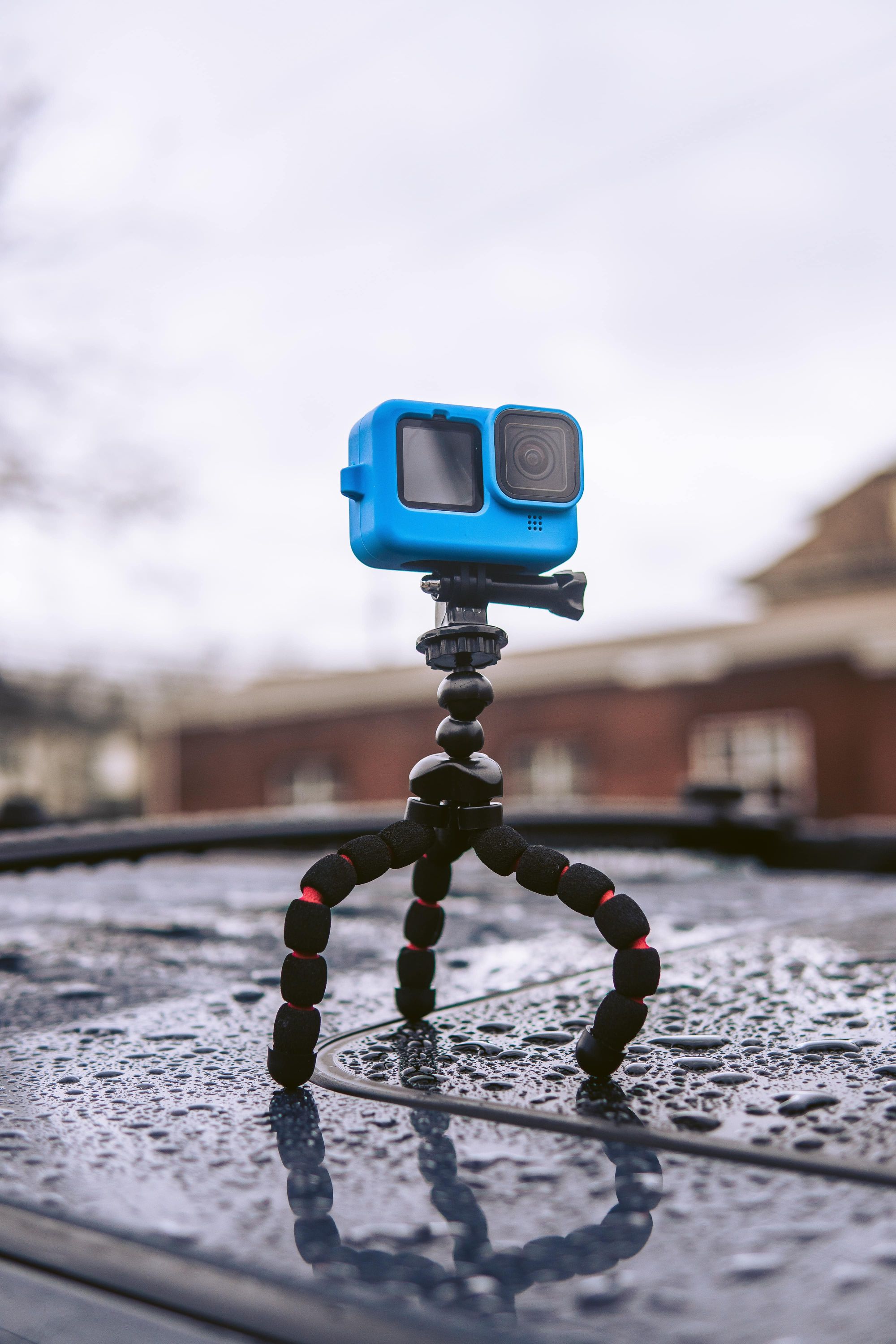 Once upon a time in filmmaking, action cameras were only for capturing, well, action.
However, the GoPro HERO 9 pushes the boundaries of what is usually considered possible for an action camera.
The HERO 9 has a 23.6 MP sensor and captures video at 5K in 30fps at 100Mbps. Compared to its predecessors, the HERO 9 has also improved IBIS, enhanced time-lapses and a longer-lasting battery.
Panasonic GH5
The Panasonic GH5 has, with its 20MP Four-Thirds sensor and deep video-centric feature set, earned its right among the ranks of best music video cameras.
The GH5's eye-catching feature (and the reason it's among the best camera for music videos) is due to its ability to shoot 4K at up to 59.94p and 48p.
Thanks to its full sensor readout, it oversamples your footage from 5.1K, making your footage look crisp and sharp.
Sony Alpha A6600
The Sony A6600 is an excellent mirrorless camera – one of Sony's top-of-the-line APS-C, with 24MP of resolution and 4K video capture.
As you're looking for the best camera for a music videos, of course, it's its 4K video resolution that catches your attention (I assume).
It oversamples 4K footage from 6K capture and churns out detailed video footage.
On the little downside of things, its rolling shutter does remain an issue. Still, it's an excellent camera for music videos.
Get better with intermediate cameras for music videos
Blackmagic Pocket Cinema Camera 4K & 6K
As you're looking for the best music video camera, both the BMPCC 4K and the BMPCC 6K is one of the best choices.
Achieve professional-looking footage with features like high-dynamic-range, outstanding low light performance, and Blackmagic RAW.
The 4K features a 4/3 image sensor with 4096x2160 resolution, allowing you to capture a wide dynamic range.
The 6K features a larger 6144x3456 Super 35 sensor to create cinematic images with shallower depth of field, allowing for some creative defocused background and gorgeous bokeh effects. All part of enhancing your music video production.
Canon EOS R6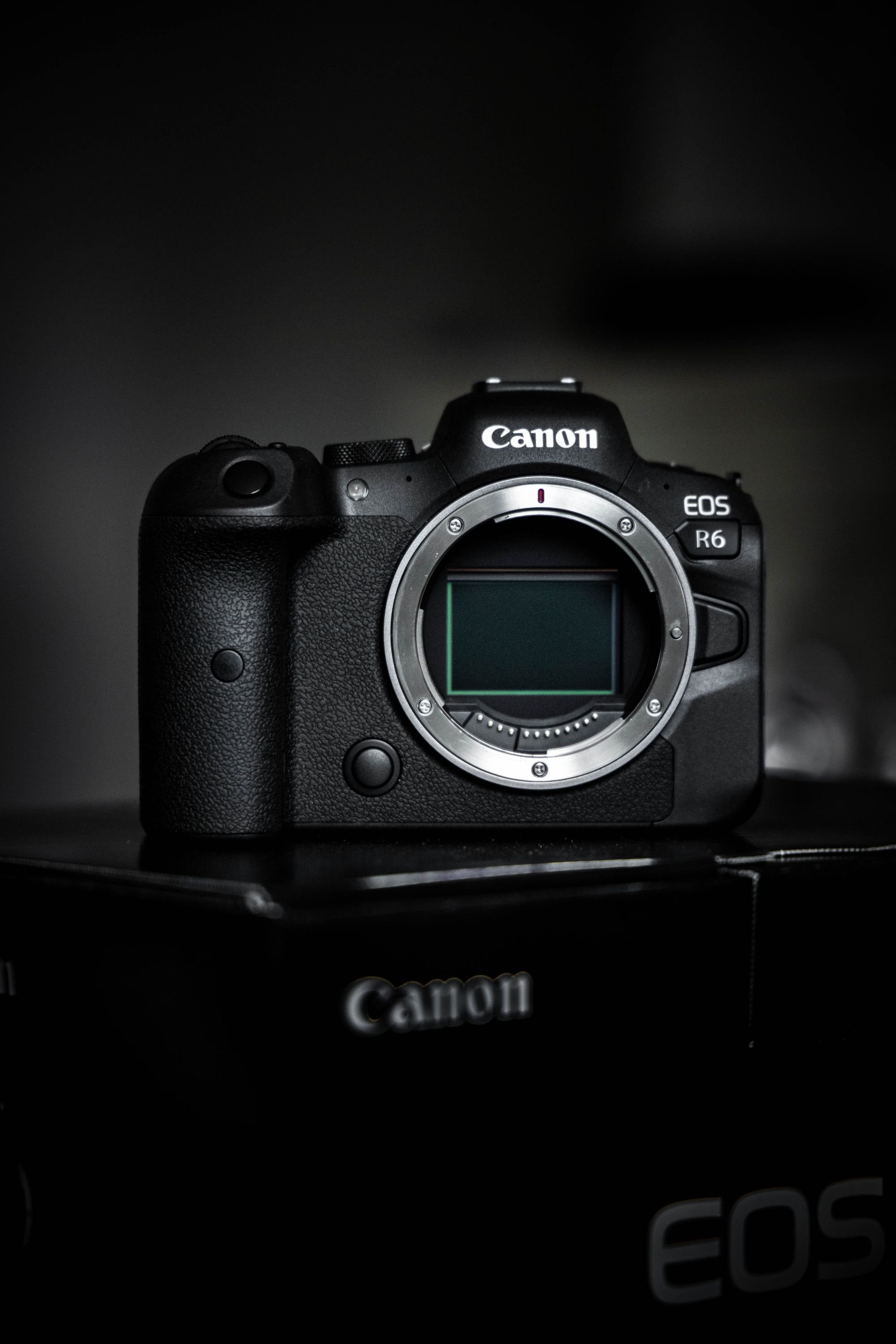 A 20MP full-frame mirrorless camera.
Although it's not crème de la crème, it's an excellent camera for filmmakers just getting into music video production.
The R6 offers a well-rounded combination of features for both video and stills. It's one of the first enthusiast-level cameras to exploit the capabilities of the latest high-dynamic-range displays.
However, it does tend to overheat, taking that slight edge off its video capabilities.
Sony A7 III & Sony FX3
Although the Sony A7 III doesn't have the most MP or shoot the fastest bursts, it's still a competent full-frame camera.
It's capable of shooting high-quality 4K video. It has a unique combination of features that easily makes it one of the best cameras for music video. The cameras redesigned sensor allows for quick readout and 4K video at 24p.
Both the A7 IIIand FX3 can capture 1080/120p footage natively and slow internal footage down to 24p or 30p.
Furthermore, the FX3 can output 16-bit RAW video data over its full-size HDMI port.
The significant part about the FX3 is its endurance and dependability, as the cameras fan provides extended capture times.
Stay pro with the best and most professional camera for music videos
Blackmagic Pocket Cinema Camera Pro
If you're scouting for the very best high-end camera for music videos, then the BMPCC Pro is hands down one of the best out there for you.
It produces incredible image quality and stunning content. You can use various lenses with this camera, which opens up an array of shooting possibilities.
It also provides the option to maintain an uncompressed RAW recording and compressed RAW recordings at 3:1 and 4:1 to save space while preserving post-production flexibility.
ARRI ALEXA Mini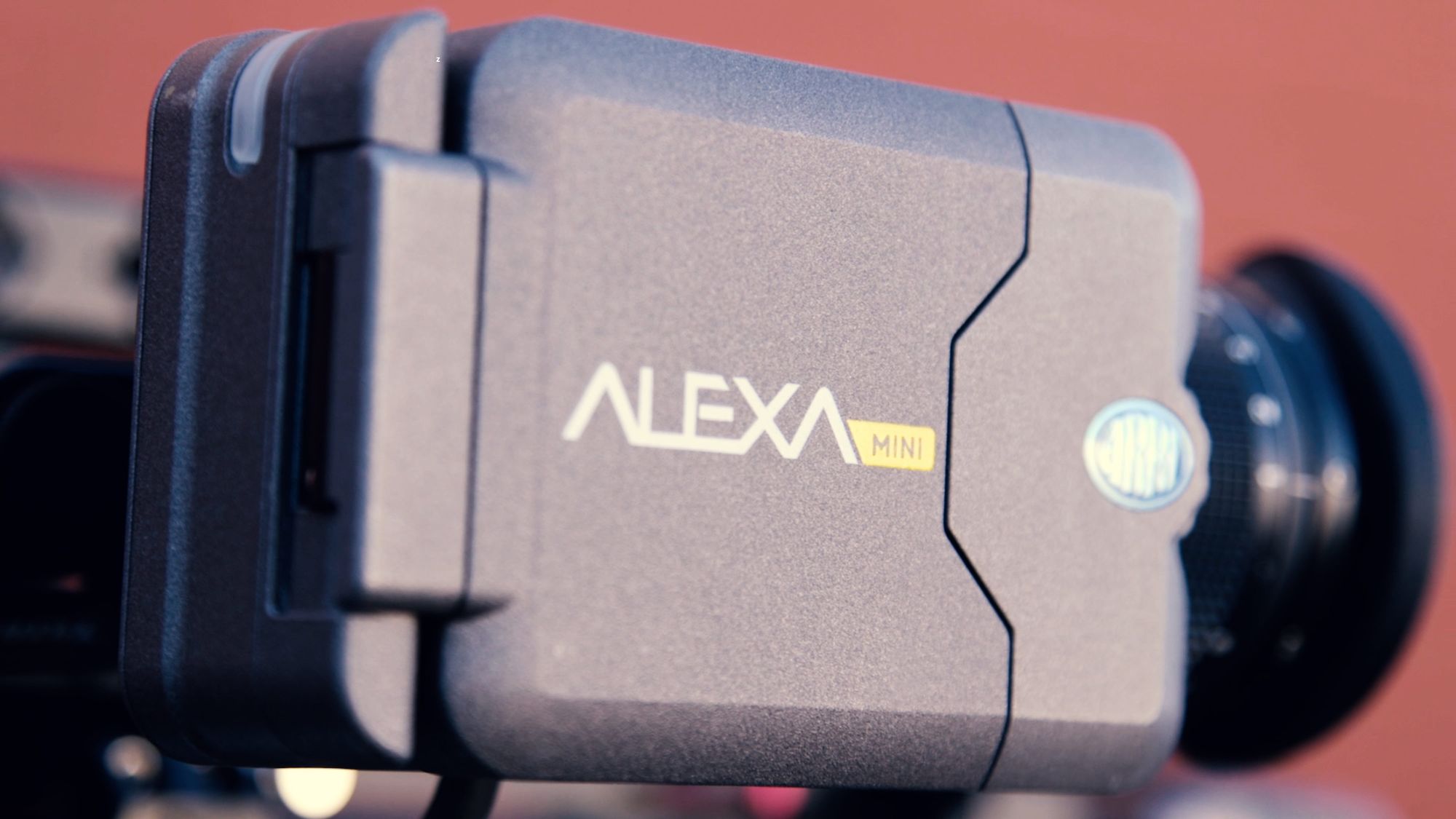 When it comes to great cameras for music video cameras, ARRI represents the golden standard. With professional quality, compact and lightweight facilities, the ALEXA Mini is excellent for music videos and various filmmaking purposes.
Its compact and symmetrical design permits filming in any orientation, including upside-down and in portrait mode.
Additionally, the ALEXA Mini includes a series of interchangeable lens mounts. So, you can use EF mount stills lenses and even the ARRI Signature Primes – pretty cool for a music video.
Canon EOS R5 & Sony A7S III
Let's start with the Canon EOS R5… what a beast of a camera.
It's a competent option for almost any type of production – and yes, music videos included. It's a 45MP full-frame mirrorless camera capable of shooting 8K video. Moreover, it consists of some truly impressive Dual Pixel AF and can capture 10-bit HDR still and video for HDR display.
The A7S II, on the other hand, might not have headliner specs, such as 8K video and 45MP. However, don't let that fool you. Its customizable AF, excellent IBIS and low-resolution sensor perform well in close to all conditions.
Unlike the R5, the A7S III doesn't have any overheating issues.
RED EPIC DRAGON 6K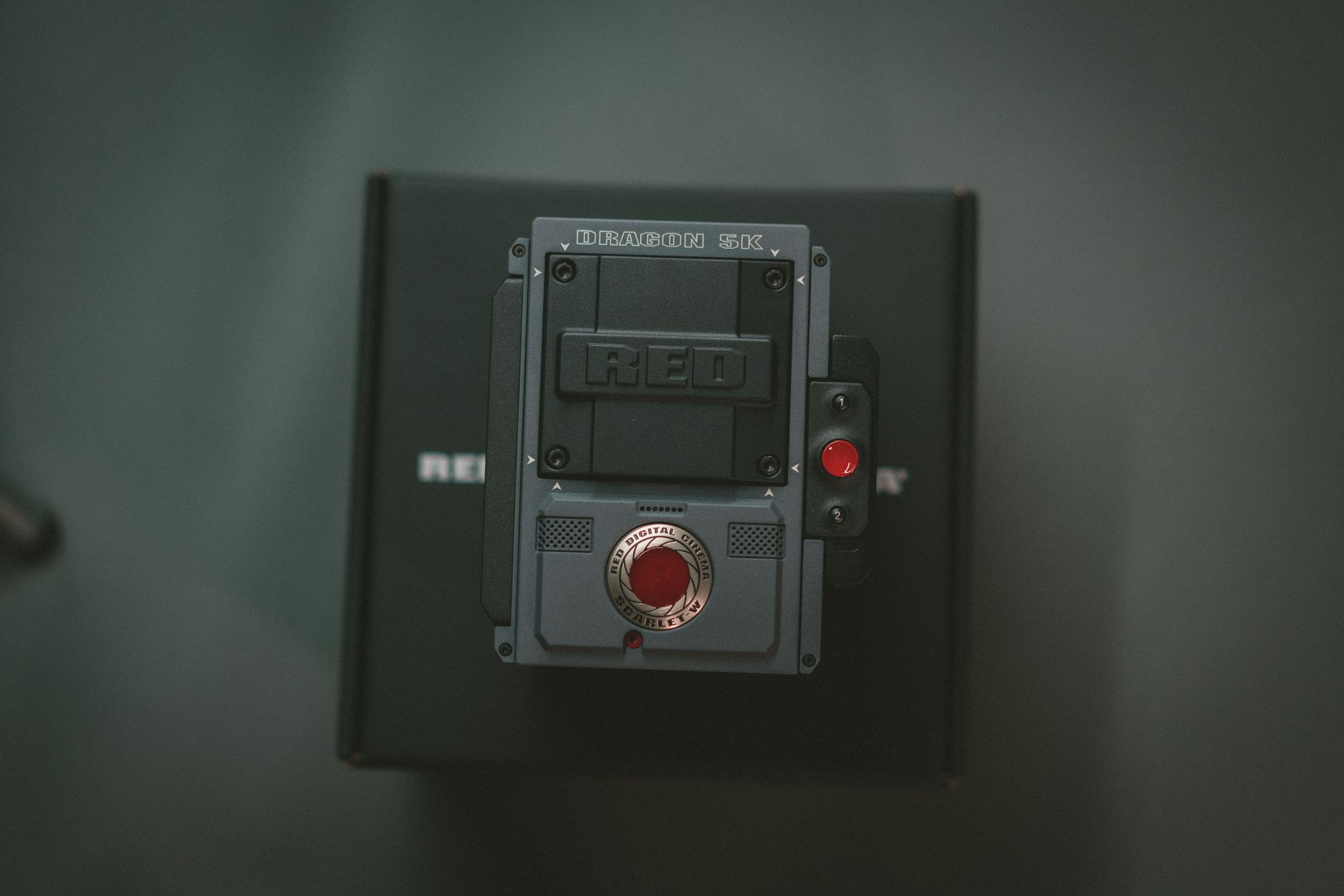 I highly doubt that you need much convincing for why a RED camera has made the list of best music video camera.
With 75fps at 6K full format, the DRAGON 6K delivers superior image quality together with incredible dynamic range.
That, together with its 19.4MP CMOS sensor, provides you with cinema image quality that breathes life into your footage.
What traits do you need to consider in a music video camera?
Imagine, back in the day, music videos were only for the biggest names. I'm talking "Queen", "Guns N' Roses", "Michael Jackson".
Now, back to the future, more artists and filmmakers can get their work out in the world with the help of a little platform called YouTube – who could have imagined?
YouTube might have made it easier to get your work out there, but you still need to produce it before it goes viral "Gangnam Style".
So, you might be looking for the best camera for music videos to make it happen.
Here's a couple of traits you need to consider in a music video camera.
Firstly, think about what type of video quality it can deliver and how high frame rates it has. You should also consider things like resolution, shutter speed and ISO.
One thing is the specs; another thing you have to consider when choosing the best music video camera is what type of projects you're doing.
Will your music video feature lots of first-person actions shots?
Or maybe something more artistic and conceptual?
Also, consider stuff like – what's the lighting situation, natural or artificial?
Will your music video feature close-ups or more wide expansive shots?
Equipment you need to make a music video.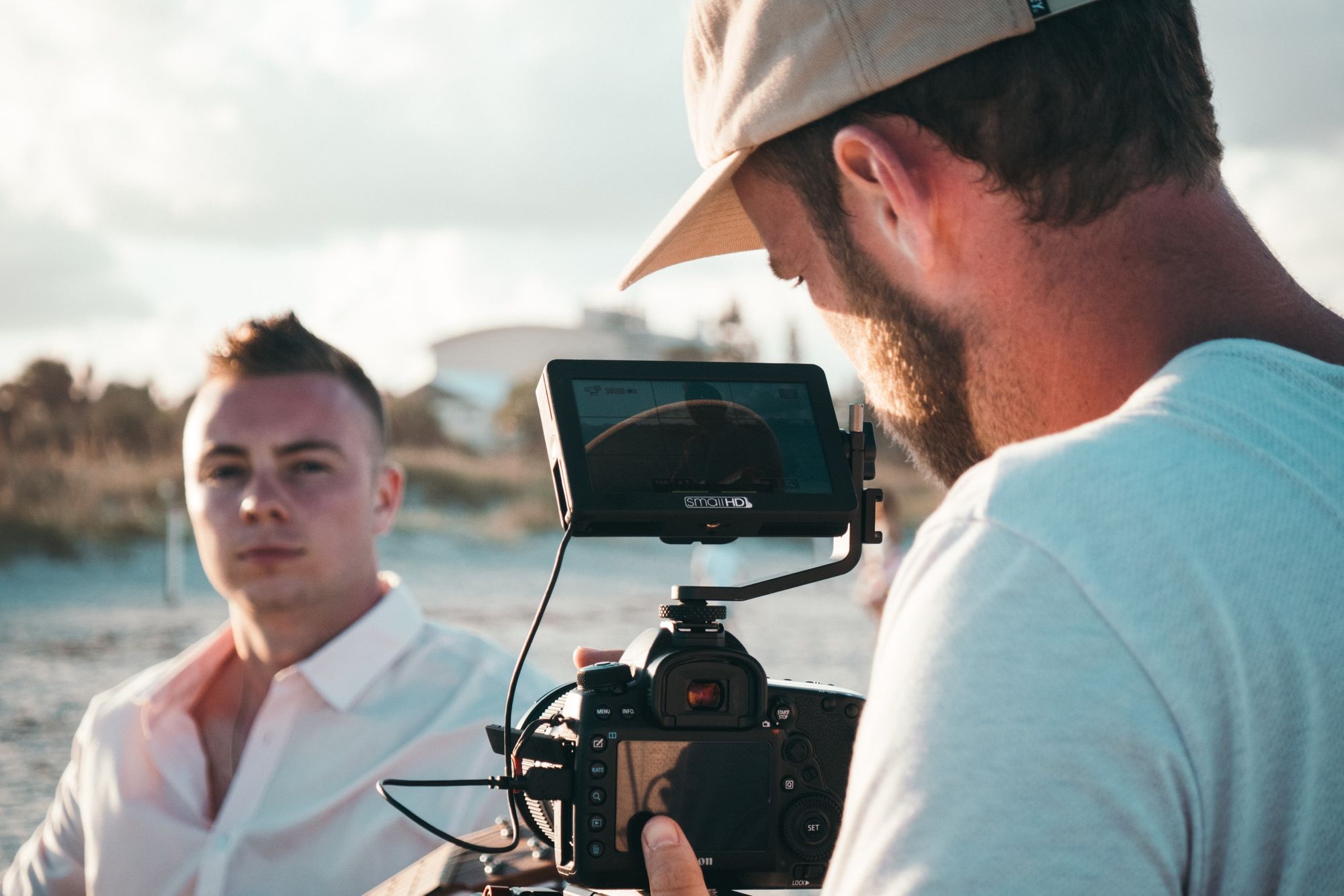 It may sound weird, but the sound isn't that important for producing a music video. I know, how kooky!
In most music videos, the sound is usually only added during the editing process.
The band or artist often mimes to the recorded version of the song, and the audio is synced up in post-production.
When it comes to the actual music video shoot, don't worry about microphones or other audio recording equipment.
However, if you're doing, for example, a dialogue at the beginning of the video, in that case, you can consider adding a microphone to your music video equipment kit. Rent or subscribe to the best microphones out there.
If the sound isn't necessary, what is? Good visuals!
And to achieve good visuals for your music video, you'll need a couple of things (besides an awesome music video camera, of course).
Here's a quick run-down on what type of equipment you'll need to produce a music video.
Tripod & Gimbal stabilizer
You don't want to be shaking your camera like a polaroid picture.
You want smooth and sharp footage. You need to stabilize your camera with a device such as a tripod or a gimbal stabilizer.
Think about whether you're moving around, which could mean that a gimbal is the better choice or if you're more static, where a tripod could be a better fit.
Manfrotto Carbon BeFree Live Video Tripod
The Manfrotto Carbon Befree Live Video Tripod – is an excellent choice for your music video equipment kit.
The tripod can support up to 8.8lbs, making it perfect for DSLR and mirrorless cameras – even small camcorders.
It's designed explicitly for on-the-go videographers and vloggers. It features an M-lock twist lock system for quick and secure operation and adjustable leg angles for shooting various perspectives.
ZHIYUN gimbal stabilizers
If you're more into gimbals, you can try out the Zhiyun Gimbal Stabilizer.
If the music video requires you to move around or capture certain scenes from different angles, a monopod or gimbal stabilizer is the way to go.
For handheld shooting, a gimbal stabilizer helps reduce vibration and camera shake.
It also allows more versatile shots, such as when you need to glide along with a moving subject.
Lighting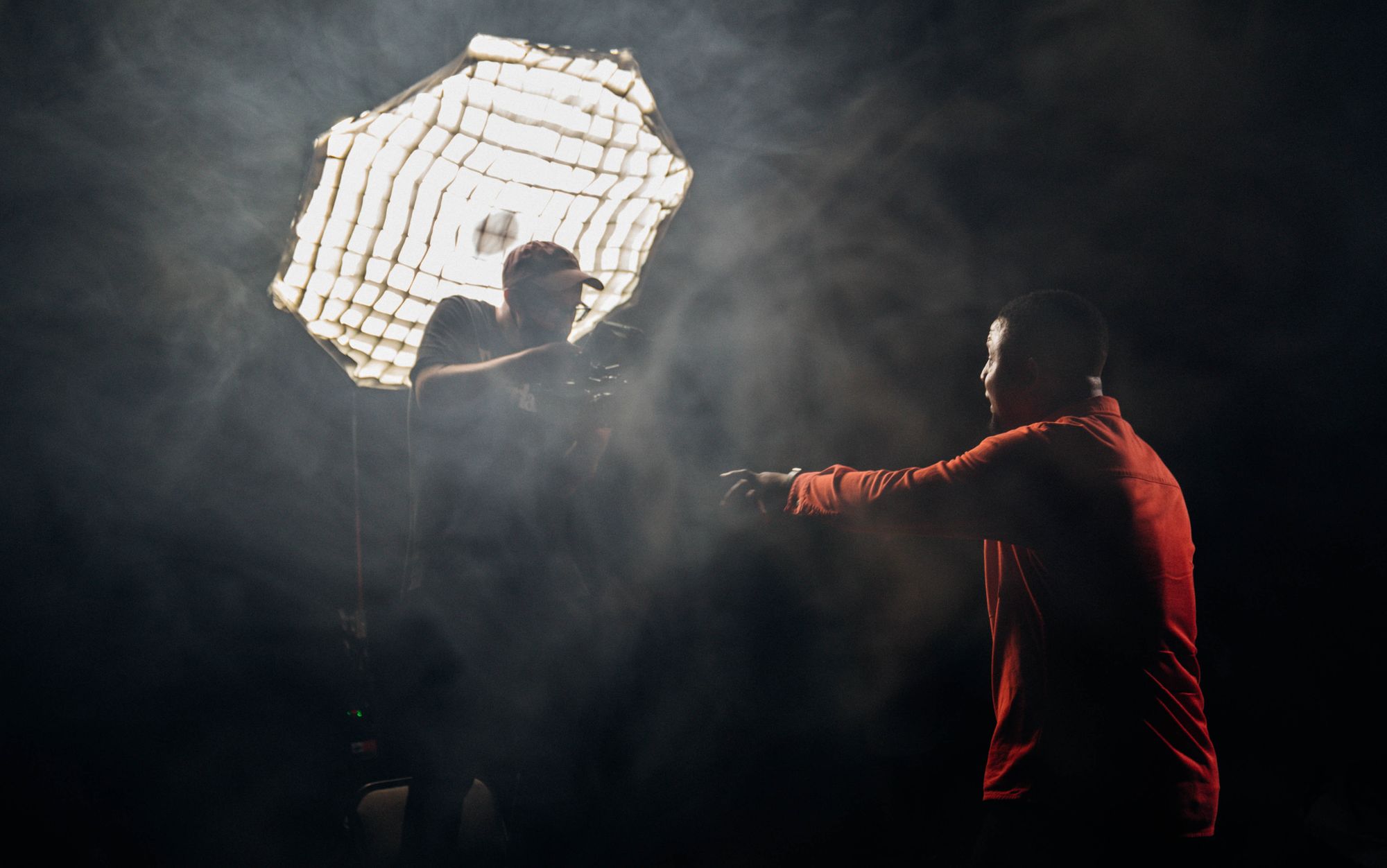 Nailing your lighting is an essential cinematography technique.
It can help elevate your video and ensures that you achieve quality footage. You need to consider different types of light, foreground and background lighting, shadows, and equipment.
A good all-rounder lighting kit? The Rotolight NEO 3 light kit.
It comes with three LED lighting fixtures, light stands, hot-shoe mount adapters, 360° ball head swivels, power supplies, an injection-moulded, weather-resistant case with wheels and a retractable handle for superior protection and on-the-go portability.
Long sentence, but all true – I promise.
There may also be situations where you won't need a complete lighting kit.
In some cases, you might just make use of natural lighting or ambient lighting. Explore all the different film lighting techniques.
Best lens for music videos
Depending on what type of camera you have and your video's requirements, lenses may or may not be necessary.
If you're using a camcorder, it's not even up to you – most camcorders don't have an interchangeable lens option (simple as that).
However, suppose you do have the option to change it up. In that case, different lenses offer different advantages and creative capabilities that can help you achieve a specific look and feel.
Canon EF 135mm f/2L USM lens
If you're looking for lenses that'll work particularly well for music video production. Then try the Canon EF 135mm f/2L USM lens.
It has an UltraSonic motor, 135mm focal length, and a focus distance of 3 feet. Its speed and versatility make it perfect to create some beautiful and professional-looking music videos.
Rokinon 50mm T1.5 Cine DS lens
Not a big fan of Canon? Then try the Rokinon 50mm T1.5 Cine DS Lens.
Much like the lens suggests, you know the "cine"-part – this lens is optimized for cinematography.
The Rokinon 50mm is a focus prime lens with advanced low light capabilities and impressive shallow depth of field control.
If you want to give your music video a beautiful background blur and stunning bokeh, you may want to go with a lens like this.
External Camera monitor
Getting an external camera monitor is pretty standard in filmmaking.
External monitors are great for any DoP. It gives you the possibility to have a live image of what's being recorded. In that way, you can make sure you get the shot you want.
The Blackmagic Design Video Assist 4K 7" Touchscreen LCD Monitor is great here.
It has an easy setup and a bright 7" touchscreen that allows you to monitor your shots even under bright daylight. Neat if you want to make sure you get it all in.
Extra batteries & memory cards
If you're filming in high-quality, chances are you're draining your camera for a lot of energy.
Add lighting, tripod, gimbal stabilizer and all the other equipment to your list – the juice in your camera will be up fast.
So you want to have a backup battery with you, so you can keep filming for hours.
You'll also most likely be recording a massive amount of data, so make sure to have plenty of backup memory cards with you.
You can try out the SanDisk Extreme PRO 64GB Memory Card.
It has write speeds of up to 90MB/s, supports full HD and 4K UHD video recording. It even works with the downloadable RescuePRO Deluxe data recovery software, so you don't have to worry about accidentally deleting your data.
Speakers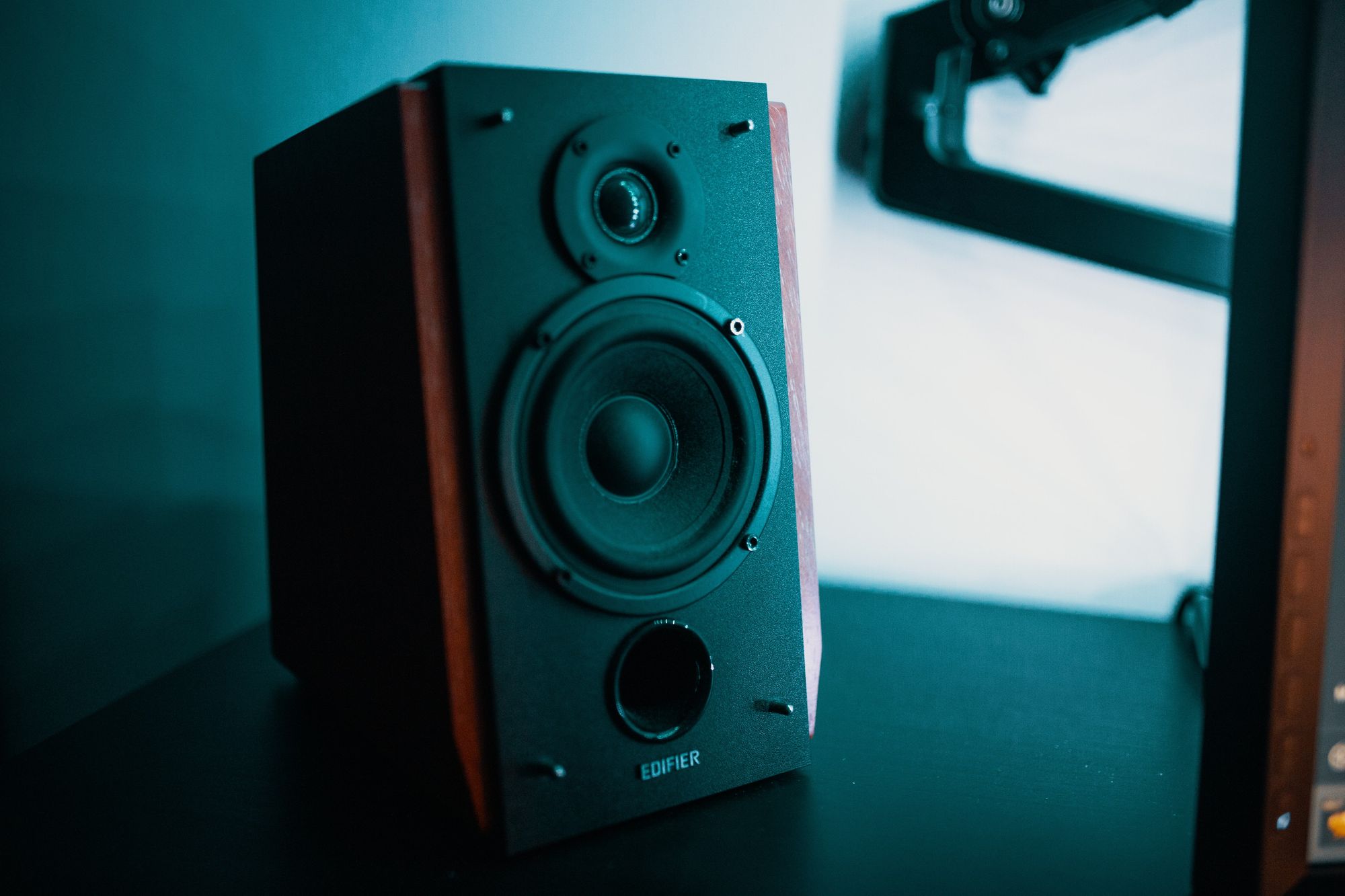 While the microphone itself might not be that important when producing a music video, you and the artist should still be able to hear the music.
In that way, the artist can listen to the music and lipsync the words accurately.
What's more?
Having speakers will also make the editing process more manageable. It helps you detect which scenes go to which parts of the music video.
Which speaker you'll choose will depend on the size and power you'll need.
Suppose you're shooting indoors, and there isn't that much other noise. In that case, a little speaker might be sufficient.
However, if you're outdoor with a lot of sound around, you might need to consider getting a more powerful speaker.
Common for all is that it's typically best to get yourself a portable speaker with multiple connectivity options. It will make it a whole lot easier during production.
Video editing software
Once you've finished recording, you'll need good video editing software to edit and polish your music video.
If you're planning to do all the editing yourself, choosing a good video editing platform is essential in ensuring that you can achieve your vision for the music video.
Get the best music video camera.
With any of the options above, you'll be shooting stunning music videos in no time.
No matter your level of experience, these best cameras for music videos will give you excellent image quality and works for a wide range of budgets.
Rent or subscribe to the best cameras for music videos.
About the instructor
FAQ
Rent cameras from local creators.
Save up to 40%.
Global Coverage included.
https://www.wedio.com/static-assets/homepage-rework/top-products/rent-sony-alpha-a7s-iii-on-wedio.jpg
https://www.wedio.com/en/sony-alpha-a7s-iii
https://www.wedio.com/static-assets/homepage-rework/top-products/rent-canon-eos-r5-on-wedio.jpg
https://www.wedio.com/en/canon-eos-r5
https://www.wedio.com//static-assets/homepage-rework/top-products/rent-blackmagic-pocket-cinema-camera-6k-on-wedio.jpg
https://www.wedio.com/en/blackmagic-pocket-cinema-camera-6k
https://www.wedio.com/static-assets/homepage-rework/top-products/rent-canon-c70-on-wedio.jpg
https://www.wedio.com/en/canon-eos-c70
Popular listings for rentals