Product Review: ZHIYUN Weebill 3 Combo
Product Review: ZHIYUN Weebill 3 Combo
0 other
Overview
Specs
Reviews
Features
FAQ
Accessories
Research
Rent or buy
Weebill 3 Combo
ZHIYUN
4.9
Based upon1 review from Wedio members
Is it worth it?
Yes
The ZHIYUN WEEBILL 3 is compact and easy to transport around. This goes hand in hand with its lightweight design. The WEEBILL 3 Combo also comes with a quick-release plate and several other accessories that bump the weight a little, but still a reasonable amount for a handheld gimbal.
No
The joystick on the gimbal is mounted on the right side, which means that if you're a leftie, it might feel awkward. Unfortunately, there's no fix for this other than trying to get used to it, and it's a problem for every gimbal on the market. Left-handed people, we feel for you!
Specs
Maximum payload
7.3 lb / 3.3 kg
Dimensions
13.8 x 8.9 x 5.9" / 350mm x 225mm x 150 mm
Dimensions (Folded)
13.5 x 8.1 x 2.9" / 342 x 207 x 73 mm
Battery charging time
2 hours
Show more
Community reviews
ZHIYUN Weebill 3 Combo: Complete Review by Malcolm Modele
Malcolm brings you a detailed overview of the Weebill 3. Learn about the key features, camera compatibility, prices, functionality and if it's really worth the money 💸
Why rent out your gear?
hPu9DIXtzEM
Community appreciation
Show more
Community critique
I feel the bag let me down, its awkward to get the Weebill in and out. The bag needs work. The roll, pan and tilt locks are not very good either.
Show more
Best features
Design and handling
Instead of having a large LCD screen, with the WEEBILL 3, ZHIYUN settled for a smaller 0.96" OLED touch screen. ZHIYUN moved away from the inverted L shape to a regular L-shaped handle. This gives you a way better grip. The WEEBILL 3 Combo Kit also comes with a wrist pad, and is lighter than the previous version.
Built-in feature: Microphone
The WEEBILL 3 comes with a built-in microphone – great for those who want to save on extra equipment. The microphone cannot add a wind sock or anything similar. While it won't replace a professional microphone, it's great for keeping a low budget, your travel light, or just for forgetful filmmakers that didn't quite remember the entire kit!
Built-in feature: Light
The built-in light uses a double color temperature adjustable from 2600K to 5400K at up to 1000 lumens. Not only is it versatile, but it also has the brightness to be a solid replacement for your other fill light. The built-in light is a massive help to any independent videographer. It is also just ideal for keeping your video gear kit light.
Built-in feature: Stabilization
The WEEBILL 3 has a built-in 10th generation algorithm that helps remove shakes in footage based on the data it absorbs. It makes your camera stabilize better than ever before. And it is not just precise; it is also fast. It is reliable and has everything you need while you're moving around while shooting.
Mounting
The WEEBILL 3 comes with a three-axis lock system. If you need it to save the settings, it'll do that, even if you fold it away. This makes it so much easier in transportation that you don't have to worry about setting it up every time you bring it somewhere. The WEEBILL 3 is designed to carry a DSLR or a mirrorless camera. You can simply mount it by adjusting the various lock switches on the gimbal.
Movement
The gimbal comes with a quick-release plate system, which is a dual quick-release plate system. It's great for switching equipment on the gimbal and if you need to change batteries on your camera. The gimbal can do 360 degrees of panning, 330 degrees of tilt, and 340 degrees of roll. Meaning that the gimbal leaves the creative limitations to your imagination, with complete control of the movement. It also allows smooth cinematic shots.
Frequently Asked Questions
How much is the ZHYIUN Weebill 3 combo kit?
$529 or 500€.
How much does the ZHIYUN Weebill 3 weigh?
The WEEBILL 3 weighs 2.4 lb / 1.1 kg and is lighter than the Weebill 2.
How long does the battery hold on the WEEBILL 3?
21 hours and you need only 2 hours for charging.
What is the payload of WEEBILL 3?
ZHIYUN doesn't state the upper payload limit but it can hold up to 7.3 lb / 3.3 kg.
What is in the WEEBILL 3 Combo package?
WEEBILL 3 Stabilizer, Tripod, Quick Release Plate, Fill Light Filter. Lens Support, USB Charging Cable, Wrist Rest, Extendable Sling Grip, and a Backpack for Weebill 3.
What is in the WEEBILL 3 Combo package?
WEEBILL 3 Stabilizer, Tripod, Quick Release Plate, Fill Light Filter. Lens Support, USB Charging Cable, Wrist Rest, Extendable Sling Grip, and a Backpack for Weebill 3.
Show more
Accessories
Tripod, Quick Release Plate, Fill Light Filter, Lens Support, USB Charging Cable, Wrist Rest, Extendable Sling Grip.
Show more
ZHIYUN WEEBILL 3 Combo Kit: Price and availability
The ZHIYUN WEEBILL 3 Combo Kit costs 529$ / 500 € and is available at most camera retailers.
ZHIYUN WEEBILL 3 vs. WEEBILL 2: Essential differences
Weight
WEEBILL 3 weighs 2.4 lbs
WEEBILL 2 weighs 3.15 lbs
Battery Life
WEEBILL 3 has a runtime of 21 hours
WEEBILL 2 has a runtime of 9 hours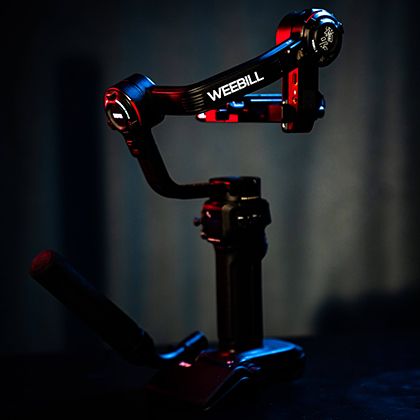 ZHIYUN WEEBILL 3: Pros and cons
Pros:
Overall great quality gimbal
Compact and lightweight
Compatible with a wide variety of cameras
Wireless control
A ton of excellent features
Cons:
The display is a bit too small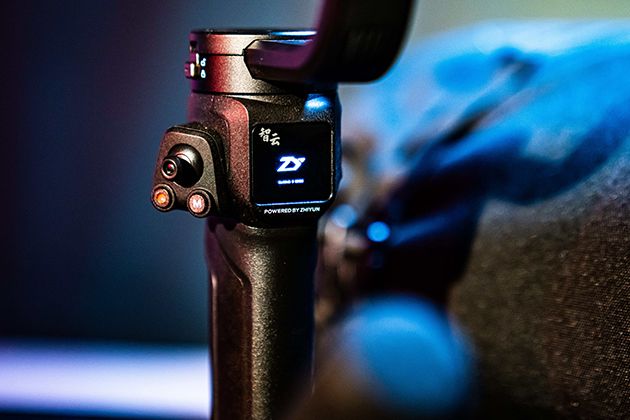 A gimbal is an excellent asset in your gearbox but far from the only one. Explore what else there is of essential camera equipment.
Rent or buy
Review by Malcolm Modele and 2 other community members
The research
Why you should trust us
At Wedio, we are on a mission to keep great stories alive. We achieve this by facilitating the sharing of knowledge, tools, and services that help you as a creator craft better stories. Today we help 100,000+ monthly creators become better — together. We believe in the power of the community. Instead of gathering product reviews from one creator, we involve hundreds of creators, and create both video- and written reviews. In that way, we present the essence of the collective rather than one opinion.
How we tested this product
We used a mixed-method design. Our qualitative video reviews, were created by hand-picked Wedio members. We shipped the product to them, they tried it for at least 30 days in real-life projects, and then they did an honest video review. Our quantitative written reviews, were collected from Wedio Renters and Lenders. When renters have rented the product, they have the option to leave a product review. When lenders create a product listing, they have the option to share their thoughts on the product itself.
How we fund this review
In order to keep delivering the best possible reviews for creatives, we have four different revenue streams. This includes (1) commissions from our short-term rentals (10 % from renters 20% from lenders whenever a rental is happening through Wedio), (2) commissions from our subscriptions (we get paid by our retail partners to deliver an order), (3) commissions from brands delivering products, and (4) commissions from affiliate links to other partners (such as retail partners, software, and other creative tools).
Limitations
Even though we try to be as unbiased as possible, we still want to address two limitations of this review. First, our lenders can be affected by the "Endowment effect" when reviewing their gear. They would potentially rate their product higher than they would have done if they rented the product — just because they own the product themself. Second, there is the potential of instructors experiencing "Confirmation bias" when reviewing a product. If they received the product from us, they might have a tendency to look for all the advantages and good things about the product because they want to please Wedio and the product brand. To overcome this limitation, we strictly guide our instructors to be as objective as possible — a low rating is as valuable to us as a high rating. The review aims to guide other creators in the choice of gear.
The Wedio community reviews everything we recommend. When you buy through our links, we may earn a commission. Learn more
Get a Weebill 3 Combo
https://images.wedio.com/blog-images/all-images/zhiyun-weebill-3-combo-wedio.jpg
USD
Buy new
https://amzn.to/3pCx1o7
529
Buy used
https://amzn.to/3pEz0s4
391
Rent from
https://www.wedio.com/en/gimbals
21
Popular listings for rentals