Product Review: Sony FX30
Product Review: Sony FX30
1 other
Overview
Specs
Reviews
FAQ
Alternatives
Research
Sony FX30
SONY
If you fell for the Sony FX3, then you're going to like the news: this October Sony releases its newest cinema camera, FX30, which beats all other competing models of the brand.

In short - the same features as in FX3 but for half the price! Let's explore what the new model has prepared for the creators - keep reading this article to discover the Sony FX30's key features, strong points, and our verdict.

There is always just so much to learn about the gear world. We've prepared this full guide to camera equipment - check it out to boost your knowledge of cameras and more.
4.9
Based upon3 reviews from Wedio members
Effectiveness
4.8
Usability
4.5
Value for money
4.9
Overall rating
4.9
Is it worth it?
Yes
If you are a video maker, vlogger, or even a full-on filmmaker, the Sony FX30 won't disappoint. It's currently considered one of the best cameras for those keen to make their productions more cinematic. Straight-from-camera video creators will also find this camera appealing, as it would let them expand their shooting and editing capabilities.
No
Although the FX30 features a 26MP sensor, this camera is video-first. If you're a photographer and are looking for an option that delivers captivating stills, it's better to look another way and choose a camera that is focused on images rather than video.
Pros
Cinema camera features and design
Cinema Line LUTs and log modes
Affordable price for a cinema camera
Cons
A 3-inch rear screen can be too small for some
Sony FX30 vs. Sony FX3
Sensor size
APS-C BSI CMOS 23.5 x 15.6mm
Full-frame BSI CMOS 35.6 x 23.8 mm
Cooling
Built-in fan
Built-in fan
Resolution
6192 x 4128
4240 × 2832
Audio
Up to 4ch with optional XLR handle
Up to 4ch with included XLR handle
Price
$1799 body-only
$3900 body-only
Show more
Complete Sony FX30 Review
The Sony FX30 is designed as a full-on cinema camera offered at a mirrorless camera price point and is positioned to assist ambitious creators in honing their professional skills. As mentioned before, it's a video-first camera with outstanding video recording capabilities and a 26MP image sensor - this combined presents some real competition not only for models of other brands but for some Sony cameras and gear as well.

The image sensor is the highest-resolution APS-C sensor in Sony's lineup. The highest video resolution that the FX30 offers is 4K at 120fps or Full HD at 240fps - just perfect for those shooting slow motion, one of the trends in cinematic-styled videos today. The exceptional quality can be achieved even from the standard frame rates, with 4K 10-bit 4:2:2 internal recording.

The Sony FX30 comes with a wide range of Sony Picture Profiles, including S-Log, which will get you the maximum 14-stop dynamic range. You can also upload your LUT profiles to the camera - it's easy to apply them directly to Slog3 footage to achieve any number of cinematic looks and insert them directly into your footage.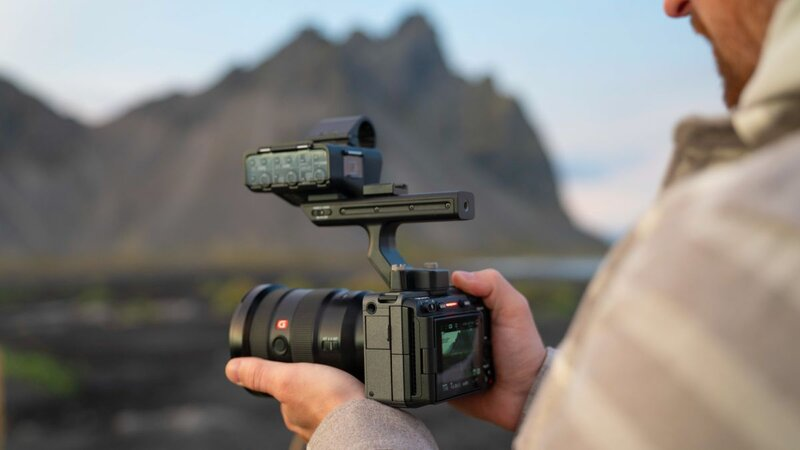 Build and Quality
Sony's previous APS-C mirrorless cameras have been rather small, especially with a professional lens on the front. The FX30  breaks this chain and comes in the same thick body as the FX3 - you wouldn't call it big, but the new body is more substantial to hold and use. Sony positions its new camera build as dust and moisture-sealed, which comes in handy for videographers.
The interface is consistent with other recently released Sony cameras, but with some extra features added on top. This camera is quite literally built for endless customization. Pressing the Fn button brings up a customizable Fn menu, familiar to anyone who's used a Sony over the past decade. This part is separately customizable for both video and stills modes.

The Record button is placed on the top of the camera, and there's a second record button on the front of the body, right next to the lens, which is equally convenient. The front dial allows you to adjust shutter speed, aperture value, and ISO/EI directly, making the use of the camera quick and easy.

The FX30 comes with a vari-angle LCD touchscreen and uses an NPFZ-100 battery similar to the Alpha series cameras. The dual CF Express type A and SD card slots are located together along with a mic and headphone jack. An attachable XLR handle goes on the multi-interface hot shoe mount, with two full-size XLR connectors and several different recording formats. Loads of manual controls on the side of the handle allow for making adjustments on the fly.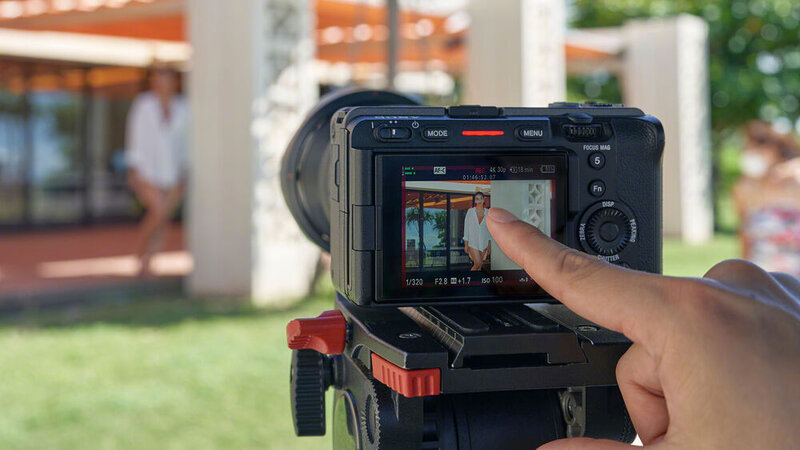 Image quality
The FX30 features a new 26MP APS-C-sized sensor that has never been seen in a Sony camera before. It has enough speed to capture still photos without a focal plane shutter, but not fast enough to work with strobes.

The sensitivity range of the sensor is ISO 125 to 32'000, extending to ISO 102'400 when shooting still images. You have an option of taking images in raw and JPEG. The lack of an in-built viewfinder and continuous shooting mode, however, doesn't make it 100% suitable for serious stills applications.


Advanced AF system
The robust autofocus system of the FX30 features covers 90% of the frame with 495 points. With this 90% phase detection coverage, the camera seamlessly tracks subjects around the frame, and Human, Animal, and Bird AF are also here as extra additions. Touchscreen autofocus also works flawlessly - this technology has been tried and tested in the last generations of Sony cameras and is being constantly refined.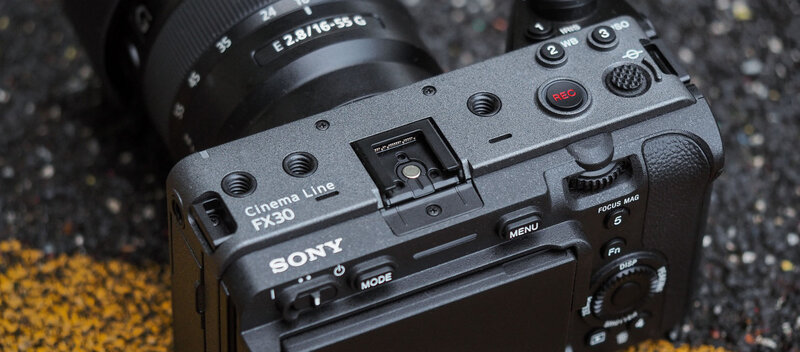 Video output
The video capabilities are what the Sony FX30 prides itself on, and rightly so. The camera captures 4K footage that is oversampled from 6K at up to 120 fps. You can also shoot full HD at up to 240 fps - the compressions and formats are the same as in the FX3. There is an option to adjust between Flexible ISO, Cine EI Quick, and Cine EI Log shooting modes to find what works best for you. The FX30 supports 16-bit RAW video output via HDMI and timecode synchronization by connecting to the time code source through an optional adapter and BNC cable.

The FX30 features Log shooting modes by enabling Cine El, Cine El Quick, and Flexible ISO modes for recording with the S-Log3 gamma curve, allowing more flexibility with color grading. The three modes make it possible to shoot videos while monitoring with an appropriate LUT to preview the final image.

There is also a selection of built-in cinematic looks available, like  Sony's S-Cinetone. With FX30, you can enjoy advanced image processing capabilities with the BIONZ XR processing engine for realistic color reproduction.

The SteadyShot stabilization is another strong feature of this new Sony camera that goes along with upgraded video capabilities. The FX30 is equipped with a 5-axis stabilized sensor and can also take advantage of optically stabilized lenses.
Battery
The FX30 uses the same NP-FZ100 battery as most of the larger Sony Alpha models. Sony has made its cameras good at making a superb lifespan out of the batteries - the battery life of the Sony FX30 is said to be 570 shots, which is slightly under the FX3, offering 600 shots. The camera will most likely last through the average lengths of shooting time, but for videographers, it's never a bad idea to have some spare batteries with them on the go.


Final verdict
The Sony FX30 is a go-to gear for filmmakers and videographers wanting to step up their video game, know what to look for in a cinema camera, and aren't expecting a steep learning curve to use - that being, higher-end camcorders offered by Sony. The new FX30 sits is designed to close the gap between what newer creators want to create and what the high-end of the market is offering.

Vloggers and hybrid stills and video shooters may still want to go for a conventional mirrorless camera, but for more ambitious videographers who plan on extending their opportunities in the cinema camera realm, the FX30 is just perfect. A cinema camera at a regular mirrorless camera price - Sony has outdone itself once again.

What creators like
The sensor features a dual native ISO of 800 and 2500, and Sony claims that it has a dynamic range of 14 stops, which is very good for a camera of this price range.
Show more
What creators don't like
There are no ND filters, internal raw recording, SDI connectors, false color, and waveforms are completely absent, which is disappointing.
Show more
Frequently Asked Questions
When was the Sony FX30 release date?
The Sony FX30 is set to be released in late October 2023.
How much does the Sony FX30 cost?
The Sony FX30 is available for $1799 body-only or $2199 with the XLR adapter or top handle.
Is Sony FX30 full frame?
Yes, the FX30 adopts a new 26MP APS-C BSI sensor, whereas the FX3 unveils a 12.1MP Full-Frame BSI Sensor.
Is Sony FX30 weather sealed?
Yes, Sony FX30 has Weather Sealing!
Review by
Sony FX30 Alternatives
Sony FX3
The Sony FX3 is the parent of the FX30, with the same features, only offered at twice the price. However, don't rush to write this off your list of alternatives - after all, the FX3 is a full-frame cinema camera. The full-frame sensor gives you lower noise, better dynamic range, and reduced depth of field for a more 'cinematic' look. The FX3's full-frame image sensor comes with innovative light-gathering techniques to let you capture clear and usable images even in dim light. $3898 at Amazon Rent from $42/day
Panasonic Lumix DC-GH6
Small and lightweight, this camera almost equals the FX30 sensor with its 25MP, and also achieves a certain level of proficiency in a remarkable array of video options. The GH6 can shoot a wide range of 4K-focused video modes, including slow-motion at 120 fps, full-sensor anamorphic, and record industry standard formats like ProRes 422 and 422HQ. It also offers excellent image quality, and boasts superb handling and image stabilization. $2297 at Amazon $1,697 at Adorama
Fujifilm X-H2S
This model is probably Fujifilm's most capable video/stills hybrid camera so far. It's a 26MP X-mount mirrorless beast built around a Stacked CMOS sensor that can shoot stills at up to 40fps and capture full-sensor 6.2K video or 4K at up to 120 fps. Its updated autofocus with subject recognition and improved tracking makes it ideal for shooting fast-paced sports and wildlife, both stills and video. $2499 at Amazon $2,499 at Adorama
Show more
The research
Why you should trust us
At Wedio, we are on a mission to keep great stories alive. We achieve this by facilitating the sharing of knowledge, tools, and services that help you as a creator craft better stories. Today we help 100,000+ monthly creators become better — together. We believe in the power of the community. Instead of gathering product reviews from one creator, we involve hundreds of creators, and create both video- and written reviews. In that way, we present the essence of the collective rather than one opinion.
How we tested this product
We used a mixed-method design. Our qualitative video reviews, were created by hand-picked Wedio members. We shipped the product to them, they tried it for at least 30 days in real-life projects, and then they did an honest video review. Our quantitative written reviews, were collected from Wedio Renters and Lenders. When renters have rented the product, they have the option to leave a product review. When lenders create a product listing, they have the option to share their thoughts on the product itself.
How we fund this review
In order to keep delivering the best possible reviews for creatives, we have four different revenue streams. This includes (1) commissions from our short-term rentals (10 % from renters 20% from lenders whenever a rental is happening through Wedio), (2) commissions from our subscriptions (we get paid by our retail partners to deliver an order), (3) commissions from brands delivering products, and (4) commissions from affiliate links to other partners (such as retail partners, software, and other creative tools).
Limitations
Even though we try to be as unbiased as possible, we still want to address two limitations of this review. First, our lenders can be affected by the "Endowment effect" when reviewing their gear. They would potentially rate their product higher than they would have done if they rented the product — just because they own the product themself. Second, there is the potential of instructors experiencing "Confirmation bias" when reviewing a product. If they received the product from us, they might have a tendency to look for all the advantages and good things about the product because they want to please Wedio and the product brand. To overcome this limitation, we strictly guide our instructors to be as objective as possible — a low rating is as valuable to us as a high rating. The review aims to guide other creators in the choice of gear.
Get a Sony FX30
https://sw77919.sfstatic.io/upload_dir/shop/_thumbs/Sony-FX30-Body-Front-View.w250.h250.fill.jpg
USD
Buy new
https://amzn.to/3gvmLx4
2074
Rent from
https://www.wedio.com/en/search?q=sony%20fx30
48
Popular listings for rentals