Should I Rent, Buy, or Subscribe My Camera Equipment?
Rent camera gear from local creators.
Unless you've inherited a small fortune (or several), it is unlikely you'll be able to afford even a fraction of the latest camera equipment.
When should you rent, buy, or subscribe to access the best equipment?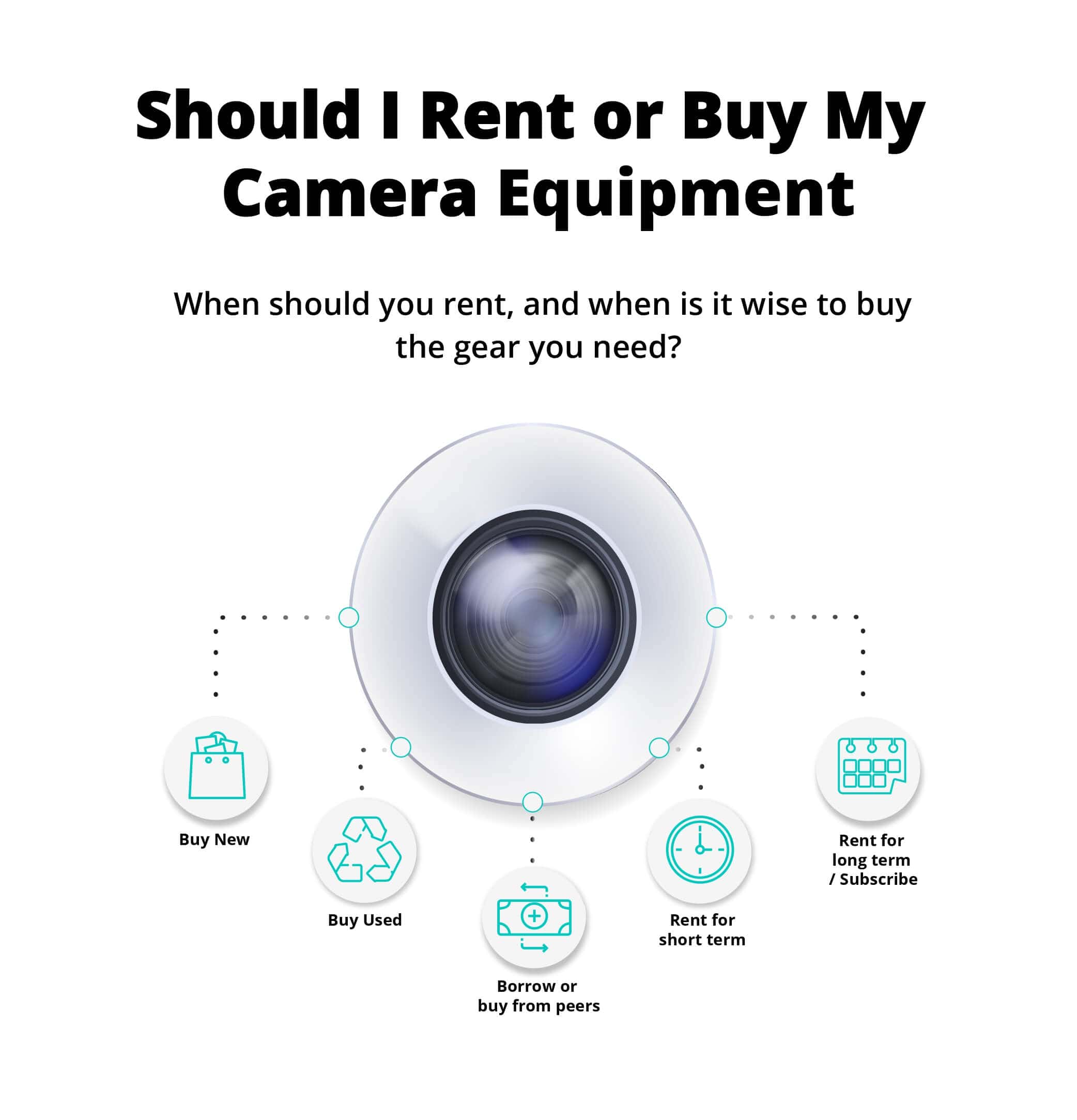 Before we take a deep dive into the quirks of buying, renting and subscribing, let's look at your options in detail:
Buy new;
Buy used;
Borrow or buy from peers;
Rent short-term;
Rent long-term / Subscribe.
When to buy new gear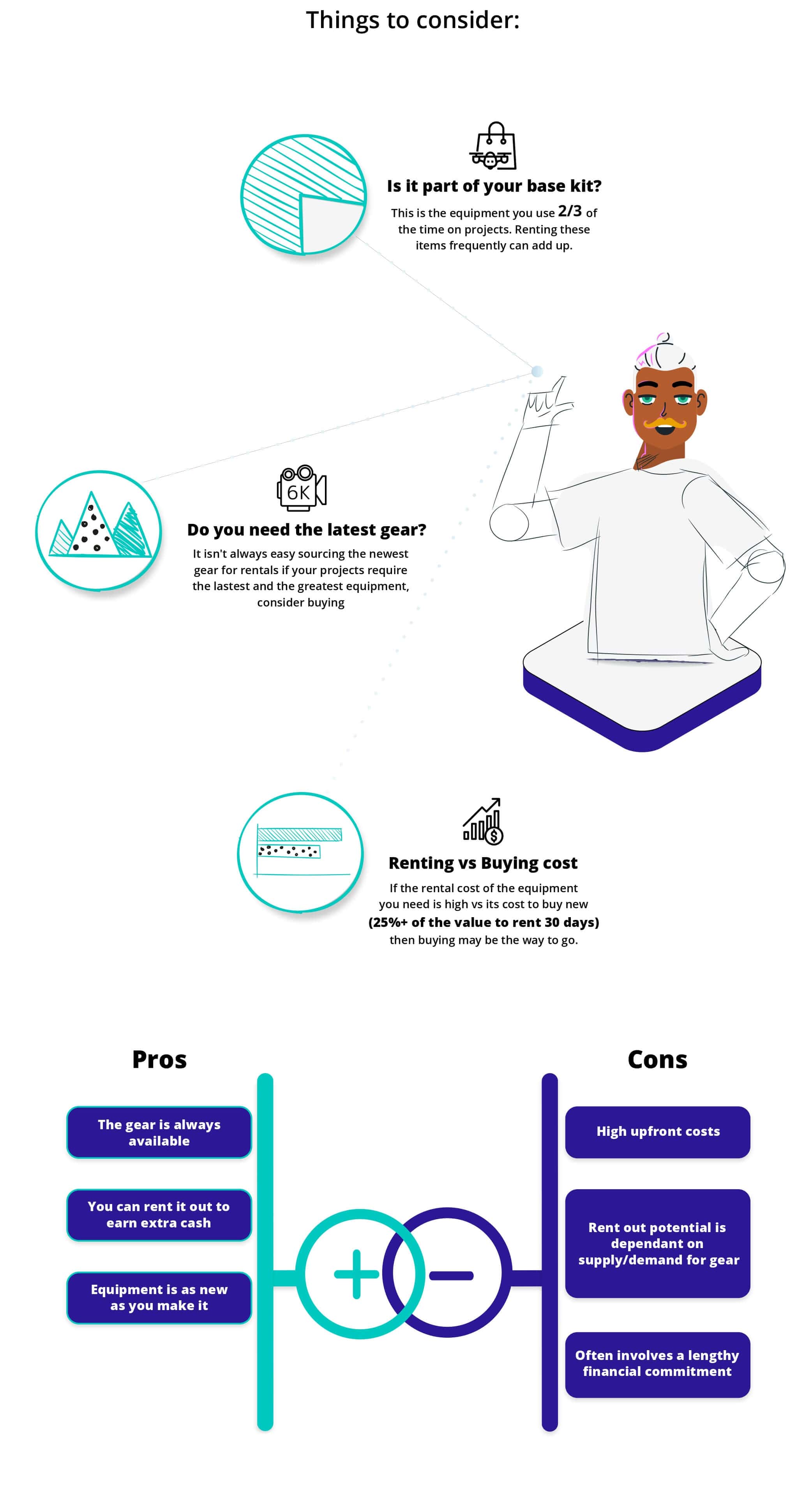 1. Your basic personal kit
Whether you're a freelancer, production company or part of an in-house media department you'll likely have your trusty basic kit bag in hand. You know, that equipment you reach for when you get a sudden phone call for an urgent job – that's the gear I mean.
This kit likely reflects your style and ties into your workflow and the type of projects you take on —this is the gear you know inside out!
It could be a Sony A7iii video kit:
Sony A7iii with Half Cage,
3x batteries,
Dual charger,
Tamron 28-75mm f / 2.8 Di III RXD
Tamron 17-28mm f / 2.8 Di III RXD
Red Video Micro
2x SD 128GB
Lowepro BP 250AW II
Basically the stuff you can't live without. Well apart from air, water, bacon – you know, the essential stuff of course – but, you get the point.
This Corona climate is tough, maybe your go to equipment is now a live streaming kit. Ultimately, your basic kit is essential for the bulk of your work, so it can make perfect sense to invest in it. Reliability is key to maintain relationships with your clients – so it makes sense that you have your core gear at hand.
2. Staying up-to-date
Maybe your work involves working with the newest technologies such as autonomous drones or virtual reality. This means you need cutting edge specs to deliver the work your clients expect. You won't be able to do much else but buy new or subscribe (because it's unlikely anyone else will own it).
3. Renting excessively
Buying new or subscribing can also make a lot of sense if you're renting the same gear over and over again. Renting is an added cost on each project, which can prevent you from being as competitive as you would like. This money could be used on – let's say an anamorphic lens?
4. Rental price vs. purchase price
Another example where buying or subscribing makes perfect sense is with external recorders – not cheap. Take the Atomos Ninja V 4K costs €650 to buy, and €220 to rent for 30 days. Complete this rental 3 times, and you could have bought your own! – it's money out the window.
Pros to buying:
You can use it as much as you want
It can be an investment that saves you renting
It is available to you at all times
You need the best results and require the latest and greatest
You have the latest technologies at your fingertips that places you in the front rows of high-quality filmmaking;
Cons to buying:
High upfront costs;
You're typically bound to a two or three-year financial plan ( long-term rentals may fix this – more on this later)
What is new one day can become out of date the next
Consider your cash flow and liquid assets, because it all comes down to how much money you want to invest in your business. If the gear is a necessity that allows you to provide awesome content for your clients, then it is likely it will become a just investment relatively fast, making buying or subscribing ideal.
Where from?
EU: Wex Photo Video store + delivery in the UK; Saturn store + delivery in DE; Media Markt store + delivery in DE
US: B&H Photo & Video store in NYC + shipping worldwide; Adorama store in NYC + shipping worldwide
When to buy used
There's always the option to buy used gear. Many of the points explored in buying new also feature when considering buying used. A key difference is that buying used will prevent you from accessing the latest equipment. However, we don't all have to run around with the latest gear – and who are we kidding - very few of us can afford to.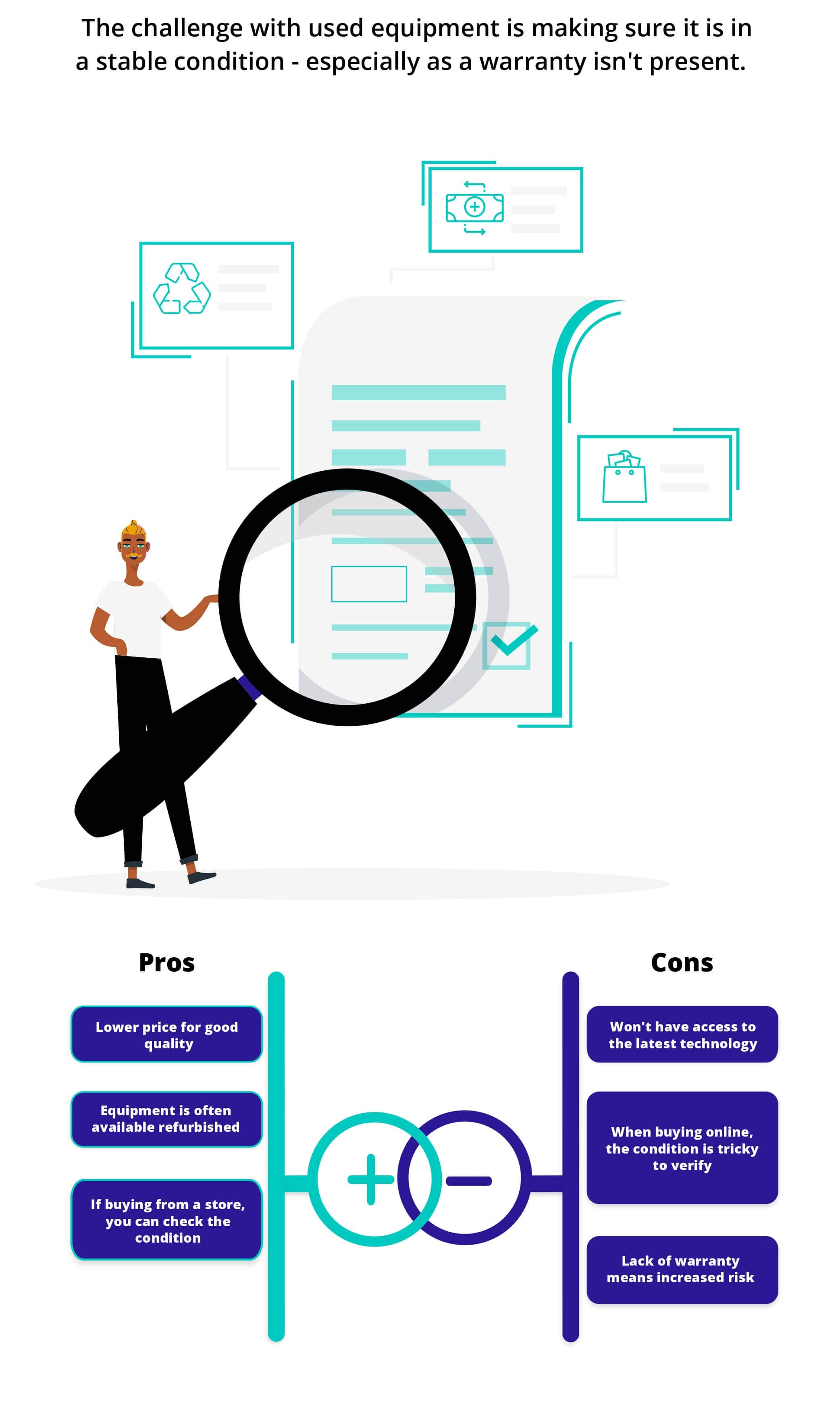 There's nothing wrong with buying used gear – in fact, it can make a lot of sense. Keep in mind however, you will need to Inspect thoroughly and check vital elements so you don't risk throwing hard earned money out of the window.
Pros in buying used:
Cheaper than buying new
Many stores offer refurbished equipment that can perform as good as new
Buying from a rental hourse will allow you to test the gear thoroughly – helping you decide what you should buy.
Cons in buying used:
Unlikely to access the latest technologies
There may be limited warranty coverage compared to new.
When it comes to buying new or used, the main advantage is that you can shoot on your own schedule. You don't need to plan as much in advance, and you're ready to shoot at a moments notice.
If you're the type of creator who values independence, then buying might be a solid solution for you.
Where from?
EU: MPB (based in the UK + the US); Foto Meyer (Berlin, Germany); local second hand markets
US + shipping worldwide: Amazon; KEH Cameras; Ebay
When to borrow or buy gear from peers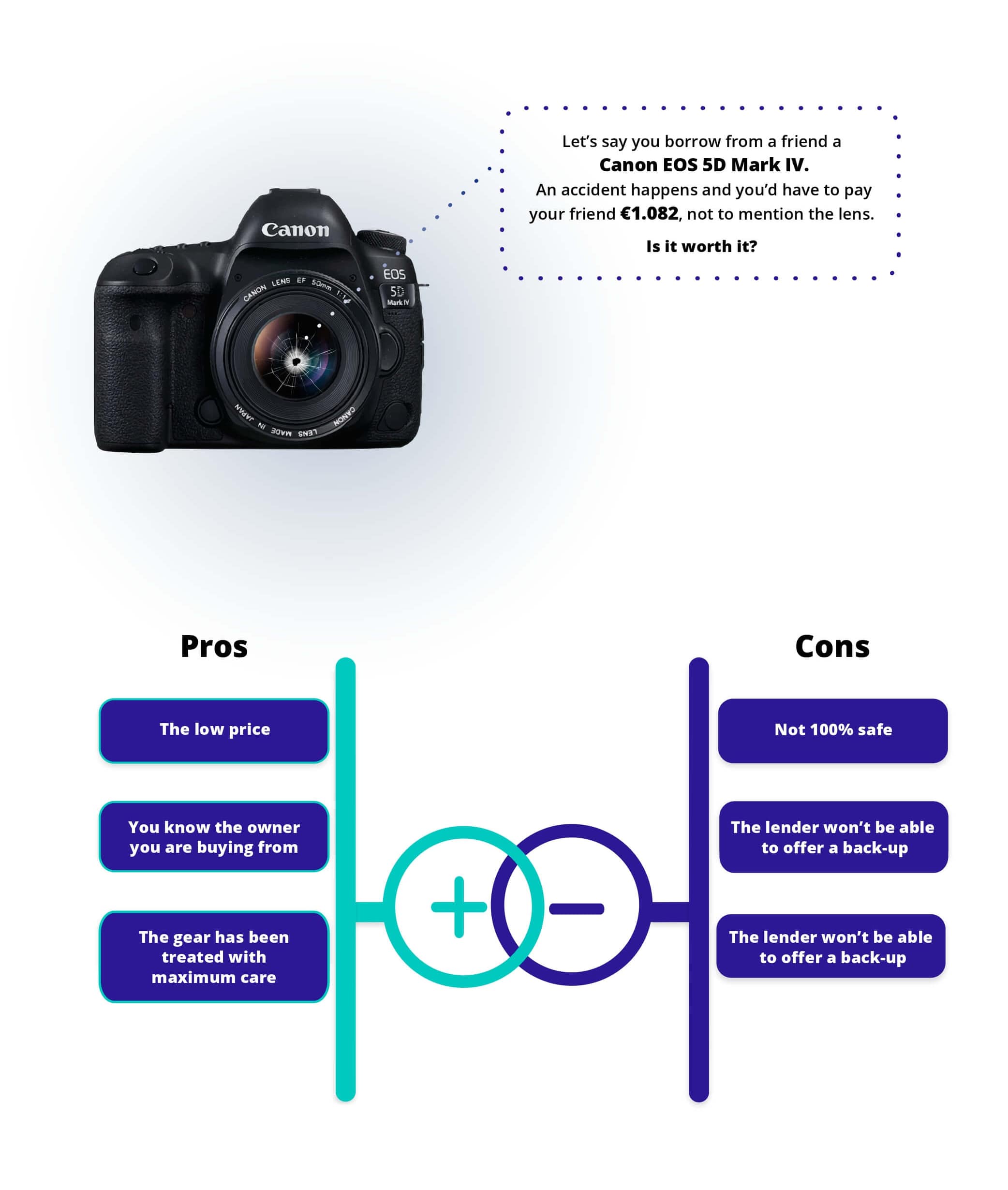 If you're lucky enough to have friends in the creative space, you might be able to buy gear off them. Prices are likely to be lower so you could really bag yourself a deal. You could even borrow their gear – providing it's insured.
Keep in mind that borrowing or buying from peers carries a far greater risk. Let's say you borrow a Canon EOS 5D Mark IV from a friend. Firstly, it's a tad awkward that your other friend wasn't invited – but even worse, should an accident occur without insurance you'll have to pay up – would it be worth it?
Pros:
Often much lower prices
Can be a great way to build relationships with other creatives.
Cons:
No guarantees
Without the right insurance, you'll have to pay up if anything goes wrong.
When buying, it's unlikely the gear will have been refurbished or thoroughly tested.
Opposed to serious renting houses, the lender won't be able to offer a back-up in case something happens to the gear.
Where from?
Friends, Marketplaces: Craigslist; Marktplaats (the Netherlands)
Facebook Groups: Denmark; the Netherlands; the UK, Germany; the US
When to choose short-term rentals (1-30 days)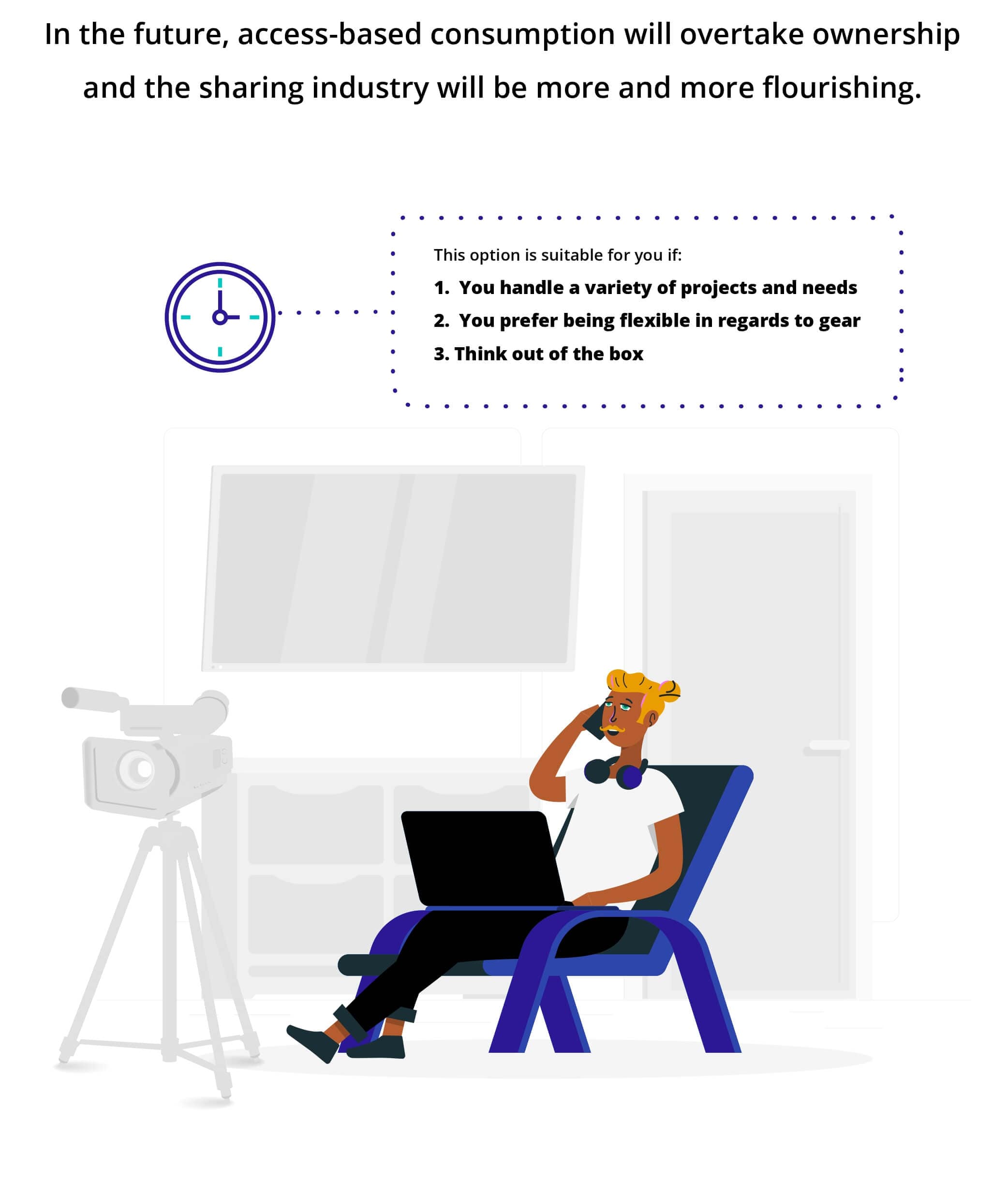 Renting equipment can be a great option if you value flexibility, and since you're a creator in the 21st century – I'd imagine you do.
Renting means you can access the latest and most suitable equipment for each project. And what's great is you get to do this without spending a small fortune upfront, not bad, right?
It's often said that access-based consumption will overtake ownership in the future and that sharing economies will be more prevalent. Depending on your working style, short-term rentals can be a great choice, especially in the following situations:
1. Dealing with a variety of projects with varying needs
Find yourself shooting a music video at night one day and a wedding the following morning? – Aside from being exhausted for the wedding shoot, you'll likely need to switch up your gear quite drastically. I mean, we'd all love to have the right equipment for every occasion but unless you can predict this weeks lottery numbers, that dream will have to take a back seat. Instead, you'll have to go with the more realistic tactic – short term rentals.
2. Love to think 'outside the box'
Nothing should come between you and your masterpiece – especially the equipment you have. You might have a "Godfather" level masterpiece lurking in your mind – it would be a tragedy if it didn't see the light of day because of equipment access. Access to different equipment allows you to really flex your imagination. Keep in mind this flexibility comes at a price, as short-term rentals are more expensive than long-term ones.
Not all short term rentals are created equal however, lets take a look at your main options:
Renting companies
Pros
Can cater for large productions
Gear is regularly available meaning allowing last minute pick-ups
Compared to borrowing from peers, the gear is tested after every use
Should something be wrong with the gear, they'll likely be able to offer you a back-up.
Cons
They can be really expensive; not very indie filmmaker budget friendly
Limited to opening hours – in some cases, closed on weekends
You don't get to know the gear well enough in advance and you end up experimenting on set
Can require large deposits.
Online p2p platforms
Pros
Cons
Some can take longer to deliver or allow last minute collections
You don't get to know the gear well enough in advance and you end up experimenting on set
Where from?
EU: Wedio (Available in Denmark, Berlin, Amsterdam, and London); Lens Rental
Why should I rent?
Rent Camera Gear: Access Pro Equipment
qqHXJy6AWlc
Camera Hire: Take Your Production to The Next Level
71PttfqWPXk
Camera Rental: Save Money with Wedio
5sHshmF1n_Y
When to rent long-term / subscribe (30+ days / monthly access)
Last but certainly not least, you can subscribe to your gear. This type of access allows you to choose your gear, test it, adjust and decide what suits your shooting style.
Even when deciding to buy new gear - it's still a good idea to try out different equipment as much as possible - to make sure you're making the right choice.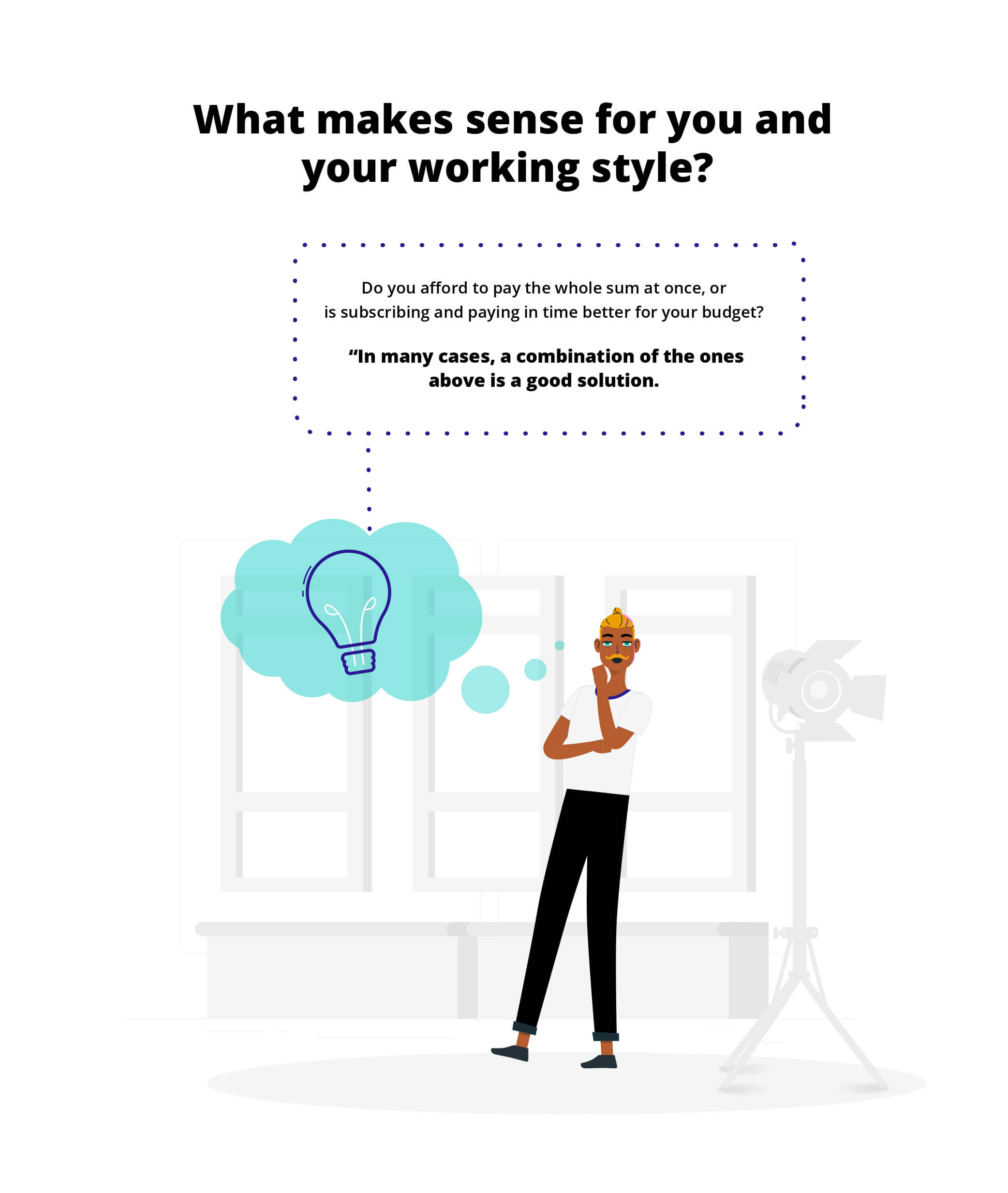 Subscribing can make a lot of sense, especially when buying outright is too expensive - which it often is. Sure, if you can afford to pay upfront and you're ok with using the camera for 5+ years, then it's a great fit. If not, then subscription might be a better option.
Subscription summary
No large upfront costs to access the latest technology
No need to bind yourself to long financial plans
Able to upgrade the rented gear to the next genertion
Option to rent out the equipment further - have it pay for itself
Option to buy the gear
Subscription payments counts towards the purchase price – you can end up buying the gear for as little as €7
Access to Global Insurance so you and who you rent to can shoot whenever and wherever
Cons
If you want to upgrade the rented gear, the money you've paid until that time doesn't count as financial base for the next equipment you rent.
Where from?
Summary
Making a (very) long story short, think about what makes sense for you and your working style before jumping the gun. What are your needs? How do you work? What gear do you rely on for most projects? Is access to a variety of gear more important than owning stable and readily accessible gear. Can you afford to pay large sums upfront, or is subscribing better for your budget?
In many cases, you'll likely fall into a combination of the scenarios above. I hope you now have greater confidence in deciding how to access the tools needed for your next masterpiece!
Summary as an infographic

About the instructors
FAQs
Should I rent or buy a camera?
It depends on how often you use it. If you use it on more than 2/3 of your projects, then renting it could become expensive.
Renting is beneficial if you want the newest gear, and don't want to buy new gear every year. You can also typically rent camera kits that include various equipment.
What is a camera subscription?
A camera subscription is a monthly fee you pay, to eventually pay off a camera. It splits the price of the camera into manageable chunks and makes it easier to account for in the budget as well.
If you use a camera often enough it could be a great idea to subscribe.
Popular listings for rentals