Rent to Own Your Camera Equipment with Wedio Subscription
Rent film gear from local filmmakers.
Rent film gear from local filmmakers.
Are you the kind of creator that has no problem with large upfront costs? Are you happy to shoot with the same camera for 5+ years? Can't stand the thought of not owning the equipment yourself from day 1? Well if this is you, maybe Wedio Subscription isn't the best choice for you, and that's ok.
On the other hand, if you're the type of creator who values flexibility and the option to renew your gear as you please then you'll love what we've got in store.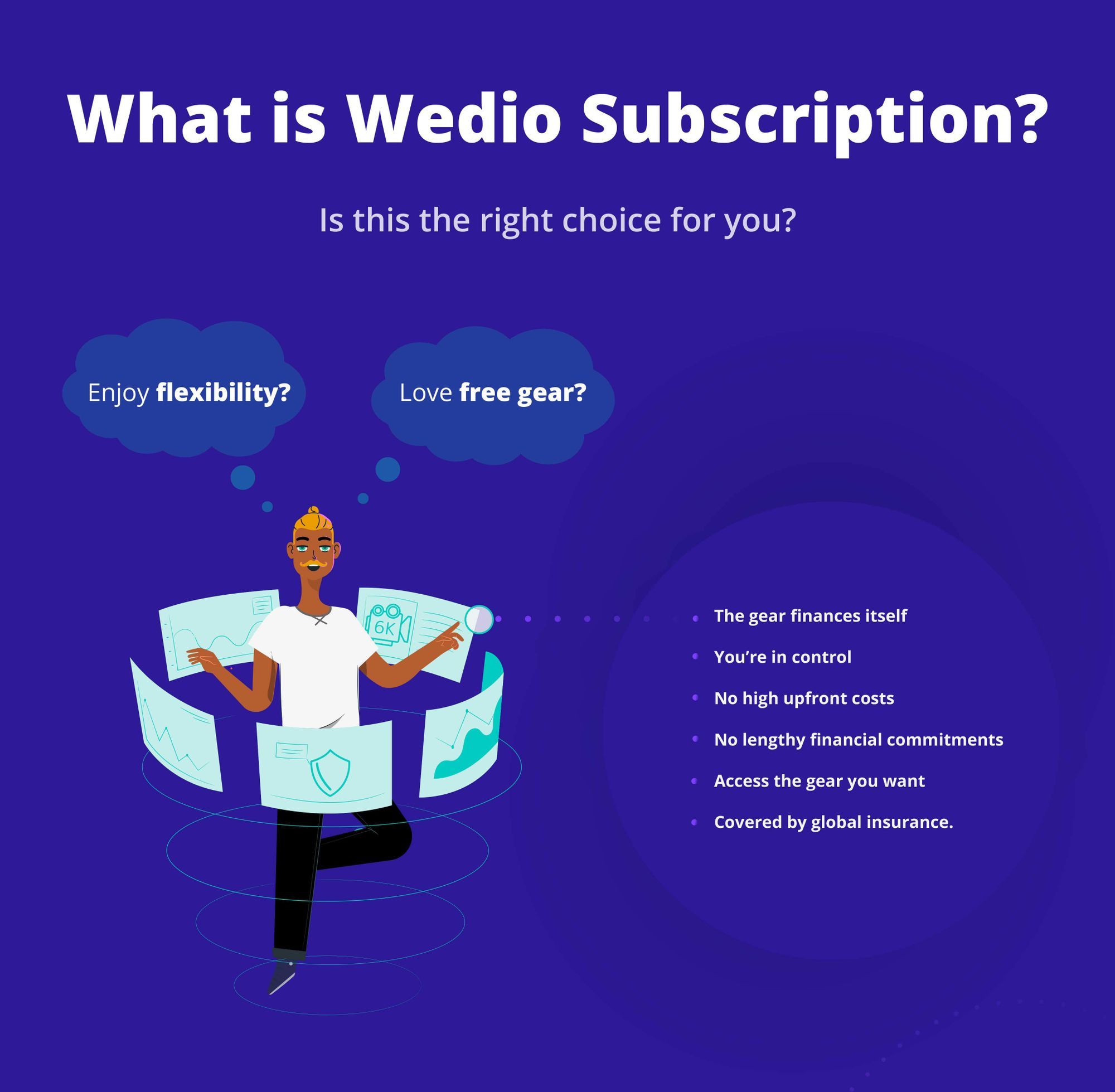 Here are the perks of going for a Subscription:
Get gear finance itself;
You're flexible;
Stay away from upfront costs and years of financial commitment;
Buy the gear if you want (Rent to own);
Get covered by our global insurance.
Get gear to finance itself
Have you ever walked into a supermarket and seen, for example, a Philadelphia cheese booth giving out free samples of the new Philadelphia garlic. You try it - you love it - you buy it (it's Friday after all, treat yourself!). When you get home and taste it, it just doesn't taste as good as it did in the supermarket. What happened? Well, free just tastes better! It's hard to explain, but there's just something satisfying about getting stuff for free. So, we decided to give a bit of that 'Philadelphia stand' feel to our marketplace.
Wedio gives you the opportunity to rent your gear out when you're not using it - meaning you get gear to finance itself. No, this isn't one of those "limited" investment opportunities a cold caller tells you about. With Wedio Subscription, you can cover your monthly payment from renting out your gear for as little as 2 days per month – meaning you'll have use of the gear for free.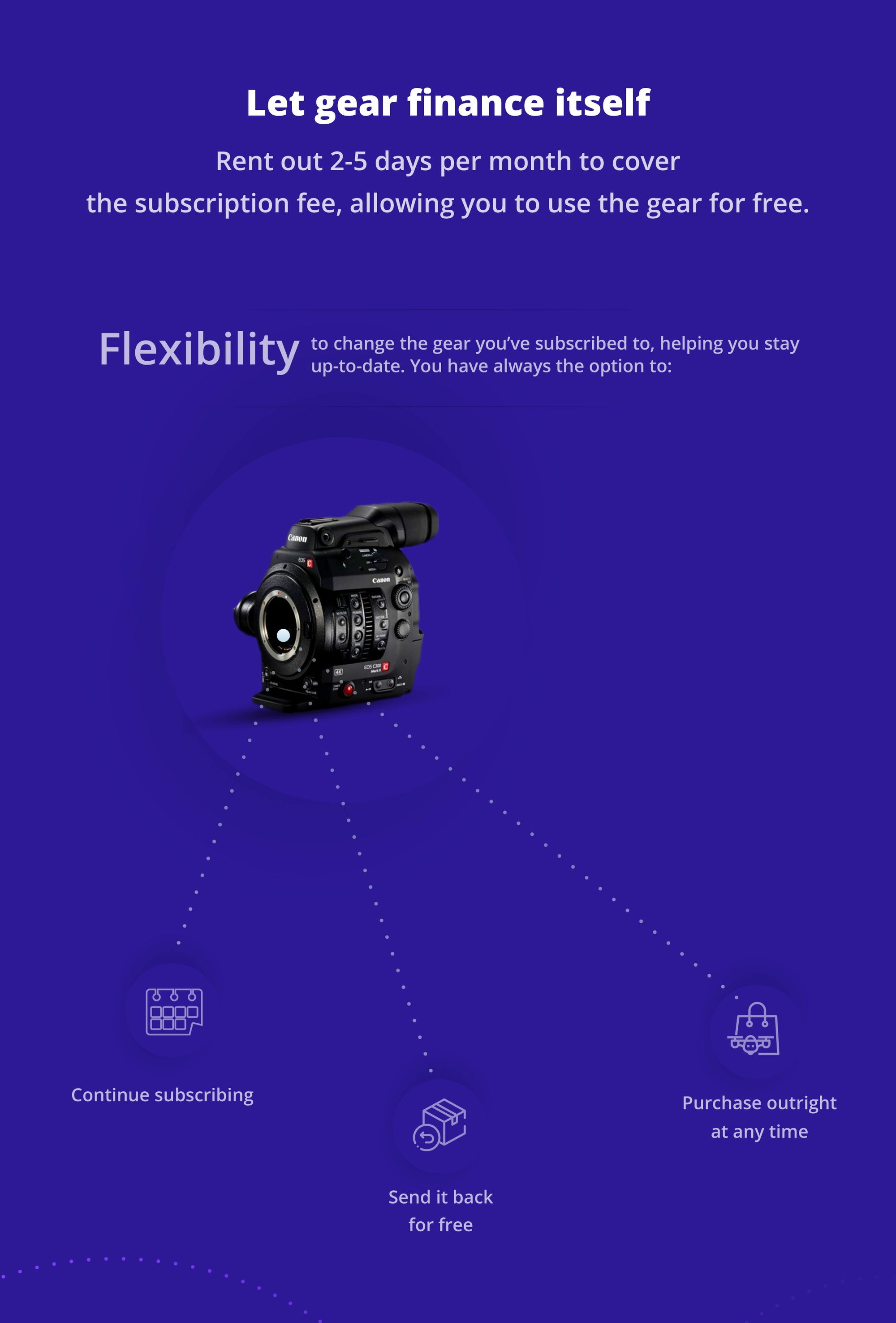 Love flexibility?
Flexibility – "the quality of being able to change". Well, I don't think I could have put it better (thank you lexico.com!). Wedio Subscription gives you the flexibility to change the gear that you've subscribed to, allowing you to stay up to date with the latest gear. You also have the option to:
Keep on subscribing
Send it back for free
Own it outright at any time (Rent to Own).
Think back to the feeling of wanting and getting something new. If you're an Apple fan, you'll likely know this feeling well - mainly the wanting part! Keeping up to date with the latest camera gear is very much like keeping up with the newest iPhone - just more expensive. Companies like Sony and Canon update their cameras just as often, and that's where Wedio Subscription comes in. We want you to rock up to your next production with an iPhone 12 Pro, not an iPod.
Upfront costs and lengthy financial commitments
We've covered how the tech market develops at the speed of light, and how camera companies update their models almost as often as you change your sheets (I hope). I don't need a calculator to know that when you combine high upfront costs with regular gear upgrades, you'll end up spending more money on camera gear than Elon Musk does trying to colonize Mars. That might be a bit of an exaggeration - but you get the point! It's extremely expensive being a creator in today's market, especially if you want to own the best and latest gear.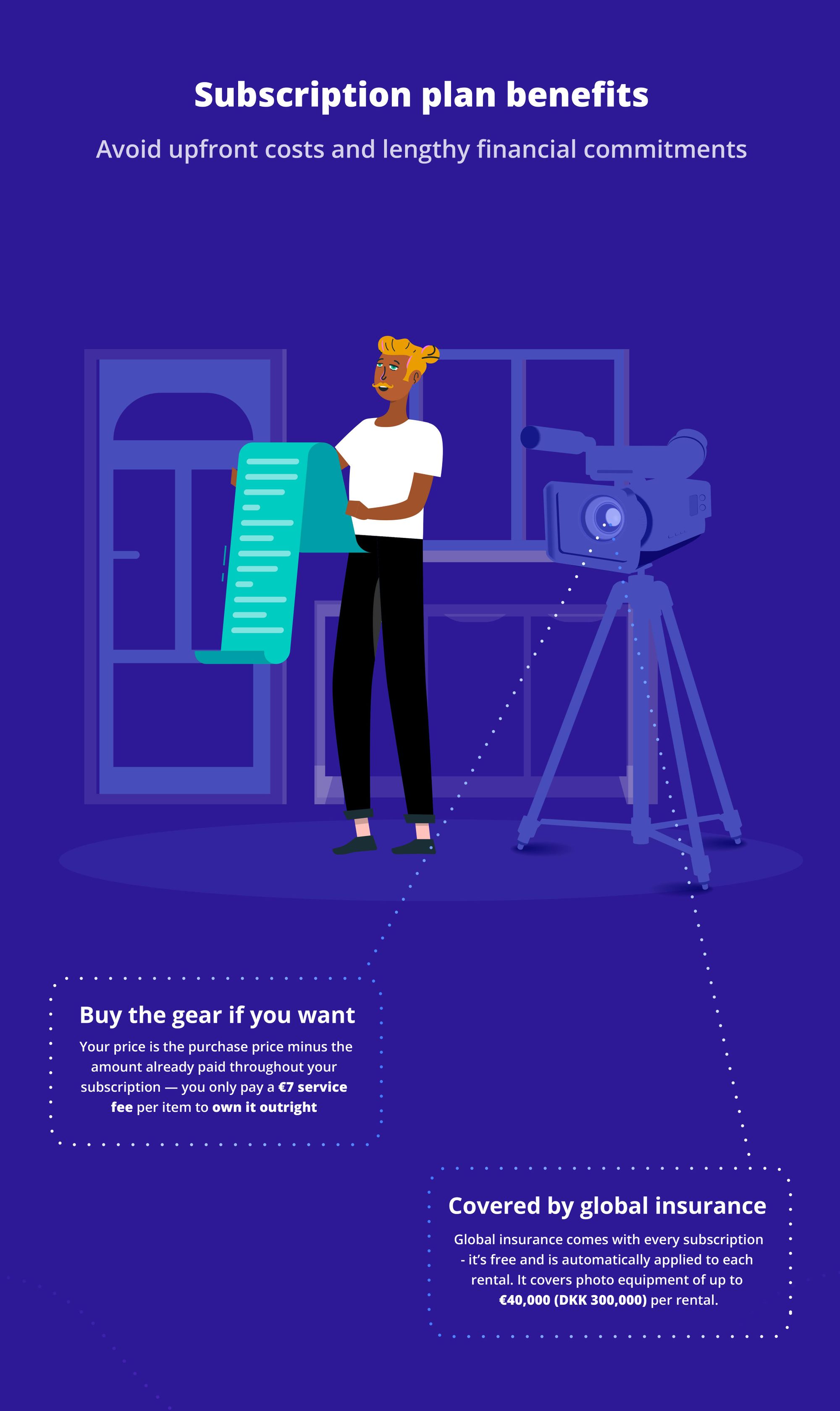 Rent to own – if you want to
After using a camera for a while, you end up getting to know it inside out. It's normal to find yourself falling in love with a camera you've subscribed to. Some call it love, some call it Stockholm syndrome – in any case, who are we to get in the way of this? That's why we allow you to buy the equipment if you want to. The price you pay couldn't be simpler, just take what you've paid during your subscription and minus it from the purchase price — you can end up paying as little as €7 to own an item.
Covered by Global Insurance
As a creator, you should focus on your craft, not the admin. Worrying about damage, theft or fraud isn't why you became a creator. Imagine if Stanley Kubrick forgot to dress the twin girls in the same blue dress, or didn't capture the room number 237 in 'The Shining' – don't get me wrong it would still be a good movie, but would it be excellent? These little details can really make a project, so we want to free up as much of your mental real estate as possible. That's why we provide Global insurance with every subscription – for free. Leaving you to focus on taking your production from great to excellent.
This is the world's first Global On-Demand insurance for professional film and photo equipment, covering up to €40,000 (DKK 300,000) per rental. This also applies when renting equipment out to other creators in the Wedio Community.
Picture this: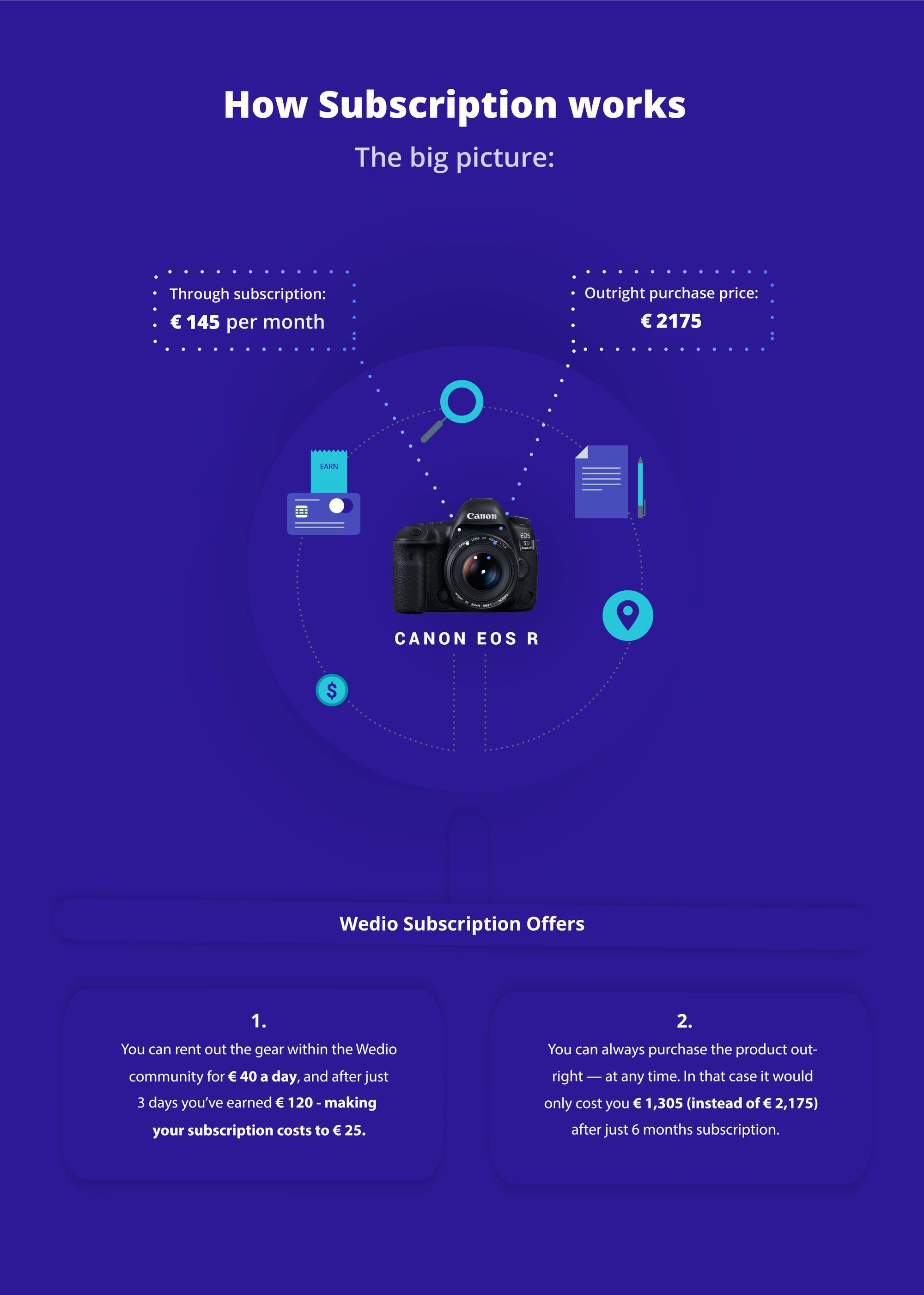 That was a lot of information, so let's explore with an example:

Let's say you're interested in the Canon EOS R Complete package, who are we kidding? Of course, you're interested!
If you were to buy this package outright, it would set you back a whopping €2,175. It's a great camera and all, but that's travel to southern France, scratch that, swimming with pigs in the Bahamas money.
Paying upfront isn't the only way of getting this awesome camera, there's definitely finance plans and lease agreements that won't involve putting forward Bahamas money. The trouble is, these options come with lengthy financial commitments, sometimes 5+ years long! – That's a long time to commit to something that you haven't even tried yet.
Introducing: Wedio Subscription. With Wedio Subscription the Canon EOS R Complete package will cost €145 per month. Aside from saving you paying a lump sum, you'll have the opportunity to see whether it's the right gear for you before committing.
Hold tight, it gets better. The subscription also unlocks two more perks that make your life easier (at least in gear-related issues :) )
Wedio Subscription allows you to rent out your gear within the community – potentially making your gear free of charge – or even profitable. Let's take the Canon EOS R Complete package again; if you rent out this camera for 3 days a month, you'll earn an average of €120 – leaving a mere €25 to pay each month. Rent it out further and you'll be earning instead of spending!
I bet at this point you're thinking – this sounds amazing (I know right), but how can I list my gear and be successful in renting it out? I'm so glad you asked!
If you're thinking, how can I even rent gear out, fear not – we got you covered. We can help on your lending journey with our how to make your listings stand out guide. Thousands of Wedio community members take advantage of mobilised gear, and you should too.
You can buy the product outright – at any time. Sure, you can even do this the day you start subscribing. But wouldn't it be great for the gear to finance itself – you know, to get that Philadelphia garlic sample kind of nice? Let's go back to our example the Canon EOS R Complete package (yes, I'm sticking to this awesome kit) after 6 months of subscription, you can buy it outright for €1,305, instead of €2,175.
I know that was a lot of numbers shoved at you, but the key takeaway: you can make money! Yep, you can go swimming with pigs in the Bahamas.
Burning questions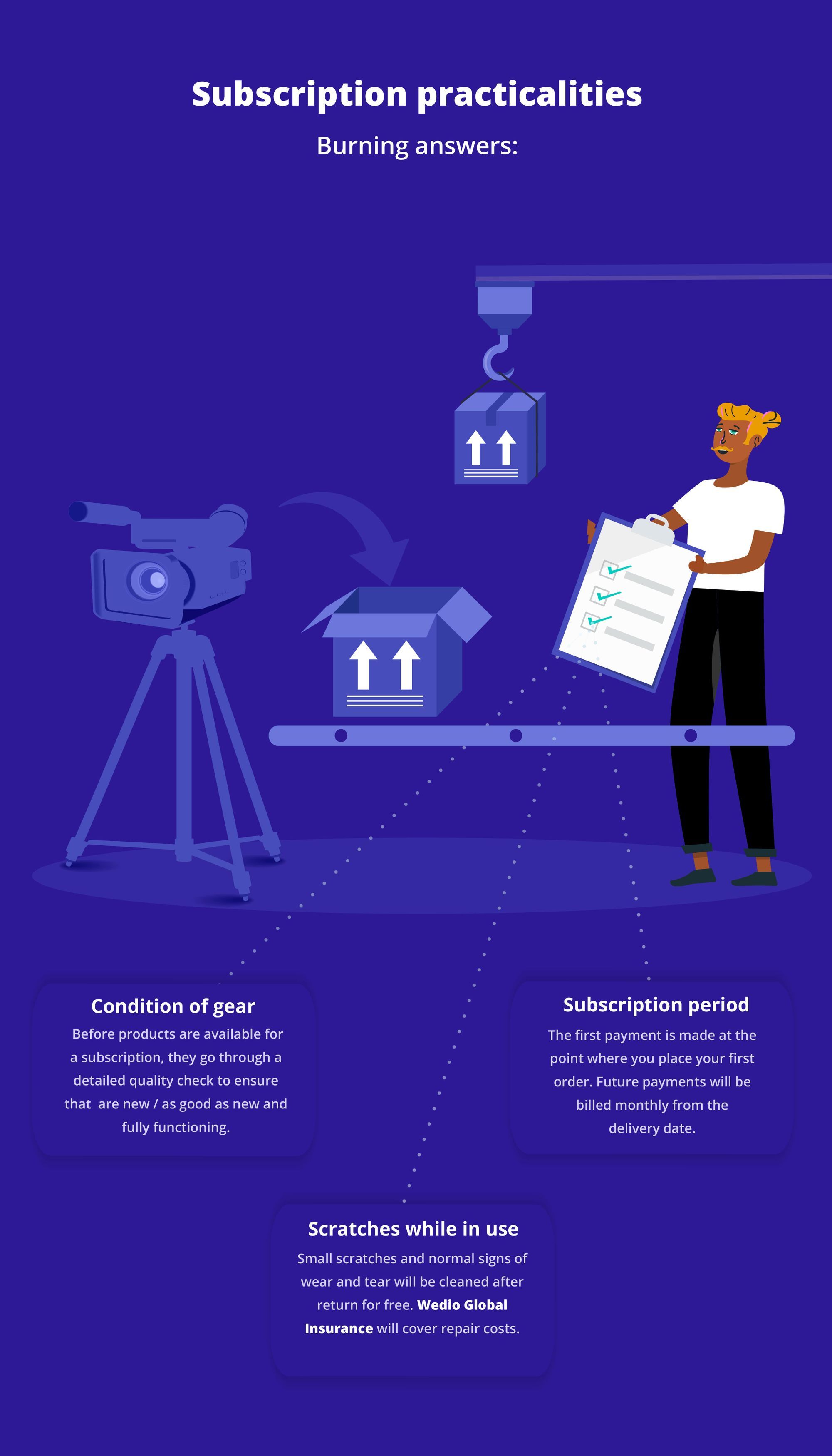 What's the condition of subscription gear?
You know that new car smell? Well, we won't promise a new car smell, but we can promise that the condition of the gear is as good as a new car. The gear will be fully functioning and in flawless condition.
You'll also always have the option to check the condition of the equipment on the items page. We'll always make sure the subscription price reflects the condition of the equipment, and ensure all items go through a detailed quality check. So, get ready for that new car feeling, roll down the windows and enjoy the ride.
Do I have to worry about signs of use?
No, you don't. Small scratches and normal signs of wear will be cleaned after return for free, so you can enjoy the gear as if it were your own.
However, in case of severe signs of wear and damage, Wedio Global Insurance will cover the repair costs. You will only pay the first 10% of any damage, and it's capped between €267 (DKK 2,000), and €667 (DKK 5,000).
When does the subscription begin and end?
You'll pay your first month immediately and from that point on, all your future payments will be billed monthly from the date it's delivered to you. Do you know Netflix? Well, it works just like that!
Just to be sure it's clear, let's put some specific dates on it. Let's say you start your subscription on the 5th of April and receive the product on the 12th of April, the first payment will be the 5th of April, and the next payment will be on the 12th of May. Pretty straightforward, right?
You can read more about this in our support center.
To cut a long story short
That was quite a mouthful, so let's summarise. When considering Wedio Subscription (because let's face it, you are considering it), there's a simple monthly payment, no hidden fees or upfront costs, Global coverage, and the ability to make gear pay for itself - all while being super flexible and budget-friendly.

Popular listings for rentals