Introducing Rent Now. Pay Later.
Rent film gear from local filmmakers.
Rent film gear from local filmmakers.
We're excited to introduce even more flexibility with payments on Wedio. From today, you have the option to pay in three installments or pay within 30 days for all your purchases and rentals.
Hire Now. Pay Later: Every Filmmaker's New Best Friend.
Has there ever been a moment when you've eyed that top-tier film gear but had to step back because, well, budgets? We get you. And that's why we've ushered in the 'Hire/Buy Now. Pay Later' option to give every filmmaker, seasoned or newbie, the freedom to chase their dreams.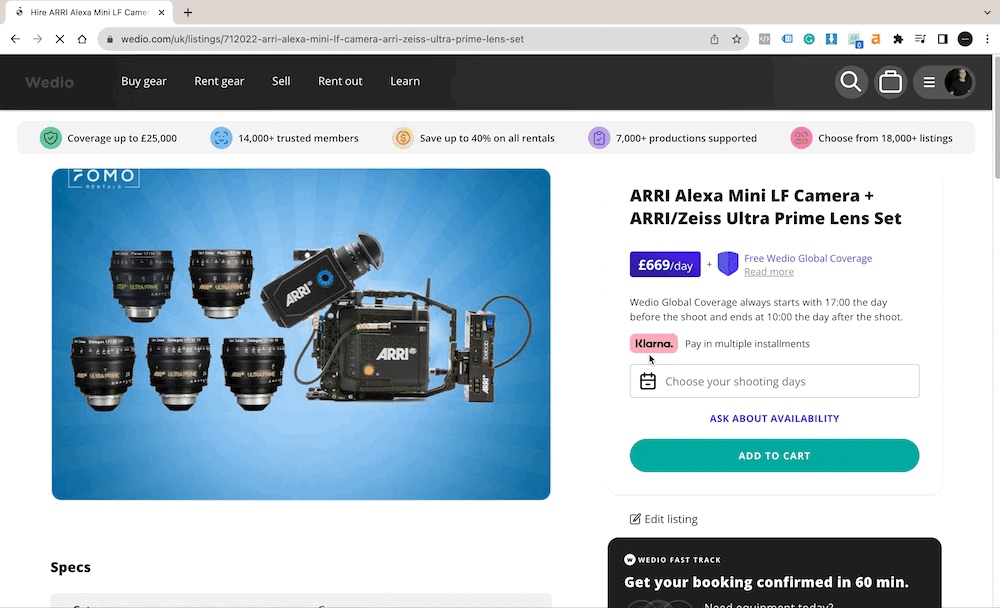 Whether you're on a tight budget or just planning your finances wisely, this feature ensures that high-quality gear is within reach for everyone. And with our integrated checkout flow via Klarna, it's smooth sailing from selecting the gear to having it picked up for your next shoot.
Pay in Multiple Payments, Interest-free.
Let's paint a picture: Sarah, an emerging filmmaker, has her eyes set on this exquisite lens. It's the missing piece in her kit. With the Klarna option at checkout, she doesn't have to feel the pinch all at once. Instead, she opts for multiple payments, spreading the cost over time. And guess what? No interest.
The Klarna process is straightforward:
1. Choose Klarna at checkout.
2. Review your plan.
3. Enjoy your rental and/or purchase, and pay in scheduled installments.
For a deeper dive into how Klarna ensures smooth payments, visit here.
Lenders, Your Assurance is Our Promise.
We hear you! While filmmakers enjoy this added flexibility, what's in it for the lenders? Simplicity: your compensation is not only prompt but also guaranteed.
As renters opt for Klarna, the transition for lenders remains seamless, ensuring timely compensations.
Just as we're dedicated to ensuring filmmakers get their dream gear, we're equally committed to safeguarding our lenders. Rest assured, your trust is well placed.
Klarna Checkout: It's Simpler Than You Think.
Questions lurking? We thought as much!
• Is Klarna a secure bet? Absolutely. Klarna, like other reputable payment services, employs top-notch security measures to ensure user data remains protected.
• Potential pitfalls of Klarna? Like any service, it's essential to know the terms. While Klarna offers multiple advantages, it's crucial to stay informed about payment schedules.
For any extended inquiries, we recommend visiting Klarna's official FAQ.
Start Renting & Buying Now
In a world that's rapidly evolving, we're here to ensure that nothing - especially not budgets - holds back your storytelling prowess. Ready to take the leap?
Explore our vast 20,000+ listings ready for hire!
Want to invest for the long haul? Sift through our 3,000+ listings up for sale!
Happy filmmaking!
Popular listings for rentals