Camera Guide: Best Cameras for Professional Photography & Filmmaking
Rent camera gear from local creators.
As a professional photographer or filmmaker, you always want to be at the top of your game. No matter if you are working freelance or for a company, this means that you need the best professional camera on the market.
Camera technology is always evolving. As a result, you have the advantage of being able to choose between a lot of different camera brands, models, and systems. But what type of professional camera is most suited to your needs?
This article is meant for you who are looking to rent cameras for professional photography or videography. While reading, we will guide you through:
What is the best professional camera for you?
The best cameras for professional photography in 2023
The best cameras for professional videography in 2023
Additional equipment
What is the best professional camera for you?
Crisp image quality in 4K or the ability to capture a moment of motion in a perfect still? As a professional, you are well aware of what you need your camera to do. This is important to take into consideration when picking a professional camera.
Before you choose, you should ask yourself the following questions:
What is your genre?
You most likely have your specialty or favourite thing to shoot. For some, it is commercial photography. They earn their living doing fashion shoots, taking images of food or home decor, or capturing the beauty of landscapes.
You might be a videographer who needs to make high-quality video content as well as capturing images on your video camera.
Different genres of photography and filmmaking might require different cameras. Make sure to remember what qualities you need most in your professional camera.
What type of camera system do you prefer?
A professional camera is rarely "just" a camera. The camera is normally a part of a bigger system, consisting of lenses, lighting equipment, and tripods. And these systems can be very different from photographer to photographer.
If you like to travel light and do handheld photography or filming, you might be better off with a camera that can function almost on its own. If you want choice, you can build a bigger system consisting of many different types of equipment.
Different cameras work well as parts of different systems. This is good to take into consideration when looking for your next camera.
What are you looking to spend?
This amount of money you can spend on your next professional camera is of course very defining for the product you end up with. Remember that if you hire or subscribe to a professional camera instead of buying, you can save money.
Still, you can easily get the professional quality you wish for without overspending. If you are operating on a small budget, it is even more important to narrow in on your specific needs.
If you are working with a company that wants to spend a lot of money on good camera equipment, you have a wider range of cameras to choose from. Here it might be a good idea to choose a camera with more functions.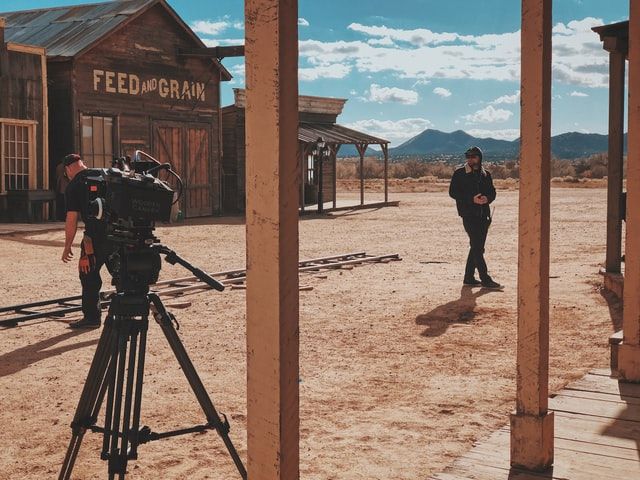 Finding video cameras for professional filmmaking in 2023
Getting the best cinema camera for videography is different to the best camera for shooting stills. There are some other things to consider.
Wedio top picks
Best cinema cameras in 2023
Ask yourself these questions:
Do I need 4K resolution? 8K? 12K?
What about battery life?
Connectivity: Does it have the right ports and connection options?
Do I want something that primarily does video or more of a hybrid camera?
Our most searched and hired pro cameras on the Wedio community are:
Blackmagic Design Pocket Cinema Camera 4K
It makes the cut because it provides what a lot of its older siblings provide at a fraction of the price. That's also why we recommend it in our guide to Youtube cameras. If you are an enthusiastic up-and-coming filmmaker, definitely consider the Blackmagic here. See our listings here.
RED Epic Dragon 6K
RED and its cinematic offerings have quickly become very popular. This camera offers 6K capture and extreme customization options. It can also capture 2K at 300FPS, making it a great camera for action shots. Browse our listings here.
SONY PXW-FS7 II 4K XDCAM
The unique form and all-around versatility makes this a favourite of the pros. A lot of research went into this camera, and the camera is a good shout for most projects you'd go on. Check it out here.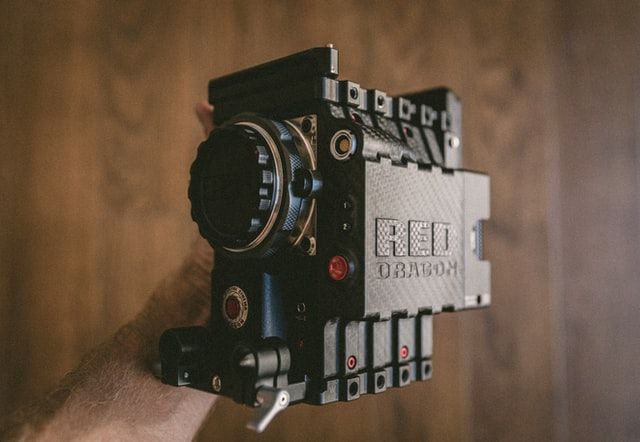 Best hybrid cameras for professionals in 2023
With your priorities and your price range set straight, you are ready to find your next professional camera. We've chosen cameras that work well for both stills and video to make sure you don't limit your range.
Wedio top picks
Best pro hybrid cameras in 2023
The mirrorless model
The mirrorless technology is gaining in popularity these days. To many professionals, mirrorless cameras are taking over where the DSLR-models left. The mirrorless technology makes for a lighter camera and faster development. These types of cameras are also good as a part of a system with different lenses.
At Wedio we recommend two different types of mirrorless cameras. For the professional who wants all-around top quality, good video capturing skills, and a compact camera suited for traveling, the Sony A7 III is the perfect choice.
For another good hybrid camera at a reasonable price range, we recommend the newly announced Canon R5, Canon R6 or Sony a7S III.
The classic DSLR
The DSLR (digital single-lens reflex camera) has long been regarded as one of the best camera models on the market. This is because this type of camera contains many functions in itself, making it suitable for many types of all-around photography or filmmaking – without the need for a lot of different equipment to support it.
And even though the mirrorless camera is a strong competitor, new and highly improved versions of the DSLR still appear.
One of these is the cameras of the Canon Mark III series. One of the latest models is the famed Canon EOS-1D X Mark III, by some regarded as the best DSLR camera around. But other models such as Canon 5D Mark IV also do a very good job at a reasonable price range.
Point and shoot – a.k.a. compact camera
The point and shoot type of professional camera is also called compacts. The reason for this is the small size and lightweight of the design, making the point and shoot camera easy to bring with you on the road.
This also means, however, that important features such as the image sensor are smaller than in other camera types. This makes for a lower image quality and fewer settings.
Compact cameras can still be used both professionally and privately. Especially the newer versions that have been improved to make the user experience even better.
An example of this is the Fujifilm X100V and X100F.
Additional equipment for your camera
With the best professional camera, you can make the most of your skills. But remember that the right equipment for your professional camera can make the result even better.
What about some lenses to optimize the possibilities of your camera? Or maybe a gimbal for the videographer? Whatever you need for your professional camera, you can look to hire it from other enthusiasts and professionals at Wedio.

Rent your next camera
Rent Camera Gear: Access Pro Equipment
qqHXJy6AWlc
Camera Hire: Take Your Production to The Next Level
71PttfqWPXk
Camera Rental: Save Money with Wedio
5sHshmF1n_Y
About the instructors
Popular listings for rentals