Rent film gear from local filmmakers.
Rent film gear from local filmmakers.
Are you tired of the hassles of deposits when renting film gear on Wedio? We have heard you loud and clear! We've rolled out a significant update — say goodbye to the hassles of default deposits!
We've Listened to Your Feedback: Deposits Have Been Removed
Your feedback has been invaluable. Acting on it, we've decided to remove the default deposit requirement, streamlining the rental process, and making it more user-friendly for everyone involved.
For Borrowers: Hire Film Gear with No Financial Barriers
Filmmakers, rejoice! With no deposits, accessing the gear you need just got easier. This update significantly lowers financial barriers, allowing you to focus on what truly matters — your creativity and projects.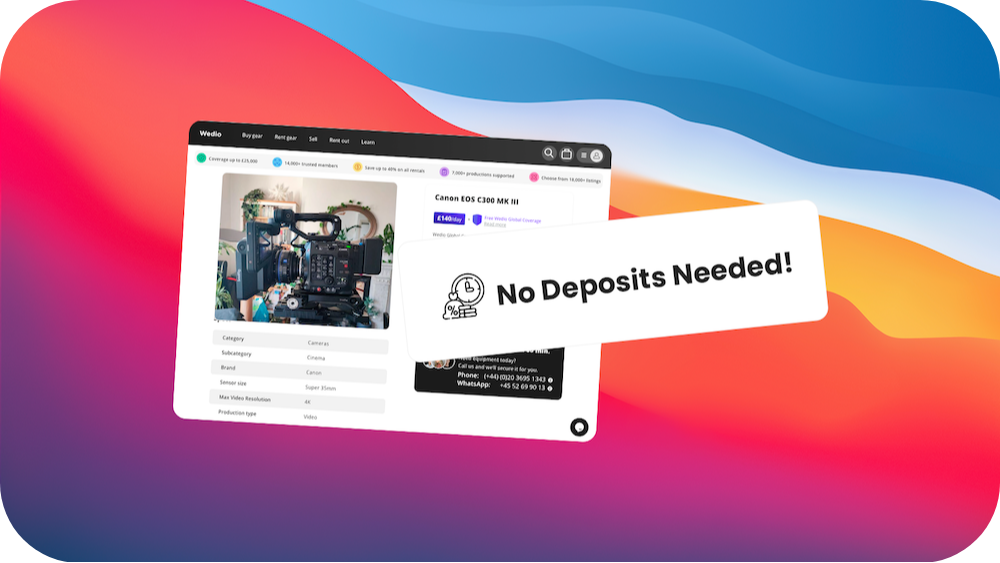 For Lenders: Attract Clients with Ease
Our update is a win-win! You as a lender can now attract a wider range of clients. Removing deposits from the equation means your listings are more accessible, making it easier to attract new renters or bring over your existing renters to the platform.
You're in Control: Enable Deposits If You Prefer
We believe in flexibility. While we've removed default deposits, lenders who prefer to use them can opt back in. Just contact our support team, and we'll tailor this aspect to suit your preferences.
Questions lurking? We thought as much!
Can lenders still charge deposits? Yes, this is now an optional feature. Just contact our support to enable it.
Why were deposits introduced and now removed? Deposits were initially introduced to provide security for lenders. However, to reduce the financial burden on filmmakers, we've now made them optional.
Start Renting & Buying Now
In a world that's rapidly evolving, we're here to ensure that nothing - especially not budgets - holds back your storytelling prowess. Ready to take the leap?
Explore our vast 20,000+ listings ready for hire!
Want to invest for the long haul? Sift through our 3,000+ listings up for sale!
Happy filmmaking!
Popular listings for rentals