11 Pieces of Must-Have Equipment for Your Filmmaking Purposes
Rent camera gear from local creators.
What sort of film equipment should a new filmmaker acquire?
It's not only in photography, where loads of camera equipment are needed.
There's also an array of different filmmaking gear you'll need as a filmmaker, and then there's other film gear that's not crucial but can help elevate your films. This article provides what any new filmmaker should include as part of their filmmaking equipment kit.
If you want to learn more about making films in general, you can head over to our article on filmmaking.
Essential film equipment checklist
It can be hard to figure out what to bring on your filmmaking adventures but don't worry because we've made a checklist of the essential filmmaking gear you'll need.
Video camera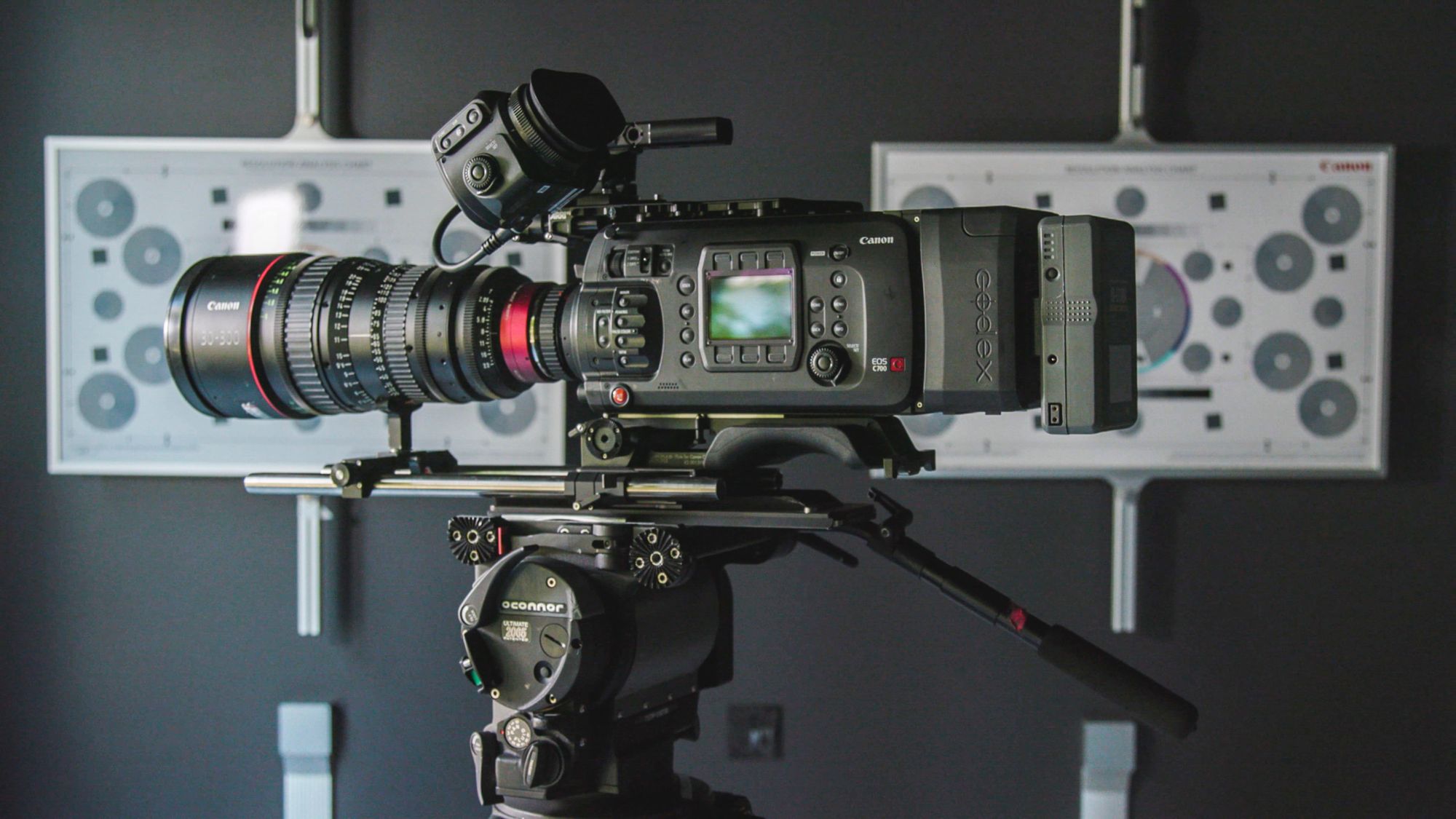 It goes without saying – a camera is an essential piece of equipment for film.
If you're just starting with filmmaking and not sure if it's your thing, you could always start by checking out iPhone filmmaking.
But if you want to get serious about your filmmaking, you should consider investing in a proper camera. Before you do that, you need to think about what you're going to use the camera for.
If it's for filming weddings or short films, consider getting a DSLR or a mirrorless camera. If you're not sure what the difference is, you can read our article on mirrorless vs. DSLR cameras.
If you want to record your skiing, snowboarding, or mountain biking, you should consider investing in an action camera. An action camera is more compact and durable.
Recommended cameras for filmmaking:
Panasonic G85
Panasonic G7
Lenses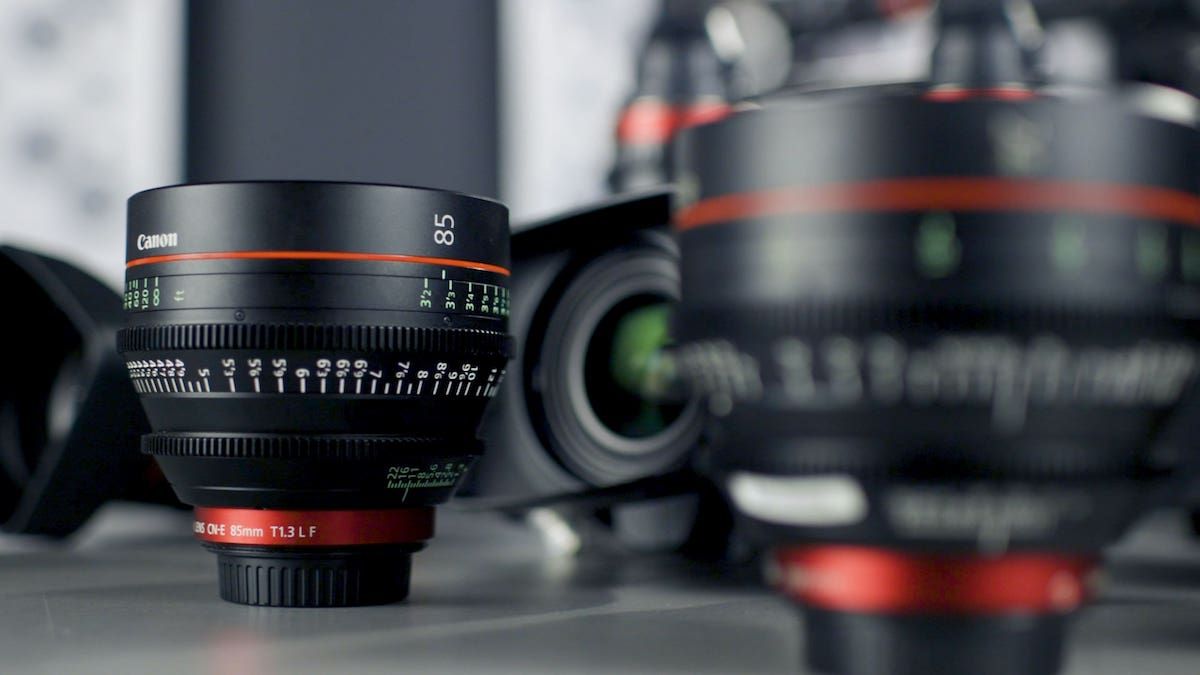 Lenses are the jelly to your peanut butter (the camera). Lenses can make or break a good shoot, and each lens has different pros and cons.
If you're planning on upgrading your camera down the line, getting a great lens can be an investment to improve your recent shoots and ensure that your future shoots will be stellar.
When talking about lenses, you typically talk about two types of lenses: prime lenses and zoom lenses.
Prime lenses
Prime lenses are lenses with a fixed focal length, meaning that there is no way to change the focal length on the actual camera.
Prime lenses are made up of fewer parts than zoom lenses, resulting in a sharper and more crisp image than the zoom lens can create. Prime lenses are also lighter in weight than zoom lenses and are generally cheaper to acquire than zoom lenses.
Zoom lenses
Zoom lenses are lenses in which you can change the focal length on the camera, and although they have some downside compared to the prime lens, there are still areas in which they are better.
The ability to change the focal length means that you can zoom in by adjusting the lens instead of walking around to find the perfect spot. This gives you more flexibility than a prime lens, and while prime lenses are cheaper than zoom lenses, the flexibility means that you only need one lens.
If we take documentary filmmaking as an example, having a prime lens will mean that your kit is lighter in weight and will give you a better image.
However, if you need to film something that happens at a distance, the prime lens would require you to physically move the camera to a spot where you can see what's happening, whereas the zoom lens will simply be able to zoom in on it.
Anamorphic lenses
When we talk about anamorphic lenses, filmmaking differs from photography in terms of lenses.
Anamorphic lenses are a particular type of lens that creates a cinematic look for the footage. An anamorphic lens stretches the image and allows for a wide shooting area for the cinematographer.
If you've ever wondered how the cinematographers in big Hollywood movies can manage to record with such a wide field of view, they're using an anamorphic lens.
Tripod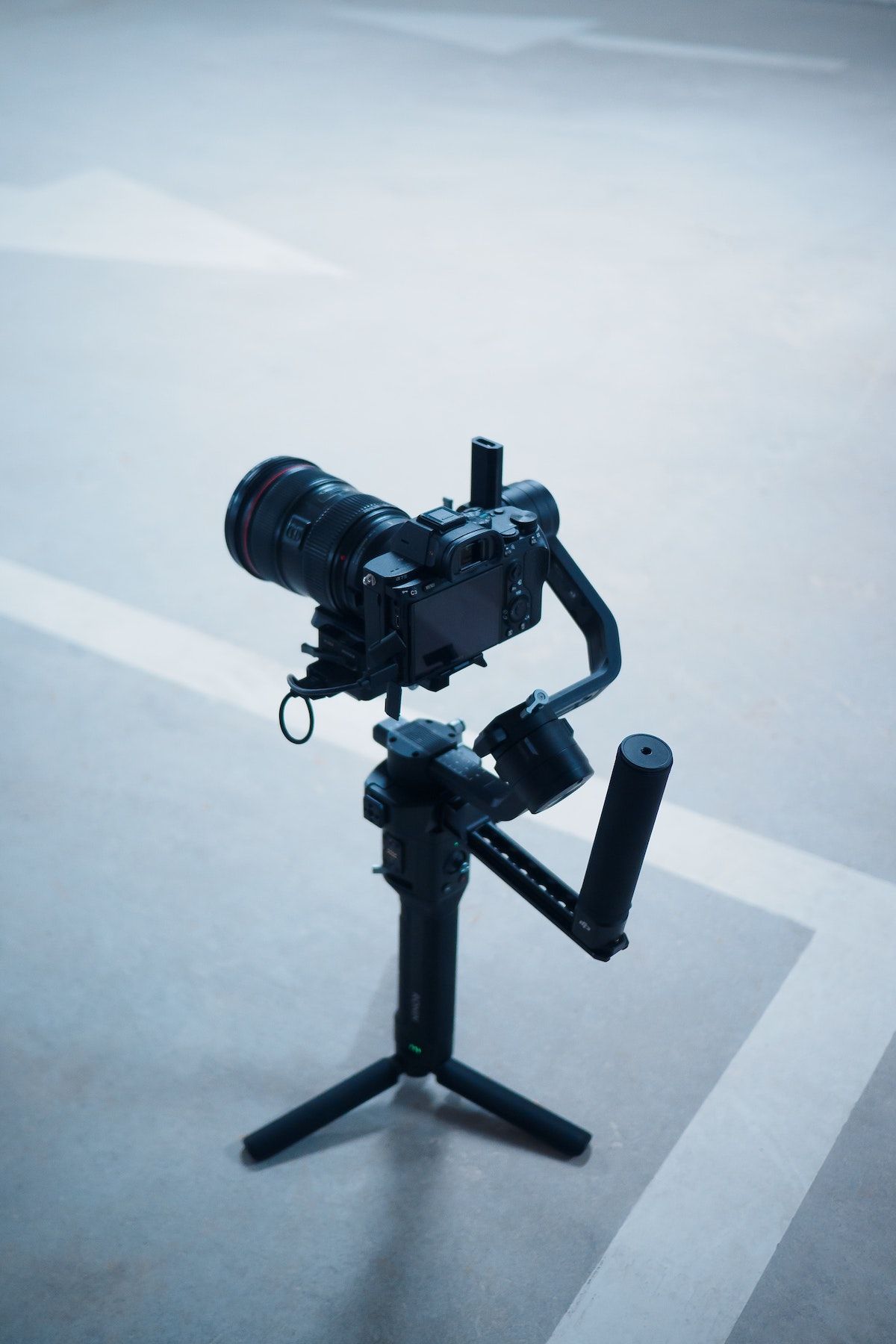 Tripods are necessary if you want to do proper cinematography.
The only situation where a tripod isn't helpful is if you want your footage to look intentionally handheld.
A tripod is a stand for your camera, and it helps the filmmakers to get steady shots. Simply attach your camera to the tripod, set the right height and tilt, and record your footage.
You can also control the pan and tilt of your camera while shooting to create great-looking pan shots.
When you're picking a tripod, be sure that you're getting one that can carry the weight of your camera and all of the attachments to it. You don't want to be at a shoot and have your tripod break down. Unless, of course, you have the hands of a surgeon.
Sound and audio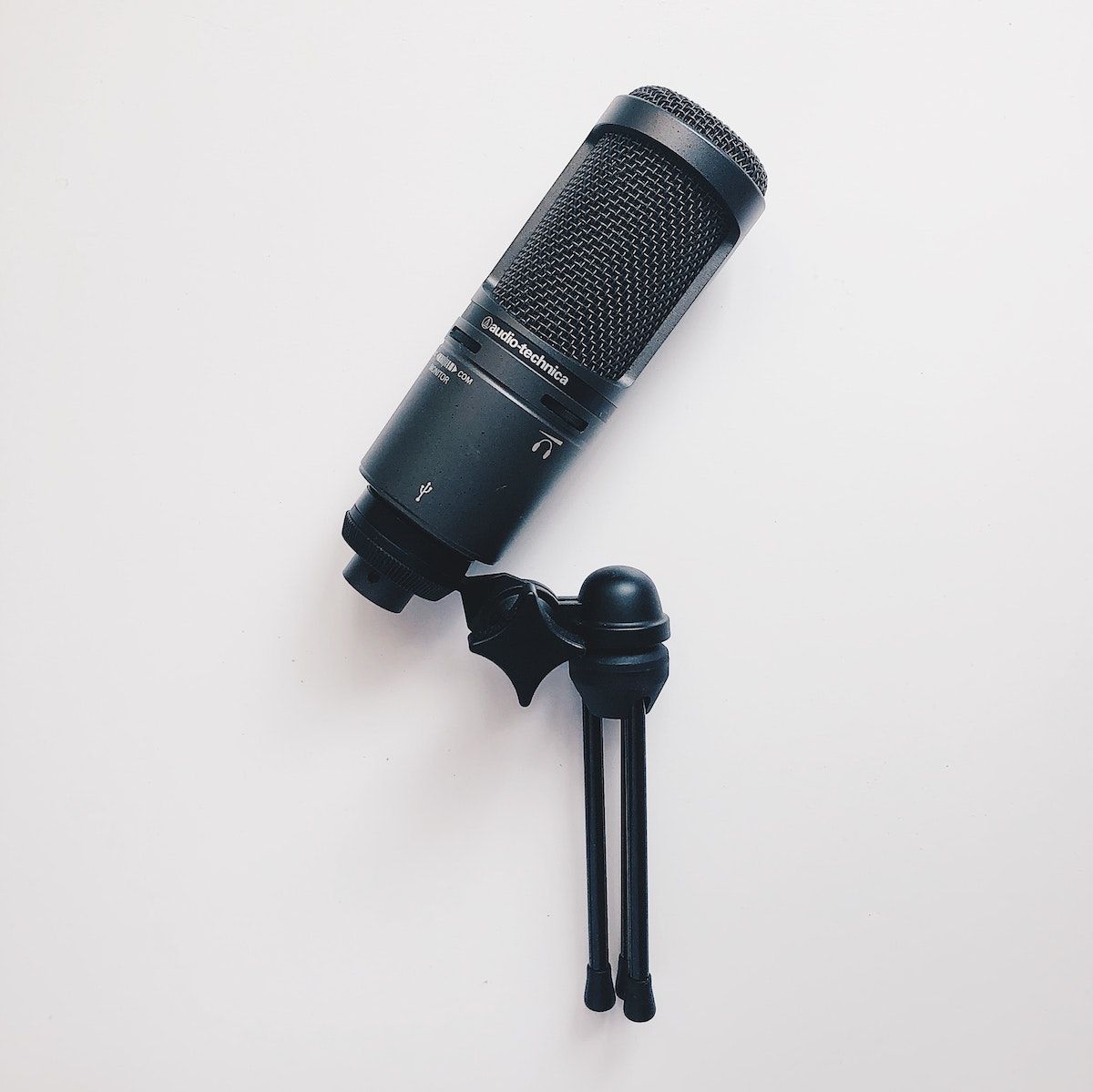 When talking about sound and audio in film equipment, we typically talk about microphones. And I'm not talking about the built-in microphone in the camera because that will not get you very far in terms of audio quality.
Boom microphones
The most commonly used microphone in filmmaking is a boom microphone. A boom microphone is a directional microphone attached to a pole for better handling.
Boom microphones are used because they're great at catching audios from longer ranges in specific directions. So you can keep the microphone out of the shot while capturing the exact audio you need.
Outside of boom microphones, two other options are often used in filmmaking: the lavalier microphone and the on-camera microphone.
Lavalier microphone
Lavalier microphones are attached directly to the people whose audio you want to capture. They are typically attached to the shirt's collar or somewhere close.
A lavalier microphone allows the wearer to move around while retaining the same audio quality freely. This microphone is often used in interviews, as it gets close to the interviewee.
However, depending on the quality, it can be hard to conceal them.
On-camera microphone
When you talk about on-camera microphones, you sometimes refer to them as shotgun microphones.
On-camera microphones function in a similar way to boom microphones. The difference is that they are attached directly to the camera.
On-camera microphones might not be as good as boom microphones, but they cancel the need for an external sound person to hold a microphone for you.
So if you're an independent filmmaker who records by yourself, an on-camera microphone is an excellent choice for a directional microphone with high-quality audio.
Lighting equipment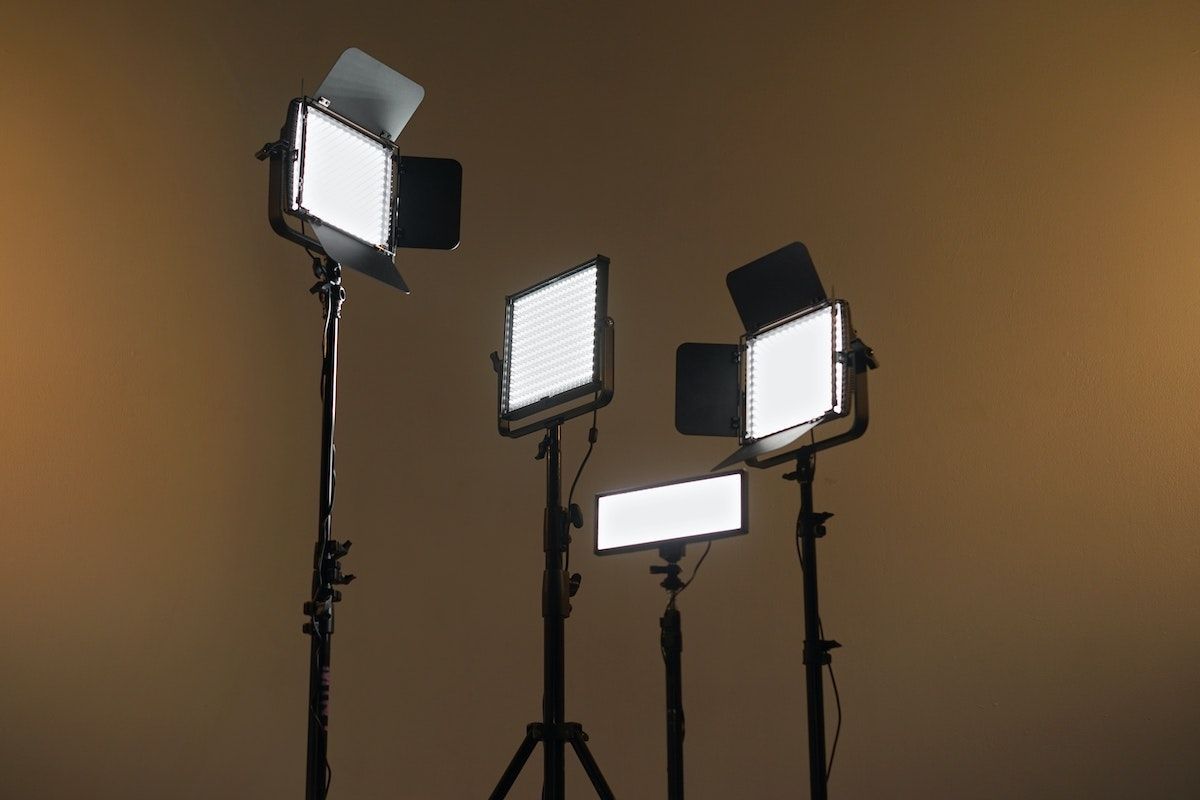 Lighting is another essential piece of film equipment, especially when shooting indoors or in places with low lighting.
For your lighting equipment, you want to get different types of lighting, depending on where you're shooting.
The lower the lighting is, the higher your ISO settings need to be, which results in grainier footage. Lighting can also be used creatively to achieve the specific cinematic look you need.
If you want to learn more, you can read our article on film lighting here.
Headphones
Headphones are also a vital piece of filmmaking equipment, and when you're recording sounds, it is more or less mandatory to wear a pair.
You might be confident that the sound you're picking up is fine. But there could be some interferences that you're not aware of.
You should always wear headphones, to make sure that the audio is coming through nicely and without any interfering background noises.
Extra equipment for filmmaking
Now that we've got the essentials down, it is time to look at some extra filmmaking gear that might not be vital for your filmmaking but will make it better.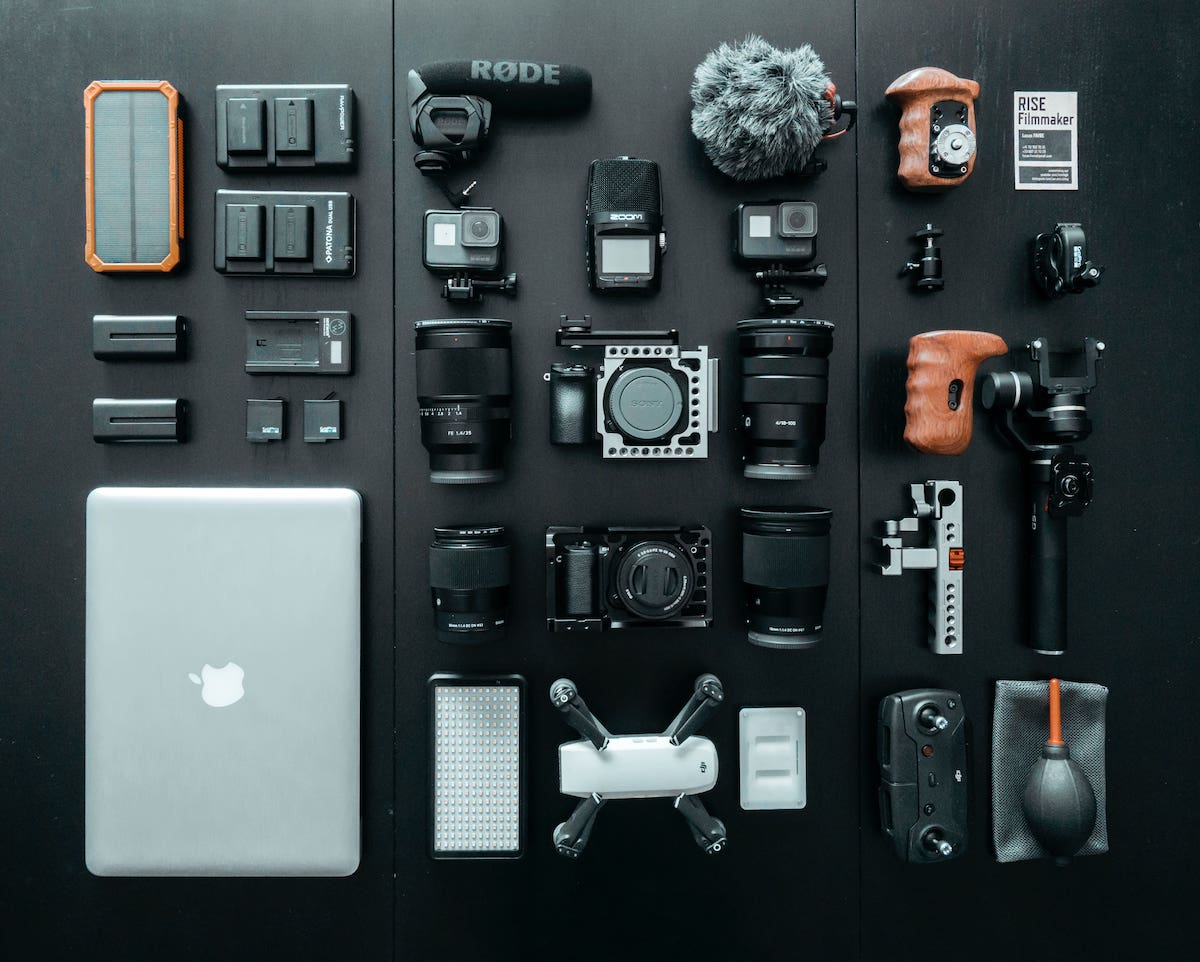 Memory cards
You do not want to run out of memory when you're at a shoot. It's as simple as that.
Yes, memory cards might be expensive, but they're worth it if it means you'll be able to keep rolling.
Imagine you're at a wedding, and you're about to film the bride walking down the aisle, and you realize that you've run out of memory. That would be detrimental to the video!
So always make sure that you have enough memory cards at hand!
Batteries
I could make the same argument for batteries as I did with memory cards - and I will!
Running out of battery is not an option when you're on a shoot. Filmmakers typically use batteries whenever they're filming in remote locations. Otherwise, they often have the opportunity to plug their camera into an electrical outlet.
If you're filming in remote locations, you don't want a lack of power supplies to stop you from getting your footage.
You also have to remember that batteries tend to drop faster in colder weather, so you might want to bring an extra battery even if you don't usually run out.
Camera bags and cases
You could stash all of your film equipment in one giant bag, but you don't want to do that.
Instead, you should invest in camera bags and cases for your equipment. This makes it much easier for you to keep an overview of your equipment and transport it around.
Cases will also help your equipment stay in place and avoid getting damaged or scratches during transportation.
ND filters
ND filters might seem superfluous if you're a champion at post-production, but ND filters are helpful film gear.
ND Filters are filters that can attach to your lens, to control the exposure of your lens.
If it's light out, you can use ND filters to ensure that your lens isn't as exposed to achieve the right look for your camera. Using an ND Filter will make the end footage look better than if you mess around with shutter speed, aperture, or ISO.
Editing tools
The last piece of equipment for film we recommend is an editing tool. And I'm not just talking iMovie for cutting your clips together.
If you want to be serious about your filmmaking, you should look into some powerful editing software that allows you to do proper post-production of your footage.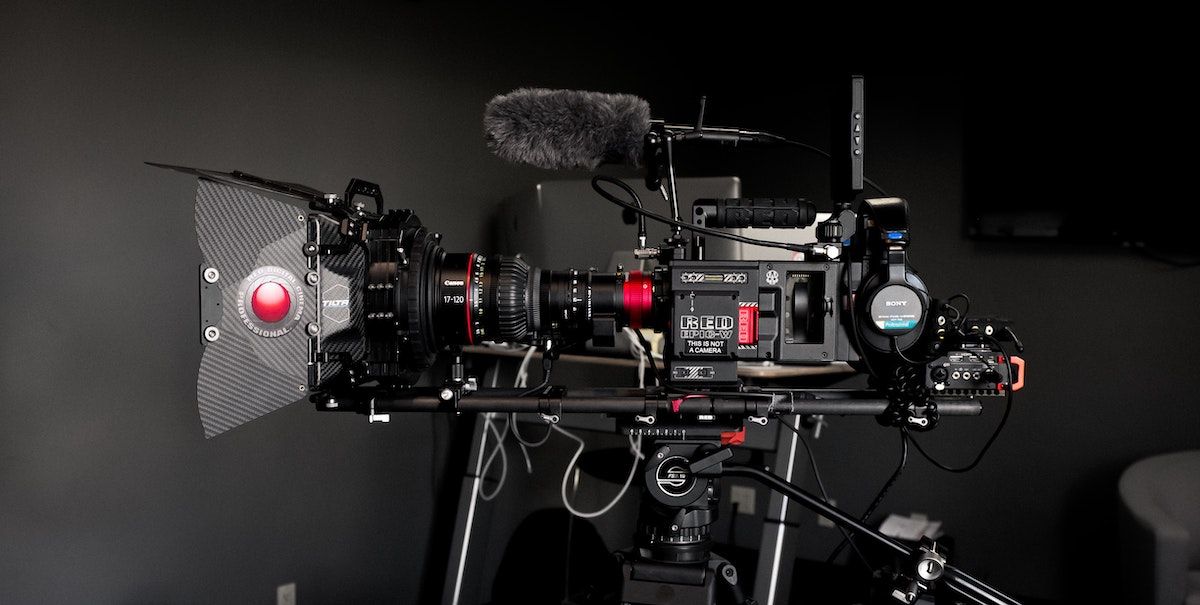 Rent or subscribe to your needed film equipment
Now that you've got an impression of what it takes to fill out your filmmaking equipment, you're probably concerned about the financial costs. Filmmaking doesn't have to be an expensive hobby.
With Wedio you can rent or subscribe to your film equipment, and save a lot of money, compared to if you were to buy everything from new.
Camera Rental: Save Money with Wedio
5sHshmF1n_Y
Rent Camera Gear: Access Pro Equipment
qqHXJy6AWlc
Camera Hire: Take Your Production to The Next Level
71PttfqWPXk
About the instructors
FAQ
What equipment do you need for filming?
A camera, lenses, a tripod, a microphone, lighting equipment, and headphones.
What equipment do film producers use?
A camera, lenses, a tripod, a microphone, lighting equipment, and headphones.
Which is the best camera for filmmaking?
RED Epic Dragon 6K.
Popular listings for rentals