Canon EOS 5d Mk IV | Hands-On Review from creators
Product Review: Canon EOS 5d Mk IV
11 other
Overview
Specs
Reviews
FAQ
Alternatives
Research
Canon EOS 5d Mk IV
Canon
The Canon EOS 5D MK IV was released in 2016 and has been in the arsenal of many photographers since then.
The camera had several improvements from its predecessor, such as a touchscreen and an improved image sensor.
5,0
Based upon13 reviews from Wedio members
Effectiveness
4,9
Usability
5,0
Value for money
5,0
Overall rating
5,0
Is it worth it?
Yes
With its addition of Wi-Fi, GPS, and touchscreen, the Canon 5D Mark IV features are ideal for enthusiasts, and pro photographers seeking an all-rounder that handles well. Wedding, fashion, and family photographers are well catered for, as are those that shoot a little of everything, and often. A superstar in a studio environment pumping out brilliant quality images with no noise and great colour.
No
Beginners may be better off starting with an entry-level DSLR with a more basic level interface and wallet-friendly price. Enthusiasts and pro videographers might be drawn to cameras that can shoot 4K at full frame with no crop. This is not a camera for videographers as it doesn't offer the flexibility or file sizes that would make their jobs easier.
Pros
Impressive color accuracy
Amazing High ISO performance
Cons
4K video is cropped by 1.64x
Dual memory card slots do not use the same format
HDMI output limited to Full HD
Autofocus can be a bit tricky to get used to
Specs
File format(photo)
JPEG & RAW
File format(video)
MOV & MP4
Maximum video resolution
4K
Show more
Canon EOS 5d Mk IV Best Features
Beginner friendly design
The EOS 5D MK IV feels very familiar compared to its old versions, therefore, should be easy to pick up for anyone who has previously owned a 5D camera, being pretty beginner-friendly for anyone picking up a 5D or a Canon camera for the first time.

The grip and thumb rest feel more or less the same as in the previous version. It's pretty neat and feels alright in the hands.
Responsive LCD touchscreen
It has a full LCD touchscreen which is incredibly responsive and great to use. If you want an overall easier-to-use camera, getting one with a touchscreen would be a good idea!
The camera itself has ten customizable buttons. So if you're a fan of that, it is a great feature. You can also just keep it as is.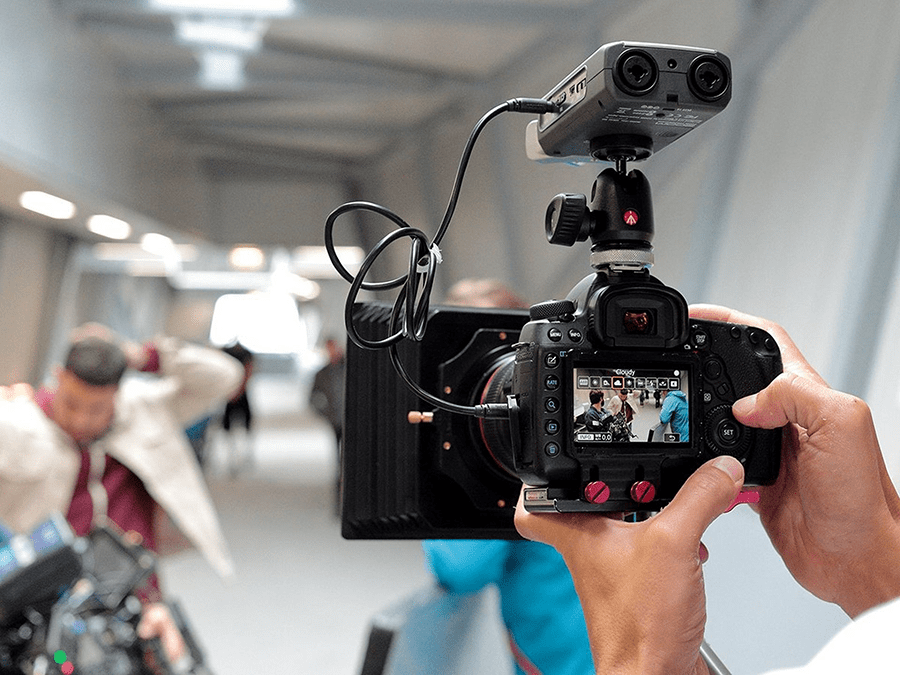 Decent weather sealing
It has relatively good weather sealing that will suffice for most casual weather settings. However, if you want to shoot during a rainstorm, you should consider packing it just in case.
The camera still has no built-in flash, which is annoying for some. But if you already have a previous model, you probably already have an external flash at hand.
Quick sorting with included rating system
The camera also has a rating system that allows you to rate pictures directly on your camera to quickly sort them out when you transfer them to your editing software.
The 5D Mark IV also has built-in Wi-Fi, which is excellent for quick transfers to other devices. You can also use it to remote control the camera if you need to go wireless!
Precise zooming and good playback with touchscreen
The camera is quiet compared to other cameras, which is excellent for those who care about not being too noisy. The touchscreen allows for a more comfortable playback and a better precise zooming function.
One of the camera's downsides is that it doesn't allow you to use an external recorder for your 4K video. It only has Full HD support. So if you're used to using one for your video project, this can be a huge hindrance.
The camera includes Canon's Dual Pixel RAW feature, which allows for minor adjustments after the focus is taken, improving the autofocus, bokeh, and such.
Image sensor
The image sensor of the Canon EOS 5D Mark IV counts a superb 30.4 MP. This is quite an improvement from the previous edition's 22,3 MP sensor.
The color performance on the camera is more accurate than other cameras. If you have a preset saturation setting in your editing software, you might have to tweak it a bit.
The camera works great for outside shooting with great colors and dynamic range.
Improved AF sensor with phase-detection
The camera also features improved autofocus sensors, which work miles better than the old system.
The camera also features phase-detection AF, common for similar models in the same price range.
Unfortunately, there are no built-in image stabilization features. Concluding, if there is not a tripod or something similar, shaky hands could break the quality.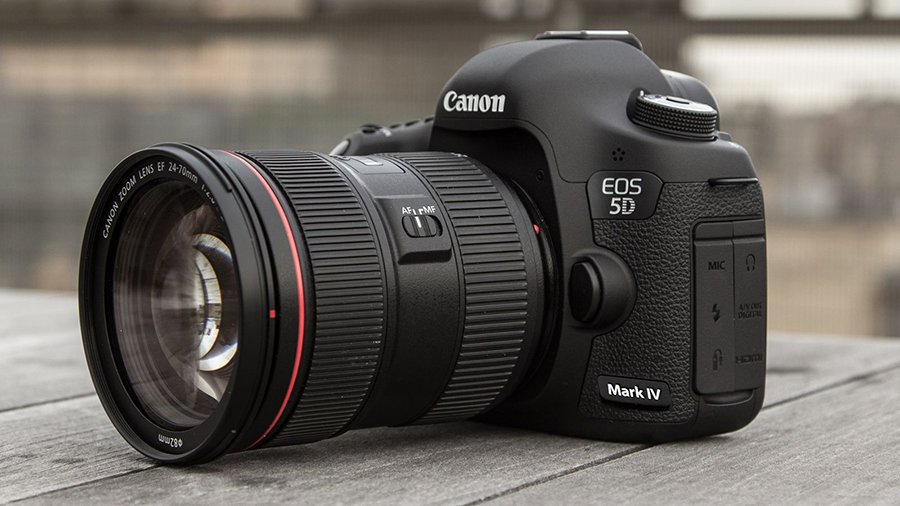 Performance
The camera's performance is quite good, and it feels like an upgrade from the last version.
The camera has a good ISO Performance, which works excellently at high ISO levels. Usually, the High ISO levels in this type of camera aren't that great. But on the EOS 5D MK IV, the pictures look great on all levels of ISO.
This also means that the camera has excellent performance in low light. This is fantastic news for all the night owls who prefer shooting during the evening/night.
Lacking features for professional filmmakers
Canon's EOS 5D Mark IV has a 4K function, which could be interesting for filmmakers. However, since there's no HDMI output for 4K, it could prove difficult for professional filmmakers.
The screen also doesn't feature any tilt feature, making the filming experience more challenging. The 4K video performance is impressive if you can overcome these flaws.
A camera is an excellent asset in your gearbox, but far from the only one. Explore what else there is of essential camera equipment.
Final verdict: Who should get the Canon EOS 5D MK IV?
The camera's outstanding performance makes this an excellent purchase for professional photographers.
However, due to the lack of image stabilization, taking pictures outside of a studio session could be difficult if you're used to photographing freehand.
The EOS 5D Mark IV is best suited for photographers shooting in studios – whether for food photography, fashion photography, or portrait photography.
The Mark IV is incredible in a studio environment with an outstanding performance. Especially for that price.
What creators like
Abholung ging super schnell und war super freundlich. Die Kamera war in einem sehr guten Zustand und es hat viel Spaß gemacht damit meine Fotos zu schießen.
Beautiful Canon colour science. The dual card slot means you get that reassuring backup file.
Show more
What creators don't like
Nichts, es war alles tadellos
Show more
Frequently Asked Questions
Is the Canon EOS 5D MK IV worth it in 2023?
Yes, if you're a studio photographer.
Is the Canon EOS 5D MK IV a good camera?
The Canon EOS 5D Mark IV is a good camera, especially in studio settings.
Why is the Canon EOS 5D MK IV so popular?
The High ISO performance and color accuracy are among the reasons the EOS 5D Mark IV is so popular.
How long can Canon 5D Mark IV record?
As with other DSLRs, the maximum length of footage than can be recorded without interruption is 29mins and 59 seconds.
What is Canon 5D Mark IV best for?
For still photography, the 5D Mark IV is undoubtedly a highly versatile camera that's capable of shooting a variety of subject matter in all sorts of lighting conditions. On the video side, the 5D Mark IV comes as one of the most fully-featured Canon DSLRs for videographers.
Show more
Review by 12 other community members
and
Canon EOS 5d MK IV Alternatives
Nikon D750
Released for the prosumer market in 2014, the Nikon D750 is still fighting for a piece of the photography market. While aimed to be replaced by the newer D780, this full-frame DSLR is still in circulation and has quite a fanbase. Read more
$889 at Amazon
Rent from $20/day
Sony Alpha A7 III
Despite claims that the Sony Alpha A7 III is 'basic', it's actually an impressively capable full-frame camera. It suits everyone's needs- whether you are a beginner or a full-fledged shutterbug, you can find something to love here. Read more
$1698 at Amazon
Rent from $39/day
Canon EOS R6
Released at the same time as the mindblowing Canon EOS R5, the Canon EOS R6 didn't get that much attention. However, this capable all-rounder camera includes some of the features of the flagship model at an affordable price point. Read more
$2499 at Amazon
Rent from $51/day
Show more
The research
Why you should trust us
At Wedio, we are on a mission to keep great stories alive. We achieve this by facilitating the sharing of knowledge, tools, and services that help you as a creator craft better stories. Today we help 100,000+ monthly creators become better — together. We believe in the power of the community. Instead of gathering product reviews from one creator, we involve hundreds of creators, and create both video- and written reviews. In that way, we present the essence of the collective rather than one opinion.
How we tested this product
We used a mixed-method design. Our qualitative video reviews, were created by hand-picked Wedio members. We shipped the product to them, they tried it for at least 30 days in real-life projects, and then they did an honest video review. Our quantitative written reviews, were collected from Wedio Renters and Lenders. When renters have rented the product, they have the option to leave a product review. When lenders create a product listing, they have the option to share their thoughts on the product itself.
How we fund this review
In order to keep delivering the best possible reviews for creatives, we have four different revenue streams. This includes (1) commissions from our short-term rentals (10 % from renters 20% from lenders whenever a rental is happening through Wedio), (2) commissions from our subscriptions (we get paid by our retail partners to deliver an order), (3) commissions from brands delivering products, and (4) commissions from affiliate links to other partners (such as retail partners, software, and other creative tools).
Limitations
Even though we try to be as unbiased as possible, we still want to address two limitations of this review. First, our lenders can be affected by the "Endowment effect" when reviewing their gear. They would potentially rate their product higher than they would have done if they rented the product — just because they own the product themself. Second, there is the potential of instructors experiencing "Confirmation bias" when reviewing a product. If they received the product from us, they might have a tendency to look for all the advantages and good things about the product because they want to please Wedio and the product brand. To overcome this limitation, we strictly guide our instructors to be as objective as possible — a low rating is as valuable to us as a high rating. The review aims to guide other creators in the choice of gear.
Get a Canon EOS 5D MK IV
https://academy-cdn.wedio.com/2022/05/eos-5d-mk-iv-performance-wedio.jpg
USD
Buy new
https://amzn.to/3RfSVJE
2699
Buy used
https://amzn.to/3CJbY9M
1754
Rent from
https://www.wedio.com/en/canon-eos-5d-mk-iv
27
Popular listings for rentals