Blackmagic Pocket Cinema Camera 6K Review
Rent camera gear from local creators.
Released in 2019, the Blackmagic Pocket Cinema Camera 6K disrupted the market for pro-level cinema-type cameras with 6K resolution recording. At a fraction of the cost of competitors, this model targets committed pros and enthusiasts that want to elevate their filmmaking.
In this Blackmagic Pocket Cinema Camera 6K review, I'll introduce the key specs, characteristics, and pros and cons of buying or renting a BMPCC 6K.
Want to learn more about gear? Check out our comprehensive guide to camera equipment. See other Blackmagic cameras available for rent.
Blackmagic Pocket Cinema Camera 6K key specs
The Blackmagic Pocket Cinema Camera 6K provides the following specs:
Super 35 sensor with 13-stops of dynamic range,
Dual native 400 and 3200 ISO up to 25,600,
RAW and ProRes 422 capture,
5-inch rear touchscreen, and
A Canon EF Lens Mount.
Body and design
Unlike the name suggest, this camera isn't at all pocket-sized, coming in 1.23 kilos and a bit of an odd shape to handle. It's made of high-end carbon fiber polycarbonate that is durable and lightweight.
The camera is physically very similar to the BMPCC 4K, featuring a mirrorless-like body with the back homing a massive touchscreen and six control buttons.
On top of the camera body, you'll find the start/stop record button and still photo shutter release. The ISO, shutter speed, and white balance controls are conveniently located near these and can be adjusted by a scroll-wheel by your index finger.
The Blackmagic Pocket Cinema Camera 6K also features three programmable function buttons. The design is comfortable and intuitive for a cinema-like camera.
Image quality
This Pocket Cinema Camera outperforms most of its product line in terms of max resolution. It records 6K 6144x3456 up to 50fps.
As it became expected from Blackmagic cameras, this model also stuns users with rich, cinematic 12-bit color. The BMPCC 6K captures a 13-stop dynamic range. This means deep shadows and bright highlights in the same frame at all times.
The model is well-suited for documentaries, wedding videos, or independent films. RAW footage will offer professional-grade colors and precise skin tones like no others.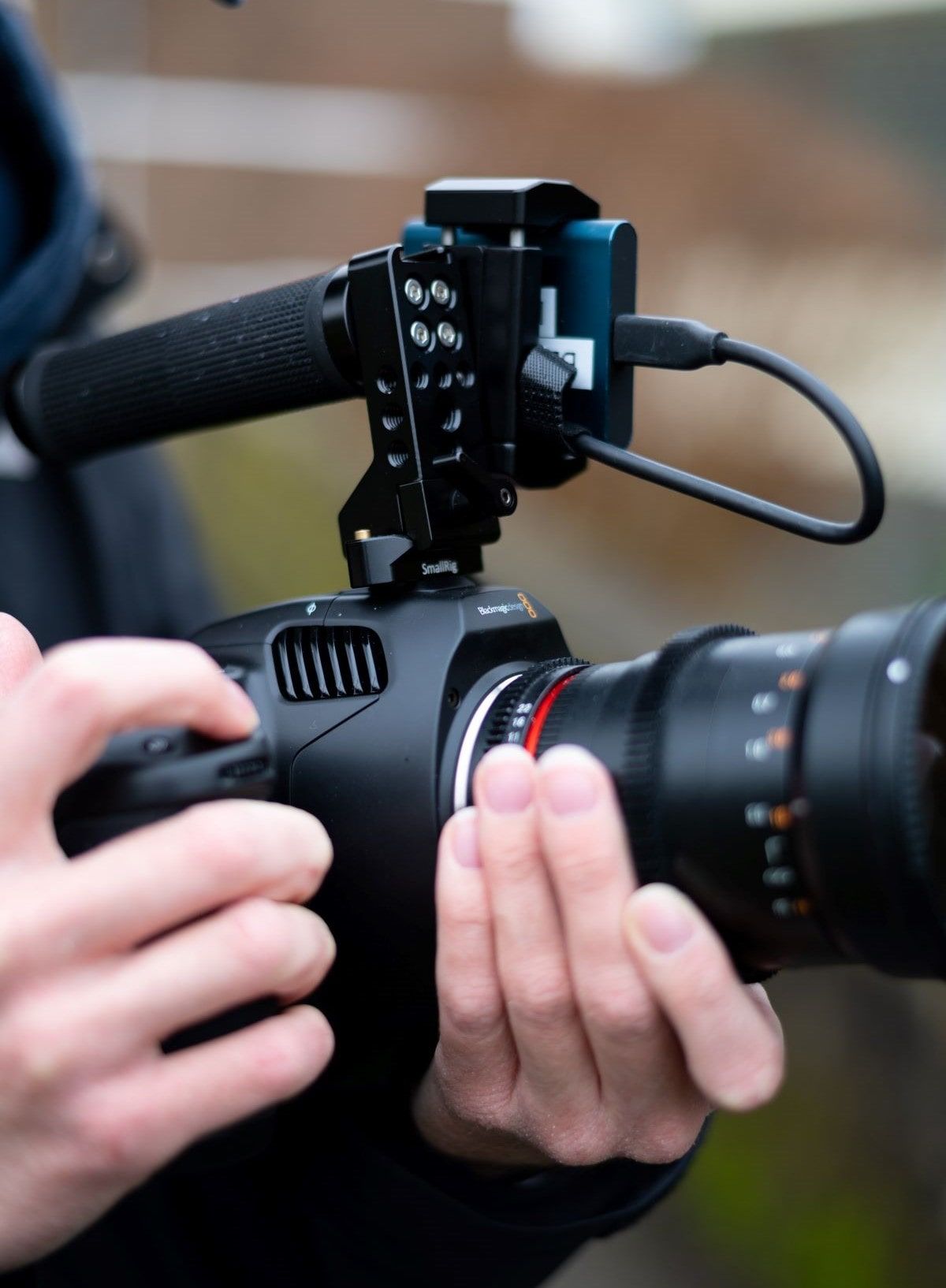 Super 35mm CMOS sensor
While its 4K predecessor came with a four-thirds sensor, the 6K has upgraded to a Super 35 for improved performance. Its effective sensor size is similar to an APS-C at 23.10mm x 12.99 mm.
This gives it an advantage when navigating low-light situations. The sensor has a 1.5x crop compared to full-frame models.
RAW files
The ability to shoot in RAW will be an enormous upgrade if this is your first pro-grade cinema camera. Blackmagic RAW allows you complete control over your creative process.
Edit and color your footage however you deem fit and override camera settings without loss of quality in post-production.
Leveraging the Blackmagic RAW codec, the unedited footage is incredibly flexible. Play with the color grading and LUTs or apply stabilization effects.
Blackmagic's editing software, DaVinci Resolve, was developed to be extremely competent by now. However, the brand lets you edit files with third-party software like Adobe Premiere Pro too.
The BMPCC 6K also offers compression levels for RAW files from 3:1 to 12:1. This saves you massive space on your memory card and makes video editing easier.
Performance
It quickly becomes clear that the Blackmagic Pocket Cinema Camera 6K is not designed for the casual or prosumer markets. It's aimed at experienced enthusiasts and professionals who can handle the compromises the camera takes to focus on peak performance.
The upgraded Super35 sensor powers the BMPCC 6K. It offers great low light performance with a high ISO, but reportedly, the image may get quite noisy after just 1250 ISO.
The gorgeous RAW footage is worth the lack of IBIS and weak AF for many creators. For further pros and cons, read on.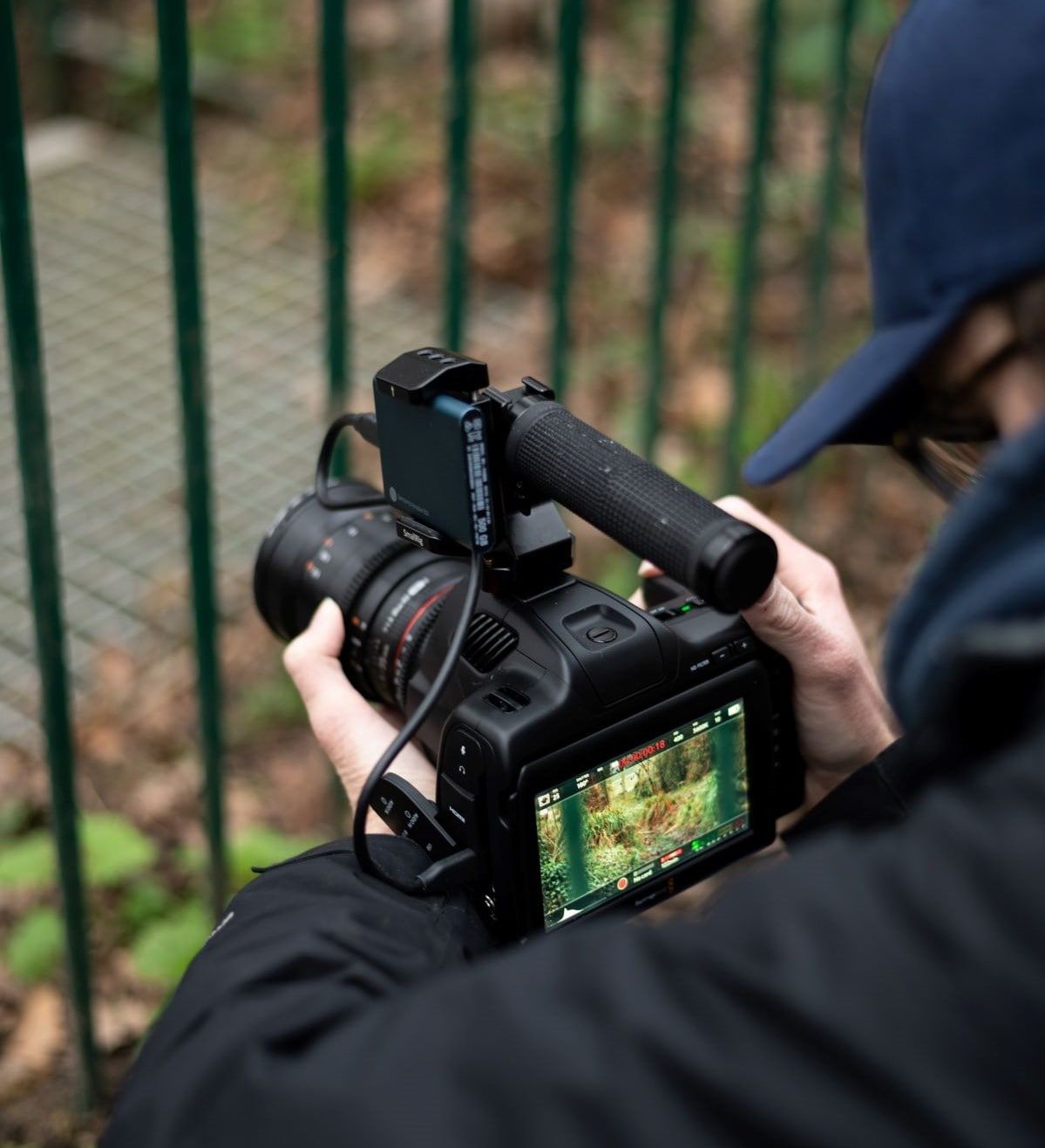 Blackmagic Pocket Cinema Camera 6K: Pros and cons
As with all camera equipment, picking the BMPCC 6K isn't without tradeoffs. Before you buy or rent any camera, learn about the strengths and weaknesses that it will present.
Advantages
Why choose the Blackmagic Pocket Cinema Camera 6K? There are several reasons. The biggest advantages of this model are:
Outstanding image quality
The image quality, as I mentioned, is one of the greatest driving forces for creators who choose the BMPCC 6K. With 6K resolution, stunning colors, and RAW capabilities, this camera outperforms mirrorless cameras in the same range.
Compatible with a wide range of lenses
The Pocket Cinema Camera 6K is compatible with a range of lenses with a Canon EF mount. Canon EF lenses are available for every budget, purpose, and shooting style.
The creators who already have a few in their collection can rejoice. This model will be compatible with their assortment.
Low price compared to other cinema cameras
The Blackmagic Pocket Cinema Camera 6K delivers excellent image quality and performance at a staggeringly low price compared to the competition. You can purchase it new for around $2,500 or rent the BMPCC 6K today.
Disadvantages
What would a Blackmagic Pocket Cinema Camera 6K review be without acknowledging the camera's shortcomings? Keep the following in mind if you decide to go with this camera.
Short battery life
It takes a lot to power this much performance, and unfortunately, the battery life takes a serious hit. If you plan on shooting a full day, you'll need around 6 batteries to be safely covered. The Blackmagic Pocket Cinema Camera 6K uses Canon LP-E6 batteries.
If you're well-prepared and have space in your kit, this can be more of a slight inconvenience. If you want the flexibility to shoot full-day vlogs without carrying several batteries, you might want to consider other cameras to rent.
Fixed screen
The BMPCC 6K features a sizeable 5-inch rear screen firmly fixed to the back. Depending on your shooting settings, this might get uncomfortable. The screen is also difficult to view outdoors, especially at an angle.
The Blackmagic Pocket Cinema Camera 6K Pro later upgraded the screen to tilt, making the shooting experience a bit more fluid and flexible.
Weak autofocus functions
When it comes to autofocus, the 6K falls behind the competition. The camera doesn't offer continuous AF with subject tracking, so focus hunting may significantly slow down your process.
It only lets you focus on a focal point in the center of the frame. This means that you'll have to manually pan towards your subject and back before recording.
Price and availability
The Blackmagic Pocket Cinema Camera 6K is a great value item for a pro-grade cinema camera. It delivers extreme performance and image quality at $2496. It's available worldwide from Blackmagic Design resellers or can be rented for a daily fee.
Closing thoughts
I hope you found this Blackmagic Pocket Cinema Camera 6K review helpful.
Did the camera win you over? If you're ready to give it a whirl, rent or subscribe to Blackmagic Pocket Cinema Camera 6K.
Camera Hire: Take Your Production to The Next Level
71PttfqWPXk
Camera Rental: Save Money with Wedio
5sHshmF1n_Y
Rent Camera Gear: Access Pro Equipment
qqHXJy6AWlc
Happy filming!
About the instructors
FAQ
Is the Blackmagic Pocket Cinema Camera 6K worth it?
The Blackmagic Pocket Cinema Camera 6K creates pro cinematic footage with excellent color in 6K. It's more affordable than a lot of its competitors, making it worthwhile for serious creators.
Is Blackmagic Pocket Cinema Camera 6K mirrorless?
The Blackmagic Pocket Cinema Camera 6K is a mirrorless camera that is intended for video.
Is Blackmagic Pocket Cinema Camera 6K full-frame?
The Blackmagic Pocket Cinema Camera 6K features a Super 35 sensor, not a full-frame one.
Can you take pictures with Blackmagic Pocket Cinema Camera 6K?
The Blackmagic Pocket Cinema Camera 6K takes stills as well as video, but its video recording capabilities way outshine its photos. It's ultimately a video camera.
Rent BMPCC 6k from local creators.
Save up to 40%.
Global Coverage included.
https://wedio-cdn.s3.eu-west-1.amazonaws.com/blog-images/Best+For/Affiliate+pictures/blackmagic-pocket-cinema-camera-6k-wedio.jpeg
https://www.wedio.com/en/blackmagic-pocket-cinema-camera-6k
Popular listings for rentals