Blackmagic Micro Cinema Camera: Why It's Favored by Filmmakers
Rent camera gear from local creators.
The Blackmagic Micro Cinema Camera is far from your run-of-the-mill action camera. This lightweight gadget is heavily favored by filmmakers looking for a portable solution with the highest image quality.
Learn about this pro-grade action cam or mini digital camera, including the specs, description, pros, and cons. I'll wrap up the Blackmagic Micro Cinema Camera review with the final verdict and seal of recommendation.
Interested in more gear? Read about the best camera equipment for your purpose and skill level.
Blackmagic Micro Cinema Camera key specs
What will you get if you choose the BMMCC? The main specs of this camera are:
Super 16 CMOS sensor,
Active Micro Four Thirds lens mount,
13-stops of dynamic range,
1080p recording, and
RAW footage capability.
Camera body & design
The build and camera body are impressive as we came to expect it from Blackmagic Design. The Micro has a fantastic build with a high-quality magnesium alloy chassis with solid lens- and battery mounts. It's extremely lightweight at 300 grams, fitting into any spot. Be mindful that the lens of your choice will add to the size and weight!
The camera body is simple and only features the essentials. It has six straightforward control buttons on the front of the equipment. It also houses cooling vents, an HDMI socket, and a 15 pin expansion port.
The Blackmagic Micro Cinema Camera offers four mounting options for tripods or other accessories and a separate mic and SD card slot.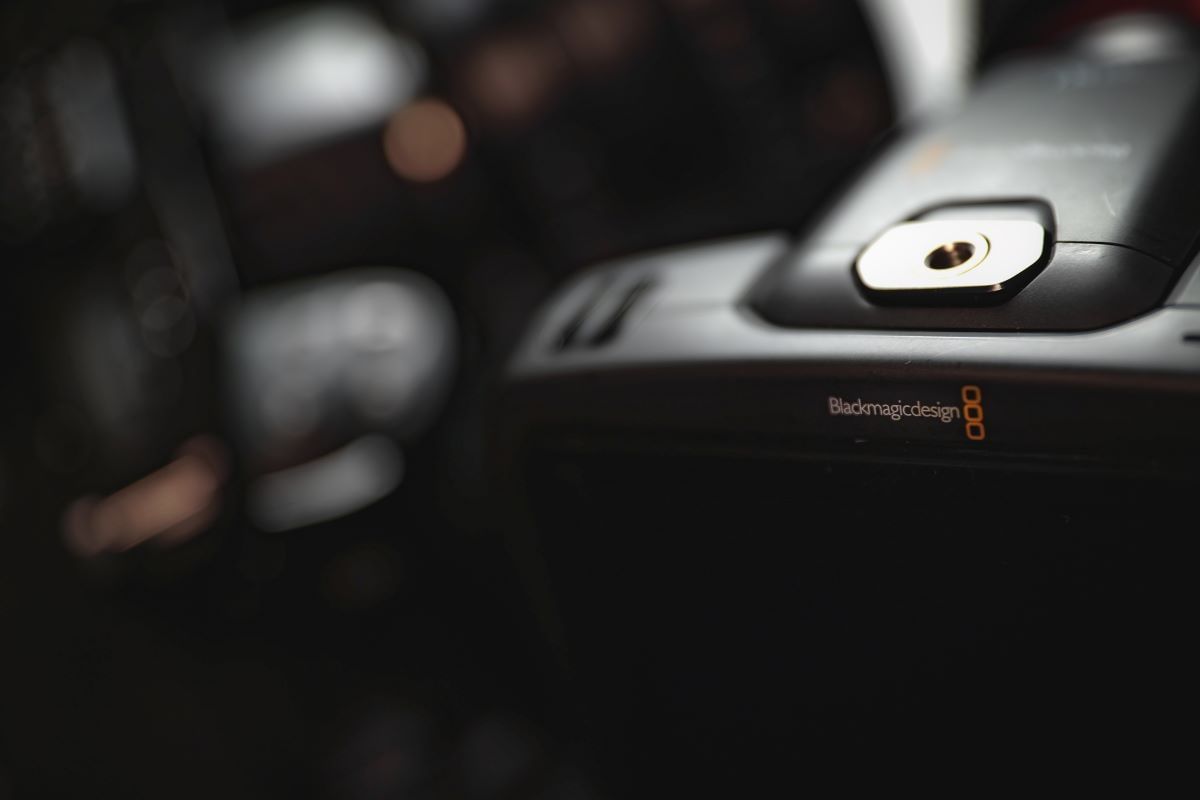 Image quality
In terms of image quality, the BMMCC delivers the stunning color and excellent noise performance we're used to from other Blackmagic cameras. The Micro records in 1080P and lacks 4K capabilities. It comes with a rolling and a global shutter which allows 1080p at 60fps and 30fps, respectively.
Recording in 60P is excellent for fast-moving or active settings like adventure sports or movie stunts. The image quality exceeds expectations and blows the competition out of the water.
Performance
The Micro is equipped with the same Super 16 sensor as the BMPCC. This means an effective sensor size of 12.48mm x 7.02 mm with improved tech compared to the brand's other versions.
The camera comes with a good feature set. ISO settings are somewhat limited to 200, 400, 800, and 1600 ISO, but this is no issue in the majority of shooting conditions.
RAW files
The Blackmagic Micro Cinema Camera is probably the smallest on the market with RAW capabilities. The RAW video output offers 13-stops of dynamic range similar to other Blackmagic cameras. This allows for excellent editing options and shooting in almost every condition.
With 800 ISO working perfectly for generic lighting conditions, the footage comes out clean and fixed pattern noise-free.
Blackmagic Micro Cinema Camera: Pros and cons
Like every camera, the BMMCC also comes with its own strengths and limitations. Keep the following pros and cons in mind when debating whether this is the camera for you.
Advantages:
Small Design
The portable, convenient design and size are certainly some of the most considerable advantages of this pro action camera. It allows for superb maneuverability and excellent mounting options. The Blackmagic Micro Cinema Camera is easy to attach to a drone or vehicle and can be used as a bodycam as well.
Wide range of third-party lenses
The Micro is super versatile, largely due to its compatibility with a range of third-party lenses. Super 16mm PL lenses, Canon L lenses, SLR Magic, and even vintage glass fit the camera easily. If you already have a collection of lenses, you may not need to invest in acquiring more specifically for the BMMCC.
Customizable
With the four ¼ -inch screw mounting points, you can customize your BMMCC with a range of mounts, mics, monitors, and other camera accessories. If you utilize the remote control feature, you'll find that this lightweight camera can and will do anything you dream of it.
Long-lasting battery life
Sought after in an action cam, the BMMCC features a long-lasting battery life. It's able to record up to 90 minutes of footage on a single charge. That's a big improvement from the BMPCC! Rather than including a monitor, the camera's back features an LP-E6 battery mount. With this, the camera can last up to even two hours!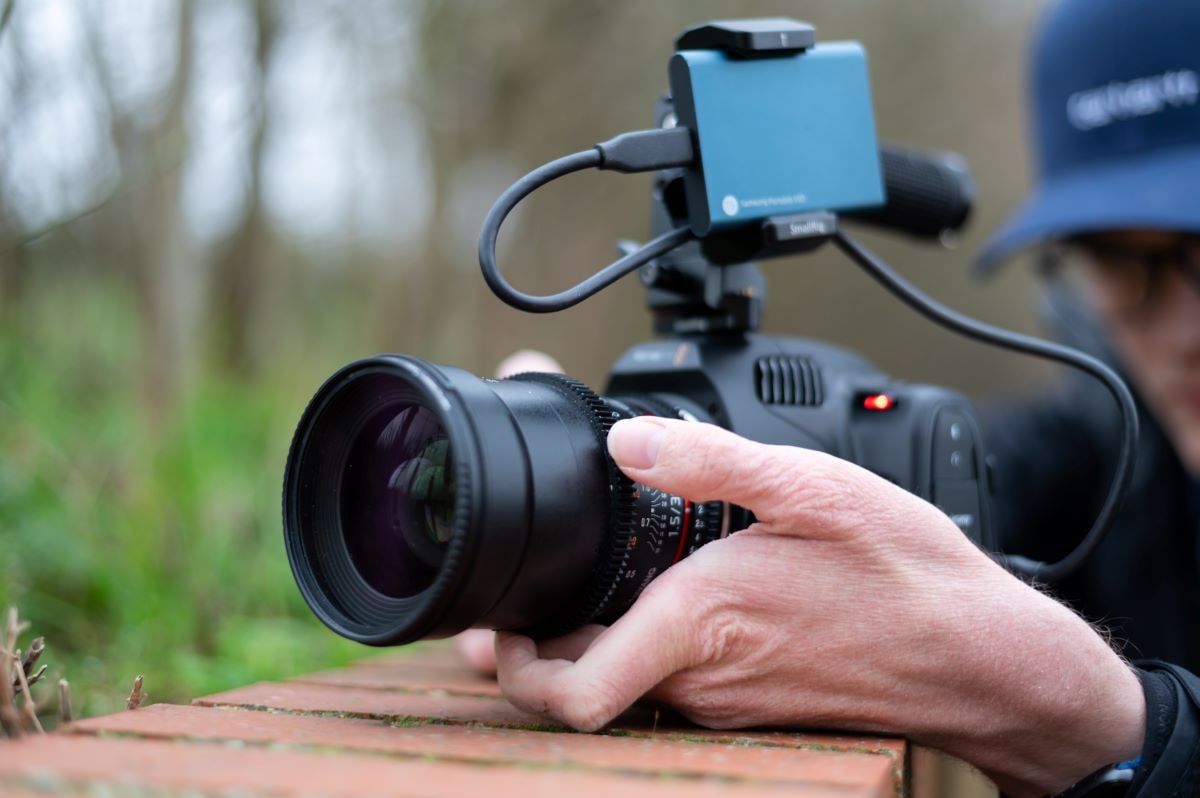 Disadvantages:
Requires memory card to record 60fps
If you wish to use the Micro to its full potential, you need to invest in a fast SD card. Otherwise, you'll suffer from skipped frames! The camera notifies filmmakers when this issue occurs. Look out for a flashing exclamation point at the top of the screen to know when frames are being dropped.
Doesn't include a screen
The BMMCC lacks a screen but can be rigged up with a monitor. If you want to use it as a small handheld camera, you need to mount an external screen to avoid the struggle.
Otherwise, you'll have to work with no feedback beyond the color LED indicator over the lens mount.
The lack of a screen certainly contributes to the steeper-than-usual learning curve compared to other cameras.
Small buttons
The six on-camera buttons can prove to be challenging to handle. Not only are they generally small, but they're also unhandy. You might find it difficult to manually control settings and hit the right buttons on the first try.
The BMMCC is clearly meant to be remotely controlled using the DB-HD15 expansion port with a wireless video transmitter or remote control. The front-facing buttons will only be an issue if you're recording without a remote.
Final verdict: Who should get the Blackmagic Micro Cinema Camera?
Based on everything discussed in this Blackmagic Micro Cinema Camera review, it's clear that this gear is not designed to be a general use camera.
While it features excellent imaging capabilities and records up to 60fps, it's too complex to learn and set up beyond specific purposes.
It is an outstanding option for creators looking for a pro-grade action camera willing to sacrifice the usual sturdiness for better image quality. It can be the perfect choice for action shots or as a hidden- or stunt camera.
If you're shooting a lot with a drone, you may consider upgrading your regular action cam with this.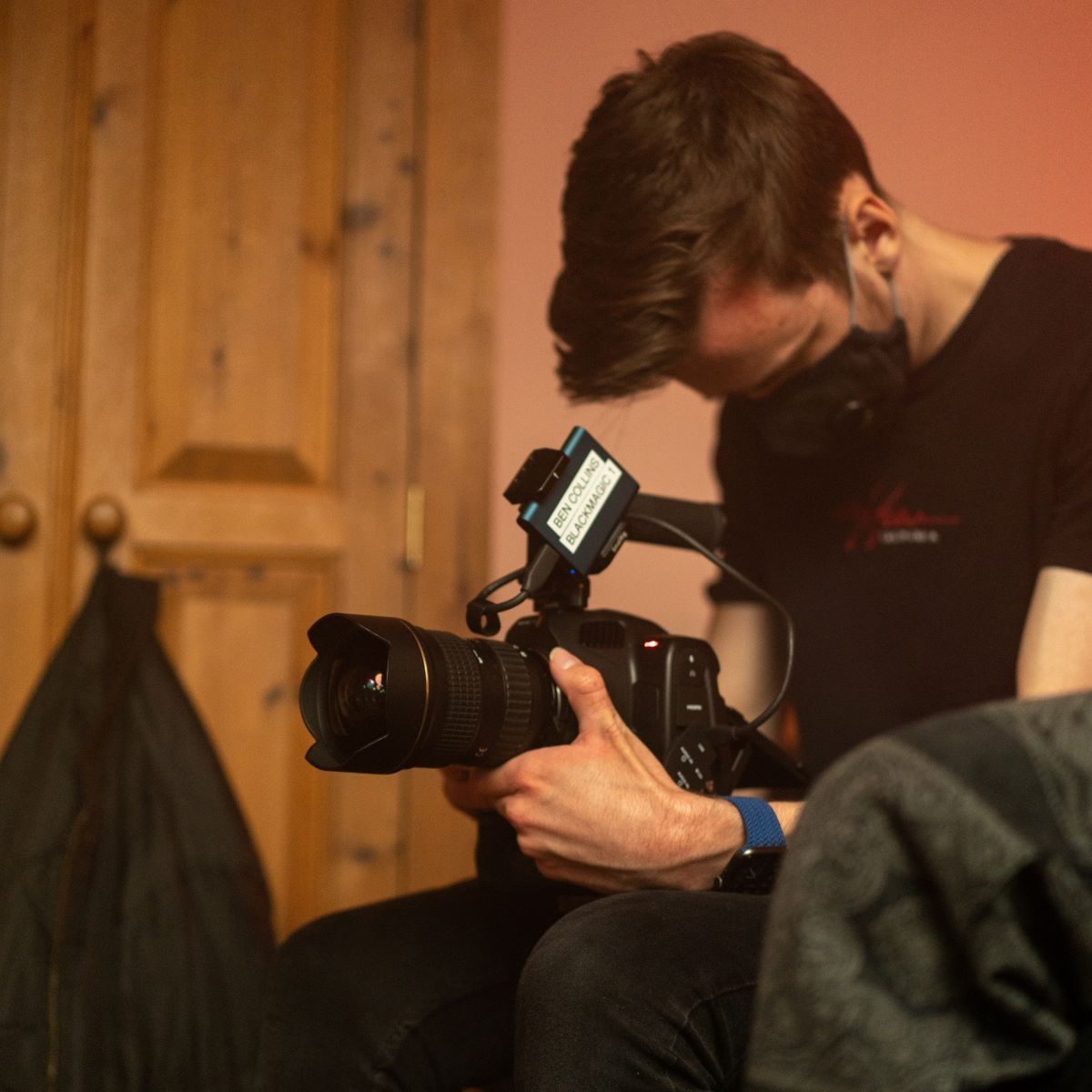 Rent or subscribe to a Blackmagic Micro Cinema Camera
If the Blackmagic Micro Cinema Camera won you over, consider renting or subscribing to one. Gain access today and explore the camera's capabilities for yourself.
Camera Hire: Take Your Production to The Next Level
71PttfqWPXk
Camera Rental: Save Money with Wedio
5sHshmF1n_Y
Rent Camera Gear: Access Pro Equipment
qqHXJy6AWlc
Looking to explore more? Learn about more camera equipment to find the gear of your dreams.
Happy filming!


FAQ
Are Blackmagic cameras good?
Blackmagic creates one of the best portable cinema-quality cameras on the market today. They're renowned in the industry for strong dynamic range and low light performance.
Is Blackmagic Micro Cinema Camera Netflix approved?
Netflix only approves full-frame cameras, and therefore the Micro doesn't make the cut.
Is Blackmagic Micro Cinema Camera full-frame
The Blackmagic Micro Cinema Camera isn't full-frame. It features a Super 16 sensor and a Micro Four Thirds system.
Can you use Canon lenses on Blackmagic Micro Cinema Cameras?
Blackmagic Micro Cinema Cameras are compatible with Canon L-mount lenses.
Rent BMMCC from local creators.
Save up to 40%.
Global Coverage included.
https://images.wedio.com/images/listing_images/images/1919428/300x215/rent_blackmagic_micro_cinema_camera__speedbooster___monitor.jpg
https://www.wedio.com/en/blackmagic-micro-cinema-camera
https://images.wedio.com/images/listing_images/images/1947254/300x215/-C7893.jpeg
https://www.wedio.com/en/blackmagic-micro-cinema-camera
https://images.wedio.com/images/listing_images/images/1937439/300x215/DSC01161.jpg
https://www.wedio.com/en/blackmagic-micro-cinema-camera
https://cdn.shopify.com/s/files/1/0274/0509/0954/products/hire-rent-or-subscribe-to-a-BM-Micro-CC-camera-from-local-lenders-with-insurance-from-wedio_300x.jpg?v=1592220621
https://www.wedio.com/en/blackmagic-micro-cinema-camera