Discover the Best Underwater Camera for Your Next Trip
No matter how still the water may look from above, avid snorkelers, scuba- and free divers can tell you that many secrets lie below. Are you an enthusiast looking to take pictures of the rich and exciting marine life, or perhaps hidden treasure? To master underwater photography, you need the best gear for your purpose.
If you have a passion for the oceans, I want to help you find the best underwater camera for your needs. In this article I will go through:
- What to look for in an underwater camera
- Best compact camera for underwater shots
- Best waterproof action cameras
- Best DSLRs for your underwater adventures
- Best underwater mirrorless cameras
- Disposable underwater cameras
- Summary and closing thoughts
After reading this article, you'll gain a better understanding of which camera is perfect for your next underwater adventure.
What to look for in an underwater camera
First and foremost, you'll need a camera that can withstand being underwater! You can choose a waterproof compact or action cam that's designed with underwater use in mind, or purchase housings to protect your mirrorless or DSLR. There are two kinds of waterproof housings available: thick, sealed plastic bags that protect up to 10-20m underwater, or bespoke housings for specific camera models. This latter option provides much better protection and allows you to take your camera to the depths of even 60m. Ikelite, Nauticam, Fantasea, or Olympus housings are great, reliable choices, so check them out for camera compatibility!
Besides making sure your camera can withstand the water you will need:
- Great image quality
- Excellent autofocus
- Manual controls
- Lightweight body
- Zoom capabilities
- Shooting in RAW format
If you've already headed down below with a camera, you probably know you can't compromise on image quality when taking pictures underwater. Great autofocus capabilities are also a must to catch the fast-moving sea life in action. You'll want a wide range of manual controls to compensate for the lighting conditions, and a small, lightweight camera body to minimize drag.
A good zoom or even a macro lens is necessary if you want to get up close and personal with small fish or a coral reef. And if you're looking to take professional underwater pictures, shooting in RAW might be necessary. Underwater light has a blue quality that can best be corrected in this format.
Another crucially important thing is your price range. Are you on a budget or looking to get started? Or are you ready to make a big investment for the best gear on the market? To cater to every case, I've put our picks for best underwater camera in categories based on different camera types.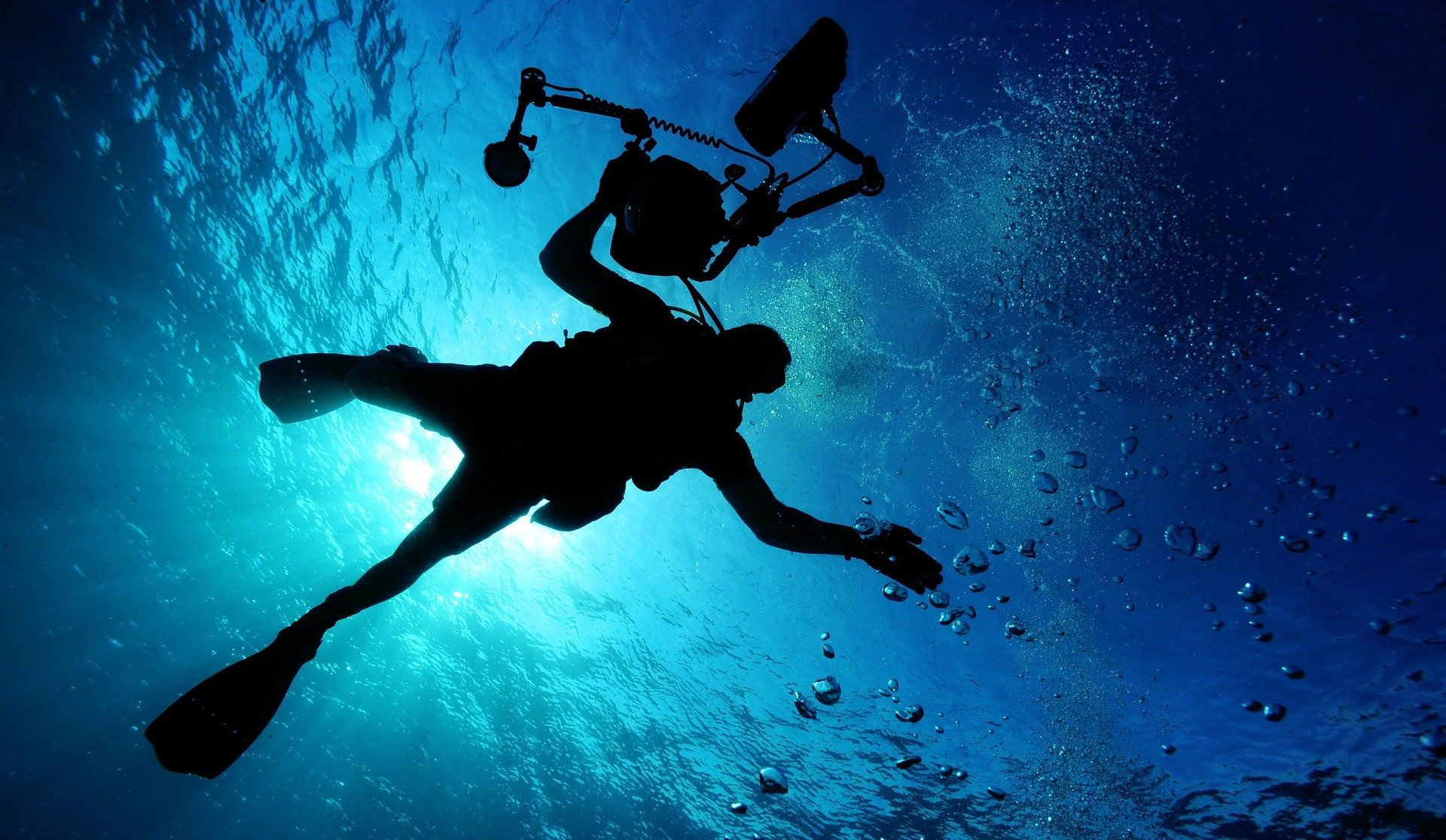 Best compact camera for underwater shots
Compact cameras evolved greatly in the past few years, and they take better quality images than ever while offering a wide range of accessories. They provide manual controls and better AF speeds while keeping size and cost down. If you're looking for a lightweight champion, here are the best compact cameras for underwater shooting in 2022:
Best waterproof action cameras
Waterproof cameras dominated the underwater gear market for a while. GoPros and other action cameras are a terrific choice if you need an option suited for every adventure - not just your underwater ones. Action cams are extremely user-friendly and offer built-in waterproofing, so you don't have to worry about housing. If you're looking for an extremely lightweight and easy to use option, here's my selection of the best waterproof action cameras:
Best DSLRs for your underwater adventures
For the best image quality with the most mature technology, DSLRs are the solution. They're versatile, offering a wide range of interchangeable lenses and extremely fast focusing speeds – but you'll likely need to purchase waterproof housing to take this gear underwater with you. If you're willing to invest to get your money's worth, here are the best DSLR cameras:
Best underwater mirrorless cameras
Mirrorless cameras are taking over DSLRs in popularity. They have a less complicated internal structure, which leaves room for excellent in-body image stabilization and autofocus system, while still staying less bulky than a DSLR. They'll still need underwater housing, but they're the best option if you want cutting-edge technology in a compact form. These are the best mirrorless cameras for underwater use in 2022:
Disposable underwater cameras
Disposable cameras are the perfect choice if you're on the budget, or perhaps the clumsy type – and they're perfectly suited for children as well. They're usually quite tough, as they are shock or impact-resistant, but they do compromise on the image quality, especially underwater. If you're willing to wait for your vacation pictures to develop, you should try the Fujifilm Quicksnap Marine or the Kodak Sport Underwater. They both provide decent quality pictures without breaking your bank.
Summary
Ready to dive in? The best underwater camera for you is out there. Consider your budget, preferences, and experience level to find it.
Do you want to avoid the up-front investment, or perhaps only have gear for your vacation? Consider renting a camera, or subscribing to one.