Discover the 3 Best RED Digital Cinema Cameras for 2023 Here
Rent film gear from local filmmakers.
Rent film gear from local filmmakers.
Who are RED cameras designed for?
RED cameras are not for the everyday school project and definitely unnecessary if you're just looking to win a little prize money from the "America's Funniest Home Videos" program. The best RED cameras are exclusively designed for the professional filmmaker.
Back in 2007, RED cameras were the new kid on the block. Before RED cameras, cinematographers had been perfectly settled with the old guards of cinematography like Panasonic, Sony and Canon. However, filmmakers quickly realised that the best RED cameras weren't just the "girl next door". It became the kind of camera that made heads turn and left many jaws on the floor.
RED cameras are designed to capture the highest quality in video possible. They can capture footage that meets the professional standards – and even higher. 4K is generally ultra-high-definition, and for many semi-professional filmmakers, considered to be top-notch. However, with most of the best RED cameras, you can go even higher than 4K; that's when you know you've entered Hollywood territory.
Top 3 best RED cameras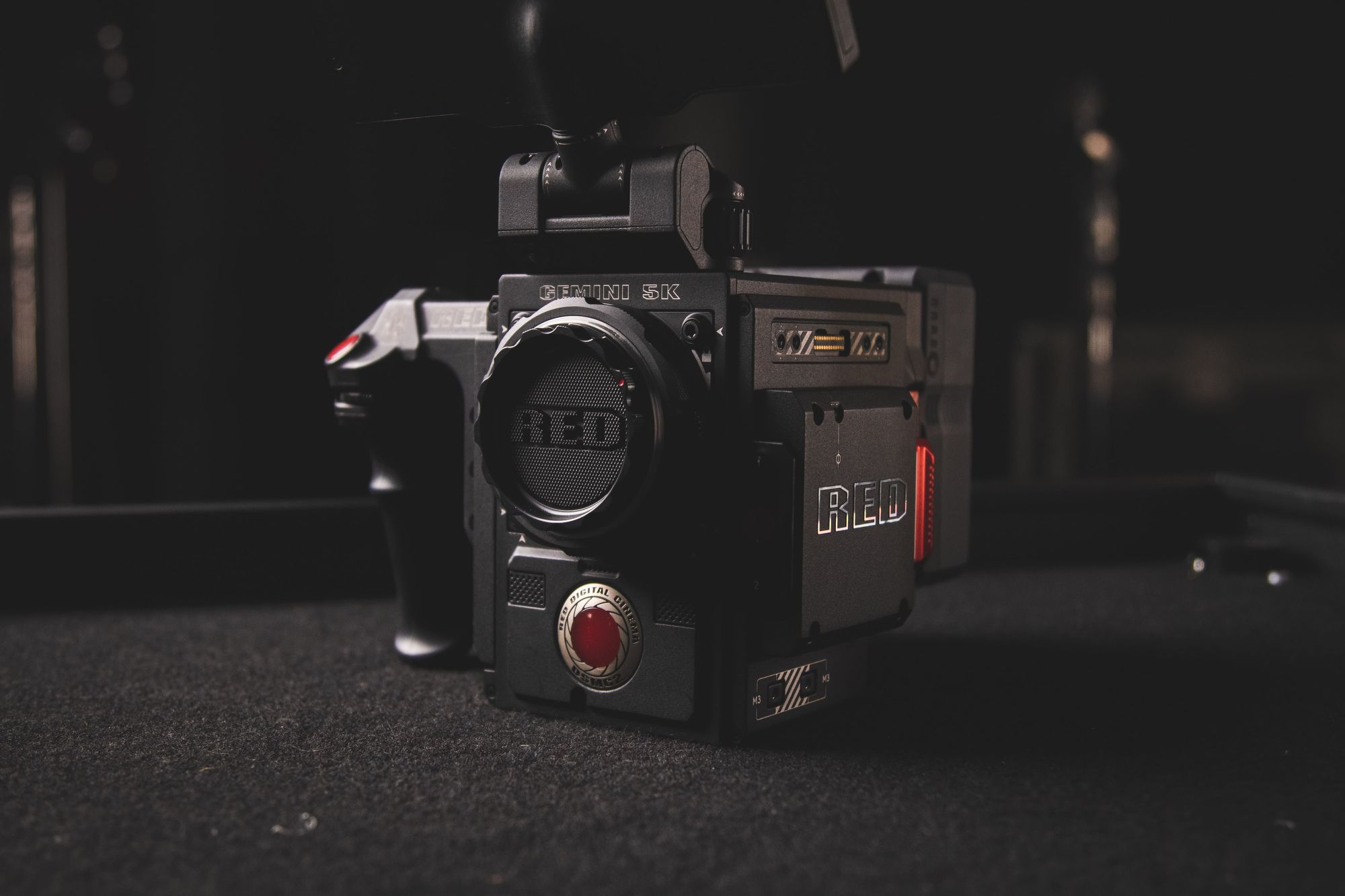 RED Ranger
The RED Ranger shares the same components and accessories as some of the other RED models, mainly the 8K Monstro, which uses the same Vista Vision sensor.
Unlike REDs previous models, the RED Ranger is single-purposed. None of the current expander modules is compatible with the Ranger. There's a plus about this, though. As the company sought to make the Ranger a high-end studio camera, the modules needed are built into it, making the camera fully functional on its own. Furthermore, the RED Ranger has more precise internal shimming designed for and only compatible with PL mount lenses.
The RED Ranger features the same compact, standardised camera body, no matter which sensor you choose. It weighs around 7.5 pounds and comes with a complete comprehensive I/O array to satisfy power-hungry studio configurations. The Ranger also boasts a large fan for quiet and more efficient temperature management.
Ranger specs:
Integrated I/O's
24V & 12V power outs (two of each)
Three SDI outputs (two mirrored and one independent)
Support for wider input voltage (11.5-32V)
12V P-Tap port
Genlock, timecode, USB, and control
Available in V-Lock or Gold Mount variants
Integrated 5-pin XLR stereo audio input (line/mic/+48V selectable)
Who should get the RED Ranger?
With the Ranger, RED is popping their cherry. The RED Ranger is their first time having a RED camera only available for rental. It's designed for demanding studio work and for filmmakers with a high budget. Suppose you're already familiar with various RED configurations and are familiar with the workflow, colour science and so on. In that case, the RED Ranger will give you a complete package to use on larger-stake projects that demand consistency, reliability and performance.
RED Gemini 5K
Pegged as the "flexible" option in the RED camera lineup. The RED Gemini 5K has two shooting modes, one is a standard mode with a native ISO of 800, and the other is a low-light mode with a native ISO of 3200. And just to clarify, its low-light mode is nothing but spectacular. While its low-light feature is excellent for shooting concerts or documentary filmmaking, the standard mode keeps its excellency in digital cinema and narrative filmmaking.
The RED Gemini has a 5K resolution up to 96fps and an S35 Sensor that allows you 4K proxies in ProRes/DNx – everything done internally. The Gemini provides the same 4K resolution at 120fps as of the RED Helium and Monstro 8K. This means you can capture slow-motion video with the same quality without paying for the extra 3K resolution (sweet!). Instead of opting for the Monstro's 8K resolution, the Gemini adds dual sensitivity modes – giving you the best of both worlds in a camera.
Gemini specs:
MP: 15.4 Dual Sensitivity CMOS Sensor
Size: 30.72 mm x 18 mm (Diagonal: 35.61 mm)
96 fps at 5K Full Format (5120 × 2700)
75 fps at 5K Full Height 1.7:1 (5120 × 3000)
4K up to 30fps or 2K up to 120fps in ProRes or Avid DNx
S35 sensor (30.72mm x 18mm) (5120×3000 pixels)
Interchangeable lens mount
Dynamic range; 16.5+ stops
Allow simultaneous recording of R3D plus ProRes or Avid DNx up to 300MB/s using the 480 or 960 GB mini-mags (225 MB/s if using (120GB & 240GB)
Who should get the RED Gemini 5K?
If you want a RED camera that's good for various filmmaking purposes, then the RED Gemini 5K is an excellent choice. As it provides you with both excellent resolution as well as one-of-a-kind low light performance – I did mention the "best-of-both-worlds" part, right? Well, this was what I was referring to. Of course, there's no "one size fits all" when it comes to a camera. Still, if you are looking for a RAW codec ecosystem, the RED Gemini 5K delivers.
RED Komodo 6K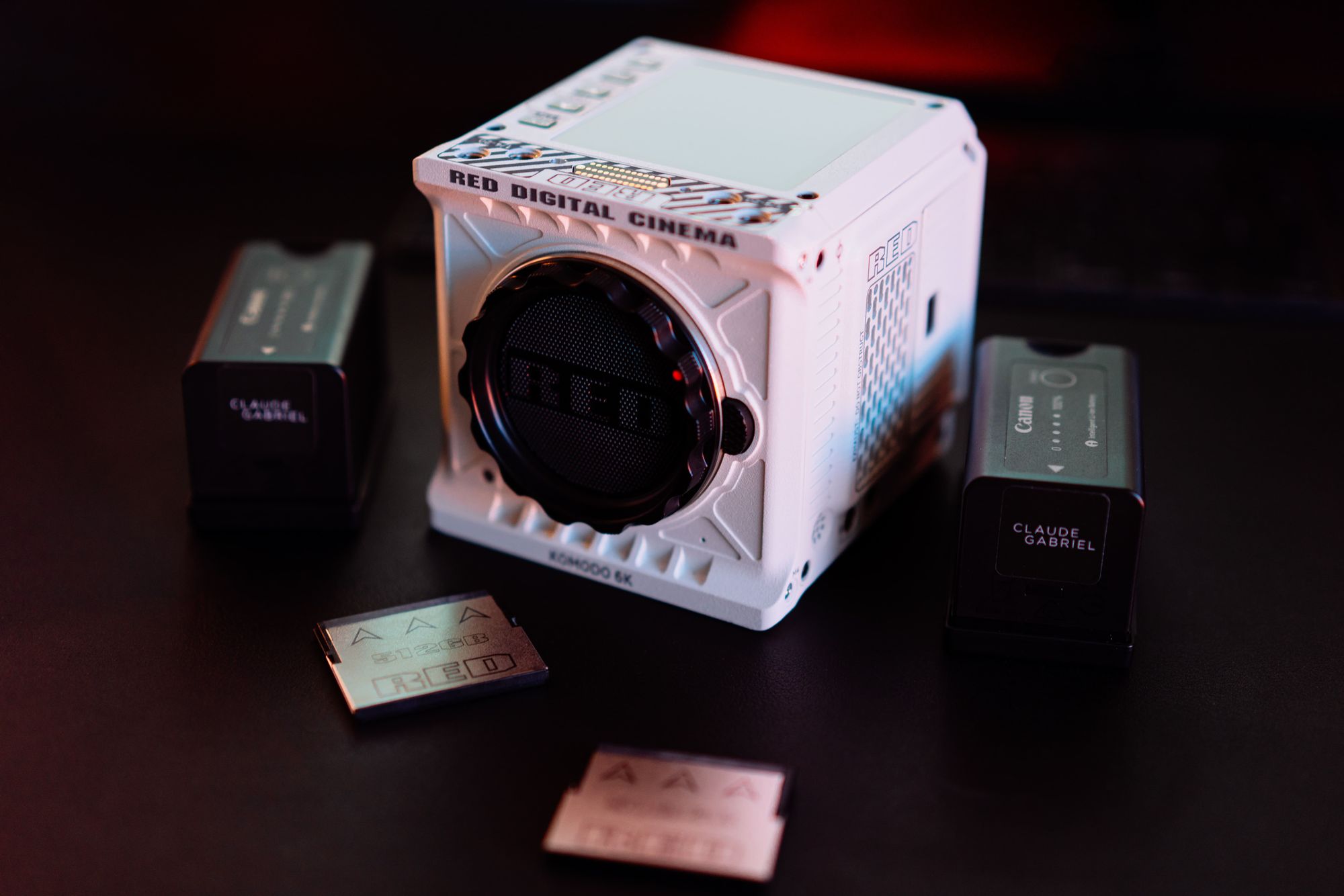 The RED Komodo 6K is one of the brands hottest and newest models in the cinema camera space. Its global shutter sensor makes no sacrifice in dynamic range, making the Komodo 6K a unique offering in the cinema camera landscape. The global shutter sensor renders a very natural feel with handheld footage. With the Komodo, RED combines the brands' legendary image quality and colour science into an ultra-compact design that weighs just 2.1lb. It uses a Canon RF lens mount and a 19.9 MP Super35 CMOS sensor. Its sensor creates images with 16+ stops of dynamic range. You can enjoy video resolution up to 6K at 40fps, 5K at 48fps, 4K at 60fps and 2K at 120fps in REDCODE RAW for great flexibility in post-production.
The Komodo 6K is a highly compact all-in-one design. Pop in a CFast 2.0 card into the cameras media slot, and you're ready to shoot with data rates up to 280 MB/s.
Komodo specs:
Dynamic range of 16+ stops and a resolution of 6144 x 3160
6K Super35 19.9MP CMOS sensor
Global shutter to reduce motion artefacts
Includes two lightweight Canon BP-9 batteries / AC power supply
CFast recording at rates up to 280 MB/s on RED PRO
REDCODE RAW file format
Supports 3D LUTs and RED colour science
Integrated 2.9" touchscreen LCD screen for preview and camera control
Who should get the RED Komodo 6K?
It goes without saying, 6K video resolution – that's a whole lot of resolution, enough to go around for (almost) everybody. So, suppose you're not planning to film the new Tenet or next Games of Thrones (it's about time Daenerys Targaryen gets a reboot). In that case, you probably don't need a Komodo 6K. It's a camera made for the serious filmmaker who wants extraordinarily sharp and crisp footage – in which case the RED Komodo 6K is the way to go.
RED camera & product history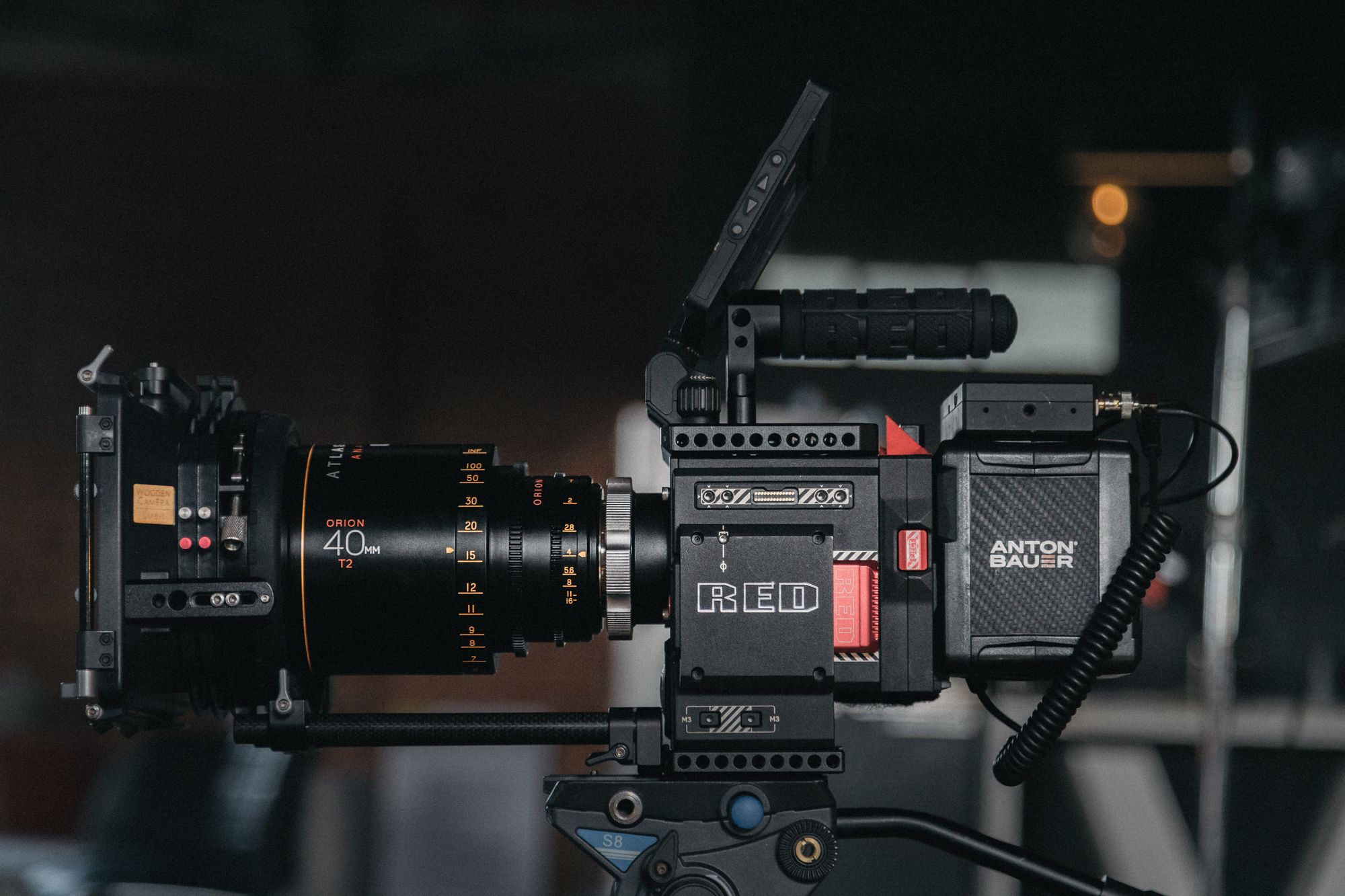 So, you've looked at some of the best RED cameras, and you're ready to start shooting on the best RED cameras? Well, it always starts like that. Then you dig a little deeper into the world of RED and start discovering models like the Weapon 8K and Raven and what's the Dragon about? (no, not talking about "Mushu" from Mulan).
And so the question stands – which models are the best RED cameras? How can you possibly answer that, if you don't know what's a camera, a sensor or even an integrated kit?
Let's hash it out and look at some common RED camera lingo:
RED One
The RED One is a camera body, brain, and sensor – everything in one. In 2007 when RED first saw the public light – the RED One was the one *pun intended. The model provides the same image quality as 35mm film. However, most filmmakers would prefer something in the ARRI camera lineup if you're going up at this price point.
RED Epic
The RED Epic is a camera body and brain. It was the follow-up from the RED One and originally featured an M-X sensor. However, you can upgrade the sensor with both a Dragon-, Helium-, or Gemini sensor. Despite being an oldie (but goldie), its frame rate capability is higher than the RED Scarlet.
RED Scarlet
The RED Scarlet is also one of RED's camera body and brain. It was initially built to compete with cameras like the Canon C300 (that should tell you… it's been a while) but had fewer capabilities than the RED Epic. RED later made it possible to use the Dragon 5K sensor for the Scarlet but ended in worse image quality than the RED 6K Dragon from 2013.
Still with me?
RED Dragon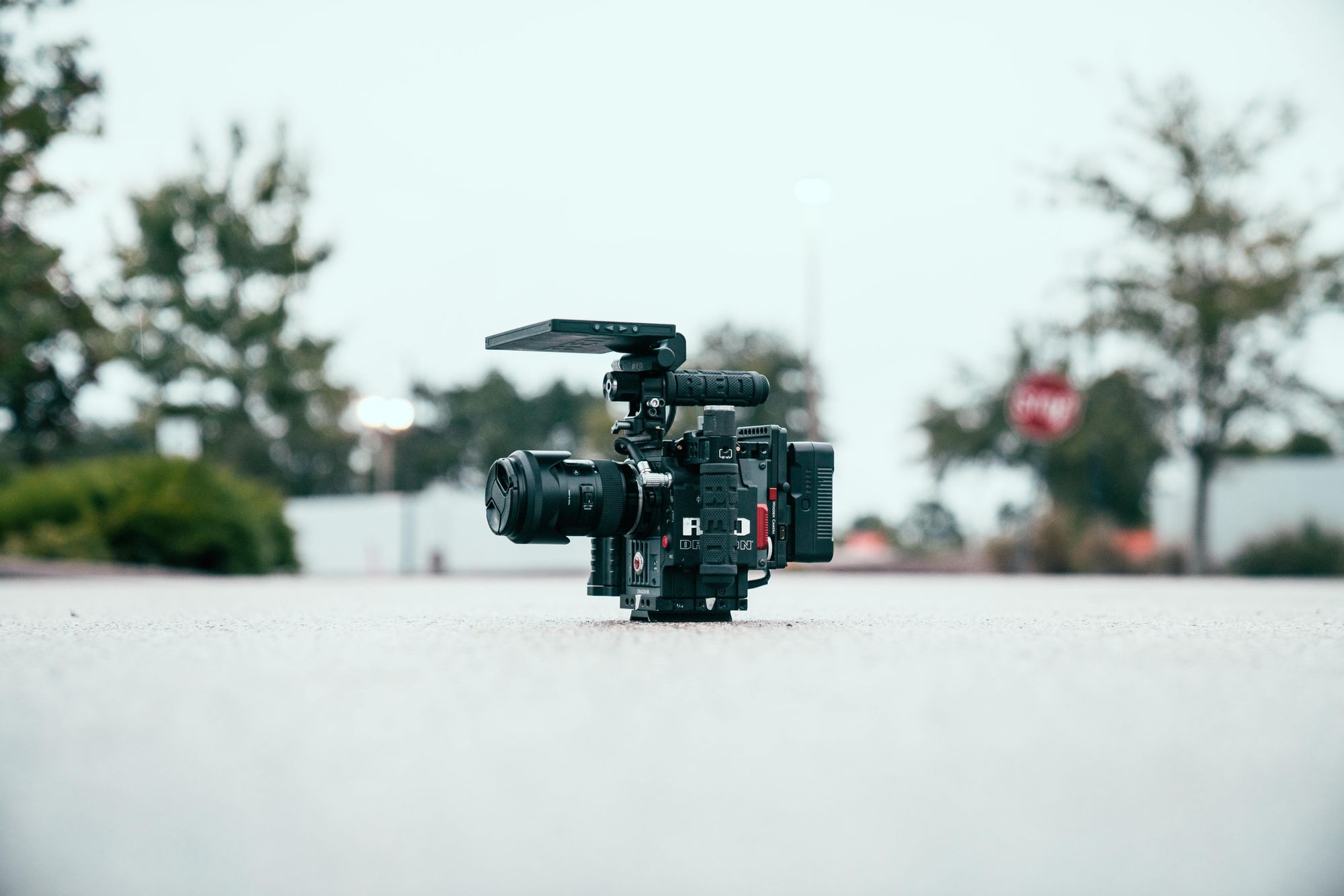 The RED Dragon is "only" a sensor. It was initially only available in 6K, but then RED decided that 6K couldn't do it and took it up to 8K, and when that didn't work, they scaled it back down to 5K. However, not before they improved and rebranded the Dragon 8K into the Monstro 8K. I know it's messy – but you wanted a trip down memory lane, so here we are.
RED Raven
The RED Raven isn't produced anymore. Should you ever come by it, you'll be seeing an integrated camera kit that used the Raven brain and the RED Dragon-X sensor. It's a discontinued integrated kit that carries the original Dragon sensor but with 4.5K resolution, a fixed EF lens mount, and ultimately kickstarted REDs movement into the DSMC2 brain.
RED Weapon
Although RED doesn't sell the Weapon model, you'll most likely meet the model from time to time. However, RED only sells the DSMC2 body and brain with the upgraded Monstro and Helium 8K sensors or the Gemini and Dragon-X 5K sensors.
RED Ranger
Like the Raven, the RED Ranger is an integrated camera kit that uses the DSMC2 body and brain with the Monstro 8K VV sensor. It's an exceptional camera for those types of project you want to stand out—projects like high-end sporting events (remember the Olympics?) or documentary filmmaking.
REDCINE-X Pro
The REDCINE-X Pro – a clever pond of words or some kind of medicine? Let's stick to filmmaking! REDCINE-X Pro is a free-of-charge post-processing software built for RED camera systems. It has an integrated timeline, colouring toolset, and post effects software that allows for non-destructive manipulation of RAW R3D files.
RED Rocket
RED Rocket came up when the brand decided to build an internal PCI Express card. Its purpose is to accelerate the processing of R3D workflow, regardless of the resolution.
Which RED model is the one for you?
Now that you've become familiar with some of the best RED cameras, get your hands on the one that suits your specific filming needs.
Rent or subscribe to the best RED cameras out there.
Rent Camera Gear: Access Pro Equipment
qqHXJy6AWlc
Camera Hire: Take Your Production to The Next Level
71PttfqWPXk
Camera Rental: Save Money with Wedio
5sHshmF1n_Y
About the instructors
RED camera FAQ
Why is RED camera the best?
RED cameras are designed to capture the highest quality in video possible. They can capture footage that meets the professional standards – and even higher. 4K is generally ultra-high-definition, and for many semi-professional filmmakers, considered to be top-notch.
What is the least expensive RED camera?
The least expensive RED Camera is the RED Komodo 6K.
It is a highly compact all-in-one design. Pop in a CFast 2.0 card into the cameras media slot, and you're ready to shoot with data rates up to 280 MB/s.
Where can I rent a RED camera?
You can easily rent a RED Camera on sites like Wedio.
Rent RED cameras from local creators.
Save up to 40%.
Global Coverage included.
https://images.wedio.com/images/listing_images/images/1921066/thumb/01.jpg
https://www.wedio.com/en/rent/red-cameras
https://images.wedio.com/images/listing_images/images/1916866/thumb/70867e8619bb60499ae52d2a09632e8d.jpg
https://www.wedio.com/en/rent/red-cameras
https://images.wedio.com/images/listing_images/images/1928903/big/P1003986.JPG
https://www.wedio.com/en/rent/red-cameras
https://images.wedio.com/images/listing_images/images/1933593/big/red-digitalcinema79005463pkscarletwbrainwith3pack15051441791347387.jpg
https://www.wedio.com/en/rent/red-cameras
Popular listings for rentals