9 of the Best Mic Stands for a Perfect Audio Setup
Rent film gear from local filmmakers.
Rent film gear from local filmmakers.
The mic stand is a widely underestimated sound gear type, often pushed back to the end of a shopping list when buying new camera equipment.
And that's a big mistake! Mic stands are those quiet supporters of an essential thing in your music or podcast recording process - they ensure the mic stands in a secured position and provides its best results.
We've prepared a complete guide to mic stands - 6 main types, main features to consider, and the top 9 best mic stands in 2023!
6 types of mic stands to know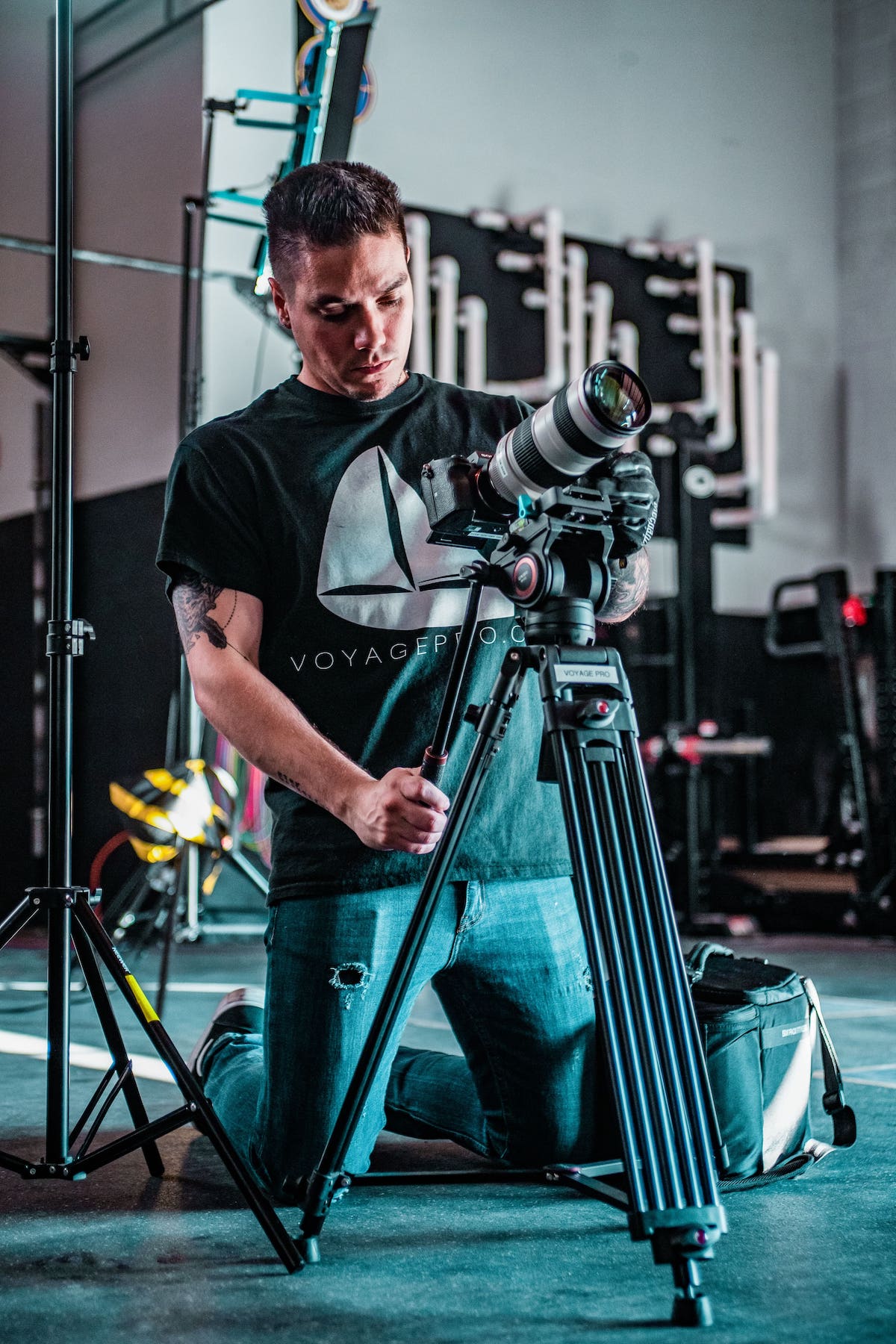 1. Tripod
Tripod stands are among the most common microphone stands, often considered standard stands due to their popularity and diverse applications.
Feature three collapsible legs at the base, providing stability for the stand
Have an adjustable straight pole
Possible to adjust height and positioning
2. Tripod boom
Like standard tripod stands, tripod boom stands pride themselves on stability and broad applications - but they have few differences from regular tripod stands.
It uses three legs at the base to provide a stable platform.
Have a vertical pole attached to a boom arm
Commonly used in environments where extra space is needed, like a music performance
3. Desktop
Desktop microphone stands are a common choice for home studio recordings.
Portable and easy to adjust
Some models use a small-scale tripod or round base to minimize the movement
Other models clip to a desk or connect to a keyboard
4. Round base
Round-base stands are frequently used for stage installations and other high-traffic environments.
Feature a stable circular or dome-shaped base
Smaller bases make it possible to get closer to the microphone
It can usually be adjusted for height and position
5. Low profile
Low-profile stands are the smaller versions of tripod boom stands.
Function the same as tripod boom stands, just everything about them is shorter
Commonly used for kick drums and guitar cabs
6. Overhead
Overhead stands are exceptionally sturdy and provide high stability in complex audio environments.
Feature several steel legs with lockable wheels
Use a vertical pole attached to a far-reaching boom arm
Perfect for professional use in complex or crowded spaces
9 best mic stands for the best miking setup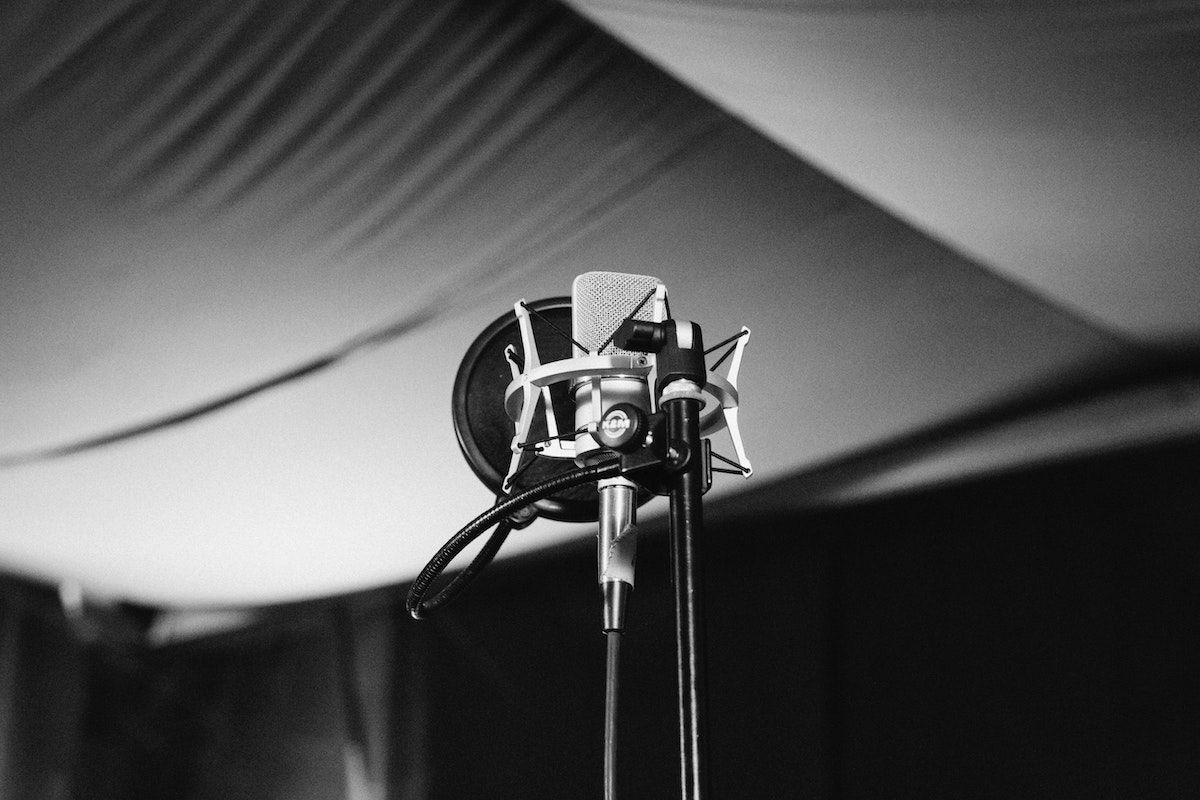 1. Ultimate Support MC-125
This mic stand is perfect for musicians and sound creators who use top-notch equipment.
Equipped with great adjustable features, the Ultimate Support MC-125 has a stable base of a hybrid round and tripod design.
In addition, the stand is lockable for better reliability, and its flexible structure allows you to sit your mic securely in one position without worrying about falls or breaks.
Key features:
Stand height (with Casters): 1308 mm - 2102 mm
Boom Length: 889 mm - 1549 mm
Caster Diameter: 95 mm
Base Diameter: 572 mm
Weight: 15.88 kg
Type: tripod boom stand
Dimensions: 61 x 3.75 x 3.75 inches
Pros:
Stable build
Good mechanics with counterbalance
Hugely extendable
Cons:
2. Samson MK10 Lightweight Microphone Boom Stand
The Samson MK10 is a lightweight, as the name suggests, and affordable stand of incredible durability and portability.
It's a perfect option for creators, frequent travelers, and home mic users.
The MK10 is made of reasonable height and is supported by a trustworthy base. It also features a cable clip, allowing you to keep wires neat.
Key features:
Height: 0.64 to 1.07 m
Collapsed size: 63.50 cm
Adjustment type: twist clutch
Leg sections: 3
Boom length: 60.96 cm
Type: tripod boom stand
Dimensions: 25.5 x 3.5 x 3 inches
Pros:
Lightweight and compact
Easy to use and store
Affordable
Cons:
It will struggle with heavyweight mics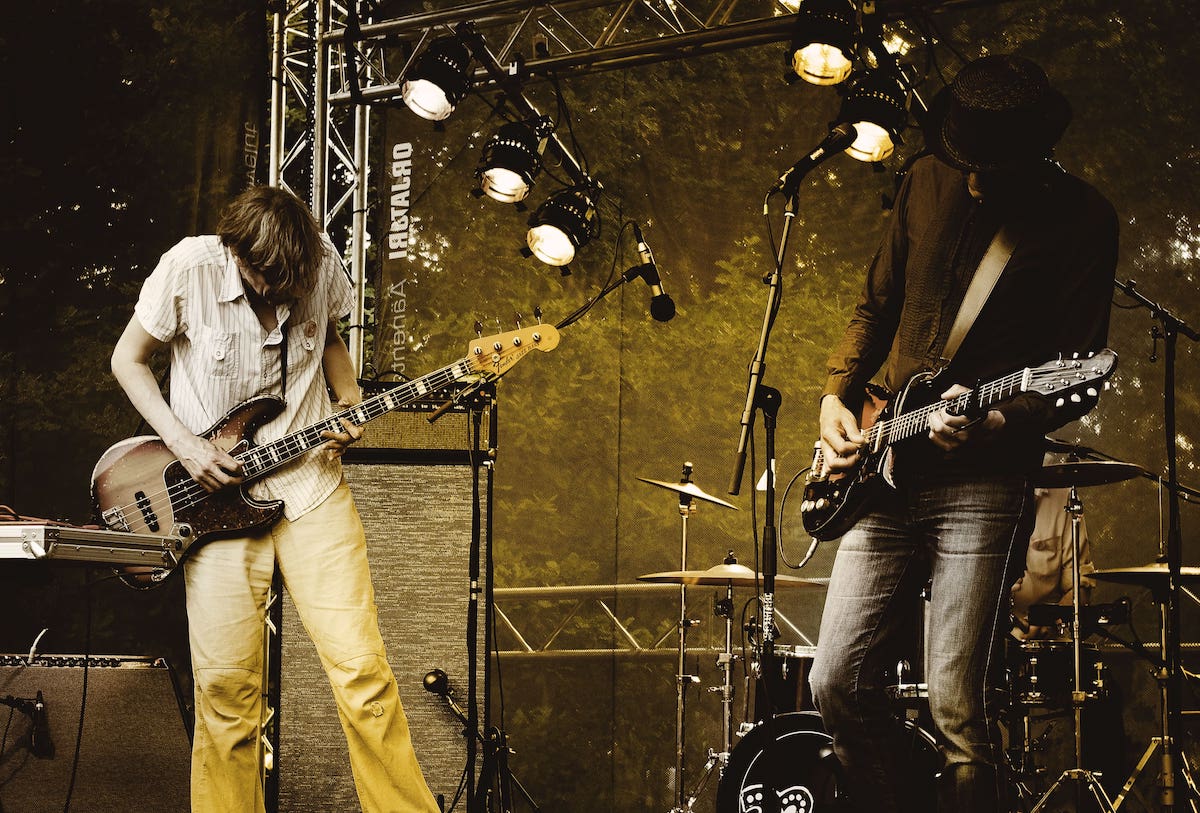 3. AtlasIED MS-10C
The AtlasIED MS-10C is a simple and practical mic stand that uses a round base to stabilize and prevent tripping hazards.
Its strong structure and height adjustments were designed for stage and studio use.
The AtltasIED also features replaceable elements and accessories, which makes it an excellent long-term investment.
Key features:
Height: 35" to 63"
Material: Steel
Base size: 10 Diameter
Weight: 5.1kg
Shockproof
Antivibration
Type: round-base stand
Dimensions: 32.5 x 12.5 x 2 inches
Pros:
Beautiful chrome-plated finish
Sturdy
Easy height adjustment
Cons:
4. Hercules Tripod Base Hideaway Boom Stand MS533B
The Hercules MS533B offers various innovative features that help you make your performance as straightforward as possible.
For example, this mic stand comes with an instant mic attachment, meaning you'll have to push the lever up or down based on your preferences, and you will be able to mount it in a matter of seconds.
The latest 2-in-1 Boom Clamp, meanwhile, provides the ability to adjust the boom angle and length at the same time.
Key features:
Boom length: 78.0 cm
Height range: 107.0 to 240.0 cm
Base radius: 34.0 cm
Folded size: 980 mm x 95 mm x 95 mm
Weight: 2.5kg
Type: Tripod-base boom stand
Dimensions: 38.0 x 3.7 x 3.7 inches
Pros:
Unique hideaway boom
Well-engineered and versatile
Fast adjustments
Cons:
5. RØDE PSA1 Microphone Studio Arm
The RODE PSA1 is a perfect mic stand for podcasters and broadcasters as it combines boom arm design with desktop positioning and features a 360-degree swivel.
This stand has a sleek, highly aesthetic design and allows easy adjustments. The mic position can be adjusted instantly without needing to loosen or tighten anything.
Key features:
Total reach: 82cm
Boom angle: Adjustable
Rotation range: 360°
Load capacity: 0.7 to 1.1 kg
Weight: 1.74 kg
Type: desktop boom stand
Dimensions: 20.9 x 8.4 x 3.2 inches
Pros:
Instant, noise-free adjustment
Professional look
Dual mounting options
Cons: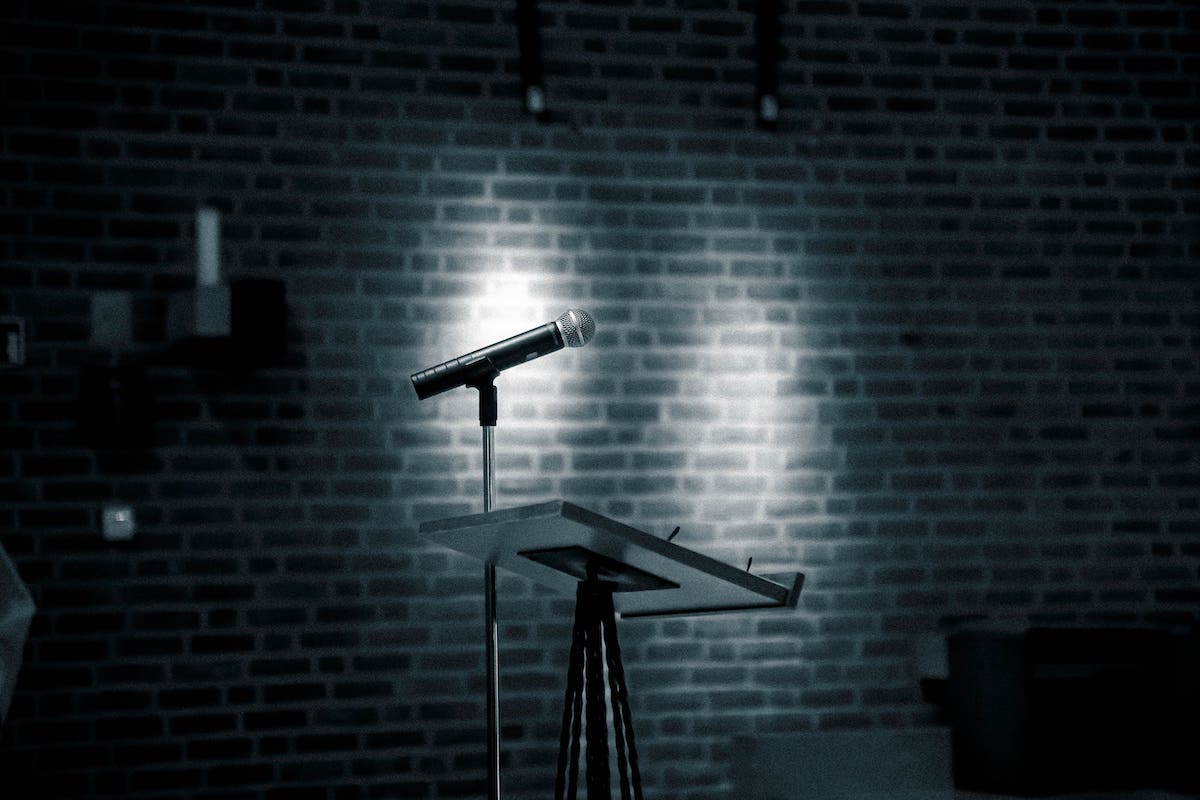 6. On Stage DS7200QRB Quick-Release Desktop Mic Stand
The On Stage DS7200QRB is a small stand created for desktop use in small spaces.
It's ideal for podcasters and home studio applications, with its solid design and steel base suit heavy mics. This mic stand can easily adjust and adapt to your environment and requirements.
Key features:
Thread: 5/ 8"
Stand height: 24.1 to 40.6 cm
Base diameter: 15 cm
Weight: 0.9 kg
Quik-release trigger clutch
Type: round-base desktop stand
Dimensions: 6 x 6 inches
Pros:
Great value
Quick-release trigger clutch
Solid build quality
Cons:
Not always readily available
7. LyxPro Desktop Microphone Stand
This LyxPro microphone stand was specifically designed for desktop use.
Equipped with a round cast iron base, the stand provides a lot of stability, while its robust locking mechanism for height adjustments allow for better flexibility.
The LyxPro mic stand also copes well with heavy microphones.
Key features:
Thread: 3/ 8"
Adaptor: 5/8"
Adjustable height 9 "-14."
Weight: 2.87 kg
Cast iron weighted base
Type: desktop stand
Dimensions: 33 x 4 x 4 inches
Pros:
Well-built and stable
It has a variety of uses
Cons:
Isn't suitable for every environment
8. On-Stage MS7701B Tripod Microphone Boom Stand
The On Stage MS7701B is an excellent example of a classic tripod boom mic stand.
Its design features a height adjustment clutch, foldable legs, and a boom clamp, which are the basic elements of such a stand type and also the ones that make it easy to use.
The build is solid, and everything tightens up nicely to hold the mic steady in one place.
Key features:
Height: 32"-61.5"
Base spread: 23"
Boom length: 30"
Thread: 5/8"-27"
Weight: 2.24 kg
Type: tripod boom stand
Dimensions: 32.5 x 4 x 4.25 inches
Pros:
A good level of adjustments
Cost-effective price
Sturdy and portable
Cons:
Struggles with heavier mics
9. K&M Microphone Stand With Telescopic Boom Arm
K&M, also known as König & Meyer, is one of the most prominent players in the mic stands market, so you can expect a quality product if you see their brand stamped on gear.
This mic stand with a telescopic boom arm is known for its quality and performance—stable, solid, high-quality, super adjustable, and complete with cable clips to keep everything neat.
Add the price of $42 to that, and it's the stand of your dreams!
Key features:
Height: 900 - 1,605 mm
Material: Steel
Rod combination: 2-piece folding design
Size when folded: 105 x 85 x 985 mm
Threaded connector: 3/8"
Weight: 3.19 kg
Type: tripod boom stand
Dimensions: 33.46 x 4.33 x 3.15 inches
Pros:
Strong build with excellent adjustments
Well-balanced telescopic boom arm that suits a variety of uses
Versatile
Cons:
3 things to consider in a mic stand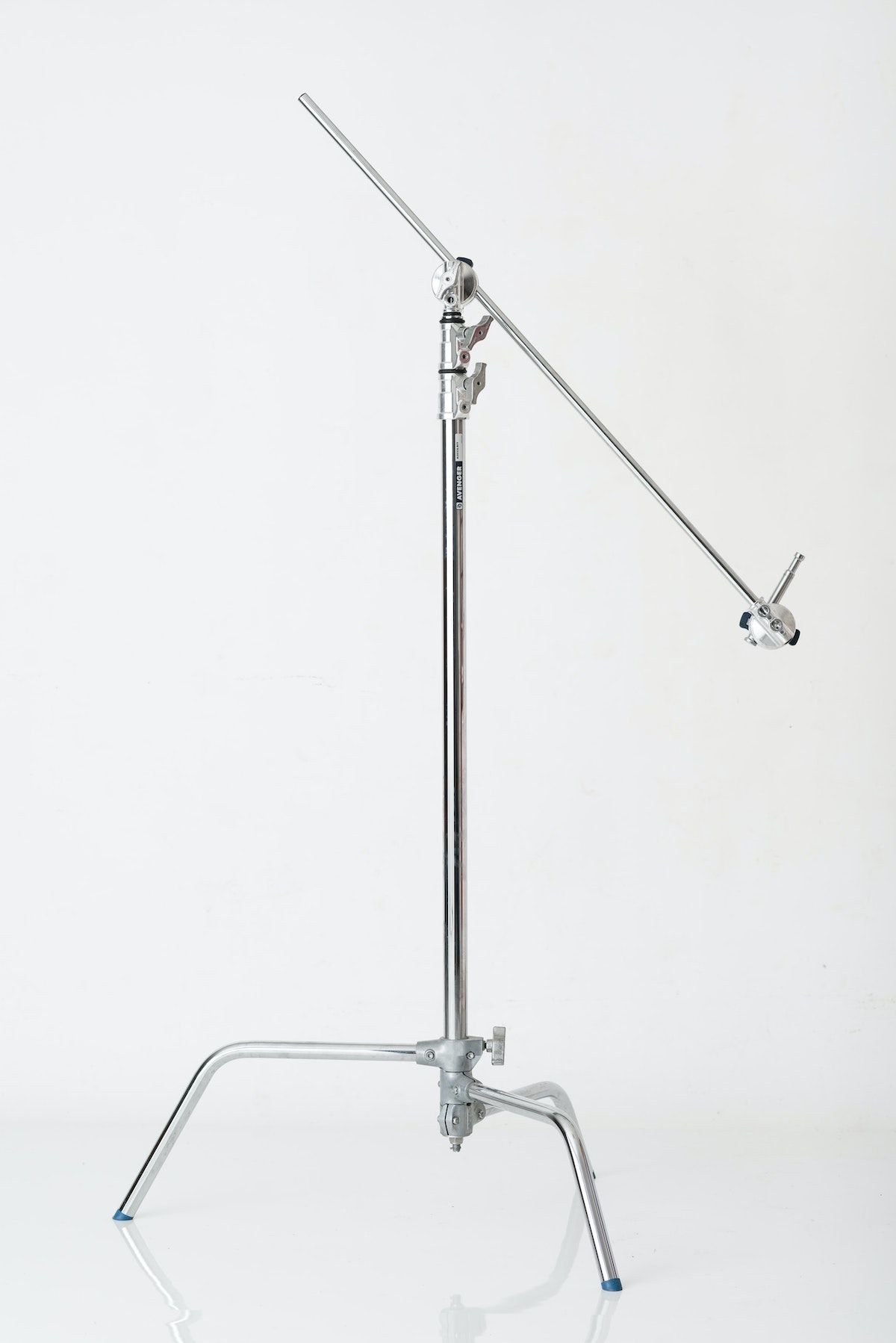 1. Stability
Stability is a crucial feature of any mic stand that you should consider in the first place.
Here are some questions you can ask yourself when choosing a microphone stand:
Does the stand stay in place without shifting or falling over?
Does it hold the mic properly?
Is it compatible with the mics in your mic locker?
2. Extendability
Depending on your environment and requirements for audio creation, you will need to pay attention to the height range of a mic stand to ensure that it can catch the music and fill the entire space.
How well our stand can extend will be one of the decisive points to your successful recording or another type of content creation.
3. Foldability
Foldability comes hand in hand with portability. Sometimes people think that the more lightweight the stand is, the easier it is to carry, but sometimes it's the opposite.
Consider how well the mic stand can be folded into a smaller package, especially if the stand is quite heavy.
The anatomy of a microphone stand
Base
Mic stands usually have a round, heavy metal base or three folding tripod-style legs.
Often, the base features rubber feet to help dampen vibrations, while tripod legs are fitted with rubber or plastic end caps.
Pole
The pole is usually height-adjustable by way of the clutch. Loosening the clutch allows raising an internal pole of a smaller diameter to increase the stand's height.
Clutch
The clutch is the part of the stand that allows you to adjust the height.
Clutches can also be used to adjust the boom arm extension and the position of any counterweights attached to the rear of the boom arm to offset the weight of a mic.
Clamp
The clamp is located at the top of the pole on a boom arm stand and allows you to adjust the angle and extension of the boom arm.
It's an essential part that prevents the boom arm from dropping under the mic's weight while in use.
Clip
The clip is the part of the stand that grasps the microphone, attaching to the boom arm by way of a threaded adaptor.
Shockmount
A shock mount is an alternative to a clip for holding your microphone and is usually designed to carry heavier large-diaphragm microphones.
Rent a Microphone stand at Wedio
Choosing a mic stand isn't as easy as it looks - we hope our article gave you a more in-depth overview of things to consider when looking for this gear!
Nothing speaks better than personal experience, though - you can rent a microphone stand at Wedio and choose the perfect one based on the test drive.
What should I look for in a mic stand?
When choosing a mic stand, consider durability, extendability, stability, and foldability, as well as build quality.
Are on stage mic stands good?
As every mic stand is generally designed for specific environments, on-stage mic stands do their job well in their specific area.
What are the two types of microphone stands?
There are six main types of microphone stands: tripod, tripod boom, desktop, round base, low profile, and overhead.
Popular listings for rentals