Discover 15 of the Best Film Cameras in 2023
Rent camera gear from local creators.
Whether you're just getting started or already a film expert, having a good camera that you understand is essential. Here we have compiled a list of 15 great film cameras for beginners, enthusiasts, and experts, so you can get filming whatever level you are.
While you learn what camera to get, you're going to need some equipment to flesh out your set-up. Check out our article on camera equipment to get started.
5 of the best entry-level film cameras
1. Canon AE-1
This SLR camera is easy to use and is affordable, so great for those just starting. It has a wide and repeatable shutter speed range meaning it is battery-powered. (Great if you don't want to spend ages charging it up!)
Pros:
Very affordable camera.
Electronic shutter control.
Cons:
Made out of plastic, and isn't the most durable.
Requires a battery.
2. Pentax K1000
This one is a favorite among students. It's a manual camera and does require a battery to operate, but the mechanical shutter will still work even if there is no battery. It is an incredibly cheap and durable model; students and lecturers love it since it forces you to learn exposure theory.
Pros:
Solid reputation for its durability.
Very affordable.
Cons:
It has no a self-timer.
It is a fully manual camera.
3. Lomography Lubitel 166+
This modern TLR is plastic and cheap in its construction, and quite basic and perfect for beginners. You get manual aperture control and shutter speed control but no light meter, and this one is great if you want to relive some old snapshot photography.
Pros:
An affordable medium format.
Takes 35mm film.
Cons:
Cheap construction yet also expensive.
4. Lomography Diana F+
This one includes many of the cheap and basic features of the Lubitel 166+ but is much more affordable. You can get the camera on its own as well as with a kit with a flash, cable release, lenses, and a load of other things.
It has three-position zone focusing and only one shutter speed, as well as light-dependent aperture, so you'll need a lot of patience with this one.
Pros:
Simple design.
Almost as cheap as it gets.
Option to get a lot of accessories.
Cons:
Don't expect too much with this model.
5. Nikon N55
This camera is simple in its layout and structure, making it a good shout for beginners. It's a small and light 35mm SLR with a built-in Speedlight. It is pretty cheaply made- so don't expect the best durability here!
Pros:
Easy to get the hang of for beginners.
Lightweight design.
Cons:

5 of the best film cameras for enthusiasts
1. Olympus OM-1
This is a manual SLR camera and was tiny compared to other cameras coming out at the time. Yet, it still has a big, bright optical viewfinder that has interchangeable focusing screens. You adjust the shutter speed with a ring around the lens and has a dial on top of the camera reserved for adjusting ISO.
Pros:
Small and lightweight camera.
Large viewfinder.
All mechanical operations.
Cons:
Only has manual exposure settings.
2. Yashica Mat 124G
This camera is a TLR (twin lens reflex) which means it uses a double lens design. This reverses the image, but the combo of the square image and waist-level viewing encourages different compositions that you just can't get with other cameras.
If you're looking to experiment a little, this camera is the way to go!
Pros:
Stunning ground glass viewing.
It is an affordable medium format.
Unique design.
Cons:
The viewfinder image is reversed.
3. Lomography Belair X 6-12 Jetsetter
This panoramic medium format camera is not as expensive as you may expect. It can shoot at three different aspect ratios, including 6:6, 6:9, and an extra-wide 6:12.
The finish and feel are plasticky and cheap, but if you want to experiment with extra-wide film, the finish can be compromised. It also comes with two lenses.
Pros:
A wide choice of aspect ratios.
Cheap panoramic photography.
Comes with two lenses.
Cons:
4. Nikon F6
This camera is the perfect middle ground between old-school SLRs and modern ones. Its specs include a complete program AE, aperture-priority, shutter-priority, manual modes, powered film advance at up to 5.5fps, and an 11-point AF system.
If you want the best of both worlds, this camera is it.
Pros:
Aluminium die-cast body.
PASM exposure modes.
11-point AF.
Cons:
5. Fuji GW690
Despite the width of your film, this camera can help you achieve stunning extra-wide images. It is a fixed-lens manual exposure camera, and you can get large images in this tiny little camera package.
Pros:
Giant 6x9cm images.
Quite portable.
Cons:
An expensive model.
Only manual operation.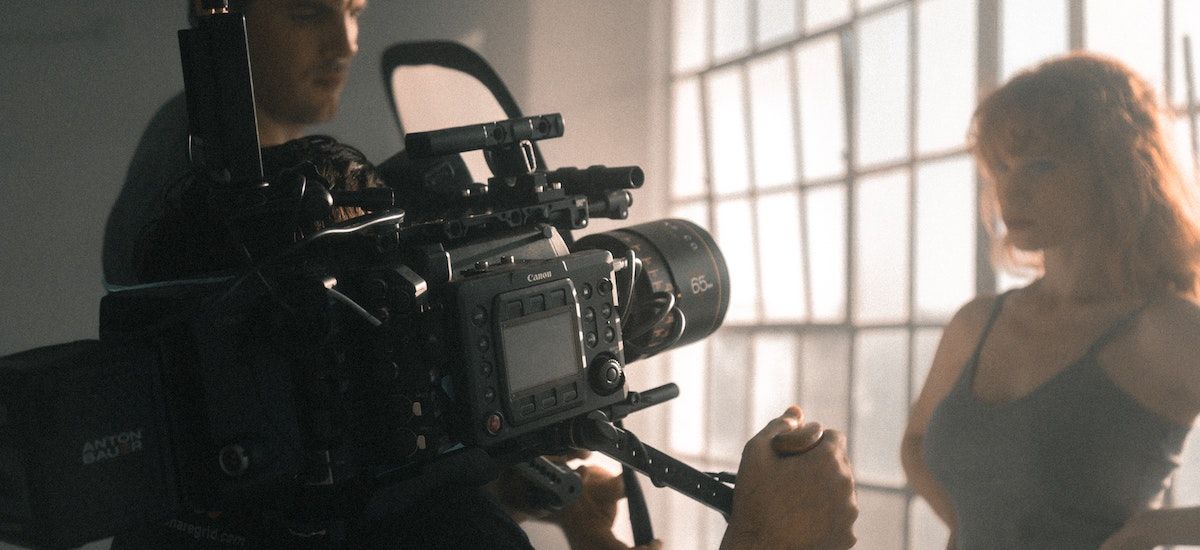 5 of the best film cameras for experts
1. Nikon FM2
This camera is quite old-fashioned, especially when it came out, but its classic look and reputation for durability kept it popular.
It is fully mechanical, doesn't need a battery, and has a vertical metal shutter. It has a 1/4000sec top shutter speed and a rugged copper-aluminium-silicon alloy body, making it perfect for expert use.
Pros:
It has a 1/4000 sec top shutter speed.
A strong reputation for durability.
Not battery operated.
Cons:
Quite expensive compared to other models.
2. Mamiya C330
This is a more professional version of the Yashica Mat 124G since it was a proper system camera. It has interchangeable lens pairs, interchangeable focusing screens, and a whole choice of viewfinders.
It's a bulky camera to carry around, but hey, it's still popular.
Pros:
Interchangeable lenses.
It has +120 (12 exp) or 220 (24 exp) film.
Rack and pinion bellows focusing.
Cons:
3. Hasselblad 500 C/M
This camera is remarkably modern and sleek in its design, considering it came out in 1957. The camera is the main box, and you can fit a variety of lenses, viewfinder attachments, and different film backs to it.
The ability to add customized film backs meant that you could get instant playback even before digital capture was invented.
Pros:
Modern and sleek design.
Durable qualities.
Modular design.
Cons:
4. Cambo Ultima 45 4x5 View Camera
This camera comes incomplete, but it gives you plenty of opportunities for maximum customization.
You'll need to get your lens plate and lenses and either a film or digital back. This one is great for studio and architectural photography because of its very modular and flexible design.
Pros:
A cool film and digital crossover.
You have ultimate quality and control.
Not a whole system- customization opportunities.
Cons:
Expensive model.
Complex design.
5. Leica M-A
This camera is perfect for the minimalist: it has no screen, no meter, and no battery! The rangefinder is quite technical, but once you adjust, it's fast and precise.
You will need to figure out the settings, exposure, and focus, but what's photography without a bit of challenge!
Pros:
Compact and durable design.
Beautiful design.
Cons:
Extremely expensive!
Very much a professional camera.
3 things to consider in a film camera
No matter where you are on your journey with cameras, there are always some things to consider. Here are the top three things you should consider before deciding!
1. Research the camera's lenses
This is very important when getting a camera- an inexpensive camera, will most likely require you to get overly expensive lenses!
You'll need to research your camera's lens compatibility but if you don't know where to start, then for 35mm SLRs, a 50mm lens with a max aperture between F2 and F1.4 is an excellent lens to start on.
If you don't want to bother, then just get a camera with a non-detachable lens!
2. Find a camera that has focus.
This is essential if you're looking at compact point-and-shoot cameras. Usually, they come either with autofocus or focus-free, which means they have a small-lens aperture and rely on depth of field to focus.
If the camera is cheap and plasticky with a brand name you've never heard of, most times, it will be focus-free.
3. Avoid a camera that's too automatic or too manual.
Try not to get a camera that sticks to one extreme— get a manual focus camera with both manual and automatic exposure modes.
This way, you can get some simplicity and adjust settings when you want to.
Rent or subscribe to your next camera
If you want to save money on your next project, consider renting or subscribing to your next camera.
Rent Camera Gear: Access Pro Equipment
qqHXJy6AWlc
Camera Hire: Take Your Production to The Next Level
71PttfqWPXk
Camera Rental: Save Money with Wedio
5sHshmF1n_Y
About the instructors
Film Cameras FAQ
Which is the best film camera ever?
This year, The Canon AE-1 35mm was voted the most affordable automatic film camera in the business. The best camera will depend on what you're looking for and your skill level.
What is the best 35mm camera?
Again, the Canon AE-1 35mm is up there as one of the best. However, an underrated 35mm camera is the Minolta X-700- perfect for those just starting.
Popular listings for rentals