Discover the Best Drones in 2023 for Photography & Video
Rent film gear from local filmmakers.
Rent film gear from local filmmakers.
Finding the best drone for you is crucial. Until we reach the day where jetpacks and hoverboards are public property, drones are the closest thing we humans have to personal flight. With the advances in technology, drones aren't just toys for kids; they are flying cameras, modern versions of remote-controlled vehicles – they are your ticket to the sky.
Today, there is a dizzying amount of drones available, each with their camera features and flight qualities. Which makes finding the best drone for you almost impossible.
So we've rounded up the best drones for photography and videography and listed them right here. Whether you're just getting ready for take-off or already a pro, you can find the best drone for you.
Not drones you were looking for? Find all the various types of camera equipment for beginners.
What are the best drone brands?
Once we get to our picks for best drones available, you'll see (well, technically read) that DJI dominates the scene. We don't intend to favour any manufacturer. Still, we can't help ourselves, when it comes to drones; DJI is simply a couple of steps ahead of its competitors.
However, when that is said and done – this is not a case of "the winner takes it all". Brands such as Autel, Panati and Powervision deserves a shoutout, too – and yes, we'll be covering all of them right here.
What to look out for before take-off?
Drones are a great tool; not only are they fun to fly (seriously, if you haven't tried, go ahead – you'll thank me later). They are also great for capturing breathtaking footage, yes breathtaking – that high an altitude with that sharp image quality; I'd say that's pretty breathtaking.
However, with the vast range of different drones, it can be a jungle to figure out which one is the best drone for you. To make it just a tad more manageable, we've listed some key features you should consider before getting a drone. So, keep calm and read on.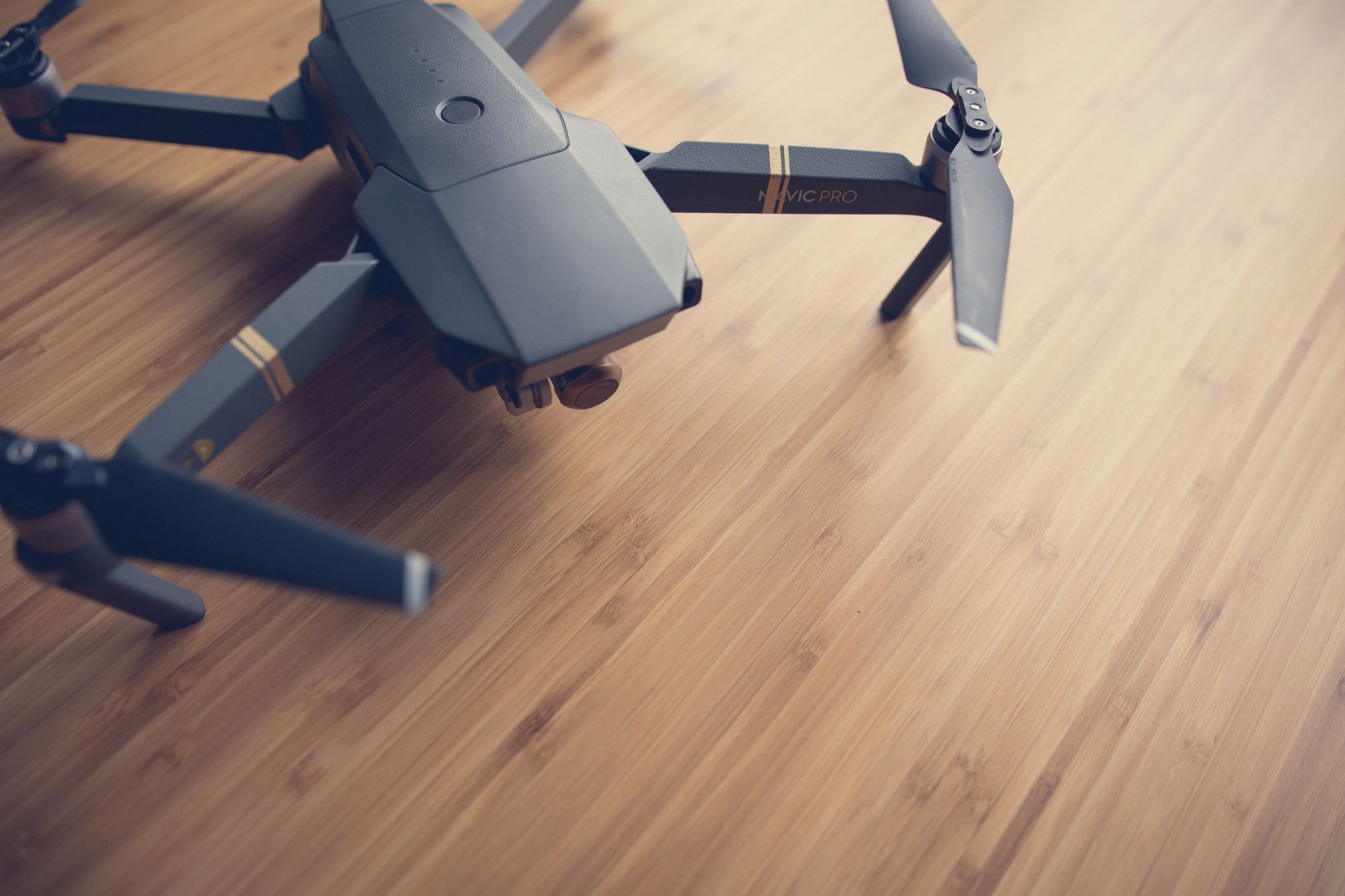 Controls
Most drones come with a dedicated remote controller or are piloted using an app – or both. Most drones will use a remote control with two joysticks, one that controls the quadcopter's attitude, including roll (tilting left and right) and pitch (tilting up and down). Whereas the other, controls throttle and rotation. Most drones at the lower-end use standard Wi-Fi with a range of around 100m control, while drones at the high-end use a proprietary radio system, higher range, master support, slave controllers and first-person view goggles.
GPS support
GPS (or GLONASS) plays a big part in terms of stable flying, as it assists with take-off, landing and cut down on crashes. Drones with included GPS will often have a "return to home" feature which recalls them automatically or aids in case you lose contact with the drone.
Sensors
Sensors are great as they help keep the desired altitude and "holding", making it easier for you to focus on flying the actual drone.
Batteries
Though some models can stay airborne for up to 40 minutes, most of even the best drones can maximum run for 15 to 25 minutes at a time. And that's an optimistic airborne estimate. The faster you fly, the more weight you add, the stronger the winds and the quicker the drone will use all of its energy juice.
Get where I'm going?
Spare batteries!
Look for drones which allow for an easy battery swap. Spare batteries range very much in price and come from $40 to more than $100.
Camera & gimbal
As a drone technically is a flying camera, features like megapixels and sensor size matter. So, if you're from the school of "It's not the size, it's how you use it",… you might be disappointed. What you also need to think of when it comes to drones is the means of vibration reduction. The lower-end drones will probably have some digital image stabilisation. You'll find the better stabilisation systems in the high-end drones, as these use motorised gimbals to steady and level the camera on 2- or 3-axis.
App
Whichever drone you choose will be affected by the quality of the manufacturer's free app. Many features, especially in the more expensive drones, will require you to dig down through menus.
Construction
It might have excellent GPS support and super easy controllers, but at one point, your drone will crash. It happens. So, look for a drone that will take an unplanned landing with stride. It should include shields to protect the rotors and electronics from harm.
Rules and regulations
Before you go above and beyond, you need to consider a couple of things, stuff like – the LAW. If your drone weighs 250 grams or more, you'll need to register it with the FAA (in most countries).
It doesn't matter if you're the world's most skilled drone pilot; you need approval and a certified license. It's something about safety – I guess plastic blades spinning at high speed doesn't scream "safety".
So, before you do anything, you need to check the rules and regulations in your municipalities.
Get started: with the best drones for beginners
Best drones for videography & photography
For those who want to
Get Started
Ryze Tello
Array of software features

– including positioning sensors

Straight-to-phone saving

– with 5-megapixel

Clever swipe-directed flips

– and 360-degree videos
Parrot Anafi
Compact & portable

– easy to fly

4K video at 30fps

– but no collision detection

One of the quiest drones

– with 25 min of flying time
DJI Mini 2
Great entry-level drone

– packs up smaller than many smartphones

There will be a learning curve

– has no sensors for obstacle avoidance & recognition

Features OcySync 2 Wireless technology

– enhances strength & range up to 10 kilometres
Emax Tinyhawk 2
Exceptionally fast, can reach up to 100mph

– great for chasing scenes

Keeps things relatively simple

– with an easy entry-level system

Agile & easy drone

– with several manual controls
Yuneec Mantis Q
Similar features as the DJI

– with a lower price point

Includes GPS support & GLONASS

– to take it anywhere

4K video capabilities at 30fps

– for impressive footage
Ryze Tello
If you're looking for a cheap and easy way to learn flying a drone, the Ryze Tello is a great place to start. It offers a wide array of software features, including a camera stabilisation feature. It works best for indoor shooting, as it doesn't include a GPS. However, it does have enough power to fly outside and offers up to 13 minutes of flight time per charge. It doesn't include a dedicated controller or a crazy-good camera. Still, it is good enough to shoot 720p video and 5MP photos.
DJI Mini 2
With easy portability and a weight of 249 grams, this is one of the smallest and lightest camera drones. With a new and compact controller, the Mini 2 is easy to control and can fly up to 31 minutes on one charge. Shoots 4K video at up to 30fps (including 2x digital zoom performance) and offers 12MP photos, which, together with its 3-axis gimbal, ensures crisp and smooth shots.
Its automated 'QuickShots', Raw capabilities, Auto Exposure Bracketed shots, and automated panoramas all make this drone a solid choice for any aspiring pilot looking for the best drone.
Emax Tinyhawk 2
If you're shooting the next Fast and Furious movie, the Emax Tinyhawk 2 is a good choice (assuming the franchise lost their billion-dollar budget). In terms of racing drones, this is the one as it can reach a speed above 100 mph. Choosing a racing drone for your project is not always easy and will most likely entail some crashes. However, as far as racing drones go, the Tinyhawk 2 keep things relatively simple.
Yuneec Mantin Q
The Yuneec Mantin Q comes with many of the same features as the DJI Mini 2 but at a much lower price point. It offers portable, foldable design and high-end specifications. As for footage? It's capable of recording 4K video at 30fps and includes several smart flying features.
And yes, it does offer GPS support and GLONASS navigation, which allows it to circle a point of interest, return home automatically and command it with your voice.
Parrot Anafi
The Parrot Anafi has a camera that tilts a full 180 degrees, which means it can rotate up so that you can take photos and videos of objects above the drone. In terms of foldable drones, this is great for that too. It folds up to be slim, making it perfect for storing in the side pocket of a backpack. On the downside, it's not that well-built; with its lightweight plastic, it can feel a bit cheap.
The Parrot Anafi can shoot 4K video at up to 30fps and can last up to 25 minutes on a single charge.
Get better with more advanced drones
Best drones for videography & photography
For those who want to
Get Better
DJI Mavic Air 2
Small & foldable

– fits in the side of a backpack

3-way obstacle sensing

– Quick Shot flying modes

3-axis stabilizer

– capable of withstanding wind
DJI Mavic Air 2 Zoom
2 x optical zoom

– with a 24-48mm focal length

Great software features

– including ActiveTrack 2.0

31 min of flying time

– and a max speed of 44mph
PowerVision PowerEye
high-quality case bundled

– foldable arms

Interchangable zoom lenses

– high standard FPV

4K video

– with a Micro Four Thirds camera
PowerVision PowerEgg X Wizard
Waterproof drone

– works as a drone, hand-held or tripod-mounted camcorder

A.I camera mode

– by using the smartphone app

4K video resolution at up to 60fps

– and a 35 min flying time
Xdynamics Evolve 2
Metal heatsink on the bottom

– for obstacle avoidance

4K video resolution at up to 120fps

– and a Micro Four Thirds sensor

Flight time of up to 40 min

– and a range of 12 kilometres
DJI Mavic Air 2
While this drone isn't exactly what you would call cheap, it does come with outstanding, upgraded qualities and sturdier build than the DJI Mini 2. It's capable of shooting full 4K video at 60fps and can capture 48MP photos – compared to some of the drones we've looked at before, that's a lot. With a new and improved battery, the Mavic Air 2 can last up to 34 minutes and reach a top speed of 42.5 mph. It also offers APAS 3.0 technology, which helps it navigate around obstacles more fluidly. All in all, this drone has manifested its place among the best drones out there.
PowerVision PowerEye
The PowerVision PowerEve – already the name alone, should tell you – this drone has a lot of power. With its Micro Four Thirds camera, this drone is a worthy component to the Inspire 2. It offers 4K video capabilities and a high standard FPV camera. It's foldable, which means that it's easy to take with you on the go. While the control app and remote controller isn't as advanced as on the DJI models, it offers dual-pilot flight for the pros.
DJI Mavic 2 Zoom
As the name suggests, this drone features a 2x optical zoom lens with a 24-48mm focal length. Its zoom feature sits in front of a 12MP camera topping at ISO3200, giving you all the dynamic perspectives in a shot. It offers 4K video at up to 30fps and 100mbps, giving you some excellent quality. Add this to its impressive features, such as ActiveTrack 2.0, omnidirectional obstacle sensing, hyper-lapse, low-noise design, adjustable aperture, HDR Photos and Dolly zoom; this drone has some swagger and belongs in the best drone category.
PowerVision PowerEgg X Wizard
The PowerEgg drone can be used both as a drone (obviously) a hand-held or tripod-mounted camcorder. It has a bit small sensor, but with its 4K camera with up to 60fps, it suddenly becomes an excellent quality drone wit double the DJI frame rate. It's incredibly adaptable with completely removable arms. Due to its removable waterproof shell and pontoons, the waterproof mode means the PowerEgg can go where most places can't: the water. It has a flight time of approximately 35 minutes on one charge.
Xdynamics Evolve 2
This is an entirely new drone. The Evolve 2 has a metal heatsink on the bottom and can avoid obstacles within its range of 12 kilometres. Its remote controller has a touch display (that's a first) on the front with thousands of nits of brightness. It offers 4K with 120fps and a Micro Four Thirds sensor with a removable lens. Pretty impressive and definitely a part of why it's amongst the "best drones" squad. It also has a flight time of up to 40 minutes, which is quite impressive for a drone.
Stay pro with the best drones on the market
Best drones for videography & photography
For those who want to
Stay Pro
DJI Inspire 2
Solid build quality

– and various backup systems

Capable of live 1080i broadcast

– for pro creators

Up to 25 min of flying time

– depending on the camera
DJI Mavic 2 Pro
1-inch sensor

– and great software features

Reliable airframe

– senses obstacles from all directions

Surveyors & 3D mapping

– easy with Drone Deploy
DJI Phantom 4 Pro V2.0
Subject tracking

– for smooth-looking footage

Bunch of flight modes

– including ActiveTrack & Draw Mode

4K video resolution

– with up to 60fps
Autel EVO II
jaw-dropping specs

– and a 44 min of flight time

8K video resolution at 25fps

– or 6K video resolution at 50fps

omnidirectional collision sensor

– and a 3.3-inch OLED screen
FreeFly Alta 8
Dual camera mounting options

– for a different perspective

Built-in suport for FPV

– and Radio Tx/Rx systems

Alta 8 mobile application

– for satellite count, flight mode, vibration levels and more
DJI Inspire 2
No doubt, the Inspire 2 belong among the best drones for cinematography, news organisations and professional photographers. Which camera it has? Well, that's up to you. You can either add a 1-inch sensor fixed-lens camera, a Micro Four Thirds interchangeable lens model, or a Super35mm cinema mount with its own patented lens system and support for 6K video capture. It also carries an impressive objective tracking, (optional) multi-user operations and other classy features. It doesn't only come with stunning features, but with a quality magnesium hull and loads of dual redundancy for a safer flight.
DJI Mavic 2 Pro
Talking about the best drones available – this is definitely worth a mention. Its image and video quality is nothing short of amazing. With a large sensor, up to 128,000 ISO, 10-bit and an f2.8-f11 aperture, you can achieve gorgeous-looking shots, even in low light. Its omnidirectional obstacle-avoidance will keep the drone out of trouble while flying. Even in its 45 mph max speed, it can catch the shot with fantastic quality.
DJI Phantom 4 Pro V2.0
If you want a smooth, quiet, stable flight and footage, this is the drone to get. The Phantom 4 Pro offers some amazing cinema-quality footage, and to make it a bit easier for you – it practically does the flying on its own. It can shoot 4K videos at 60fps. Inside the high-quality magnesium alloy chassis are a gimbal, a mechanical shutter and a huge 1-inch sensor packed with 20 million pixels.
Autel EVO II
The Evo 2 from Autel might not be one of the acclaimed DJI models, but it deserves the right to be among the best drones – hear, hear! It has an omnidirectional collision sensor and a 3.3-inch OLED screen in the remote controller, meaning you can fly with the Evo 2 without actually being connected to your phone. Choose the lens to your preference, either an 8K model at 25fps or the 6K 'Pro' at 50fps model. The 8K is, for the time being, the far most widely available and uses the same Sony IMX586 half-inch imaging chip as featured in the Mavic Air 2.
It has a sleek, consumer-friendly design for simple practicality. With its characteristic heavy, rugged-looking orange airframe, it cannot be mistaken.
FreeFly Alta 8
Our final pick for best drones out there can go to nothing else than the FreeFly Alta 8. An octo-rotor configuration carries up to a 20-pound payload on either the top or bottom of the drone. Its foldable carbon fibre propeller arms and quick-release gimbal system provides an easy and simple setup. It includes a weather-resistant plastic cover to protect its sensitive parts. It might be a professional drone, but that doesn't mean that it's rocket science to fly it. With FreeFly's industry-leading SYNAPSE Flight Controller so you can focus on getting your shot just right.
Final thoughts
Which drone is the best drone?
Well, the truly correct answer to which is the best drone depends on your experience. A drone can have the best quality specs. Still, if you don't know how to fly it, I can guarantee – your footage will crash and burn (hopefully, not literal).
The best drone for you will also depend on the type of content you're creating. Is it a high chase racing scene? Or a romantic aerial establishing shot? Is all questions you have to ask yourself before knowing which one is the best drone for you.
Piqued your interest? Hire or subscribe to the best drone for you and get the experience of flight. I'll see you up there.
Rent a drone from local creators.
Save up to 40%.
Global Coverage included.
https://images.wedio.com/images/listing_images/images/1949796/300x215/rent-dji-mavic-mini-on-wedio.jpg
https://www.wedio.com/en/rent/drones
https://images.wedio.com/images/listing_images/images/1915165/300x215/lej_mavic_2_pro_med_pilot_p__wedio.jpg
https://www.wedio.com/en/rent/dji-mavic-2-pro
https://images.wedio.com/images/listing_images/images/1915165/300x215/lej_mavic_2_pro_med_pilot_p__wedio.jpg
https://www.wedio.com/en/rent/drones
https://images.wedio.com/images/listing_images/images/1934651/300x215/DSC05493-kopi.jpg
https://www.wedio.com/en/dji-mavic-air
Popular listings for rentals