Cheap & Retro: Here Are Our Top Picks for the 10 Best Disposable Cameras
Rent camera gear from local creators.
Taking a trip back to the 80s and 90s, disposable cameras made a massive comeback in today's world.
They are easy to use and carry around, and they can produce some pretty good images that offer an authentic, nostalgic vibe.
If you're interested in point-and-shoot film photography, disposable cameras might be an excellent option for you to try.
So, how easy is it to choose and purchase one?
Want a quality camera? Explore cameras for all purposes and skills sets.
Where can you get disposable cameras?
Even though disposable cameras are gaining more and more popularity among the younger generations, they are still a gadget of the past, making them more difficult to find in most stores today.
Despite their scarcity, you can still see them at stores with photo centers or online retailers like Amazon or Urban Outfitters.
Not sure where to start? Explore all the necessary equipment to get going.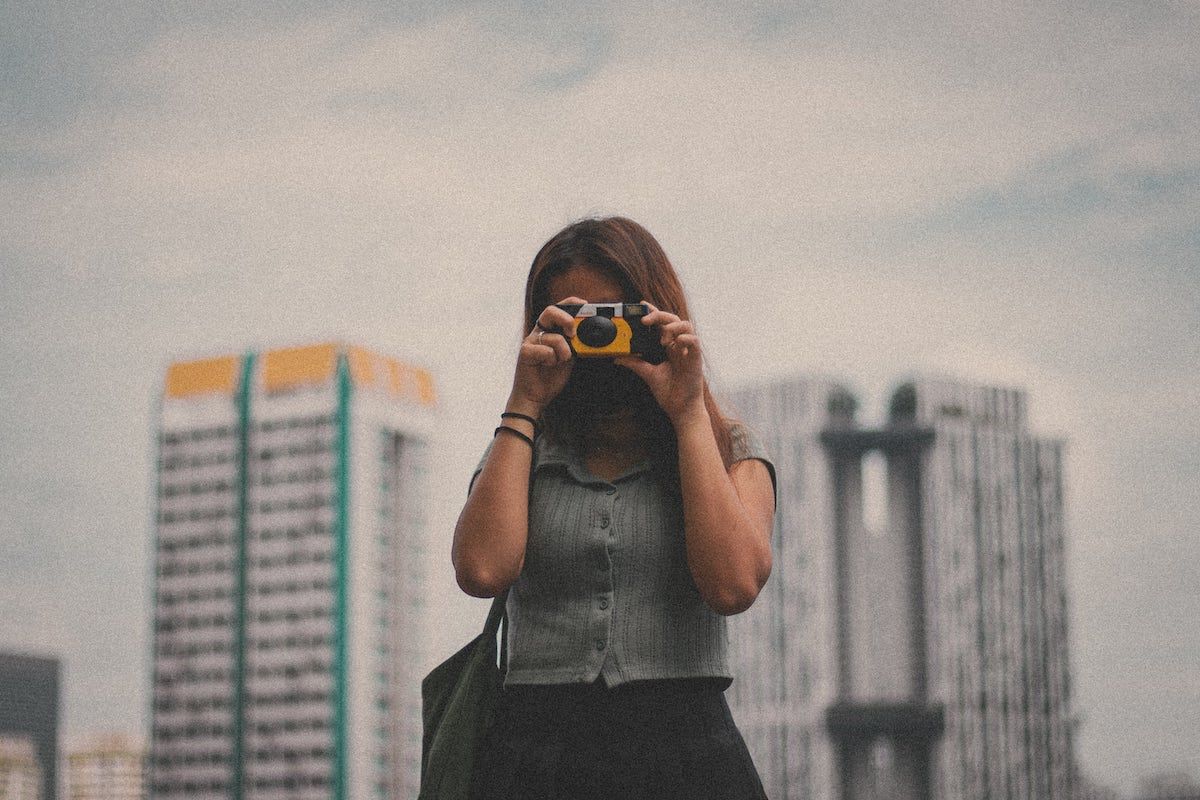 4 of the best color disposable cameras
1. Kodak Funsaver 35mm Single Use Camera
Key Features:
Funsaver produces remarkably crisp images.- Comes preloaded with Kodak ISO 800 color film.
It has a built-in flash for shooting indoors or at night, and it's lightweight and compact enough to carry around all day.
The Kodak film gives accurate skin tones, making it perfect for photographing people.
Pros:
Exceptionally sharp images for a disposable camera
Good in a variety of lighting situations
Very easy to use
Built-in Flash
Cons:
Price: $15.99
2. Lomo 400 simple use
Key Features:
The camera comes preloaded with Colour Negative 400 Film for a classic analog look.
Mix and match the built-in Flash and color gel filters
The perfect camera for beginners, weddings, parties, making memories
You can develop your pictures at any photo lab
Reload and keep shooting – unlike disposable cameras
Pros:
You can replace the film
Built-in Flash
Cons:
Reloading is tricky
Pricier than regular disposable
Price: $23.90
3. Fujifilm Quicksnap Flash
Key Features:
A versatile 2-pack of disposable cameras
Comes with a built-in flash
Flash range of 10 feet (3 meters)
It is loaded with Superia X-TRA 400 film, so it's ready for you to start shooting straight out of the box.
Offers 27 exposures, though, so you'll need to make every image count!
Pros:
Produces great vintage-effect photos
Very easy to use
Ideal for parties and weddings
Cons:
Prints don't upsize well, and they lose quality fast
Prints look best in their standard 4×6 in size
Price: $12.99
4. Lomography Simple Use Camera Lomochrome Metropolis
Key Features:
It is reusable. This gives it an edge over single-use disposable cameras, as you can reload with any ISO 400 color film once you're done with the Purple
It will give some amazing and unique colors that are especially good for landscapes, street photography, and cityscapes
You can put colored gel filters over the Flash to give you even more creative options
Pros:
Comes preloaded with unique LomoChrome Metropolis 400 film
Easy and fun to use
Built-in Flash
Cons:
LomoChrome Metropolis is a very niche type of film and won't suit everyone
Reloading film can be tricky if you've never done it before
Price: $43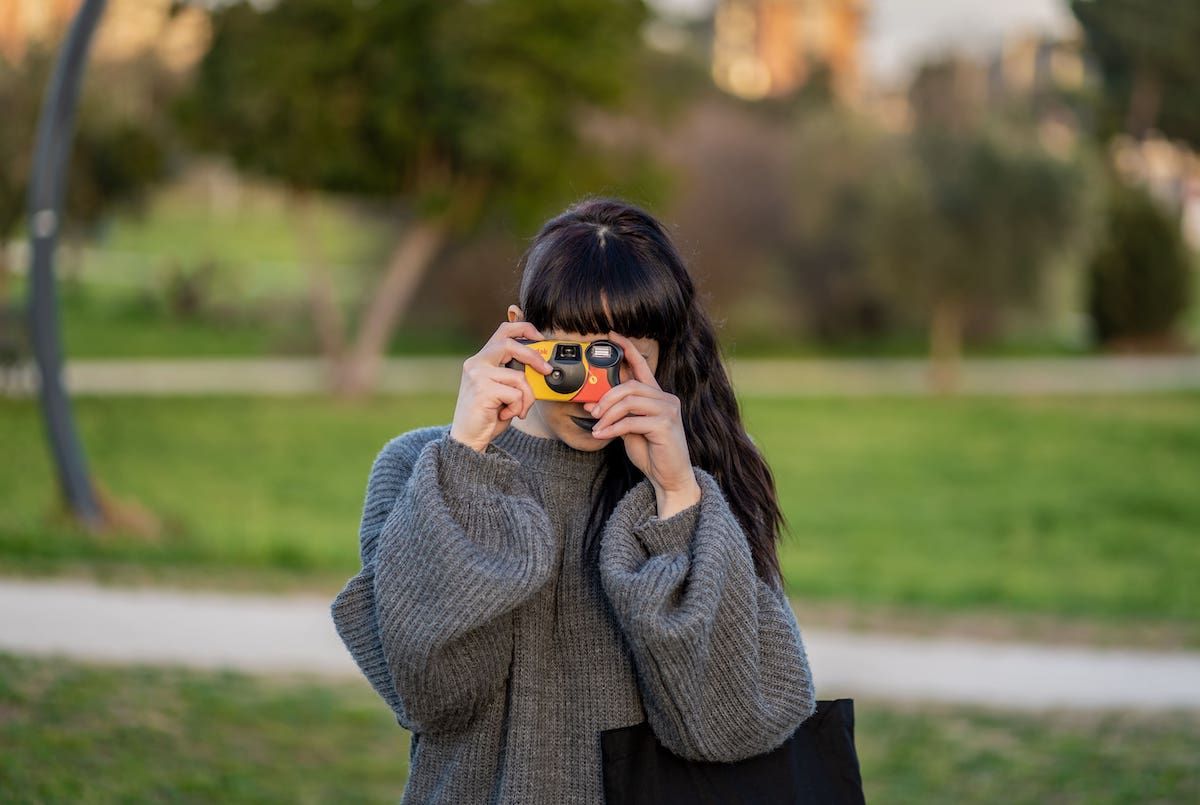 3 of the best black and white disposable cameras
1. Ilford single HP5 use
Key Features:
The camera has 27 exposures for a single-use.
It uses the HP5 PLUS 400 ISO film
Focus on the distance from 1m to infinity
Black and white film included and with Flash
Pros:
Develops via C41 process
Built-in Flash
Cons:
The Flash might work sometimes
It might have inconsistent picture quality
Price: $10.90
2. Ilford single xp2 use
Key Features:
Film type: Black & white 35mm (can be C41 processed)
ISO: 400
Number of exposures: 27
Other features: Built-in Flash
Pros:
Stylish and contrast film
Flexible processing options
Good in changeable conditions
Cons:
Price: $11
3. Kodak Tri-X 400 Single Use Camera
Key Features:
Type: Single-use
Film format: 35mm
Film type: Black & white
ISO speed: ISO400
Lens: 30mm f/10
Viewfinder: Direct vision
Pros:
An exceptionally bright flash
Stylish B&W film
Cons:
Some may not like the contrasty look
Price: $19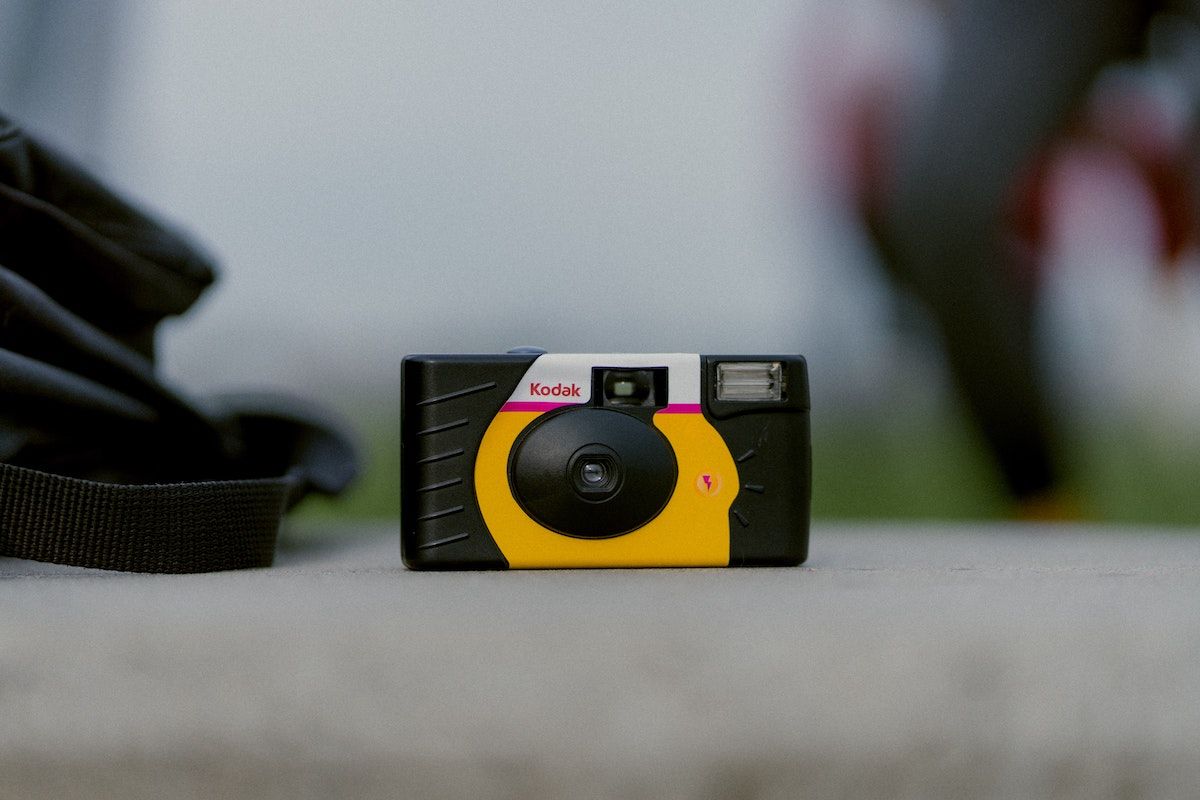 3 of the best waterproof disposable cameras
1. Fujifilm waterproof quick snap
Key Features:
Photo quality is excellent in bright daylight, even when underwater.
The 1/125s exposure does require brightly lit scenarios to produce photos that aren't underexposed, so it's no good in darker, murkier water.
The Fujicolour Superia X-TRA 800 35mm film that is preloaded in the camera produces images with good skin tones, too.
Pros:
Waterproof up to 17 feet (5 meters)
Easy to use
Produces good skin tones
Cons:
No built-in flash
Not great for lower-light conditions
Price: $14
2. Kodak water & sport waterproof
Key Features:
12MP - 1/2.3-inch CCD Sensor
ISO 80 – 1250
35 mm f3.00 Prime Lens
Weather-Sealed Body
Pros:
Waterproof
Face Detection Focusing
175g Light Body
Environmental Sealing
Cons:
No Wireless Connection
No Image Stabilization
No External Flash Shoe
No Built-in Viewfinder
Price: $11
3. AgfaPhoto LeBox Ocean 400
Key Features:
Single-use
Film format: 35mm
Film type: Colour
ISO speed: ISO400
Viewfinder: Direct vision
Modes: Auto
Pros:
Flash with 4m range
Easy to use
Cons:
Price: $19
Discover the best instant camera
If you're looking for something easy and on-the go, you've hopyfully found a disposable camera that's just right for you!
If not, don't worry! There's more options.
Discover 13 of the best instant cameras.
What is the best disposable camera?
It depends on your wants, but Fujifilm Quicksnap Flash is considered best.
How do disposable cameras work?
It works similar to film-based cameras however, the disposable camera housing is discarded when the film is processed.
Which disposable camera is best, Kodak or Fujifilm?
When choosing between Kodak and Fujifilm, Fujifilm is considered better.
Do disposable cameras expire?
Yes.