9 of the Best Camera & Lens Backpacks for Improved Ergonomics
Rent camera gear from local creators.
Getting a unique backpack for your gear is much better than opting for a regular one.
The camera and lens backpacks are designed with separate compartments and dividers to offer your equipment more space and protection.
Discover our list of top 9 camera backpacks that will make your on-the-go photography and video-making a pleasant experience and will take the weight (and worry) off your shoulders.
9 of the best camera backpacks to ease your travels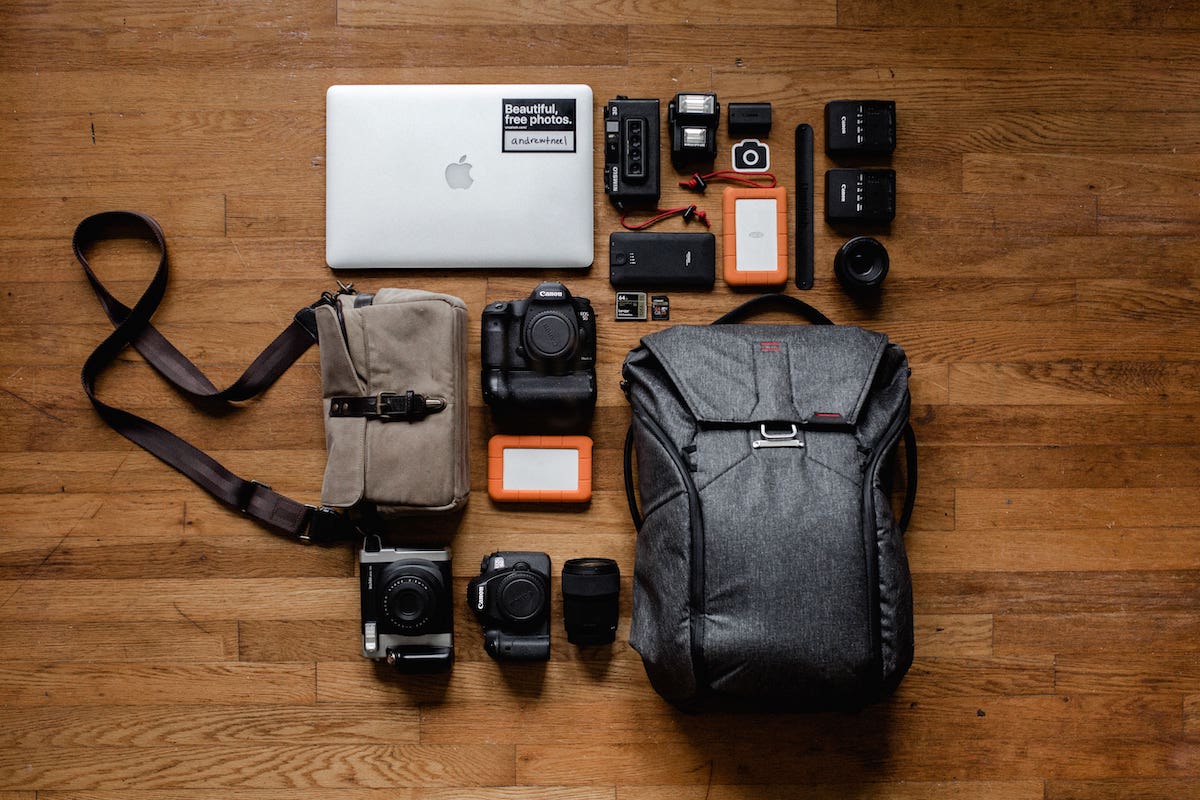 1. Tenba DNA 16 DSLR Photo Backpack
The Tenba camera backpack provides plenty of storage space, protects your gear from extreme weather, and is super comfortable to carry on a shoot.
This bag has many compartments - you can decide what you store and where. The lower compartment is meant for the DSLR and lenses - the section hinges back into the backpack's body, so others won't know if you're carrying valuable gear there.
The top features an expandable section secured by a magnetic clip, and another storage of 16 inches will fit a laptop.
Key features:
Weight: 1.4kg
Number of lenses: 5
Tripod connection: travel tripod
Laptop storage: 16 inches
Dimensions: 10 x 10.5 x 8 inches
Pros:
Expandable rolltop
Water repellant
Removable dedicated DSLR section
Plenty of pockets and compartments
Cons:
The magnetic clasp is a bit nippy
2. Gitzo Adventury 30L camera backpack
If you're a traveler and a wildlife photographer, this camera and lens backpack by Gitzo is probably your best go-to.
This 30-liter beast (also available as a 45-liter version) can carry a couple of DSLRs, one with a 200mm telephoto lens.
In addition, the interchangeable dividers inside offer you even more storage, able to take four more lenses, a drone, a 15-inch laptop, and also a 13-inch tablet.
What can we say - simply astonishing!
Key features:
Volume: 30L
Dimensions: 18.9 x 12.2 x 7.48 inches
Weight: 2kg
Raincover
Padded hip belt
Pros:
Holds telephoto lenses
Can carry a large tripod
Roll-top wet bag on the top
Cons:
Very heavy when packed
Fiddly inner compartment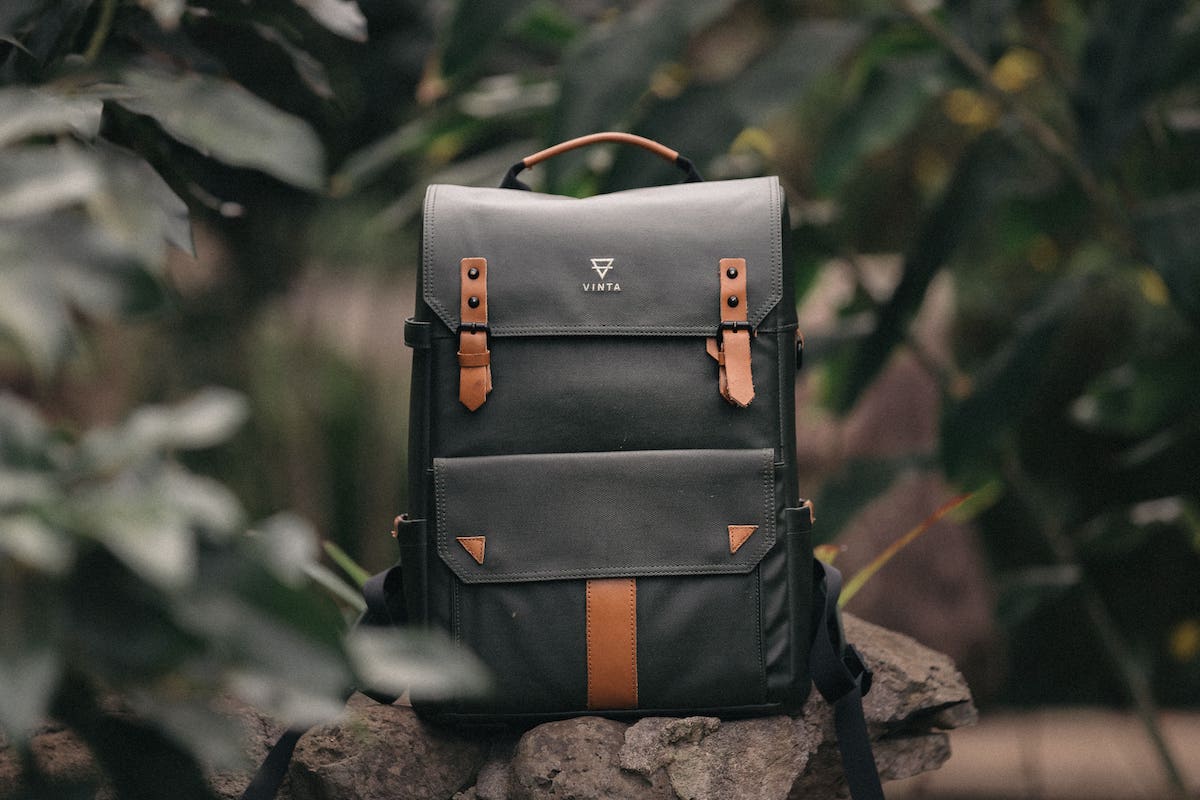 3. Peak Design Everyday Backpack V2
The exterior of this backpack is a bit misleading: with its clean lines and no excessive straps, the Peak Design backpack can easily be considered to lack certain features.
However, once you open it, you'll find plenty of innovation and thought put into its design. For example, it has enough room in the main storage to fit a DSLR, up to 5 extra lenses or a drone, and all necessary accessories.
A laptop compartment of 15 inches is also here, which can also be adjusted to fit smaller laptops. On top of that, welcome the additional pockets for tablets and other valuables like documents, money, memory cards, and batteries.
Key features:
Volume: 20 L or 30 L
Dimensions: 13 x 11.8 x 18 inches
Weight: 1.32kg
One-handed secure access to the top compartment through a magnetic buckle clip
Pros:
Expandable side pockets for water bottles or tripods
Optional hip belt
Four external carry straps and a sternum strap
Cons:
4. Wandrd Prvke
The Wandrd backpack for camera and lens is by far the best option on our list for hiking and filming.
It features accessory straps, a waist pack, a rainfly, and ergonomic shoulder straps with additional padding. There is also a quick side access port to quickly reach for the camera and grab it to take a pic while you're trekking.
This back with the 21L volume will fit your camera, extra lenses, a drone, and a flash. To bring more along with you, an expandable rolltop adds 5L of space.
Your accessories can be kept organized in small internal pockets, and the removable waist belts will help customize the harness system.
Key features:
Volume: 21 L ( the only option for the photography bundle), 31 L, 41 L
Dimensions: 11 x 6.5 x 17 inches
Weight: 1.5kg
A hidden pocket to keep your valuables safe
Pros:
Waterproof materials and water-resistant zippers
Optional accessory straps have six different attachment point options
The sternum strap is adjustable and removable
Many pockets
Cons: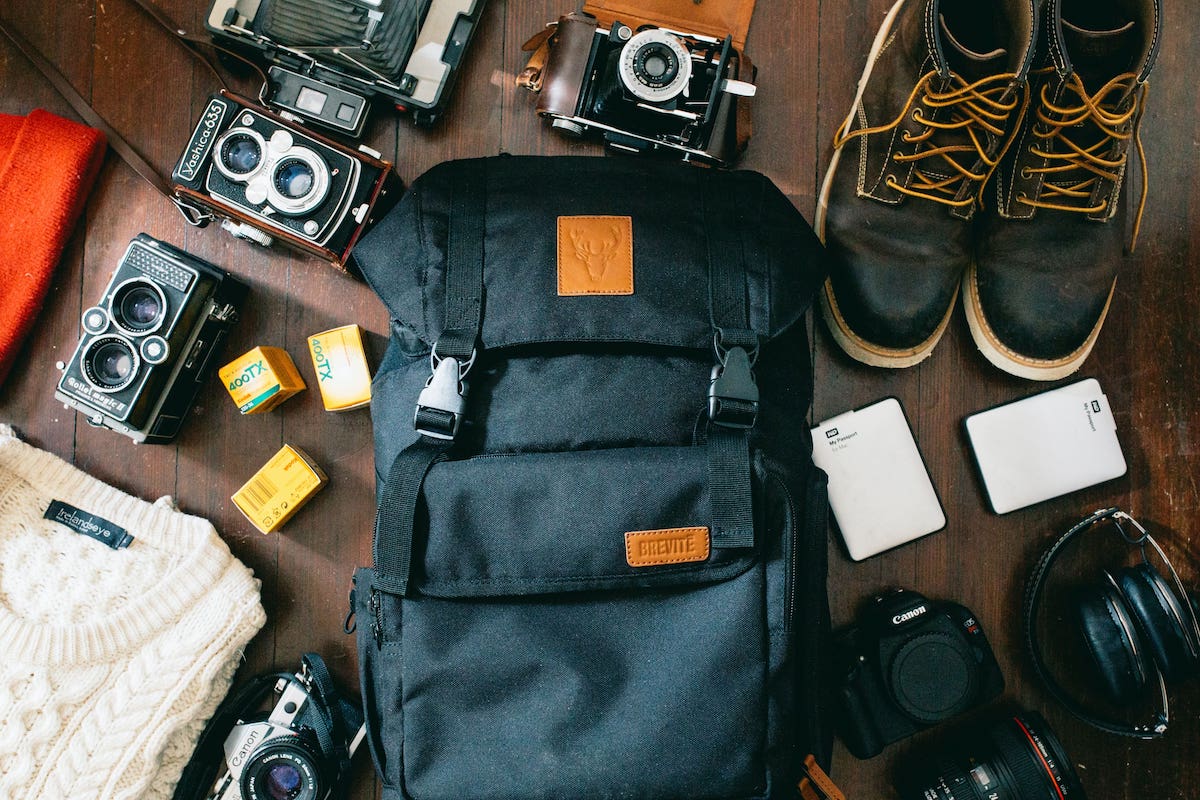 5. Wotancraft Nomad Backpack
This backpack is ideal for fitting a mirrorless camera and multiple lenses, thanks to its extreme compactness.
The Wotancraft bag has numerous pockets and hidden compartments that prove exceptionally convenient. The padded back is comfortable, and so are the wide shoulder straps.
You can get the additional waist strap that will help shit around 80% of the weight to your hips - handy when you carry heavy camera equipment.
Key features:
Volume: 25L
Weight: 1.7kg
Dimensions: 10.6 x 5.31 x 16.54 inches
Dual side-access zippers
Chest strap
Pros:
Comfortable for heavy loads
Lightweight
Weather-sealed zips
Cons:
Tricky to get the camera out of the side access
6. Lowepro Freeline BP 350 Aw
The Lowepro Freeline backpack has a stylish, minimalist look, with its body made of a high-grade, rugged material that protects from weather and abrasion.
The main compartment has a divider that can be unfolded to form a 3-level shelf to organize your camera gear. There is also a 15-inch laptop store and lateral dividers for smaller accessories.
Key features:
Volume: 25L
Weight: 1.8kg
Dimensions: 11.5 x 8.2 x 19.2 inches
Laptop compartment: 15 inches
Pros:
Water and abrasion-resistant outer material
ActivZone back panel for even support and comfort
Clever interior design and additional dividers
Cons:
Heavier than competing bags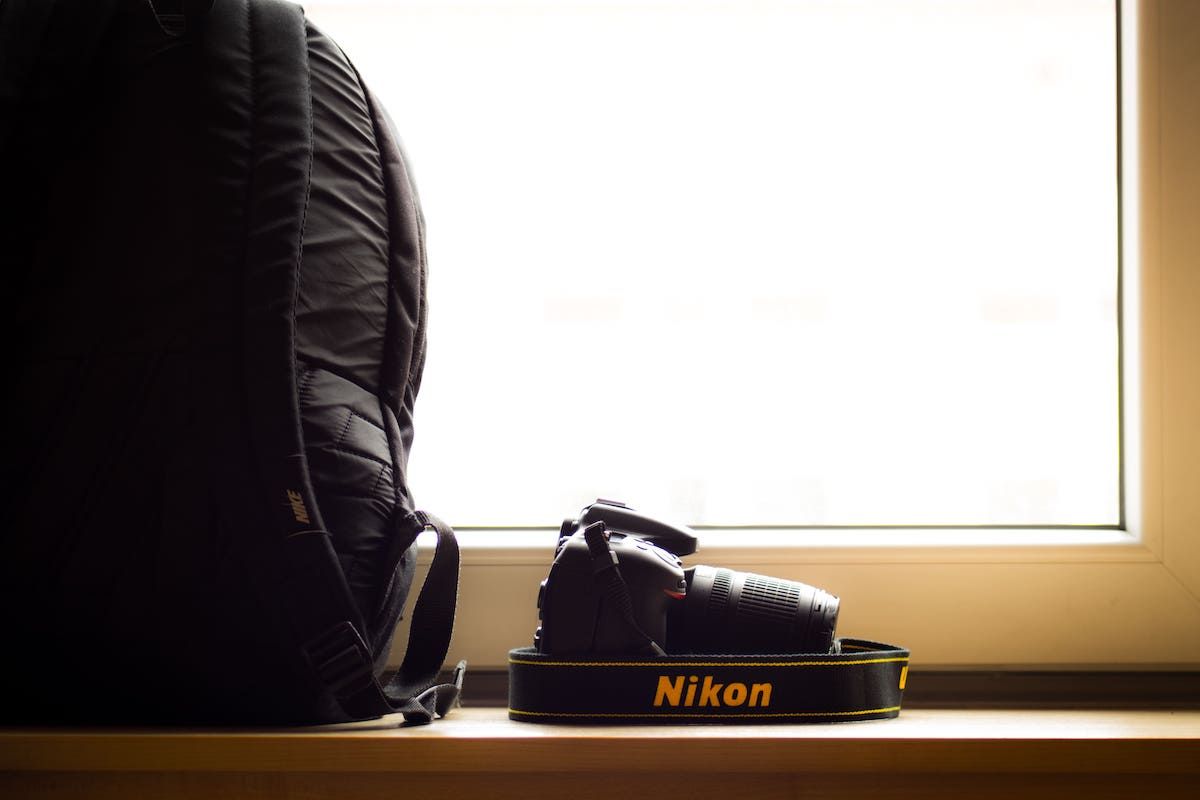 7. F-Stop Dalston 21L Urban Camera Backpack
This F-Stop backpack is an excellent option for urban explorers carrying only the gear essentials. This bag can fit a small DSLR body and a lens comfortably.
It features an expandable rolltop to add some last-minute things.
The backpack spits open for you to reach the camera in its compartment, accessed through a large zipper on the side. The F-Stop made its bag suitable for smaller and more compact gear - with bulkier equipment pieces, it's going to be a bit of a headache.
Key features:
Volume: 21L
Dimensions: 18.9 x 11.42 x 6.3 inches
Weight: 0.82kg
Laptop compartment: 15 inches
Weather-resistant outer material
Pros:
Straps are padded and comfortable
Sling is wide and well padded
The build is top notch
Cons:
8. LowePro ProTactic 450 AW II
The LoweProTactic looks aesthetic and appealing, and the interior of this backpack shines as well.
It offers enough space to fit two DSLRs or mirrorless cameras, additional lenses, and a drone - you won't need to compromise on a particular device to take or not to take with you.
The ProTactic has smaller pockets in the back panel, ready to fit your batteries and SD cards.
Quick-lock straps and a tripod cup allow taking a tripod with you while traveling or exploring. Add a 15-inch laptop compartment, and you're ready to hit the road and film or take pictures.
Key features:
Volume: 25 L
Dimensions: 14.2 x 8.6 x 20.5 inches
Weight: 2.7kg
Access points on four sides
Pros:
Flexible, customizable dividers
Includes rain protection and rain cover
Water bottle holder
Professional aesthetic
Cons: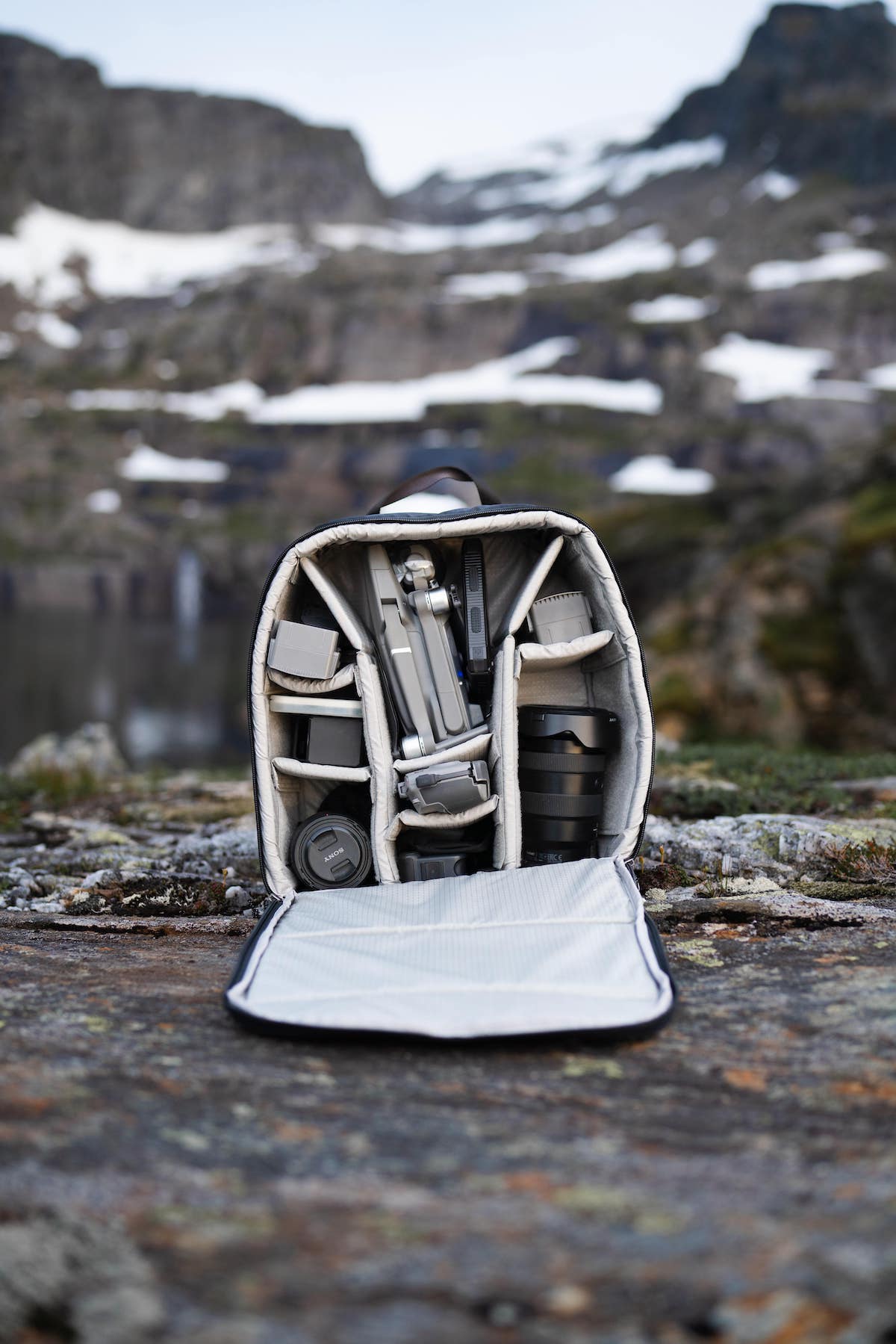 9. Manfrotto Manhattan Mover 50
Manfrotto backpack is another super versatile backpack that can fit a DSLR, multiple lenses, a drone, and multiple accessories.
It comes with a Flexi Camera Shell divider that offers more structure to the compartments. The main access point is in the back of the bag, meaning you will need to take the backpack off whenever you need to get the camera out.
There is also the laptop and tablet compartment in the front and an expandable holder for a water bottle on the side.
Key features:
Dimensions: 19.69 x 12.6 x 7.87 inches
Lenses: 9
Laptop compartment: 15 inches
Weight: 1.6kg
Rain cover included
Pros:
Fully adjustable shoulder straps
Solid build
Expandable
Cons:
No hip belt
The removable camera compartment isn't discreet
3 reasons to invest in a backpack for your camera and lens
1. Enables larger setups
With a camera backpack, you will have space for multiple gear pieces - more lenses, accessories, and even bulkier equipment like drones.
2. Better ergonomics – spreads the weight
It's always better to have the weight of your gear spread over two shoulders instead of one, especially if you're planning to walk a lot.
3. It offers more protection to your gear
Most backpacks with unique dividers limit the chance of your gear getting scratches or chips, as every type of gear is placed in different compartments.
4 factors to look for in a backpack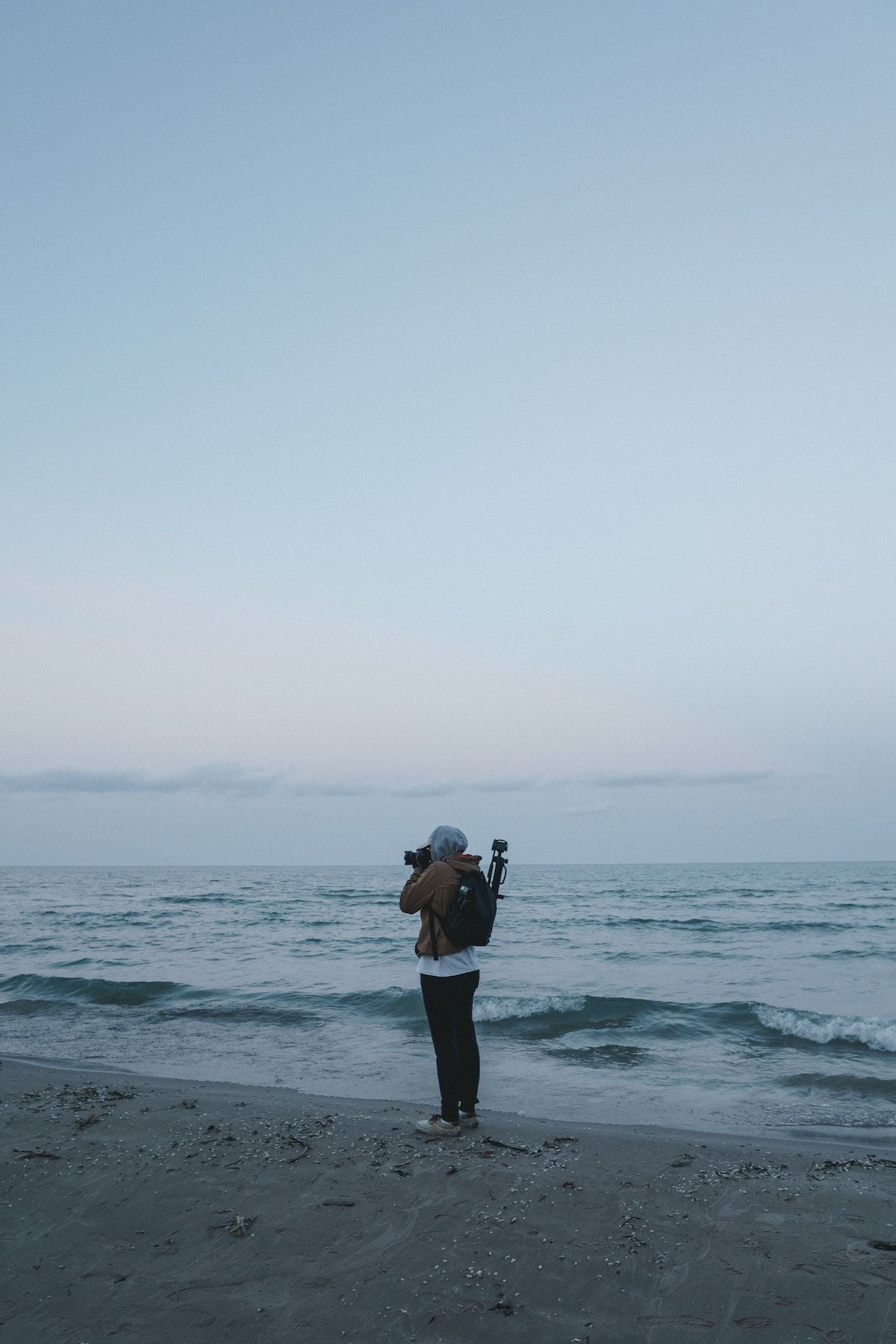 1. Weight
If you don't need that much gear, go for a lightweight and compact backpack.
If you're a professional with several gear pieces, go for a larger bag with more storage space.
Keep in mind, however, that the larger the pack, the heavier it is.
2. Fit
Camera backpacks can be single or double strapped: double strapped are larger and sometimes have waist straps for extra support.
Look for a bag with properly padded shoulder straps that are wide enough not to dig into your shoulders.
A waist belt is an excellent addition to shifting a considerable part of the weight to your hips instead of your back.
3. Weatherproofing
Look for a pack with a rainfly-specific backpack, and put these in a small pocket on the exterior.
Look out for the zip to be waterproof, not only the bag material.
4. Capacity
Most standard camera bags have a 20-30 L volume, offering plenty of room for camera gear, a laptop or tablet, a drone, and accessories.
If you go out on long trips, opt for a larger backpack - 45 to 60 L is a good size.
Final verdict: Which backpack is best?
We choose the LowePro ProTactic 450 AW II as our compilation's best camera and lens backpack.
Its volume, extreme versatility, adjustable and expandable dividers, and the included weather protection appeal to many creatives.
This backpack will fit multiple purposes and allow you to fit all the gear you need.
Which camera backpack is best?
Wandrd Prvke, LowePro ProTactic 450 AW II, and Manfrotto Manhattan Mover 50 are the best camera and lens backpacks on the market.
Popular listings for rentals