Product Review: Sony Alpha A7C
Product Review: Sony Alpha A7C
0 other
Overview
Specs
Reviews
FAQ
Alternatives
Research
Sony Alpha A7C
SONY
A small, lightweight, full-frame camera with some familiar features of more professional cameras? Pack one for me!
The Sony A7c is an entry-level, feature-rich E-mount model ready to create competition for other full-frame peers on the market.
You can always go back to the beginning of your journey of learning about gear. Give a read to our guide on camera equipment to discover what else exists in a photographer's gear kit.
5,0
Based upon2 reviews from Wedio members
Effectiveness
5,0
Usability
5,0
Value for money
5,0
Overall rating
5,0
Is it worth it?
Yes
The Sony A7c is a good choice not only for casual day-to-day photos but also for travel, street photography, and vlogging.
No
If you want a large view finder or to shoot 4K 60fps video, then the Sony A7c is not the best choice for you.
Choose your instructor
SONY Alpha A7C: Hands on review by Mazdak Luyeh
Watch the whole review to find the pros and cons as well as the affordability of the A7C 📷
Introduction
1
sAWmKMOSF_M
Rent Camera Gear
qqHXJy6AWlc
Pros
A full-frame camera in a small, compact design
Sturdy, bright articulating screen
Great Sony autofocus performance
Cons
Great full-frame lenses are expensive and heavy
Sony A7C vs. Canon EOS R6
Battery
NP-FZ100, (2280 mAh) 740-shot CIPA rating
Rechargeable Li-ion Battery LP-E6NH (supplied)/LP-E6N
Viewfinder
2.36M-dot EVF, 0.59x magnification, 100% coverage
0.5-inch OLED colour EVF
Lens Mount
Sony E
RF (EF and EF-S lenses can be attached)
Sensor
24-megapixel full-frame BSI CMOS
Approx. 21.4 megapixels
ISO
100-51200 (expandable to ISO 50-204800)
100-6400, H: 204800 (Manual: 100-25600, H: 204800)
Shutter speed
30 sec to 1/8000 sec, mechanical shutter up to 1/4000 sec/p
30-1/8000 sec (1/2 or 1/3 stop increments), Bulb (Total shutter speed range. Available range varies by shooting mode)
LCD
921K-dot touchscreen, fully-articulating
7.5cm (3.0") Clear View LCD II, approx. 1.62 million dots
Show more
Complete Sony A7C review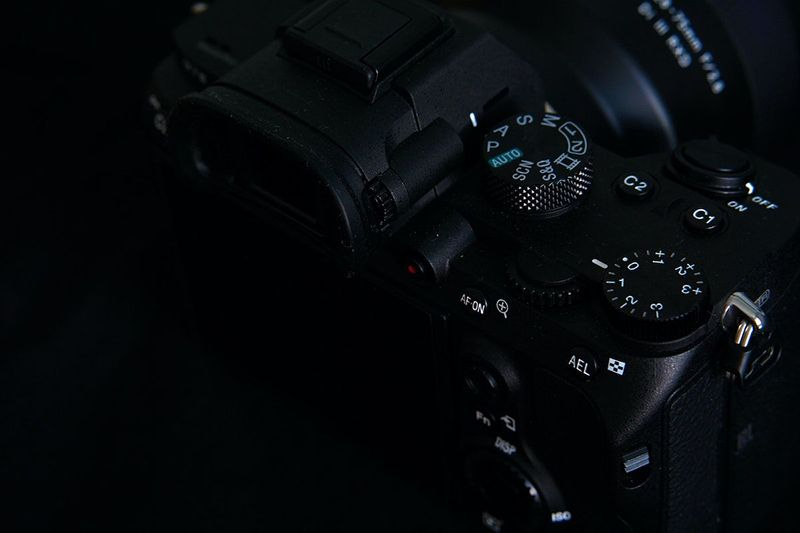 Body and handling
The small and lightweight body of the A7c is made of a "magnesium alloy monocoque," as Sony puts it, which essentially means a single-piece chassis and shell.
As a result, the grip is a bit more sallow than other A7 models, but you can overcome this little handling drawback by placing a finger on the shutter button and wrapping other fingers around the grip.
This will secure your hand at 45 degrees to the camera.
Intuitive dials, buttons and controls
The A7c has three dials: on the rear of the grip, on the back plate of the camera, and an exposure comp dial.
On top of the camera, you will find a Record button. However, there is o front control button on the front grip.
You control the camera with a rear control dial and a multifunctional dial pad on the back.
Well-designed lock and unlocking options on kit lens
The 28-60mm kit lens is equipped with a mechanical action with a well-designed locking and unlocking option - very quick and pleasant to use and produces better results than an electrically-powered zoom lens.
Moreover, the lens focuses promptly and silently both for stills and videos.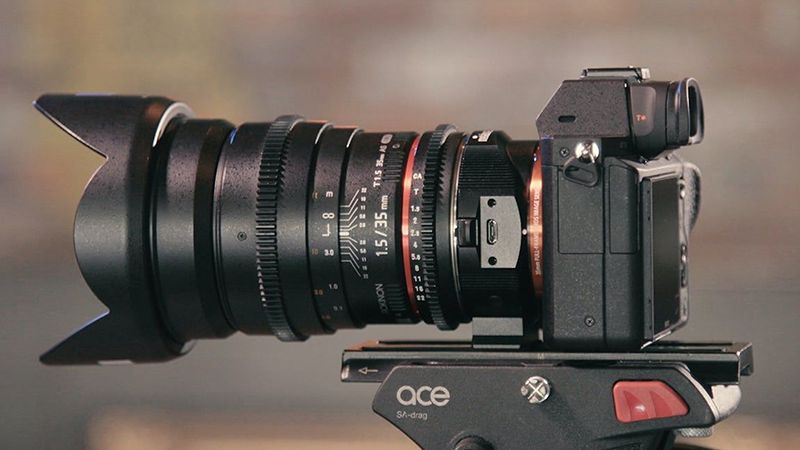 AF system and video capabilities
The A7c's autofocus system works seamlessly and is especially effective for vloggers: it refocuses fast and smoothly between the subject's face and other things held close to the camera or the background.
So don't worry about the focus dropping if you move out of the frame at a certain point - this AF will keep the focus where it was.
The hybrid AF system features 693 phase-detection points and 425 contrast-detection points allocated across 93% of the frame.
Excellent AI-based AF system
Sony's top-notch AI-based autofocus technologies are in use in this camera model, including the real-time eye AF and tracking. The 5-stop stabilization is also here, just like with the A7 III.
Video performance is one of the strongest suits of this camera and its main appeal - the camera is explicitly aimed at vloggers and content creators.
Sharp and detailed 4K footage
The A7c produces sharp and detailed 4K footage, and its responsive autofocus also comes into play here.
In addition, the camera does a great job tracking objects; you can easily navigate the focus and tracking between the subjects on the display.
Image quality
The RAW images produced by the A7c are of impeccable quality. The 24MP sensor delivers excellent detail.
In addition, the immense dynamic range at low ISO settings allows you to retain highlights in high-contrast environments and bring up extensive amounts of shadow detail in raw processing.
The ISO performance is also impressive: even at ISO 1600, there is almost no loss in detail, and the images keep up in quality at ISO settings of 12800, with only a mild lack of detail.
The highest ISO point, the 51200, starts to lose sharpness but only moderately - the A7c handles the noise very well.
Upgraded color science features
Over the recent years, Sony has made several tweaks to its color sciences, and these positive changes are easily noticed in the A7c's performance.
The skin tones look substantially better than in other similarly packed models.
On the other hand, the colors are a bit less warm than those on Canon's latest cameras, which might be an essential factor for those looking to shoot portraits with the camera.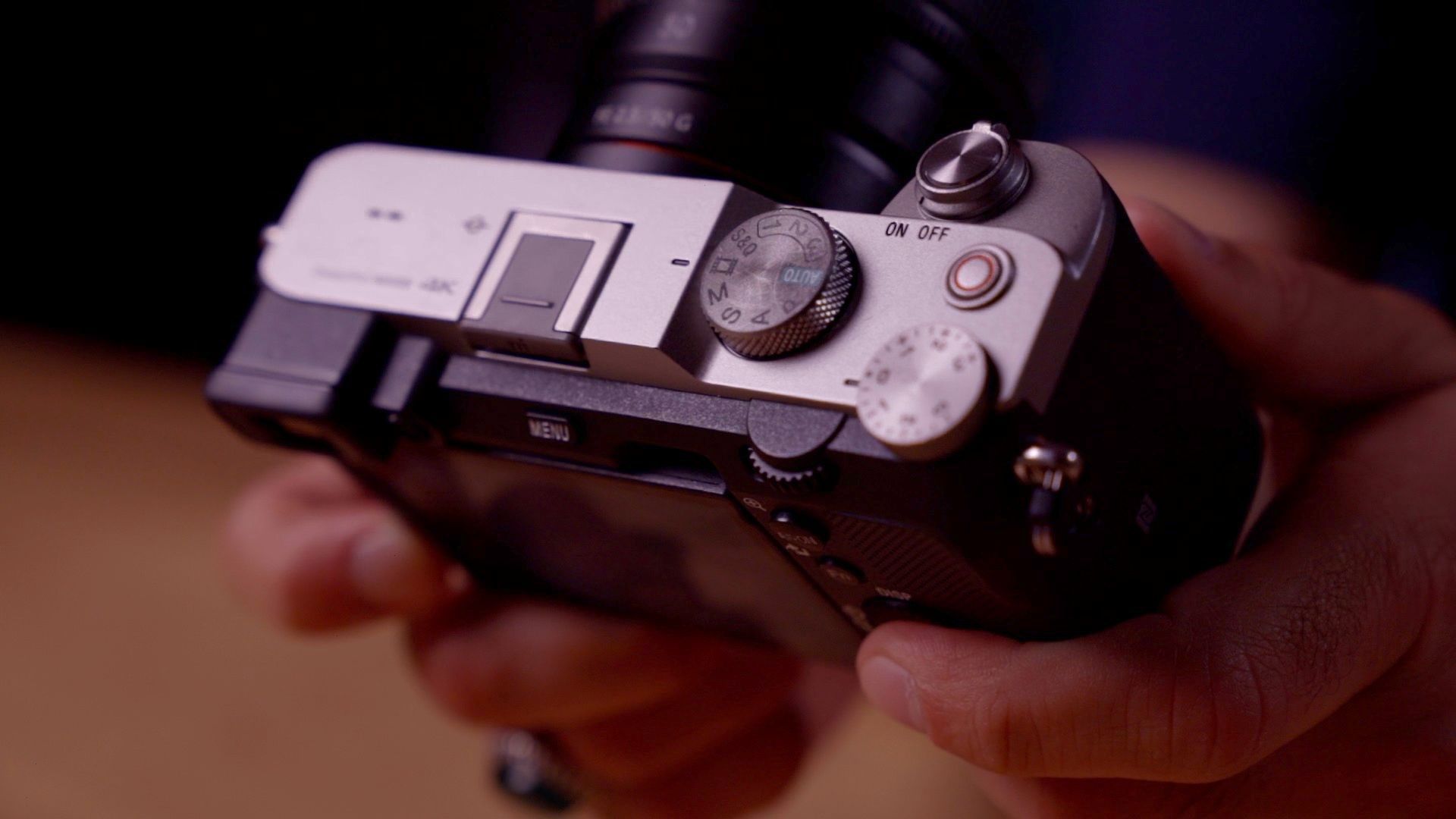 Dynamic range and low-light performance
The A7c comes with a wide dynamic range of 15 stops, which brings incredibly flexible RAW files with a lot of range to be edited in the processing.
The dynamic range doesn't give up the highlight and shadow detail too quickly. Suppose you want to underexpose a low ISO image to retain some highlight information.
In that case, you will see the shadows easily withstanding a high degree of brightening without becoming noisy or losing color.
The solid ISO performance and the 5-axis stabilization allow you to capture quality images in low-light environments with minimal blur, even if you're not using a stabilizer. Even with low light, the color retention works splendidly, the noise is kept at a minimum, and the level of detail remains solid.
Thanks to the kit lens, the natural depth doesn't get lost on the way, either.
Final verdict: Who should get Sony Alpha A7c?
The Sony A7c delivers fine images thanks to its solid sensor and superb autofocus system. The latter, combined with the 10fps burst mode, makes the camera fast and steady.
It delivers sharp, detailed images at high ISOs and performs very well in low-light situations.
Strong video capabilities, wide dynamic range, and 5-axis stabilization make this camera a decent choice for those looking for something small but mighty.
Among the drawbacks are the lack of portability and not an entry-level price.
Although the camera is light and compact, in the case of A7c, it doesn't translate into one easy to carry around in a pocket - instead, it fits into a small separate bag.
Price-wise, the $1798 body only seems overkill for an amateur-aimed camera, but its wide application and a couple of add-on lenses can save the situation.
What creators like
Compact. Good for both video and photos.
Show more
What creators don't like
Lower resolution compared to A7 R series. A7 S series are better for shooting in dark.
Show more
Frequently Asked Questions
It is worth it for every travel photographer.
Is Sony A7C professional?
No; at best, it's a secondary/backup camera that you would pair with a Sony A7-series or A9-series.
Is A7C better than A7III?
As they share the same sensor, the A7C and A7 III have the much the same AF hardware. This means that they both have a hybrid system with 693 phase-detection focus point and 425 contrast-detection points. However, the A7C is 1EV more sensitive which means it performs a little better in low light.
What is the A7C used for?
Built-in Wi-Fi enables the a7C to instantly share imagery to mobile devices for direct sharing online to social networking, via email, and to cloud storage sites. Support for both 2.4 and 5.0 GHz bands also enables wireless tethered shooting support.
Show more
Review by 1 other community members
and
Sony A7C Alternatives
Canon EOS R6
The Canon EOS R6 is an upper mid-range full-frame mirrorless camera with 20 Megapixels, 4k 60p video, built-in stabilization, bursts up to 20fps and a fully-articulated touchscreen. The R6 delivers most of what the R5 does, at a much more affordable price. Read more
£2,719 at Amazon
Rent from £30/day
Canon EOS R5
The Canon EOS R5 has specification with features like uncropped 8K video recording, uncropped 4K recording at up to 120p, phase detection autofocusing that covers the whole frame, and a class-leading viewfinder paired with a vari-angle touchscreen.Read more
£3,899 at Amazon
Rent from £35/day
Sony Alpha A7S III
The Sony Alpha A7S III is the most impressive video-centric consumer camera to date. Sony offers full-frame recording in staggering resolution quality by using an appropriate sensor, processing power and heat dissipation. However, the price may make you shrug a little.Read more
£1,662 at Amazon
Rent from £33/day
Show more
The research
Why you should trust us
At Wedio, we are on a mission to keep great stories alive. We achieve this by facilitating the sharing of knowledge, tools, and services that help you as a creator craft better stories. Today we help 100,000+ monthly creators become better — together. We believe in the power of the community. Instead of gathering product reviews from one creator, we involve hundreds of creators, and create both video- and written reviews. In that way, we present the essence of the collective rather than one opinion.
How we tested this product
We used a mixed-method design. Our qualitative video reviews, were created by hand-picked Wedio members. We shipped the product to them, they tried it for at least 30 days in real-life projects, and then they did an honest video review. Our quantitative written reviews, were collected from Wedio Renters and Lenders. When renters have rented the product, they have the option to leave a product review. When lenders create a product listing, they have the option to share their thoughts on the product itself.
How we fund this review
In order to keep delivering the best possible reviews for creatives, we have four different revenue streams. This includes (1) commissions from our short-term rentals (10 % from renters 20% from lenders whenever a rental is happening through Wedio), (2) commissions from our subscriptions (we get paid by our retail partners to deliver an order), (3) commissions from brands delivering products, and (4) commissions from affiliate links to other partners (such as retail partners, software, and other creative tools).
Limitations
Even though we try to be as unbiased as possible, we still want to address two limitations of this review. First, our lenders can be affected by the "Endowment effect" when reviewing their gear. They would potentially rate their product higher than they would have done if they rented the product — just because they own the product themself. Second, there is the potential of instructors experiencing "Confirmation bias" when reviewing a product. If they received the product from us, they might have a tendency to look for all the advantages and good things about the product because they want to please Wedio and the product brand. To overcome this limitation, we strictly guide our instructors to be as objective as possible — a low rating is as valuable to us as a high rating. The review aims to guide other creators in the choice of gear.
Get a Sony A7C
https://academy-cdn.wedio.com/2022/09/sony-a7c-review-wedio-4.jpg
GBP
Buy new
https://amzn.to/3EKCBMs
1899
Rent from
https://www.wedio.com/dk/search?q=sony%20a7c
26
Popular listings for rentals