Introducing Wedio Gear Guarantee
Rent camera gear from local creators.
1. Can't find the gear you are looking for on our platform?
2. Are you shooting abroad where there are currently no listings on the platform?
3. Are you planning a big production with a long gear list, and it's too time consuming for you to discover the listings on the platform?

If you find yourself in any of the scenarios above, then please read further.
What is Wedio Gear Guarantee?

Wedio Gear Guarantee is a free service that offers you support when you face your first challenge, before you actually start shooting — and that is finding the gear that you need.

How does it work?

If you can't find the exact equipment you're looking for among the +6,000 listings from your 2,800 peers, then we've still got your back. You can book one of our Local Heroes for free, and save yourself the trouble of searching around for days for the right gear. Instead, our Local Heroes will try their best to find what you need as quickly as possible.
Meanwhile, you win time, networking & new ties, and personal advice.

Who is my Local Hero?

Depending on your location, you'll get help from one of our go-to professionals from the United Kingdom, Germany, Denmark, and the Netherlands: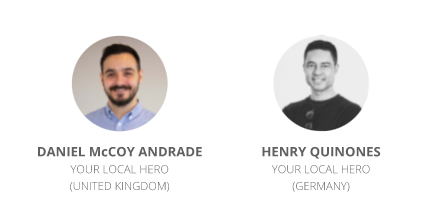 How do I book my Hero?

Request gear by clicking on one of the links below. You'll have your local Hero find the equipment for you as quickly as possible. Once a lender is found, she or he will send the offer to you, so you can discuss further the details.

So, if you're from:
The UK
Go to our UK Gear Guarantee profile
Germany
Go to our DE Gear Guarantee profile
Denmark
Go to our Dk Gear Guarantee profile
Looking for gear in other places of the world?
Popular listings for rentals