Canon EOS R6 Review: An All-Rounder Packed with Impressive Features
Rent camera gear from local creators.
Released at the same time as the mindblowing Canon EOS R5, the Canon EOS R6 didn't get much thunder as its big brother stole all the headlines. However, this capable all-rounder packs some of the features of the flagship model at an affordable price point.
Who should get the EOS R6? Read this complete review to find out.
Interested in more gear? Look at other Canon cameras or rent a camera today.
Canon EOS R6 key specs
The Canon EOS R6 offers the following specs:
20MP full-frame CMOS sensor,
4K video capture at 60p,
ISO range of 100-102,400,
360 shot battery capacity, and
20fps continuous shooting.
Gain deeper insight into this camera's capabilities by reading on in this Canon EOS R6 review.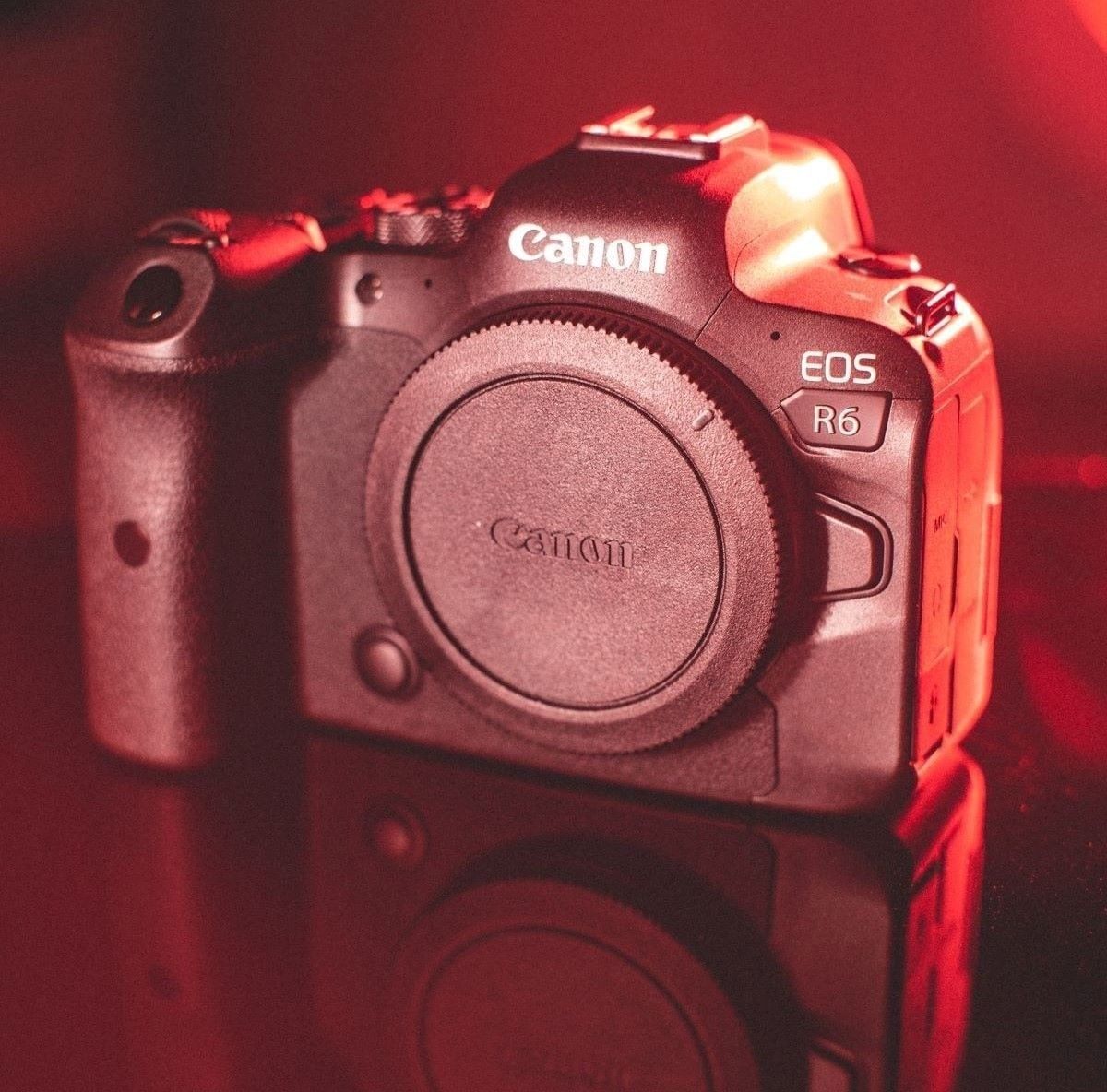 Features a RF mount and EF compatible
The EOS R6 features a Canon RF mount, but it can be compatible with EF lenses with a mount adapter. This is great news for creators who acquired a range of EF lenses in their 20+ years of sales.
Canon released a range of EF-RF adapters that provide additional functionality beyond a simple adapter. Some of them feature variable ND filters or control rings which can come in handy in several situations.
4K at up to 60fps or Full HD up to 120fps
While the R5 is renowned for its 8K resolution, the Canon EOS R6 films in a modest 4K which became expected from new mirrorless cameras today. It records in 4K at up to 60fps or Full HD up to 120fps.
Its 20MP sensor takes appealing pictures with stunning color in RAW format.
This mirrorless comes with an excellent native ISO of 100 to 102,400. It introduces minimal noise until ISO 6400, which is suitable for most lighting conditions.
The R6 features outstanding burst mode capabilities at 12 or 20 frames per second depending on which shutter is used.
This should appeal to wildlife and sports photographers, especially combined with its excellent autofocus performance detailed below.
High-performance Dual Pixel autofocus
The R6 offers the choice of a mechanical and electronic shutter. The electronic shutter is almost completely silent, but it can create a rolling shutter effect.
With 5940 Dual Pixel AF, the Canon EOS R6 offers high-performance next-gen autofocus. This camera blows the competition out of the water when it comes to tracking shots and focus speed.
Its reliable AF takes as little as 0.05 seconds to focus. The face detection and animal eye AF modes are excellent too, making it the perfect camera for wildlife, sports, and portrait photography.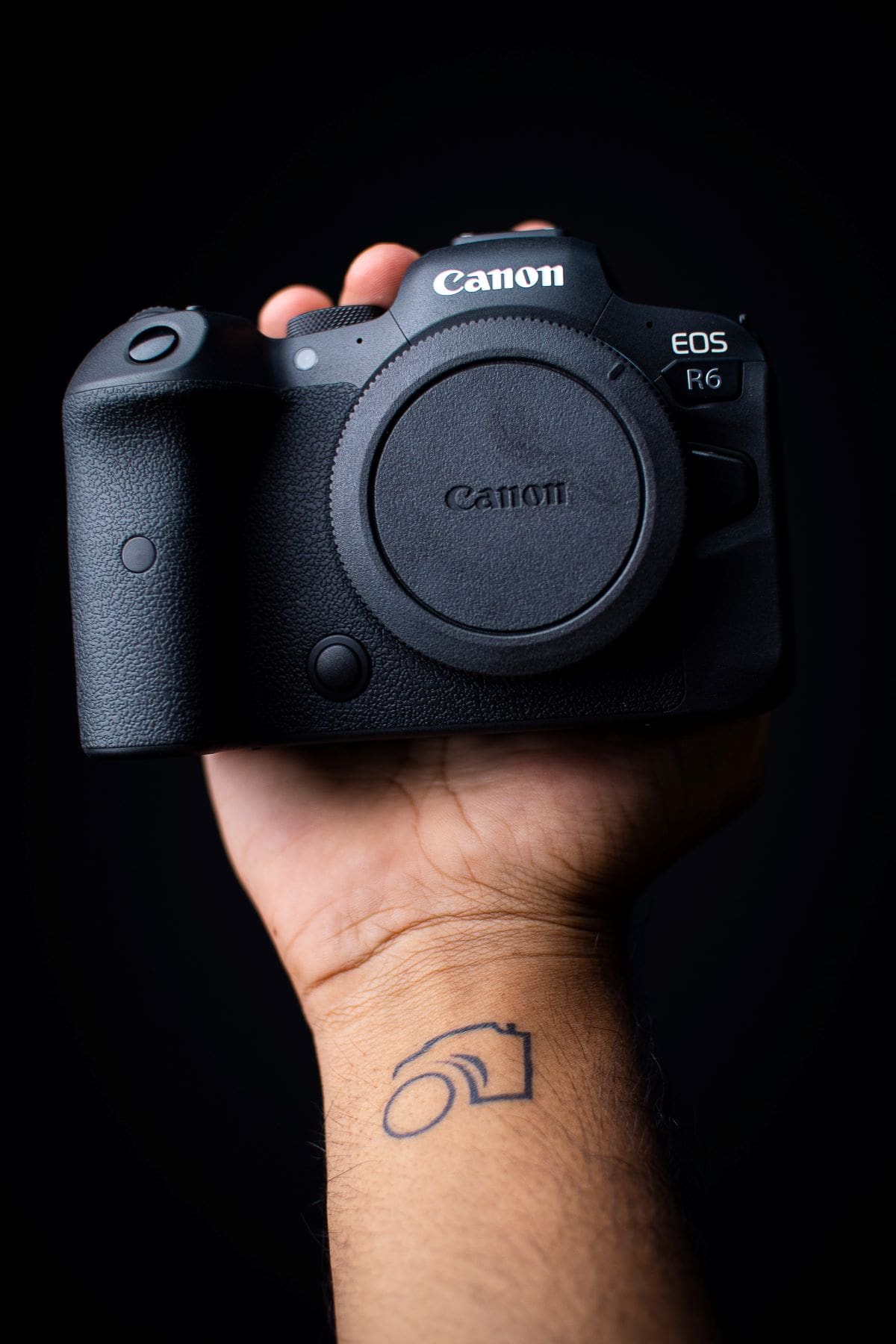 Full-auto or full-manual video recording modes
The Canon EOS R6's powerful autofocus comes through in video format just as much on stills. The 4K recording is cropped almost noticeably at 1.07x.
There was some uproar about overheating issues when recording for about half an hour, which Canon claims to have addressed. Regardless, the R6 heats up fast and cools down slowly, making it unsuited for long shooting days.
Unfortunately, video recording is only available in full-auto or full-manual modes. This will come as a disappointment for many intermediate filmmakers wanted to take advantage of aperture priority and other common shooting modes.
Lightweight body with glass fiber
The EOS R6 weighs 680 grams. It's made with polycarbonate reinforced with glass fiber for a sturdy yet lightweight feel. The design process was obviously focused on keeping the weight down, arguably to a fault.
The slim body is too small, and therefore some buttons were eliminated. It is, however, most comfortable to handle with enjoyable ergonomics.
The camera is dust- and splash-resistant. It features a 3-inch 3.6MP EVF screen with 1.6 million pixels. This LCD is highly responsive too, making it a joy to handle.
The R6's body includes two UHS-II card slots for your memory cards and uses the larger capacity LP-E6NH battery or an older LP-E6N.
The Canon EOS R6 and R5 were the company's first full-frame mirrorless models with IBIS, which was a welcome addition.
Canon EOS R6 review: Pros and cons
Is this capable all-rounder the dream camera for you?
Next up in this Canon EOS R6 review: pros and cons of the camera.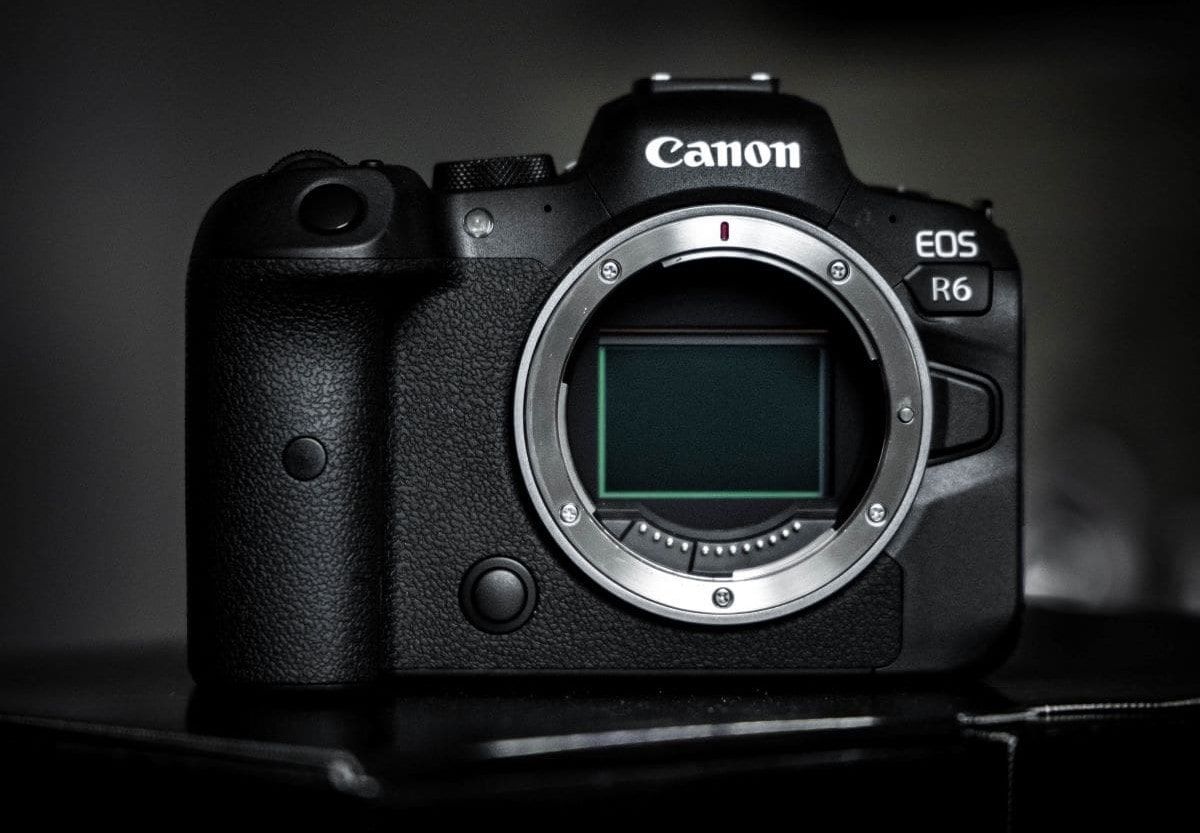 Advantages
Here are some of the best things about the R6.
More affordable version of the R5
The flagship Canon EOS R5 disrupted the market with unseen-before performance - with a matching price tag. The R5 features a 45MP full-frame sensor and 8K video recording at 120fps.
That is overkill for most creators. The R6 can be seen as a viable compromise!
The two models are similar in lots of ways. The largest deviations lie in the resolution and image quality. The R6 does feature most of the same advanced components, high burst speed, and body dimensions.
It actually performs slightly better in low light and has a wider native ISO sensitivity.
Excellent autofocus capabilities
This mirrorless stands out from the competition with excellent tracking and focus capabilities. The 5940 AF points cover basically the whole sensor.
Canon's next-gen autofocus, the Dual Pixel AF II does an outstanding job at keeping the subject of your image sharp. This, combined with the Deep Learning AF known from the 1D X Mark III produces consistently reliable results.
The camera's focus speed is outstanding too, as it takes as little as 0.05 seconds to focus.
In-Body Image Stabilization
The R6 features an outstanding 5-axis in-body image stabilization system that offers up to 8 stops of stability.
This best-in-class sensor-shift IBIS compensates for vibrations during filming and allows you to create smooth shots in challenging conditions, even at reasonably slow shutter speeds.
It also allows you to work well in low-light conditions or when using telephoto lenses.
Disadvantages
What should you consider as potential downsides to the R6?
No high resolution
The biggest potential downfall of the Canon EOS R6 lies in its 20.1MP sensor. Whether this is enough for you depends entirely on your preferences and shooting style.
If you look at the R5, the R6 pales in comparison, but is this really an issue for most people?
The simple answer is no. Unless you're working a lot with high-quality print media, the sensor will do you just fine.
Video limitations
The aforementioned limitations on video really render the camera unsuitable for anyone looking for video-oriented gear for long shooting days.
The overheating issue, while allegedly addressed, doesn't inspire confidence in the camera being able to handle a high-performance workload.
Full HD capture does not present a crop factor, and shooting in 120fps allows for a lot of flexibility, even regarding slow-motion video capture.
Lack of top plate LCD screen
Due to the smaller body, the R6 lacks the top plate LCD indicator that made a comeback in recent years. This shortcoming might seem redundant to many.
Some creators working with fast-moving photography might be used to quickly glancing down at the settings indicator rather than checking the EVF. To those, the R6 must disappoint.
Whether you find this important is fully up to you.
Price and availability
The Canon EOS R6 was released in the fall of 2020 for $2,499.
It's available worldwide at Canon camera retailers.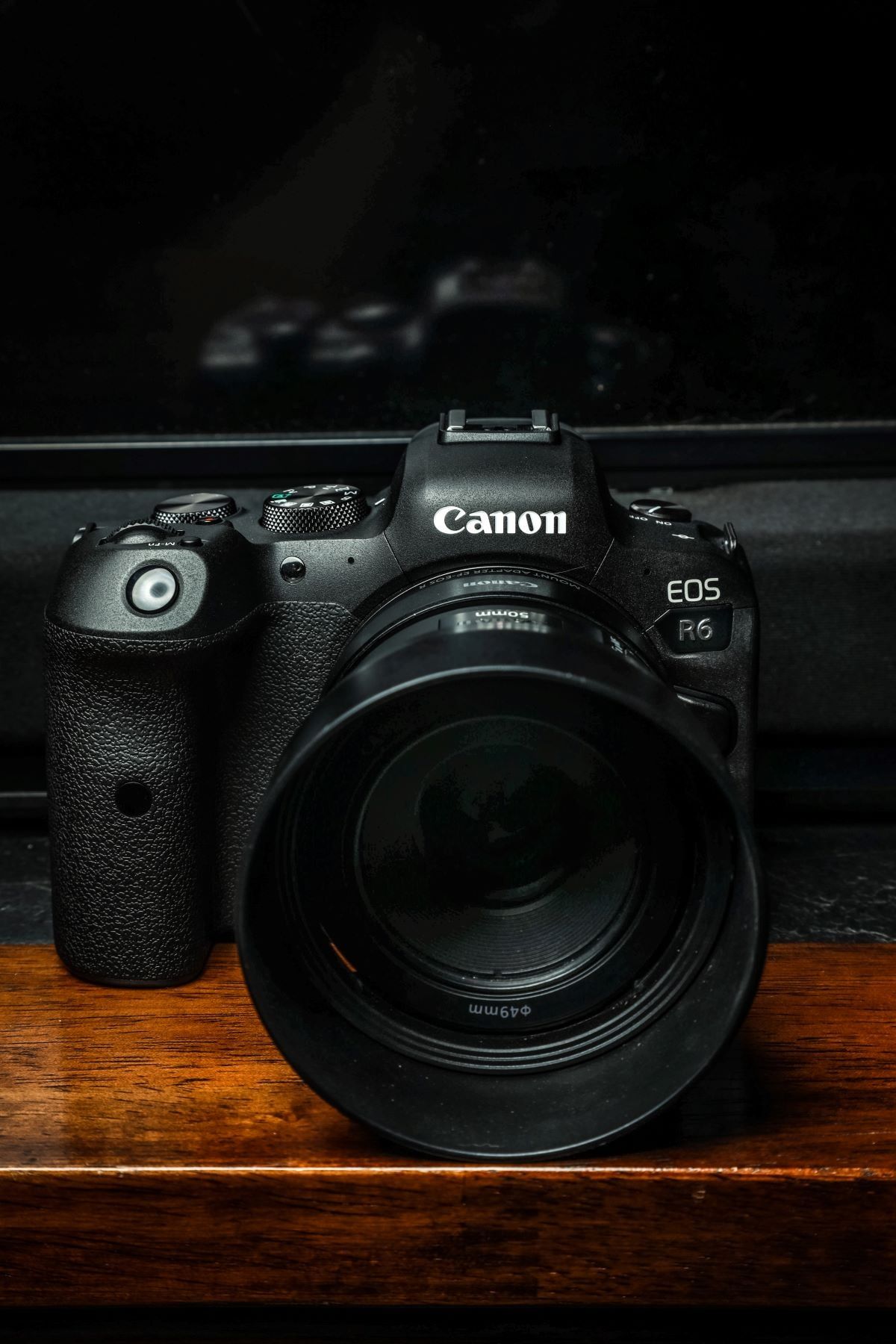 Final verdict: Who should get the Canon EOS R6?
A versatile all-rounder for those willing to handle fewer megapixels than the R5. The R5's mind-blowing IBIS and autofocus make it a strong contender for intermediate enthusiasts and pros alike.
If you're a creator working with both video and stills, however, the Canon EOS R6 might be a perfect balance between imaging capabilities, autofocus performance, and affordability.
If you're looking for a camera to record long videos in high resolution, consider a more video-oriented camera.
Rent or subscribe to the Canon R6
I hope this Canon EOS R6 review provided the answers you were looking for and helped you decide whether to give this camera a try.
Want to give it a whirl? Rent or subscribe to the R6 with Wedio.
Camera Hire: Take Your Production to The Next Level
71PttfqWPXk
Camera Rental: Save Money with Wedio
5sHshmF1n_Y
Rent Camera Gear: Access Pro Equipment
qqHXJy6AWlc
Explore more cameras for rent, or check out more gear to expand your horizons.

FAQ
Is the Canon EOS R6 good for photography?
The Canon EOS R6 offers outstanding autofocus and IBIS capabilities combined with great image quality. This makes it very suitable for still photography, especially sports and wildlife photography.
Is the Canon EOS R6 easy to use?
The R6 is not intended to be a beginner's camera. This is clear by the lack of guidance in the inbuilt presets. However, controls are quite intuitive and with enough dedication, even beginners can figure out this mirrorless.
Is Canon EOS R6 a professional camera?
The Canon EOS R6 is considered a professional camera according to the brand itself.
How long a battery time does the Canon EOS R6 have?
The R6 features a decent battery life at 380 shots with EVF and 510 without.
Rent Canon EOS R6 from local creators.
Save up to 40%.
Global Coverage included.
https://images.wedio.com/images/listing_images/images/1949146/300x215/P1211171.jpg
https://www.wedio.com/en/canon-eos-r6
https://images.wedio.com/images/listing_images/images/1943067/300x215/CANON-EOS-R6.jpeg
https://www.wedio.com/en/canon-eos-r6
https://images.wedio.com/images/listing_images/images/1941912/300x215/canon-eos-r6-with-24105-f4-rf-lens-86632272.jpg
https://www.wedio.com/en/canon-eos-r6
https://images.wedio.com/images/listing_images/images/1948078/300x215/6Z5A8113.JPG
https://www.wedio.com/en/canon-eos-r6
Popular listings for rentals