Sony A7 IV Review | Hands-On by the Wedio Community
Product Review: SONY Alpha A7 IV
16 other
Overview
Specs
Reviews
FAQ
Alternatives
Research
SONY Alpha A7 IV
SONY
The follow-up to the A7 Mark III is the aptly titled Sony A7 Mark IV, and it comes with a host of new features, upgrades, and improvements.
And this whole array of features and improvements to what is essentially Sony's "base model" Alpha 7-series camera is pretty spectacular. If you're unsure what to buy, you can always rent or subscribe to a Sony camera.
First, let's get a rundown of the reviews and specifications before we dive into the key features of this new camera.
4,9
Based upon18 reviews from Wedio members
Effectiveness
4,8
Usability
4,8
Value for money
4,9
Overall rating
4,9
Is it worth it?
Yes
Offers a brilliant blend of photographic power and video versatility. By effectively combining two cameras in one, it's the best example so far of the hybrid convenience that modern mirrorless cameras can offer. the A7 IV brings improvements across the board, including a new 33MP sensor, Bionz XR processor and significantly upgraded video skills.
No
With a cropped 4K/60p mode and rolling shutter issues, it isn't quite the perfect video camera. The A7 IV's battery life, in-body image stabilization and burst shooting speeds are also merely average rather than class-leading. This also isn't exactly a discreet camera for travel or street shooting either, nor a light one for long landscape hikes.
Community reviews
SONY Alpha A7 IV: Review by Gustav Idun Sloth
Advance autofocus performance, easy live streaming features, improved image and video quality makes A7 IV the ultimate hybrid camera on the market. Learn more about it with Gustav 📷
Tips before rental
rmIGc8WS-s8
Pros
Extensive external controls
Cons
Relatively slow shooting speeds
SONY Alpha A7 IV vs. Nikon Z7 II
SONY Alpha A7 IV
Nikon Z7 II
Sensor
33MP - Full frame BSI-CMOS
46MP - Full frame BSI-CMOS
Dimensions
129 x 97 x 81 mm
134 x 101 x 70 mm
ISO
100 - 51200 ( expands to 50 - 204800)
64 - 25600 ( expands to 32 - 102400)
Screen
3.00" Fully articulated Screen
3.20" Tilting Screen
Video resolution
4K (UHD) - 3840 x 2160
4K (UHD) - 3840 x 2160
Show more
Complete SONY Alpha A7 IV review
Accurate autofocus performance
The A7 IV boasts essentially the same impressive autofocusing system as the flagship A1 camera, putting a major focus on speed and subject-tracking capabilities.
Autofocus algorithms have been updated across the board for improved precision and performance and allow you to take your wildlife photography to the next level by being able to track both birds and mammals.
Easy live-streaming features
The process of live streaming directly from your camera has been streamlined in the A7 IV. When you connect the camera to the computer through USB, the menu gives you the choice to live stream via USB. Streaming video is supported up to 4K at 15fps, Full HD at 60p and 30p, and 720p at 30p.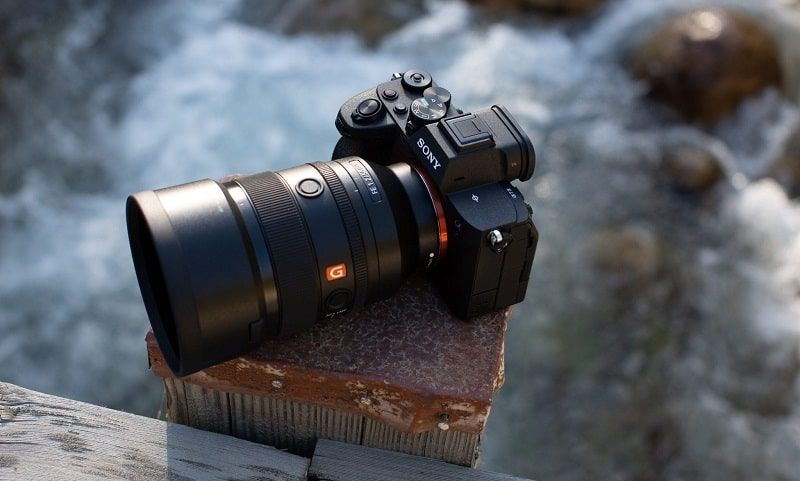 Improved image and video quality
The big news in the A7 Mark IV is the all-new 33.0-megapixel full-frame Exmor R back-illuminated CMOS sensor, paired with Sony's newer BIONZ XR image processing engine from the Alpha 1 and A7S III. The camera offers crisp and sharp images with fine detail and well-controlled noise. Colors are vibrant yet natural and not over-saturated.
Battery and connectivity
The Sony A7 IV includes many modern ports and connectivity, both wireless and wired. Full-size HDMI Type-A port, 3.5mm headphone and microphone jacks, and micro-USB and USB-C, which offer both 10Gbps data rate and Power Delivery. The wireless allows for both Wi-Fi and Bluetooth. The A7 IV uses a high-capacity Z-series battery, known from the A7 III and other recent Alpha cameras.
Body and controls
The body of the A7 IV also borrows from the flagship A1. It's a combination of the A1 and A7 III, which means it's slightly larger than the A7 III, with a deeper and more comfortable handgrip. It makes the camera feel more sturdy and substantial, and it's much nicer to hold.
It is also both dust- and moisture-resistant in harsh conditions. The controls are nicely placed and made a bit bigger than the A7 III, making them easier to operate.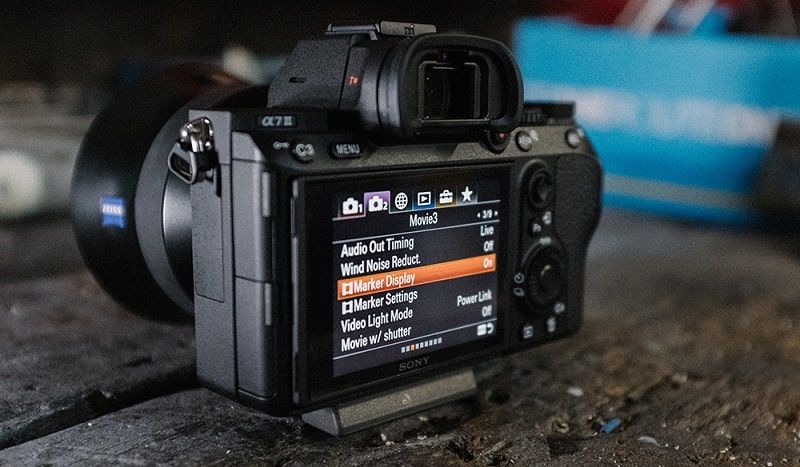 Final verdict: Who should get Sony Alpha A7 IV?
With the Sony Alpha A7 IV, you are getting a lot of camera for the money spent. Probably the best deal that Sony has right now if you are looking for a hybrid camera.
If you are in the market for hybrid cameras, it will be hard to find a better camera than this at this price point.
If you are still considering whether to invest in your own camera or if you just want to get your hands on it and try it out?
A camera is a great asset to have in your gearbox, but far from the only one. Explore what else there is of essential camera equipment.
Consider renting or subscribing to your next camera – even the Sony A7 IV.
What creators like
Show more
What creators don't like
Bit weak in dark place
It has no GPS, which I expect of a camera at this price range.
Crops at 4k 60FPS and although I have never personally experienced any problems people have raised concerns about overheating.
Show more
Frequently Asked Questions
How is the video quality in the Sony A7 IV?
It can shoot up to 4K 60p video in Super35 and 4K 30p video with 7K oversampling.
Does the Sony A7 IV have a recording limit?
No recording time limit allows for unlimited clip lengths and the camera's physical design features an improved heat-dissipating structure to promote longer possible recording times; longer than one hour of continuous 4K 60p 10-bit 4:2:2 recording, for example
How long does the Sony A7IV battery last?
The official Cipa rating of the Sony A7 is at 520 shots per charge, and this is when using the electronic viewfinder. As for the recording capabilities, it can shoot 4k videos for at least 2 hours, which is quite nice not going to lie.
Is Sony A7 good for videography?
Sony Alpha A7r III has proved to be the best Sony camera for video recording by leading with its inspiring maximum artistry.
Show more
Review by 17 other community members
and
Sony Alpha A7 IV Alternatives
Canon R6
The Canon R6 Mirrorless camera comes with a full frame (36 x 24 mm) sized CMOS sensor, great built-in image stabilization, weather sealed body and a fully articulated touch screen. Read more
£2,349 at Amazon
Rent from £40/day
Nikon Z6 II
This model brings more processing power, improved autofocus, and a second memory card. With identical pricing as its predecessor, this camera is really worth digging into. Read more
£1,740. at Amazon
Rent from £40/day
Sony A7 III
Despite some claiming the Sony Alpha A7 III is 'basic', it is actually an impressively capable full-frame camera. It suits everyone's needs- whether you are a beginner or experienced in these cameras. Read more
£1,361 at Amazon
Rent from £35/day
Show more
The research
Why you should trust us
At Wedio, we are on a mission to keep great stories alive. We achieve this by facilitating the sharing of knowledge, tools, and services that help you as a creator craft better stories. Today we help 100,000+ monthly creators become better — together. We believe in the power of the community. Instead of gathering product reviews from one creator, we involve hundreds of creators, and create both video- and written reviews. In that way, we present the essence of the collective rather than one opinion.
How we tested this product
We used a mixed-method design. Our qualitative video reviews, were created by hand-picked Wedio members. We shipped the product to them, they tried it for at least 30 days in real-life projects, and then they did an honest video review. Our quantitative written reviews, were collected from Wedio Renters and Lenders. When renters have rented the product, they have the option to leave a product review. When lenders create a product listing, they have the option to share their thoughts on the product itself.
How we fund this review
In order to keep delivering the best possible reviews for creatives, we have four different revenue streams. This includes (1) commissions from our short-term rentals (10 % from renters 20% from lenders whenever a rental is happening through Wedio), (2) commissions from our subscriptions (we get paid by our retail partners to deliver an order), (3) commissions from brands delivering products, and (4) commissions from affiliate links to other partners (such as retail partners, software, and other creative tools).
Limitations
Even though we try to be as unbiased as possible, we still want to address two limitations of this review. First, our lenders can be affected by the "Endowment effect" when reviewing their gear. They would potentially rate their product higher than they would have done if they rented the product — just because they own the product themself. Second, there is the potential of instructors experiencing "Confirmation bias" when reviewing a product. If they received the product from us, they might have a tendency to look for all the advantages and good things about the product because they want to please Wedio and the product brand. To overcome this limitation, we strictly guide our instructors to be as objective as possible — a low rating is as valuable to us as a high rating. The review aims to guide other creators in the choice of gear.
Get a Sony A7 IV
https://wedio-cdn.s3.eu-west-1.amazonaws.com/blog-images/random-images/sony-a7-iv-sticky-min.jpg
GBP
Buy new
https://amzn.to/3P2bUaT
2399
Rent from
https://www.wedio.com/en/sony-alpha-a7-iv
40
Popular listings for rentals