Red Scarlet-W Dragon 5K Review: The Famously Infamous Cinema Camera
Product Review: Red Scarlet-W Dragon 5K
2 other
Overview
Specs
Reviews
FAQ
Alternatives
Research
Red Scarlet-W Dragon 5K
Red Digital Cinema
4,8
Based upon4 review from Wedio members
Effectiveness
4,8
Usability
4,8
Value for money
4,8
Overall rating
4,8
What creators like
The image quality out of the sensor is beautiful with 16bits of colour and 16 stops of dynamic range, it has amazing colour depth
See all reviews
Is it worth it?
Yes
The DSMC² modularity allows you to upgrade your kit on an ongoing basis whenever your improved skills or budget warrant it. RED offers a range of cinema cameras suited to just about any purpose. Compatible with several popular lens mounts like the Canon-EF, Arri PL, Nikon, and Leica M.
No
RED cameras are made for scripted drama and feature films where the built-in ND filter wouldn't be much use. However, for documentaries or shooting outside the lack of it quickly becomes blatantly clear. The Dragon 5K is excellent value at a reasonable price for its specs. However, that price is out of reach for many creators.
Quick Red Scarlet-W Dragon 5K review
RED cinema cameras are renowned for their stunning color and outstanding performance. Does the Scarlet-W live up to the expectations?
Learn all you need to know in this RED Scarlet-W Dragon 5K review by reading on.
Interested in more gear? Learn about camera equipment or rent a camera for your next project.
Red Scarlet-W 5K vs. Canon EOS C200
Red Scarlet-W 5K
Canon EOS C200
Sensor
25.6 x 13.5 mm (Super35)
24.6 x 13.8 mm (Super35) CMOS
ISO
100 to 12,800
160 to 25,600
Dynamic range
16.5 stops
15 stops
Mount
EF and PL mounts
EF
Video
5K/60P and 5K Full Frame/48P
4K/50P or 120P Full HD
Screen
HDMI with DSMC2 expander
Rotating 4" Touch-Panel
Show more
Complete Red Scarlet-W Dragon 5K review
Renowned color and 16.5 stops of dynamic range
The RED Scarlet-W Dragon 5K doesn't disappoint.
It brings RED's renowned color science and 16.5 stops of dynamic range. It's able to capture beautiful slow-motion and high-speed footage in RAW at a range of speeds like:
48 fps at 5K Full Frame (5120 x 2700) or 60 fps at 5K 2.4:1,
120 fps at 4K Full Frame or 150 fps at 4K 2.4:1,
160 fps at 3K Full Frame or 200 fps at 3K 2.4:1, and
240 fps at 2K Full Frame or 300 fps at 2K 2.4:1.
5K Dragon sensor
The Scarlet features RED's flagship 13.8MP Super 35 Dragon 5K sensor powers the high-performance camera brain. The Super 35mm CMOS offers 16.5 stops of latitude with the classic cinema feel that creators came to expect. The gorgeous images
Due to the modular and upgradeable system, the Dragon sensor can be replaced by a Weapon 8K at any point. This leaves you with a lot of flexibility to spec out your already capable gear.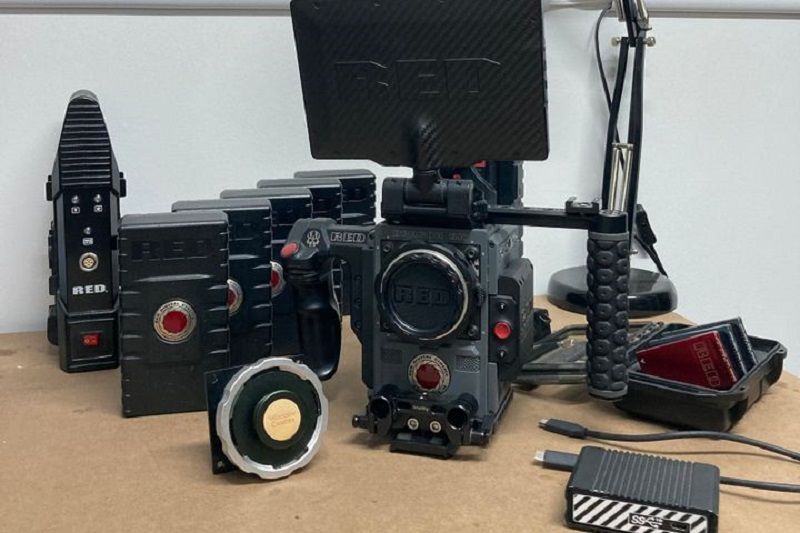 REDCODE RAW
The Scarlet-W is capable of recording in REDCODE RAW format. This will appeal to creators looking to optimize their workflow while retaining creative control in post-production.
REDCODE RAW uses wavelet compression to reduce storage requirements with compression ratios up to 22:1. This format is compatible with several NLE programs like Adobe Premiere Pro and Apple Final Cut Pro. You won't have to transcode the file and still retain RAW flexibility.
The Scarlet-W is capable of simultaneous capture of ProRes and REDCODE RAW files. This means that if you need a ready-to-edit code for immediate use, you can still take advantage of RAW files later on.
DSMC² form factor
The RED Scarlet-W is part of the RED's staple Digital Still and Motion Cameras. The DSMC² line features its signature form, simultaneous ProRes and RAW capture, 3D LUTs, and gorgeous Auto Black Balance.
The v2 releases are modular so you can customize your gear to match your needs and upgrade or swap accessories easily. Therefore the Scarlet-W body can be upgraded to an 8K sensor later, making it future-proof.
The whole line, including the Scarlet-W is recognizable by its angular, boxy shapes. The camera is constructed out of aluminum alloy, quite light at 1.5kg (brain only), and small for the performance it packs.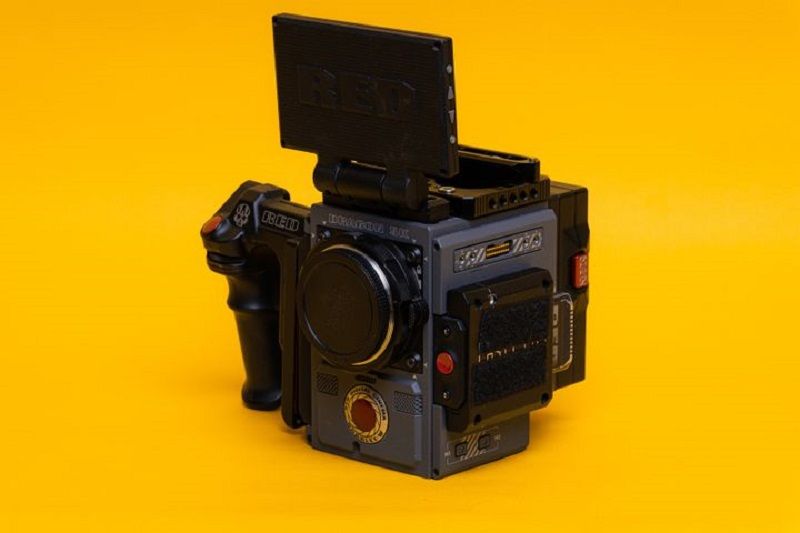 Final verdict: Who should get the RED Scarlet-W Dragon 5K?
This RED Scarlet-W Dragon 5K is an excellent entry point for those looking to give the DSMC line a whirl or who want to upgrade from the RED Raven.
It's a stunning cinema camera excellent for narrative film and TV productions. It utilizes technology from RED's top-shelf cameras while remaining broadly affordable at the price point.
What creators like
The image quality out of the sensor is beautiful with 16bits of colour and 16 stops of dynamic range, it has amazing colour depth. It's a really usable size and weight distribution for handheld.
RED R3D og cinema billedekvalitet
RED Scarlet 5k modularity and small size make it a perfect gimbal or drone camera. Lots of lens options, maybe compatible with your existing gear.
Show more
What creators don't like
No built-in NDs, which is bad for those doing run-and-gun shooting or branded content work where you are moving fast with a small crew.
Show more
Frequently Asked Questions
Why is it called scarlet red?
A bright red color tinted with hints of orange, the color Scarlet has religious connotations as its name represents the blood of Christ and Christian martyrs.
Why is RED camera so special?
A RED camera shoots RAW footage files, which are file formats for uncompressed images that are large in size with lossless quality. This file format stores the fullest details of images so that they can be edited to your taste and preference.
Are RED cameras still popular?
As digital cameras have become the norm in 21st century movies and production work and more and more films and clients want their projects shot in 4K resolution, RED cameras have become a staple on film sets around the world.
Can RED cameras record audio?
The camera can record up to four (4) discrete stereo channels of uncompressed 24-bit, 48 kHz audio. Input signals are routed via a high-quality pre-amplifier to achieve the desired recording levels and maximize dynamic range. Audio data is synchronized with video and timecode and embedded in the R3D® file.
Show more
Review by 3
Red Scarlet-W 5K Alternatives
Canon EOS C200
Canon is known for its quality cameras, and with the C200 model from the cinema line, the brand just kept at it: ergonomics, features, and footage quality are as good as ever with a great price for such a camera. Read more
$3,500 at Amazon
Rent from $120/day
Ursa Mini Pro 12K
Blackmagic URSA Mini Pro 12K is a revolution in digital film with a 12,288 x 6480 12K Super 35 sensor and 14 stops of dynamic range, built into the award winning URSA Mini body to produce extraordinarily detailed images. Read more
$6,300 at Amazon
Rent from $140/day
DJI Ronin 4D 6K
Designed for both solo use by independent creators and dynamic pro video capture, the Ronin 4D from DJI is an innovative all-in-one camera/gimbal solution. The "4D" refers to the Z-axis stabilization. Read more
$6,800 at Amazon
Rent from $120/day
Show more
The research
Why you should trust us
At Wedio, we are on a mission to keep great stories alive. We achieve this by facilitating the sharing of knowledge, tools, and services that help you as a creator craft better stories. Today we help 100,000+ monthly creators become better — together. We believe in the power of the community. Instead of gathering product reviews from one creator, we involve hundreds of creators, and create both video- and written reviews. In that way, we present the essence of the collective rather than one opinion.
How we tested this product
We used a mixed-method design. Our qualitative video reviews, were created by hand-picked Wedio members. We shipped the product to them, they tried it for at least 30 days in real-life projects, and then they did an honest video review. Our quantitative written reviews, were collected from Wedio Renters and Lenders. When renters have rented the product, they have the option to leave a product review. When lenders create a product listing, they have the option to share their thoughts on the product itself.
How we fund this review
In order to keep delivering the best possible reviews for creatives, we have four different revenue streams. This includes (1) commissions from our short-term rentals (10 % from renters 20% from lenders whenever a rental is happening through Wedio), (2) commissions from our subscriptions (we get paid by our retail partners to deliver an order), (3) commissions from brands delivering products, and (4) commissions from affiliate links to other partners (such as retail partners, software, and other creative tools).
Limitations
Even though we try to be as unbiased as possible, we still want to address two limitations of this review. First, our lenders can be affected by the "Endowment effect" when reviewing their gear. They would potentially rate their product higher than they would have done if they rented the product — just because they own the product themself. Second, there is the potential of instructors experiencing "Confirmation bias" when reviewing a product. If they received the product from us, they might have a tendency to look for all the advantages and good things about the product because they want to please Wedio and the product brand. To overcome this limitation, we strictly guide our instructors to be as objective as possible — a low rating is as valuable to us as a high rating. The review aims to guide other creators in the choice of gear.
Get a Red Scarlet-W 5K
https://wedio-cdn.s3.eu-west-1.amazonaws.com/blog-images/random-images/red_scarlet_w_dragon_5k_met_wedio-sticky-min.jpg
USD
Buy used
https://adorama.rfvk.net/x97J1O
3499
Rent from
https://www.wedio.com/en/red-scarlet-w-dragon-5k
120
Popular listings for rentals