Product review: Canon EOS C200
Hire film gear from local filmmakers.
Hire film gear from local filmmakers.
Product Review: Canon EOS C200
-1 other
Overview
Specs
Reviews
FAQ
Alternatives
Research
Canon EOS C200
Canon
5,0
Based upon1 reviews from Wedio members
Effectiveness
5,0
Usability
5,0
Value for money
5,0
Overall rating
5,0
Is it worth it?
Yes
The C200 makes a lot of sense if you're shooting weddings, events, or content for the web - its remarkable autofocus abilities, long record times to reasonably priced SD cards, and long battery life make it a great option for this filming niche. Additionally, the C200 is a fantastic option for independent filmmakers who want to shoot high-quality content with small crews without shelling out a ton of cash for a camera. Because of its compact, portable size, you can utilize the camera on gimbals and drones even if you can't afford an Arri Alexa Mini or a RED.
No
With all of its superb features, the C200 isn't suitable for broadcasting, so if you're looking for this capability, it's better to get an alternative. We suggest three similar cameras to look out for at the end of this article.
A steller quality cinema camera
Canon is known for its stellar quality cameras, and with the C200 model from the cinema line, the brand just kept at it: ergonomics, features, and footage quality are as good as ever.

Keep reading this Canon EOS C200 review to discover what's hiding behind the solid body of this camera, who will find it most appealing, and how it compares to the C70!

The camera world is indeed profound, and it's easy to get lost if you don't know a lot about gear. We are ready to help you out: consult this ultimate camera equipment guide to learn all about gear.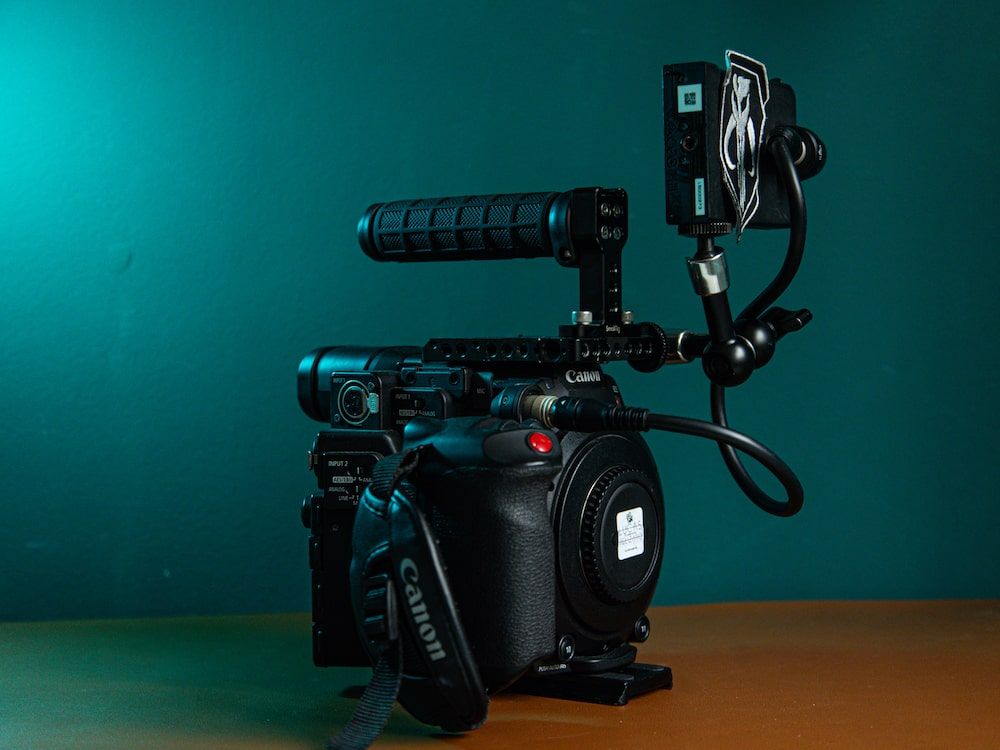 A pro-level camera
This Canon camera has practically all the features a movie camera shooter might want for $5,000, which is a great price for such a pro-level camera. The C200 can record to CFast 2.0 cards and makes the RAW process simple by requiring only a third of the storage capacity of uncompressed RAW. Additionally, this camera boasts exceptional low-light capabilities, a sturdy, dependable, ergonomic body with up to 10 stops of built-in ND, face detection, the Focus Assist feature, and the stellar autofocus of any movie camera now available.

You can always give Canon C200 a test drive - rent it through Wedio and decide if this camera is going to join your kit.

Pros
Compact and easy to carry around
Can easily be used handheld
Great low-light performance
Cons
The menu system might take some time to get used to
No 120fps recording without crop
Canon EOS c200 in-depth review
Build and ergonomics
Compared to the C100, the Canon 200 is larger, weighs 1.43kg, and appears and feels more substantial. The body includes controls, an SDI out, and an XLR audio input. To get pro audio inputs, you no longer need to attach the handle as you had to do with the C100.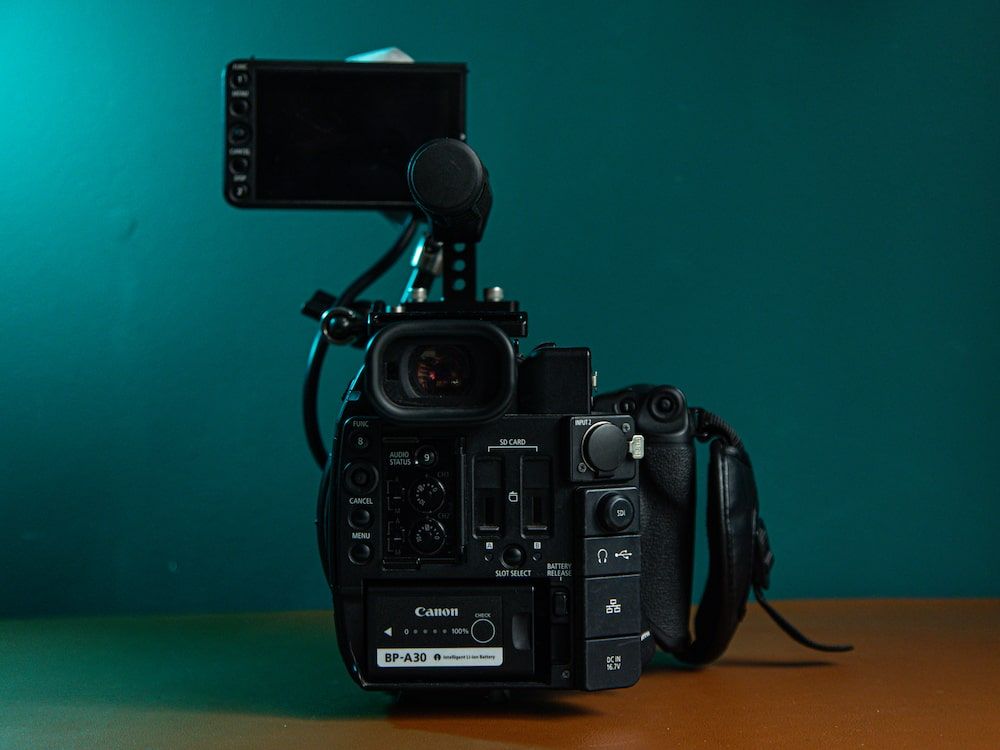 The design of the top handle unit is also updated. It may now be mounted to the body using two screw mounts, making it extremely sturdy. The LCD monitor, which is no longer affixed to the body's back permanently, is the design part that has changed the most. As an alternative, it can be positioned in various ways thanks to the attachment unit arm. It is now a touch screen as well, but if one wishes, it may also be used with buttons and a joystick.

Autofocus
For more accuracy, the focus point's size and location can be changed on the screen. Framing and focusing are now simpler than ever thanks to this update. If you prefer to shoot in Manual Focus (MF) but want to be certain the focus is exact and sharp, there are Face Detection and Focus Assistance functions. The touch screen may also be used to simply touch an area you wish to be in focus or even tap an object to lock focus on it while moving the camera.

Video capabilities
The C200 can capture images in full HD, Ultra HD, and 4K resolutions. It records footage in native Cinema RAW Light format at 4096x2160 for 4K (DCI) resolution and 8bit H.264 MP4 format at 3840x2160 for Ultra HD. The camera produces outstanding 12-bit RAW files - the quality is natural, the roll-off is gentle, and most significantly, there is a substantial amount of shadow data. Although the dynamic range of the Canon C200's RAW files may not quite match that of the Arri ALEXA, they nevertheless scream quality, making the camera an unquestionable high-end cinema tool that you should try.

10-stop ND filters
There are two distinct rotating filter stages on the Canon C200 which give a lot of versatility and a 10-stop ND filter. There's no need for an additional filter: you can enjoy a shallow depth of field even in very bright sunshine thanks to this in-built feature. Additionally,  the properly balanced internal NDs allow for zero color shift.
When it comes to run-and-gun filming, these built-in ND filters are complete lifesavers since you don't have to screw on filters to the front of your lens. The ND filter really fits between the sensor and the rear element of the lens.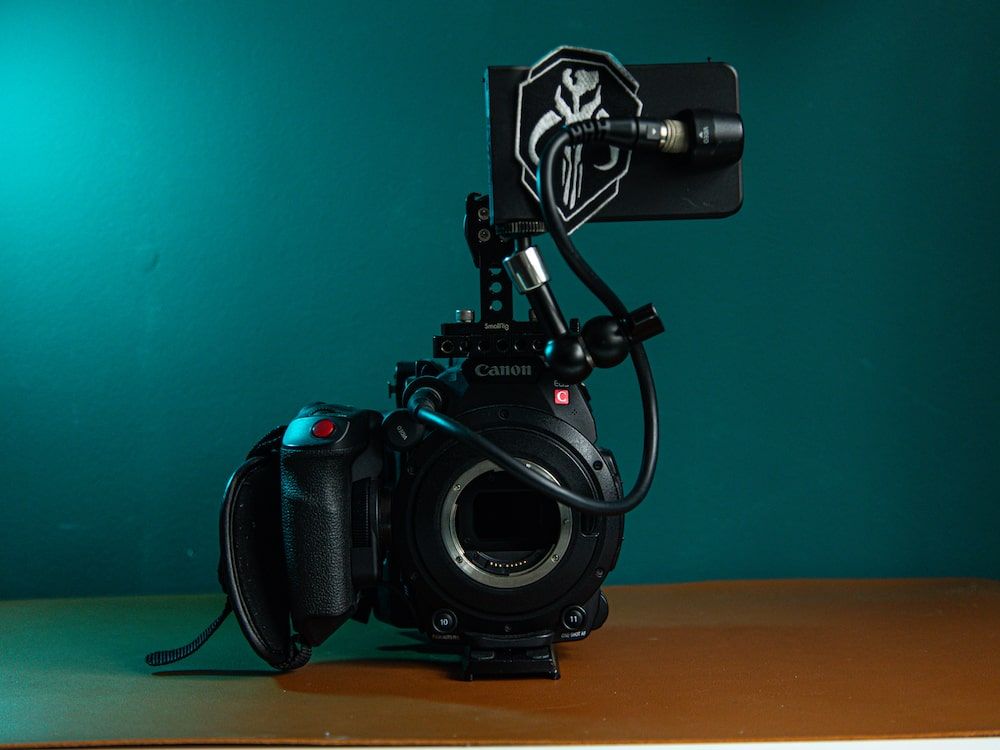 Battery
The battery for the Canon C200 is identical to that for the Canon C300 Mark II, and is available in two sizes. The BPA 60 is the larger one and lasts for almost four hours. The smaller ones last for approximately two hours.

Final verdict
The Canon C200 offers you a chance to capture 4K RAW for $5,000, and the fact that the camera can capture 60p RAW and up to 120fps in HD makes it quite practical. For many filmmakers, purchasing this camera is a no-brainer thanks to the rich package that includes superb features, great ergonomics, and stellar quality.
The C200 supports MP4 with a 150 Mbps compression rate, which is the same as the modern standard for entry-level consumer cameras, h.264. However, it might appear that this does not deliver high-enough quality for some experienced creators. As a result, this camera seems to offer features that are suitable for both high-end and low-end consumers, but there is a certain "void" in the middle-end users.
Canon EOS C200 vs. Canon EOS C70
Canon EOS C200
Canon EOS C70
Sensor size
24.4 x 13.5 mm
26.2 x 13.8 mm
Dynamic range
15 stops
16+ stops
Resolution
4096×2160
4096×2160
ISO range
160-25,600
100-102,400
Max fps at 1080p
120fps
180fps
Capture type
Video only
Stills and video
Focus type
Auto, Manual
Auto, Manual
Show more
What creators like
Shoots beautiful Canon Cinema RAW Light
Show more
What creators don't like
Show more
Frequently Asked Questions
Is Canon C200 a good camera?
This camera has practically all the features a movie camera shooter might want for $5,000, It boasts exceptional low-light capabilities, a sturdy body with 10-stop built-in ND, face detection, the focus assist feature, and stellar autofocus.
How old is the Canon C200?
Canon C200 was released in 2017.
Yes, the C200 shoots in 4K resolution.
Where to rent the Canon C200?
You can rent Canon C200 through Wedio - visit our main page for more information on gear rentals.
Show more
Canon EOS C200 Alternatives
Canon EOS C70
The Canon EOS C70, with its hybrid design and incredible capability, both democratizes the world of movie cameras and provides experienced videographers with a new, small-but-powerful solution for indie and run-and-gun filmmaking. For anyone who shoots video professionally, the combination of the C300 Mark III's capability, the RF mount, and the touch input and ergonomics of a mirrorless camera is a compelling proposition. Read more
Buy at Wedio
$70/day at Wedio
Canon EOS C300 Mark III
A pricier alternative to the C200, the C300 Mark III is a potent tool for cinematic productions with a Super 35mm Dual Gain Output sensor and up to 16 stops of high dynamic range for enhanced HDR recording and minimal noise. To achieve the most realistic color reproduction, the camera allows user-created LUTs that may be applied to display, LCD, or viewfinder, and comes with a mighty autofocus with face detection.Read more
Rent from $200/day
Sony FX6
The Sony FX6 is a full-frame cinema camera designed to deliver premium image quality in a remarkably compact and small form. It features great low-light performance, DCI 17:9 C4K video capabilities instead of just 4K, XLR audio, and built-in ND filters. All this at an affordable price - a good competition to the Canon C200.Read more
Buy at Wedio
Rent from $120/day
Show more
Review by 0 other community members
and
The research
Why you should trust us
At Wedio, we are on a mission to keep great stories alive. We achieve this by facilitating the sharing of knowledge, tools, and services that help you as a creator craft better stories. Today we help 100,000+ monthly creators become better — together. We believe in the power of the community. Instead of gathering product reviews from one creator, we involve hundreds of creators, and create both video- and written reviews. In that way, we present the essence of the collective rather than one opinion.
How we tested this product
We used a mixed-method design. Our qualitative video reviews, were created by hand-picked Wedio members. We shipped the product to them, they tried it for at least 30 days in real-life projects, and then they did an honest video review. Our quantitative written reviews, were collected from Wedio Renters and Lenders. When renters have rented the product, they have the option to leave a product review. When lenders create a product listing, they have the option to share their thoughts on the product itself.
How we fund this review
In order to keep delivering the best possible reviews for creatives, we have four different revenue streams. This includes (1) commissions from our short-term rentals (10 % from renters 20% from lenders whenever a rental is happening through Wedio), (2) commissions from our subscriptions (we get paid by our retail partners to deliver an order), (3) commissions from brands delivering products, and (4) commissions from affiliate links to other partners (such as retail partners, software, and other creative tools).
Limitations
Even though we try to be as unbiased as possible, we still want to address two limitations of this review. First, our lenders can be affected by the "Endowment effect" when reviewing their gear. They would potentially rate their product higher than they would have done if they rented the product — just because they own the product themself. Second, there is the potential of instructors experiencing "Confirmation bias" when reviewing a product. If they received the product from us, they might have a tendency to look for all the advantages and good things about the product because they want to please Wedio and the product brand. To overcome this limitation, we strictly guide our instructors to be as objective as possible — a low rating is as valuable to us as a high rating. The review aims to guide other creators in the choice of gear.
Access Canon EOS C200
USD
Buy used
4620
Rent from
120
Popular listings for rentals