Podcasting 101: From Basic Tips to Scaling Your Podcast
Hire film gear from local filmmakers.
Hire film gear from local filmmakers.
Whether you're itching to start a podcast or need a little push to get started, there are many benefits to making that jump.
Even if you don't listen to podcasts regularly, we all know how they have taken the world by storm.
Read on to discover how podcasting works and how to start your own.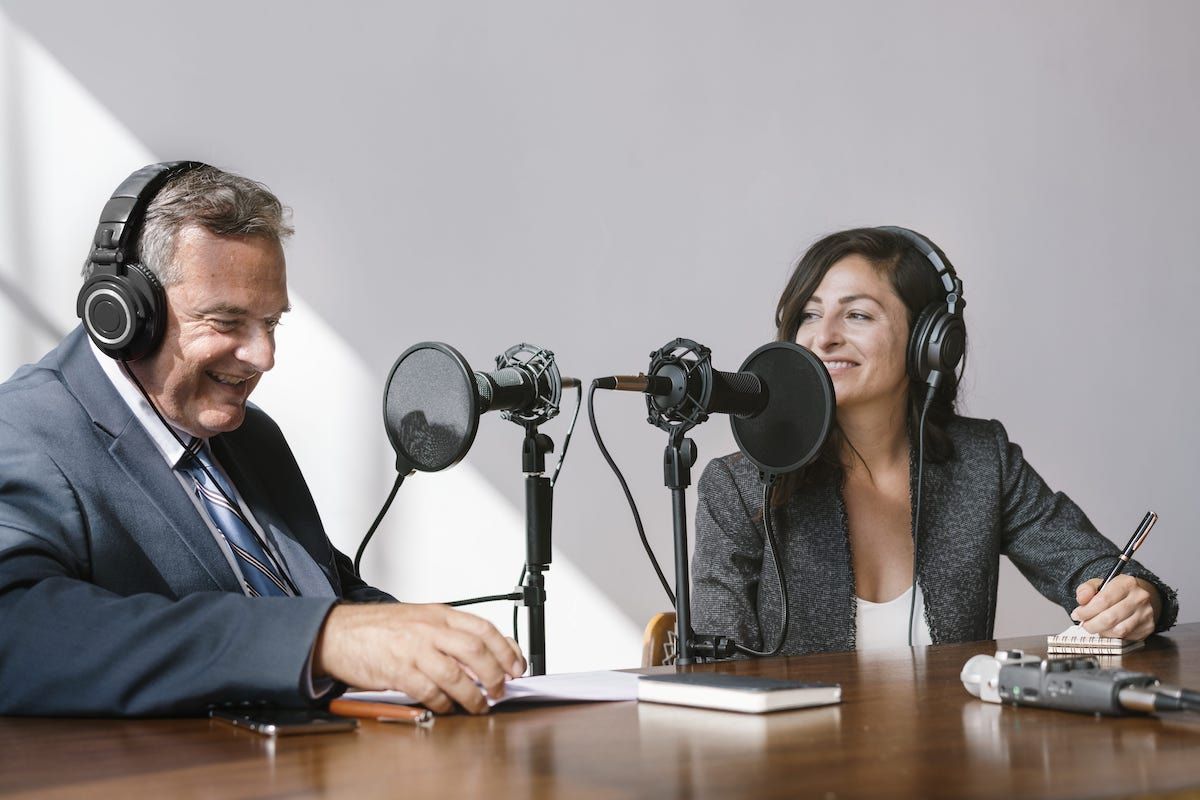 Why start a podcast?
Making your own podcast is not only a great content marketing strategy; it is also a fantastic way to gain confidence in your voice and your ability to speak publicly.
Not only that, podcasts are HUGE at the moment.
51% of Americans listen to podcasts- there is a massive market for podcasts nowadays. And you can pretty much talk about anything: from daily news in German to podcasts like "My dad wrote a porno," there's an audience for everything these days.
So why not?
How does podcasting work?
Podcasts are digital audio content distributed over the internet using a chosen hosting service. The hosting service holds all the episodes in one location and automates the generation of RSS feeds, which lists all the podcast episodes.
You might see podcasts on platforms such as; Youtube, Spotify, Soundcloud, Apple Podcasts, or Patreon.
3 essential equipment to start a podcast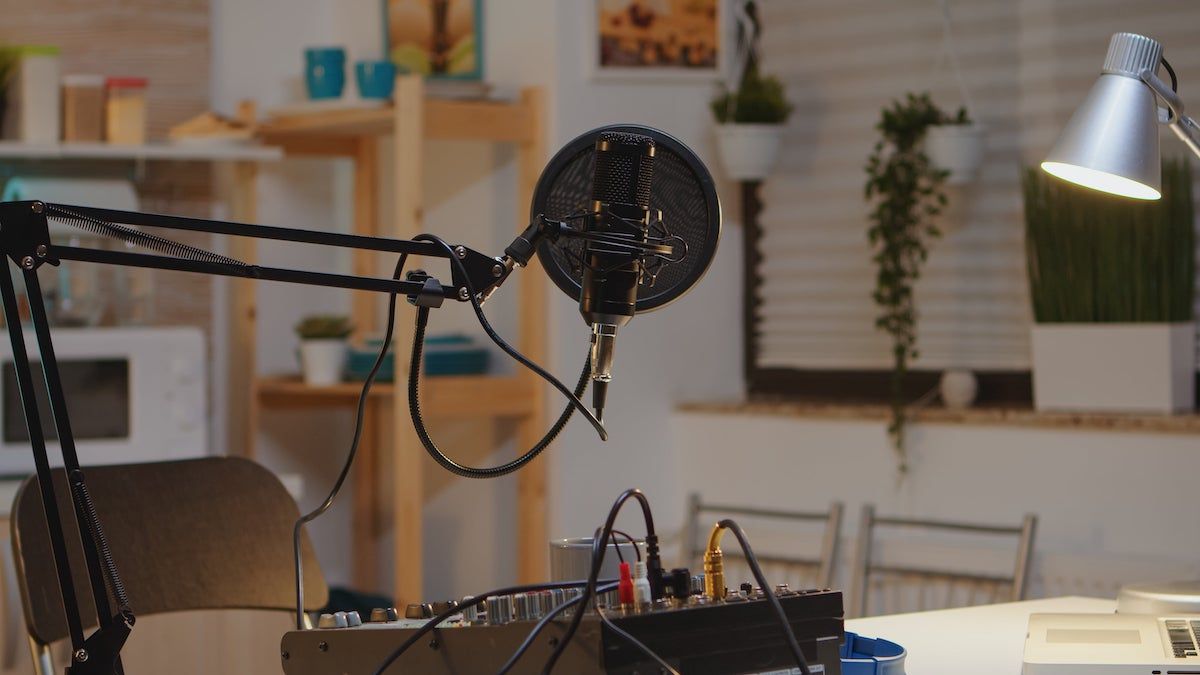 1. A microphone
A podcast is all audio.
And your audio starts and ends with a good microphone. Generally, you get what you put into these things: investing in a good quality mic will ensure that your audio is crisp and sharp.
Luckily, it won't cost you a fortune. You can get a decent USB mic for around $60 or a headphone/microphone headset for about $30.
If you need more guidance, check out our page on microphones for podcasting.
2. Recording application
If you're on a budget, using an application like Skype to record your podcast can be a decent way to get started. Skype has recording functions, so all you need to do is edit the podcast afterward.
You can also use applications like Pamela to record and Garageband if you are a mac user or Audacity to edit.
3. Hosting site
Finally, you'll need a hosting site for your podcast.
Websites like Soundcloud, Anchor, Transistor, and Libsyn will let you upload your content.
They will also generate your RSS feed so you can submit your podcast to Spotify, Apple Podcasts, and more. (Sites like these usually have a reviewing process, so it may take up to 5 days for your podcast to be approved.)
Recording a podcast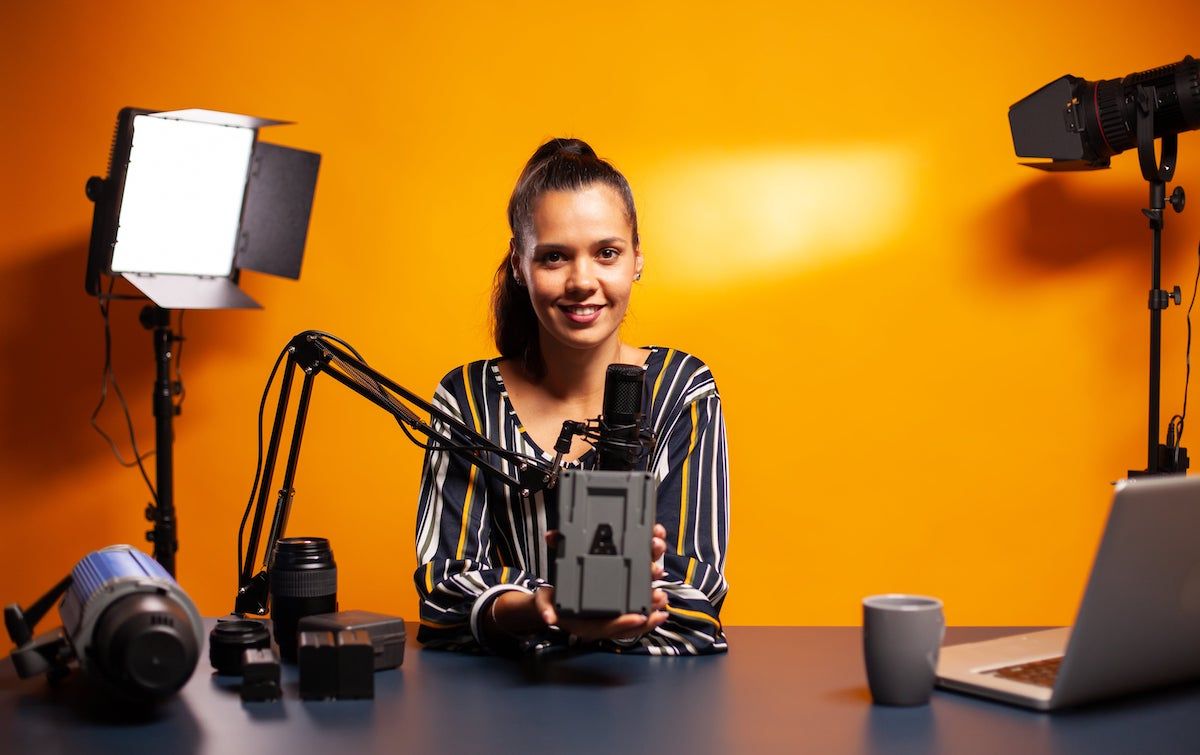 Choose a podcast topic and name
Podcasts are about spontaneity: you don't want the whole thing to sound like a script. You may already have a specific topic in mind, but trying to think of one may seem like a very daunting task.
To try and narrow down your options, think about a topic you are genuinely interested in and could talk for a while about.
From there, you want a name that is catchy and memorable. Anything Goes with Emma Chamberlain, the Off-Menu podcast with Ed Gamble, and James Acaster are some examples.
Write a compelling podcast description
When users visit your podcast page for the first time, you will need an exciting and compelling description to make them hit that play button.
Keep it short, sweet, and gripping.
Decide on a podcast format
You'll see various people all over the internet claiming the 'ideals' for podcasts. To tell you the truth: each podcast is so different that there are no 'ideals.'
If you are recording a quick language episode, you might find 15 minutes is enough. But if you are recording an entire Dungeons and Dragons episode, you'll need hours.
You'll also need to decide if your podcast will be a one-person show or if you'll have guests or co-hosts. Again, this will depend on your content.
Finally, you'll need to have a basic episode format before you jump in. Here's an example that you might want to use:
Teaser
Intro music/ theme tune
Intro to the podcast/ welcome
Topics/ main segments
Call to Action
Outro theme
Fit your episode format around your topic, and get creative with it!
Get your artwork and music created
The cover art for your podcast will be the first thing people see when browsing on a podcasting platform. You can make it yourself or even hire a professional- either way, you want it to be enthralling and eye-catching.
A common platform for intro music is PremiumBeat, or you can source other royalty-free options.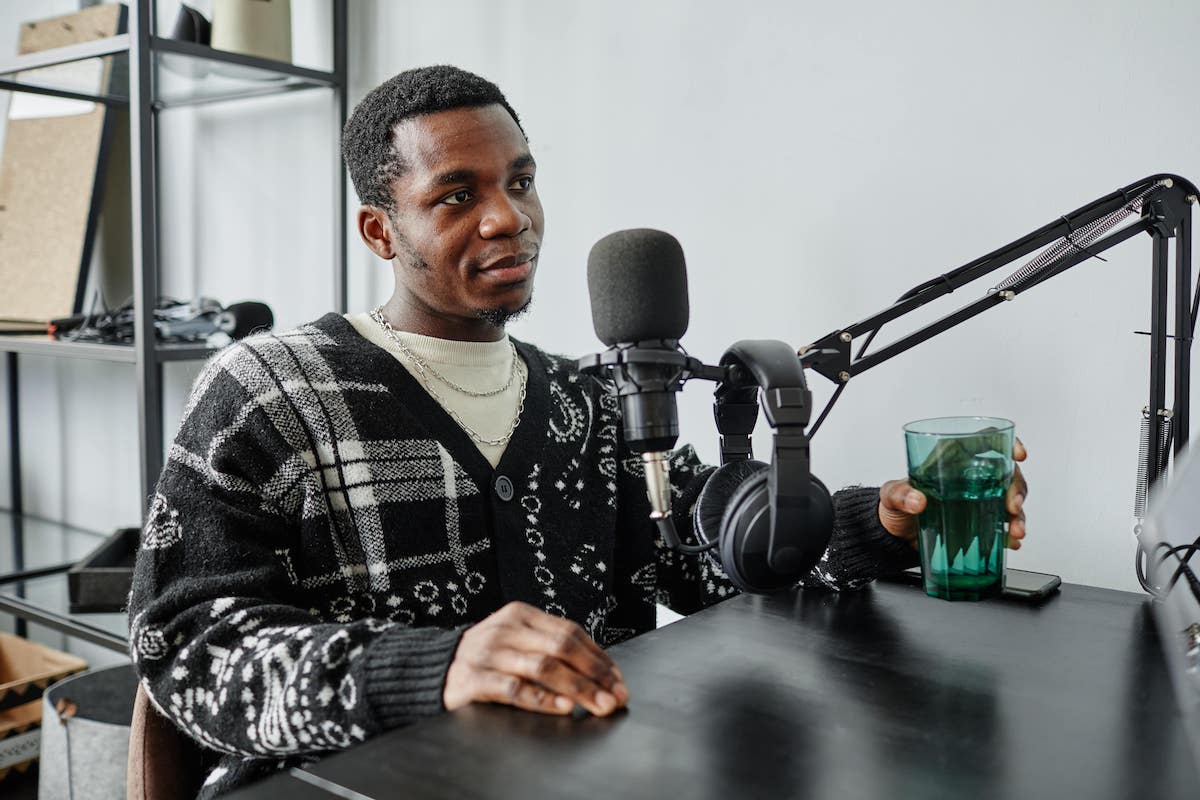 Uploading a podcast
Step 1: Select a podcast hosting site
Using a hosting platform like Buzzsprout will make the uploading process 10 times easier. Once you've signed up, you can:
Step 2: Choose to upload a new episode.
Step 3: Then fill out the necessary information- title, description, publication date, episode number.
Step 4: Then it publishes it for you!
If you'd like to submit your podcast to other directories, then it gets a little more complicated:
Step 5: Collect your RSS feed from your hosting platform. Buzzsprout or other platforms will do this for you once you've uploaded the episode to their platform. (If you're stuck, look on the directories tab on Buzzsprout and follow their steps for iTunes.
Step 6: You can submit your episode for review on places like Apple Podcasts or Spotify. It may take a few days for your podcast to be approved.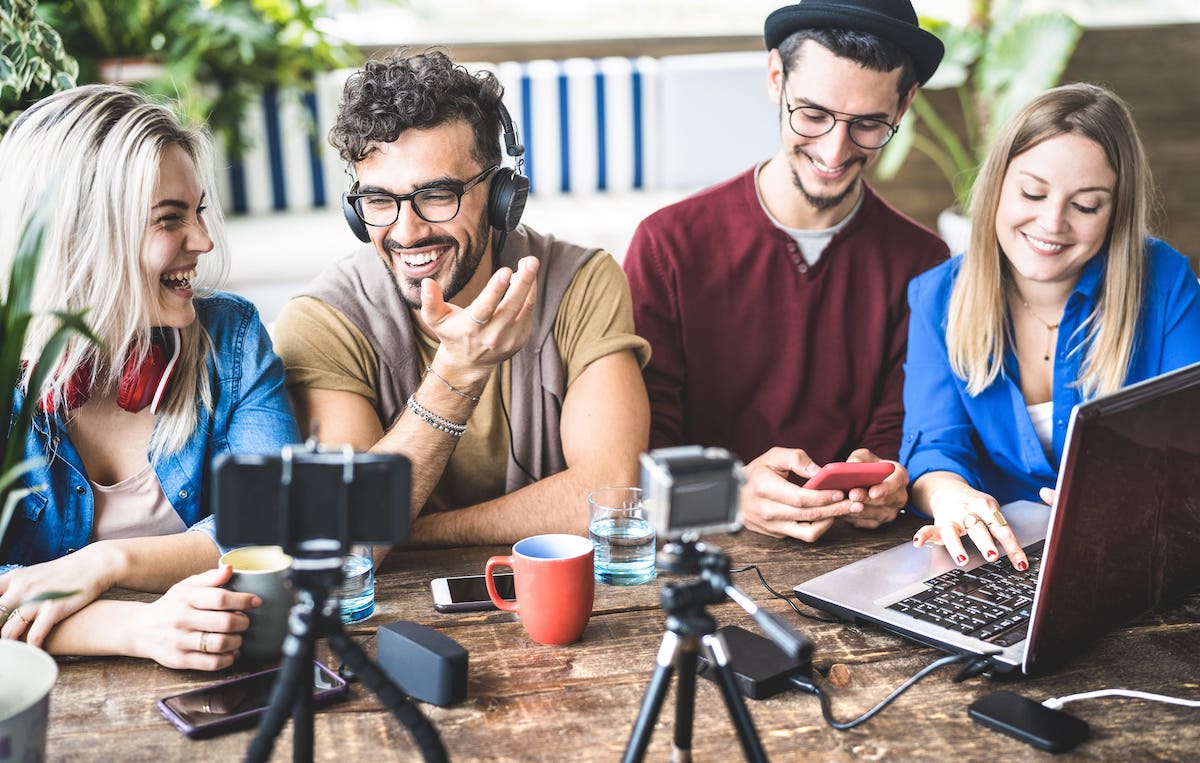 Promoting a podcast
There are many ways to spread the word about your new podcast. Here are just a few:
Create a website! Try using hosts like WordPress or Squarespace. This will give your podcast added professionalism and another place for users to find your content.
Get transcriptions! This is a way for search engines like Google to 'read' your episodes.
Create Show Notes! These are a call to action pieces in a summary of what the podcast talked about.
This is the easiest way to promote your podcast. Promote it on your socials! Try adding a snippet or your audio on an Instagram reel or story to begin.
Utilize your network. Tell your friends, family, and coworkers to listen!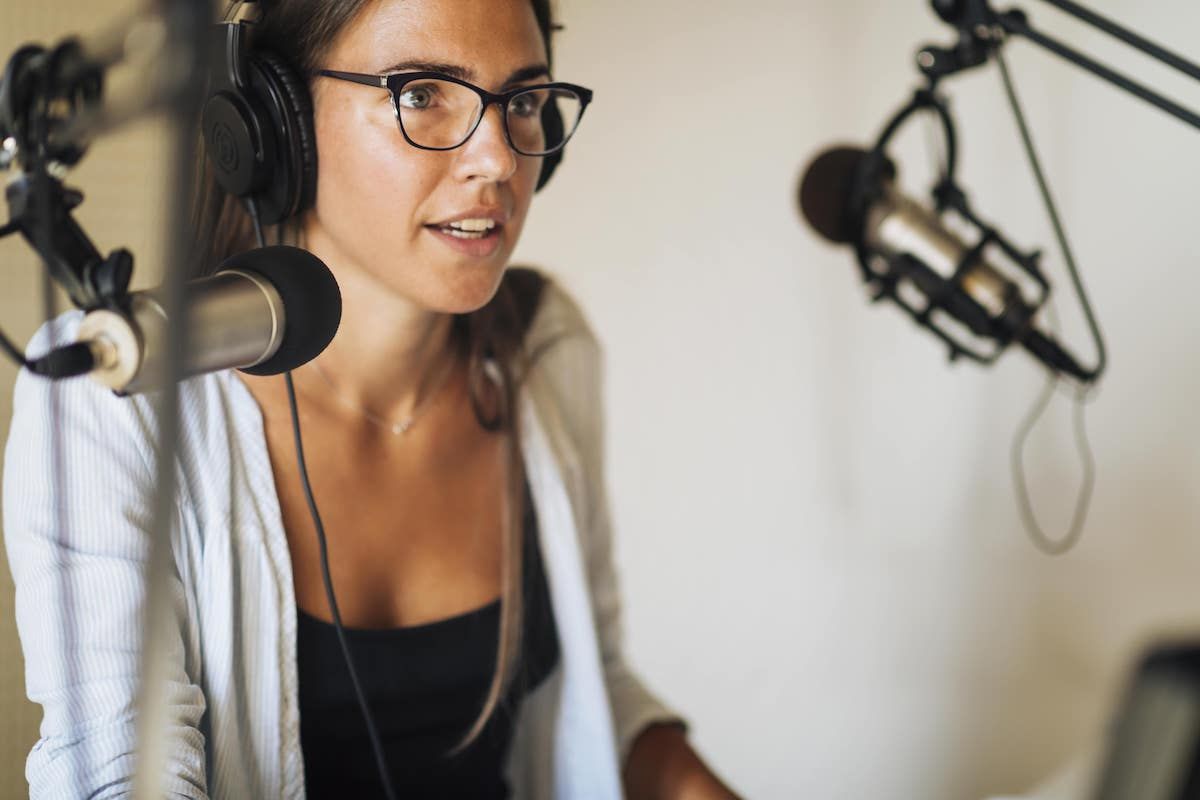 Explore in-depth what a podcast is
Read to take a deep dive into podcasting? Explore podcasting in depth by heading over to our page on what a podcast is.
Do podcasts make money?
You can definitely make money from podcasting. Sponsorships are the most common way to do this, so make sure you get your podcast out there.
Is it free to make a podcast?
Many hosting websites like Sounder or Podbean allow you to make a podcast for free.
Can I start a podcast with my phone?
Yes! You can use recording apps or recording functions on Skype to keep your podcast in your pocket.
How to start a podcast on spotify?
You'll need to upload your podcast on your hosting platform or generate the episode's RSS feed before submitting your podcast for review on Spotify.
Popular listings for rentals