Product Review: GoPro HERO 11
Hire film gear from local filmmakers.
Hire film gear from local filmmakers.
Product Review: GoPro HERO 11
1 other
Overview
Specs
Reviews
FAQ
Alternatives
Research
GoPro HERO 11
GoPro
A wise man once said that to predict the future, we need to look at the past.
That is the reason, why we have gathered some pretty good research on GoPro HERO 11 about how the new action camera looks like and what could be improved.
4.9
Based upon3 reviews from Wedio members
Effectiveness
4.8
Usability
4.5
Value for money
4.9
Overall rating
4.9
Is it worth it?
Yes
If you edit video in different formats often, the Hero 11 is definitely an investment worth making.
No
Coming from the Hero 10, there isn't enough of a step forward to make it worthwhile just yet.
Pros
Backward compatible with existing accessories
Superior Enduro battery now standard
Cons
Indicator noises can be confusing
Lowlight video isn't great
Budget rivals offer better value
GoPro Hero 11 Black vs. DJI Action 2
GoPro Hero 11 Black
DJI Action 2
Battery
1720 mAh
1300 mAh
Sensor
1/1.9-inch
1/1.7" CMOS
Dimensions
71.8 x 50.8 x 33.6 mm
39 × 39 × 22.3 mm
Max battery video runtime
137 minutes shooting
160 minutes shooting
ISO Range
100-6400
100-6400
Slo-Mo
8x - 2.7K; 1080p 4x - 4K 2x - 5.3K
4K: 4x (120fps) 2.7K: 4x (120fps) 1080p: 8x (240fps), 4x (120fps)
Show more
Complete GoPro HERO 11 review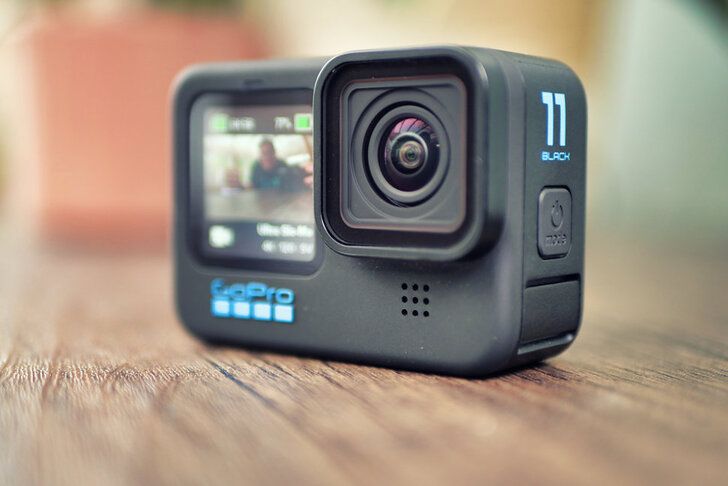 Fix overheating issues
When taking a closer look at the previous model, the GoPro HERO 10, the action camera often displays an overheating warning and promptly shuts down when used for a little more than 30 minutes.
One test demonstrated that it also becomes very hot to touch, especially in the metal parts around the lens port and the fold-down legs for the attachment point when running for more than 26 minutes.
This issue could be addressed in the new GoPro HERO 11. The camera should be reliable enough to shoot for more than 20 to 30 minutes without overheating.
Add customizable lens modes
GoPro has worked hard to produce a quality lens that enables the capture of clear, crisp, and vibrant footage. It's also tough, made from Gorilla Glass, essential for an action camera.
But GoPro has gone a step further with the Max Lens Mod, enabling an ultra-wide 155º field-of-view and image stabilization up to 2.7K resolution.
Wouldn't it be great if a few optical lens options for different scenarios?
This thought isn't new, and there are companies out there that customize GoPros and other cameras in various ways. Imagine if you had a different lens for different situations with your GoPro.
Say, a linear lens for vlogging, a standard wide for extreme sports and general use, and a longer focal length optic for drone and other aerial work.
This would also open up endless possibilities for effects lens filters and engage a new creative filmmaker market without impacting the original customer base.
Want to learn more about all the different camera gear? Check out our page on camera equipment for everything that you may need.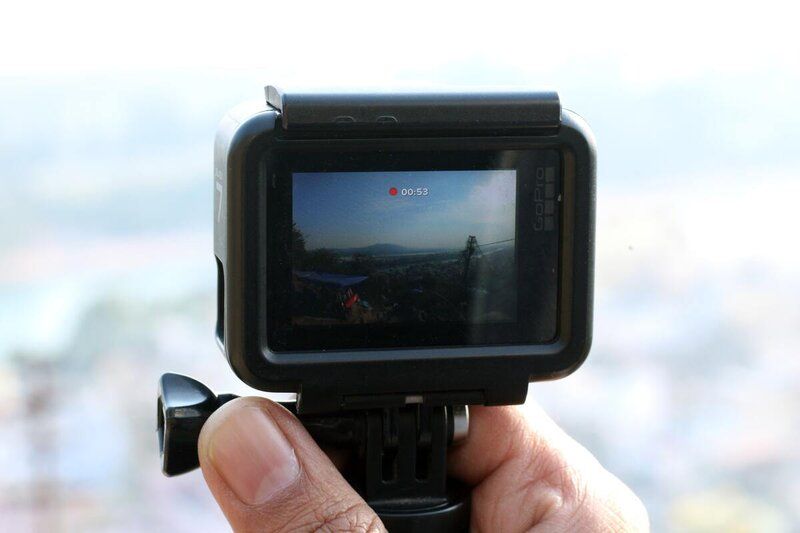 Incorporating apps
Due to the fast-growing mobile world, apps have become essential. There are now apps for everything, and their inclusion on the GoPro HERO 11 could enable increased functionality and features.
An effects app could see Instagram-style effects made available for your GoPro footage. Or YouTube or Facebook Live could be integrated.
Who knows, maybe even Pro users could find a revamped ProTune that offers S-Log color mode and timecodes.
These apps could be organized and managed in the GoPro app enabling the full integration of the GoPro Hero 11 Black with your mobile phone.
Multi-cam functionality
One of the biggest leaps in the quality of your GoPro footage is when you start to multi-angle, and there's only one way to do it. Use multiple cameras.
However, once you've captured a variety of angles on two, three, or more cameras, you then need to sync that footage together before it's edited.
Adding multi-cam functionality to the GoPro HERO 11 would enable you and your mates to go out for ride sync cameras. Then the data from each would automatically sync the footage to help speed up and ease editing, giving you a clear picture of your face plant from all angles.
Speed is vital for editing, and GoPro has already made massive inroads with its app. This could be extended with Multi-cam and effects capabilities. It could even enable fast auto-editing, switching between cameras based on motion and GPS data.
Intelligent photo options
When the Hero10 Black arrived, one of the prominent new features was the all-new GP2 processor, developed by GoPro. This new engine promises even better image quality and more variety of frame rates.
For a start, it enables better low-light performance, more manual control, greater slow motion, and smartphone-style apps. We believe GoPro will build on this capability in the HERO 11 and introduce new intelligent photo options powered by AI.
The new GoPro camera has subject detection and scene recognition like your smartphone. If you want to get a shallow depth of field, then AI tech will apply that effect.
Sony has made massive inroads into the mirrorless market with its Alpha range, but one feature that impresses us with these cameras is the ability to boost the feature set with apps.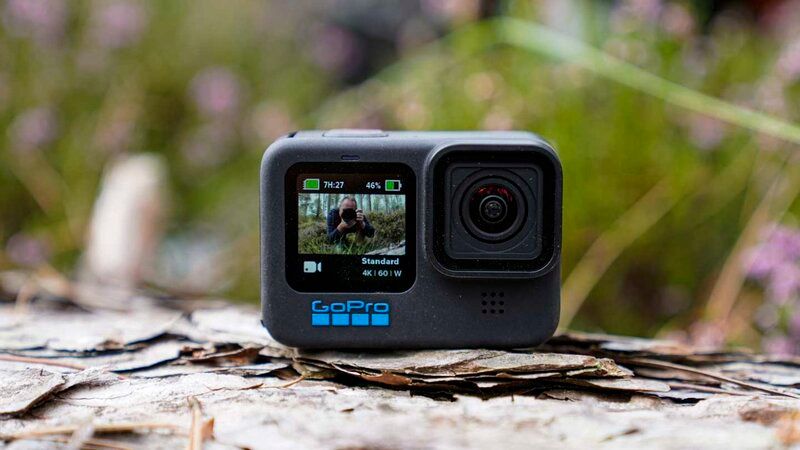 What creators like
Perfect experience, very nice shots. Very useful for begginners and photographers who focus on YouTube, content creating and blogging.
Show more
What creators don't like
Couldn't find any upgrade compared it to the previous GoPro. Baterry can not stay for too long.
Show more
Frequently Asked Questions
How long do GoPro 11 batteries last?
In its highest resolution video (5.3K), the new GoPro can shoot for up to 80 minutes on a charge, and at 1080P it'll run more than two hours.
Can I charge GoPro while recording?
GoPros can record while being plugged in. They do this by pulling power directly from the power source instead of the battery. Keep in mind that the battery will not keep charging during this time.
How long can a GoPro record continuously?
A GoPro can't record for 24 hours non-stop. It will either run out of battery power or storage space. Most GoPros last about 2 hours at 1080p, and even at lower resolutions and frame rate, a GoPro won't last more than 4 hours. Newer models, however, can record while plugged in.
No action camera is good in direct sun. However GoPro 11 will work for about an hour in a room with no airflow. That should be plenty. You can also use a GoPro with an external battery and no internal battery, it will not overheat that quickly.
Show more
Review by
GoPro Hero 11 Alternatives
GoPro Hero 10 Black
The Hero10 remains a great action camera because of its size, durability, and 5.3K 60fps abilities. There is simply no other camera this size that is this powerful. Buy at Wedio Rent from £47/day
DJI Action 2
The DJI Action 2 reimagines the action camera in a modular form factor with support for magnetic mounts. It's innovative, but falls a little shy of dethroning GoPro. Buy at Wedio
Insta360 One RS
The One RS further improves upon Insta360's already capable camera system. It allows users to capture impressive videos, photos and 360-degree footage. Buy at Wedio
Show more
Learn how to master GoPro, what you like, and what you don't like about them, and then try renting or subscribing to GoPro cameras.
The research
Why you should trust us
At Wedio, we are on a mission to keep great stories alive. We achieve this by facilitating the sharing of knowledge, tools, and services that help you as a creator craft better stories. Today we help 100,000+ monthly creators become better — together. We believe in the power of the community. Instead of gathering product reviews from one creator, we involve hundreds of creators, and create both video- and written reviews. In that way, we present the essence of the collective rather than one opinion.
How we tested this product
We used a mixed-method design. Our qualitative video reviews, were created by hand-picked Wedio members. We shipped the product to them, they tried it for at least 30 days in real-life projects, and then they did an honest video review. Our quantitative written reviews, were collected from Wedio Renters and Lenders. When renters have rented the product, they have the option to leave a product review. When lenders create a product listing, they have the option to share their thoughts on the product itself.
How we fund this review
In order to keep delivering the best possible reviews for creatives, we have four different revenue streams. This includes (1) commissions from our short-term rentals (10 % from renters 20% from lenders whenever a rental is happening through Wedio), (2) commissions from our subscriptions (we get paid by our retail partners to deliver an order), (3) commissions from brands delivering products, and (4) commissions from affiliate links to other partners (such as retail partners, software, and other creative tools).
Limitations
Even though we try to be as unbiased as possible, we still want to address two limitations of this review. First, our lenders can be affected by the "Endowment effect" when reviewing their gear. They would potentially rate their product higher than they would have done if they rented the product — just because they own the product themself. Second, there is the potential of instructors experiencing "Confirmation bias" when reviewing a product. If they received the product from us, they might have a tendency to look for all the advantages and good things about the product because they want to please Wedio and the product brand. To overcome this limitation, we strictly guide our instructors to be as objective as possible — a low rating is as valuable to us as a high rating. The review aims to guide other creators in the choice of gear.
Get a GoPro HERO 11
https://wedio-cdn.s3.eu-west-1.amazonaws.com/blog-images/random-images/rsz_5b34b540-334e-11ed-9d7b-d28928625091cf.jpg
GBP
Buy new
https://amzn.to/3Y5hlK8
399
Rent from
https://www.wedio.com/en/search?q=gopro%20hero%2011
24
Popular listings for rentals