Capture Professional Looking Shots: The 9 Best Phone Tripods in 2023
Rent camera gear from local creators.
Shooting high-quality content has never been easier - our smartphones have evolved way past their 420p resolution days, and we can now enjoy the benefits of filmmaking at a much larger scale.
Besides resolution, another vital part of filmmaking is execution, and this is where tripods come in. Today we're going to discuss our top picks when it comes to smartphone tripods.
If you're interested in learning more about camera equipment, check out our article on all the necessary camera equipment.
Why use a tripod?
Tripods are a vital part of filmmaking. The hardware we use is just as necessary as the resolution to get a good shot. Tripods nowadays are as accessible as ever, and they allow you to explore many new techniques.
We heavily rely on tripods when capturing good, stable shots. If you want to vlog with your smartphone, you'll need good support, and without a good source of support, you'll most likely get a blustery image.
Shooting during the night is especially difficult when done without a tripod because it includes long exposure that needs a lot of clarity. Panoramas and time-lapses can also best be achieved using a tripod.
Given smartphone filmmaking's "travel light" nature, tripods have to be just as easily accessible. Smartphones don't have a standard tripod socket, which means you need another way to mount the phone. The phone clamp is sometimes sold separately, but it often comes in a bundle, along with the tripod.
See our top picks for both tripod bundles and singles down below.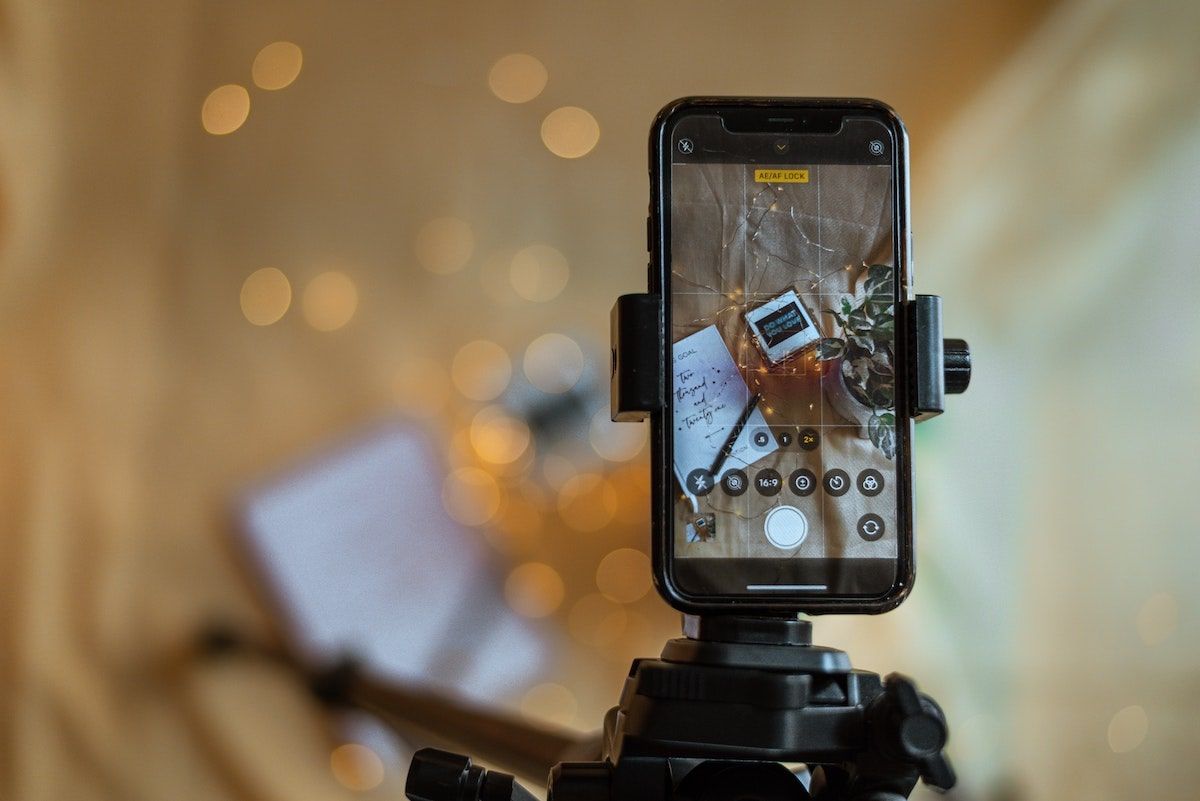 The 9 Best phone tripods
1. Manfrotto PIXI with Universal Smartphone Clamp
When purchasing this option, you get the whole kit: the tripod itself (which is also suitable for cameras) and the smartphone clamp (which can accommodate phones of up to 83mm width). This option only provides landscape orientation, so you'd need a more advanced option to shoot in portrait orientation, such as the Manfrotto Pixi Evo 2.
Pros
accessible price for both the tripod and clamp
versatility when it comes to firmware.
Cons
limited ball head movement, which only allows you to shoot in landscape orientation.
Height can't be adjusted.
2. JOBY GorillaPod Mobile Mini
This option is Joby's cheapest tripod, yet it features essential components such as a phone adapter (maximum width is 90mm) and flexible legs.
The legs are constructed in such a way that allows you to cling to other objects. The drawback, though, is how short they are - 60mm will only let you wrap the legs around relatively thin objects.
Pros
accessible price
small and lightweight
wraps around objects
Cons
limited maximum height (for portrait mode - 100mm)
not as versatile as other GorillaPods
3. JOBY GripTight - ONE Micro
This option is a very compact one. It includes the main clamp that's capable of moving freely (maximum width of 90mm) and non-flexible swivel legs that provide a secure base (maximum height is 30mm).
Pros
very small and compact
secure swivel legs
Cons
fairly limited range of adjustment
sits very close to the surface, as legs can't be extended vertically
4. Joby GripTight GorillaPod Stand PRO
This is considered one of the most professional GorillaPods, given its range of features. The smartphone clamp (maximum width of 90mm) allows for portrait and landscape orientation, and you can use the tripod itself in combination with a DSLR.
Pros
stable and solid support
fully pivoting head
hardware versatility
Cons
5. JOBY GorillaPod Mobile Vlogging Kit
Should you want to start blogging, this option can provide you with the most comfortable experience.
The robust and flexible tripod also features a mini LED light and a compact microphone. Although it is designed for plus-size phones, removing the clamp makes it perfectly functional for a DSLR.
Pros
flexible shooting in both portrait and landscape orientation
all in one rig for sound and light
film ware versatility
Cons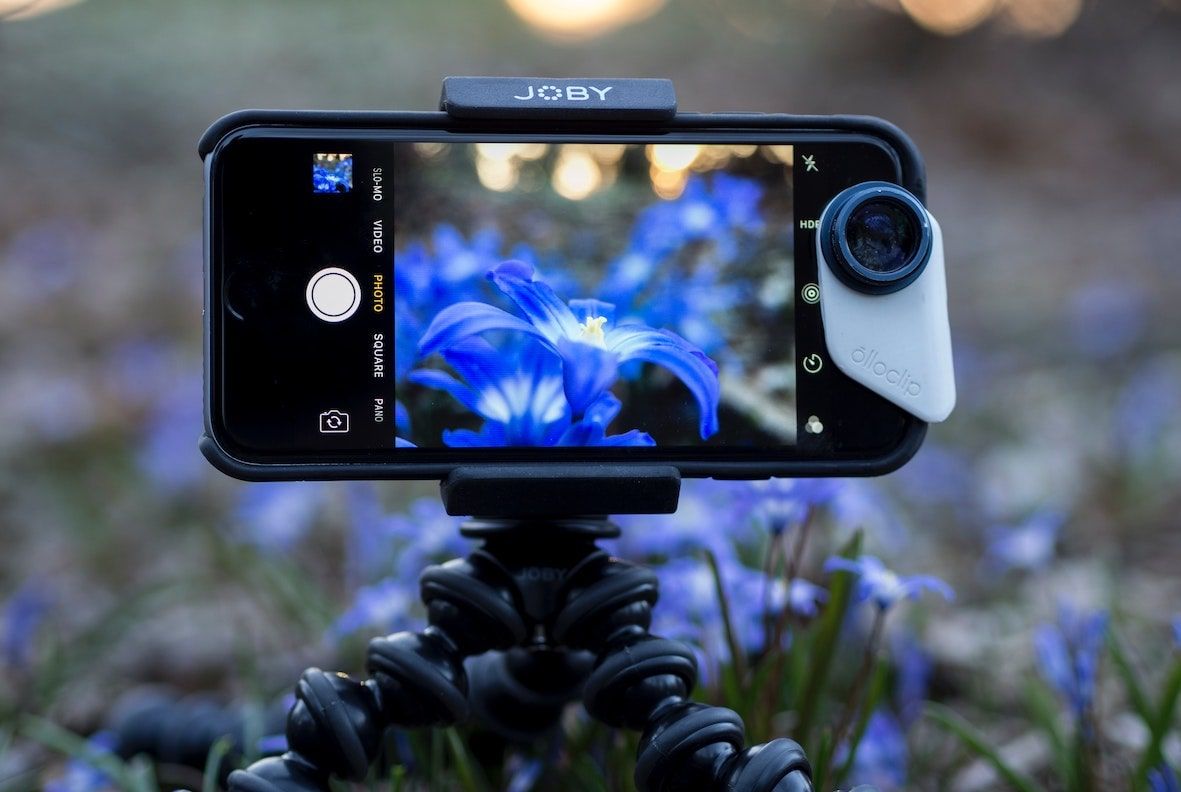 6. Yoozon Selfie Stick
This option is an accessible two-in-one that can be used both as a tripod and a selfie stick. Given its flexible legs, it can grip onto other objects. Its Bluetooth feature is noteworthy - you can pair it with your phone and shoot from afar.
Pros
compact
versatile features
Cons
doesn't provide the same support as other tripods
7. DJI OM 4
If you're looking for new stability, this is your best bet. This smartphone tripod has three powerful motors to counteract the movements of your hand and capture smooth shots.
Although this is mainly used as a stabilizer, it can just as well work as a tripod - all you have to do is attach the smartphone clamp.
Pros
very stable
easily mountable
Cons
8. Manfrotto Compact Light Smart
This option is very compact yet very professional. The main body can be used for both a DSLR and a smartphone when attaching the clamp. What sets this tripod apart from others are the legs.
Each leg has four sections which make them infinitely more flexible and a whole lot more stable. The ball head allows for 90-degree rotations when shooting in portrait mode.
Pros
affordable price
tall and stable
Cons
long when packed, due to its legs
9. Adonit PhotoGrip
If you're looking for a lightweight, compact tripod, this option has got you covered, as it folds up like a deck of cards. The smartphone clamp operates just like a phone case, and it allows for a full rotation. One thing to keep in mind, though, is its short, non-flexible legs.
Pros
small size
affordable price
Cons
sits very close to the surface
Closing thoughts
If you're looking to start vlogging using your smartphone, using a tripod will provide great comfort and smooth shots. Seeing as you're just beginning your journey, choosing a tripod to purchase can be pretty challenging.
Instead, consider renting or subscribing to a tripod.
Best Phone Tripod FAQ
What is the best mobile tripod?
There isn't a universal answer to this question. Key aspects to consider are phone width, the type of content you're looking to shoot, and price range.
How do I use a phone tripod?
A phone tripod usually comes with a stand and a smartphone clamp. You start by screwing in the clamp and then adjust the legs to your advantage.
Which company is best for a tripod stand?
JOBY has a vast range of options, all of which feature versatile stands. Depending on your needs, other companies can provide the same level of comfort and support when it comes to the tripod stand.
Rent tripods from local creators.
Save up to 40%.
Global Coverage included.
https://images.wedio.com/images/listing_images/images/1939740/thumb/1049609-7.jpg
https://www.wedio.com/en/tripods-support-rigs
https://images.wedio.com/images/listing_images/images/1948538/thumb/dfdf.JPG
https://www.wedio.com/en/tripods-support-rigs
Popular listings for rentals