The Most Affordable Cinema Camera: Welcome Sony FX6
Product Review: Sony FX6
23 other
Overview
Specs
Reviews
FAQ
Alternatives
Research
Sony FX6
Sony
4,9
Based upon25 reviews from Wedio members
Effectiveness
5,0
Usability
4,8
Value for money
4,9
Overall rating
4,9
Is it worth it?
Yes
The FX6 is a lot more expensive than an FX3, but in my opinion, it is far better suited to shooting video than an FX3 or an a7S III. The FX6 has SDI, BNC timecode, variable electronic ND, and the ability to load up user LUTs. This is something you won't find on the FX3 or a7s III.
No
No internal RAW recording, there are no anamorphic modes and that it can't record in 6K. The FX9's 6K full-frame sensor does give it much more flexibility when it comes to scan modes including 4K super35 and the soon to come 2K super16 center-scan mode.
Quick Sony FX6 review
Sony FX6 is the cinema camera born as a hybrid between the FX9 and the A7S III. The FX6 is the most affordable cinema camera on the market, however, that does not mean a lack of features.

It has a 4K image sensor, fantastic low-light capabilities, and more. Read all about the Sony FX6 here.

A camera is an excellent asset in your gearbox, but far from the only one. Explore what else there is of essential camera equipment.
Cons
No 3.5mm mic input on the body
Sony FX6 vs. Canon EOS C300 Mark III
Sony FX6
Canon EOS C300 MK III
Sensor
Full-Frame CMOS
26.2 x 13.8 mm (Super35) CMOS
ISO
800 to 12,800 (Extended: 409,600)
100 to 102,400
Power Consumption
18 W
>34 W
Shutter Angle
5.6 to 360°
11.25 to 360°
Shutter Speed
1/8000 to 1 Second
1/2000 to 1/12 Second
Capture Type
Video Only
Stills & Video
Show more
Complete Sony FX6 review
Blending Cinema-line and Alpha cameras
The FX6 is practically the cinema camera version of the Sony A7S III. Why? Because it has inherited a lot of its features, which is partly why the FX6 is as affordable as it is.

The FX6 is technically a Cinema-line, so you may be surprised to learn that the FX6 has an almost identical image sensor to the A7S III, similar color science and autofocus system, and uses the same BIONX XR image processor as the A7S III.

But that is not to say the A7S III is better or on-par when it comes to video recording. Because there is no doubt that the FX6 is way more suited for it, with its XLRs, Electronic ND filter, SDI, LUTs, etc.

The FX6 is simply the result of Sony trying to create the best of both worlds. And it's pretty awesome!
Image sensor
The FX6 has a Full-Frame CMOS sensor with 10.2 megapixels, allowing the camera to shoot in 4K resolution.

Given that the image sensor "only" has 10.2 MP, it also means that 4K is ONLY a possibility in Full Frame. If you want to shoot in other formats, you'll have to settle with Full HD.

The camera records using the XAVC-I and XAVC-L codecs, the same as the codes used in the FX9.

While it is advertised that the camera shoots in 4K 60p, you can actually push the camera using S&Q mode to shoot in up to 120 fps, making for some awesome slow-motion shots.

The FX6 also boasts a pretty impressive autofocus system, considering it's a cinema camera, and that also works well on pretty much any resolution and fps.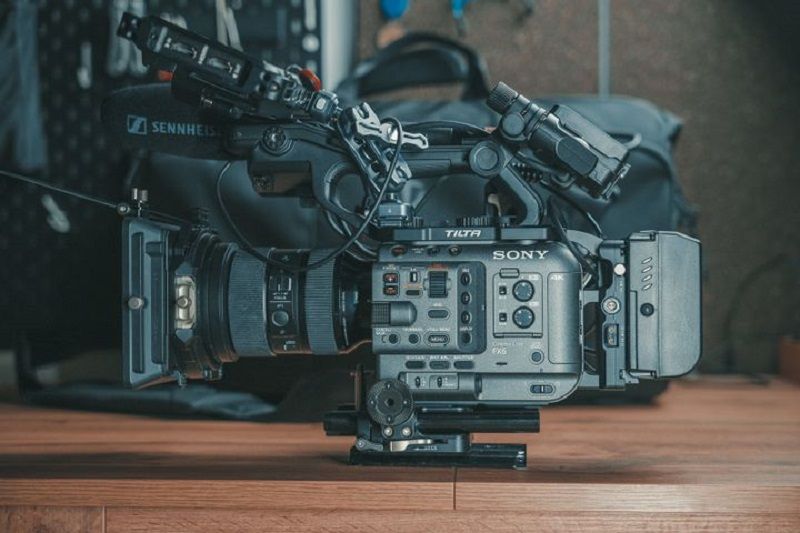 Low light performance
The Sony PXW-FX6 has some pretty good native ISO values at 800 - 12,800 ISO. At extended level, those are 160-409,600 ISO which is god dang impressive.

These numbers mean that the FX6 is a monster at low light performances and probably one of the best low light video cameras out there.

This is great news for anyone who loves to do any form of low-light shooting. You don't have to worry about getting grainy footage using the FX6.
External RAW recording
While the FX6 still needs an Atomos recorder to record ProRes RAW, there are still some upsides to the RAW recording. Unlike the FX9, you do not need to buy the XDCA accessory to output RAW.

This is great news for everyone worried about paying several thousand dollars in accessories just to record in RAW. This just makes the FX6 an even more affordable camera.
Design, size, and handling
The Sony FX6 has continued a trend that is so popular that you've probably read it about pretty much any modern cinema camera.
It is designed to be modular. This means that you can take off every single part of the camera and switch around as you need to. This also makes it more compact for transport, which is great for the traveling filmmaker.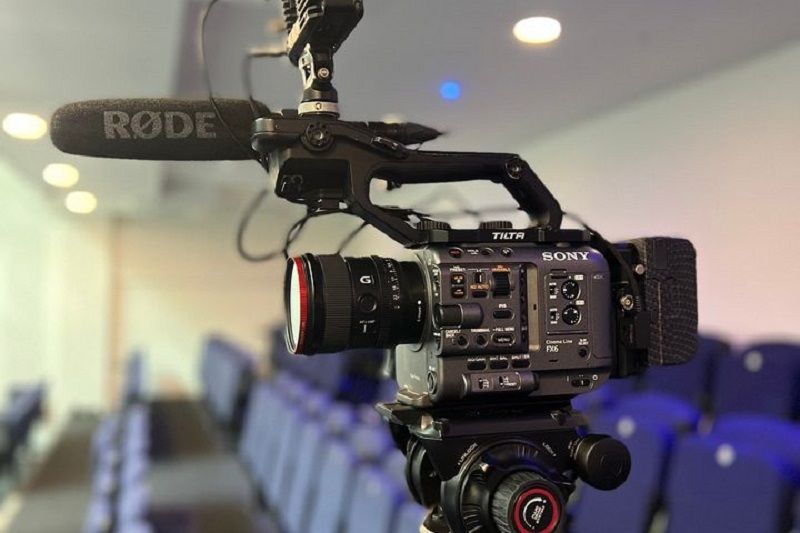 Compact and lightweight body
The FX6 is fairly compact and lightweight. However, you have to consider that the 2 lb body weight will increase once you've got all of the attachments.

The touchscreen should be familiar to you if you've used the FX9 because it works in the exact same way. The LCD screen allows you to tinker with a bunch of different options, including using your finger to adjust the autofocus.
Complicated setup
If you're new to the Sony system, you should expect things to be a bit complicated, at least in the beginning.
Unlike other systems, Sony has a tendency to make everything a bit more complicated than they have to. But you're going to love it once you get a hang of it!
Cooling and build quality
Sony chose to design the FX6 with an impressive cooling system, which is so good, that Sony has promised it won't overheat under any circumstances.

The camera is built using a magnesium alloy, and it has both dust and moisture sealing which is great for outside shoots.

Because of the camera's built-in electronic ND filters, the camera doesn't sport an in-body stabilization system.
The Sony FX6 does utilize Sony's Catalyst software to record gyroscope data for post-stabilization. So you get some form of image stabilization.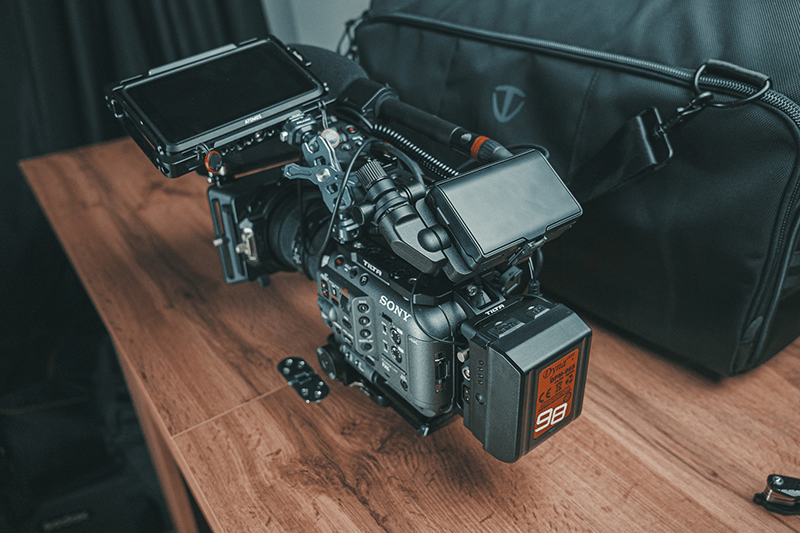 Final verdict: Who should get the Sony FX6?
The Sony FX6 is a dream for anyone who wants to get a professional cinema camera but just hasn't been able to afford one.  

The FX6 is definitely made for cinematographers, but probably those at a lower budget. If you're a professional cinematographer with a larger budget, you may want to get the FX9, due to its 6K capabilities.

But if you can live with a 4K performance, you get a fantastic performing low-light cinematography camera.
What creators like
Show more
What creators don't like
Show more
Frequently Asked Questions
How quickly does the FX6 start or reboot?
Very quickly. It takes under 3 seconds to start from off. You can actually start recording in around 2 seconds, before some of the LCD overlays have finished coming on.
Does it have clear image zoom?
Yes it does. I didn't spot this initially as it's buried in the technical section of the menus. In UHD it provides a 1.5x zoom, in HD a 2x zoom.
How long do the batteries last?
The supplied BP-U35 battery will run the camera for a bit over 90 minutes. A BP-U60 will run it for between 2.5 and 3 hours.
Does it have Clear Scan or ECS shutter?
Yes it does, this is very useful for shooting computer monitors or other screens and eliminating any rolling bands that may move up and down the screen. ECS is in the shooting menu under Shutter.
Show more
Review by 24 other community member
and
Sony FX6 Alternatives
Canon EOS C300 MK III
The image quality on the EOS C300 Mark III is stellar, you're going to be able to capture some beautiful videos.This camera is for freelance filmmakers working with narrative films, documentaries, or music videos. Read more
£8,800 at Amazon
Rent from £180/day
Ursa Mini Pro 12K
Blackmagic URSA Mini Pro 12K is a revolution in digital film with a 12,288 x 6480 12K Super 35 sensor and 14 stops of dynamic range, built into the award winning URSA Mini body to produce extraordinarily detailed images. Read more
£6,763 at Amazon
Rent from £120/day
DJI Ronin 4D 6K
Designed for both solo use by independent creators and dynamic pro video capture, the Ronin 4D from DJI is an innovative all-in-one camera/gimbal solution. The "4D" refers to the Z-axis stabilization. Read more
£8,029 at Amazon
Rent from £110/day
Show more
The research
Why you should trust us
At Wedio, we are on a mission to keep great stories alive. We achieve this by facilitating the sharing of knowledge, tools, and services that help you as a creator craft better stories. Today we help 100,000+ monthly creators become better — together. We believe in the power of the community. Instead of gathering product reviews from one creator, we involve hundreds of creators, and create both video- and written reviews. In that way, we present the essence of the collective rather than one opinion.
How we tested this product
We used a mixed-method design. Our qualitative video reviews, were created by hand-picked Wedio members. We shipped the product to them, they tried it for at least 30 days in real-life projects, and then they did an honest video review. Our quantitative written reviews, were collected from Wedio Renters and Lenders. When renters have rented the product, they have the option to leave a product review. When lenders create a product listing, they have the option to share their thoughts on the product itself.
How we fund this review
In order to keep delivering the best possible reviews for creatives, we have four different revenue streams. This includes (1) commissions from our short-term rentals (10 % from renters 20% from lenders whenever a rental is happening through Wedio), (2) commissions from our subscriptions (we get paid by our retail partners to deliver an order), (3) commissions from brands delivering products, and (4) commissions from affiliate links to other partners (such as retail partners, software, and other creative tools).
Limitations
Even though we try to be as unbiased as possible, we still want to address two limitations of this review. First, our lenders can be affected by the "Endowment effect" when reviewing their gear. They would potentially rate their product higher than they would have done if they rented the product — just because they own the product themself. Second, there is the potential of instructors experiencing "Confirmation bias" when reviewing a product. If they received the product from us, they might have a tendency to look for all the advantages and good things about the product because they want to please Wedio and the product brand. To overcome this limitation, we strictly guide our instructors to be as objective as possible — a low rating is as valuable to us as a high rating. The review aims to guide other creators in the choice of gear.
Get a Sony FX6
https://wedio-cdn.s3.eu-west-1.amazonaws.com/blog-images/Best+For/Affiliate+pictures/sony-fx6-sticky-review-min.jpeg
EUR
Buy new
https://amzn.to/3h9xU77
6000
Rent from
https://www.wedio.com/en/search?q=sony%20fx6
85
Popular listings for rentals