9 Tips for Editing Your Music Videos Like a Pro & 3 Top Softwares to Use
Hire film gear from local filmmakers.
Hire film gear from local filmmakers.
Have you always wanted to shoot your own music video but are stumped by the editing process?
Worry no more!
We have compiled an easy step-by-step guide and some tips and tricks so you can edit the music video of the century.
9 Simple tips for editing a music video
Before even thinking about editing your video, you need to plan and shoot the footage.
If you are stumped or need some guidance, check out our page on music video production.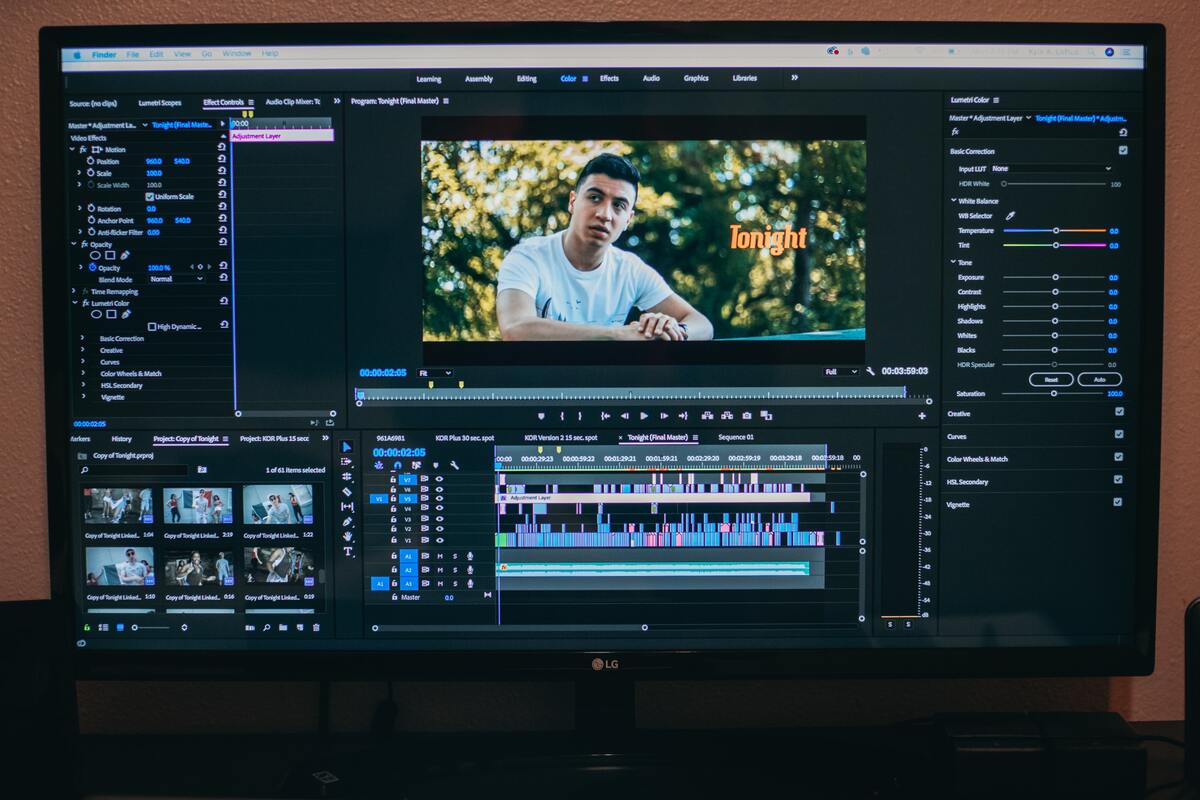 1. Import your video files
Remember to set your resolution to the highest quality possible when doing this. It'll be a huge bummer if you shoot your video with super fancy equipment, only for you to edit some low-quality footage.
A lot of software out there will come with templates to help match your frame rate to the resolution of your camera. You should also disable resampling while uploading.
Once you've uploaded your clips to your software of choice, you're ready to go!
2. Build your storyline
This step should really begin before you even shoot the video. Try brainstorming or creating a storyboard – do you want your video to be super-stylized to have the complex story of a Taylor Swift music video?
Your storyline should come together during the editing process. Cut and merge different shots to create a fluid and understandable sequence.
3. Cut the performance first
It may be tempting to collect and cut all of your artsy shots first, but the main focus of the video is the performance of the musicians/artists.
This will help you lay down a basic framework, which will help all those b-roll shots flow nicely around the music and narrative.
4. Create proxy files
Do this as early as possible and at different intervals during the process. Proxy Files are low-resolution versions of your raw film footage, which are made to withstand your computer's processing power, and reduce lag.
Proxy files are a great way to save your progress since computers struggle to deal with 4k footage and might crash. Trust me, doing this simple step will save you a lot of headbanging later.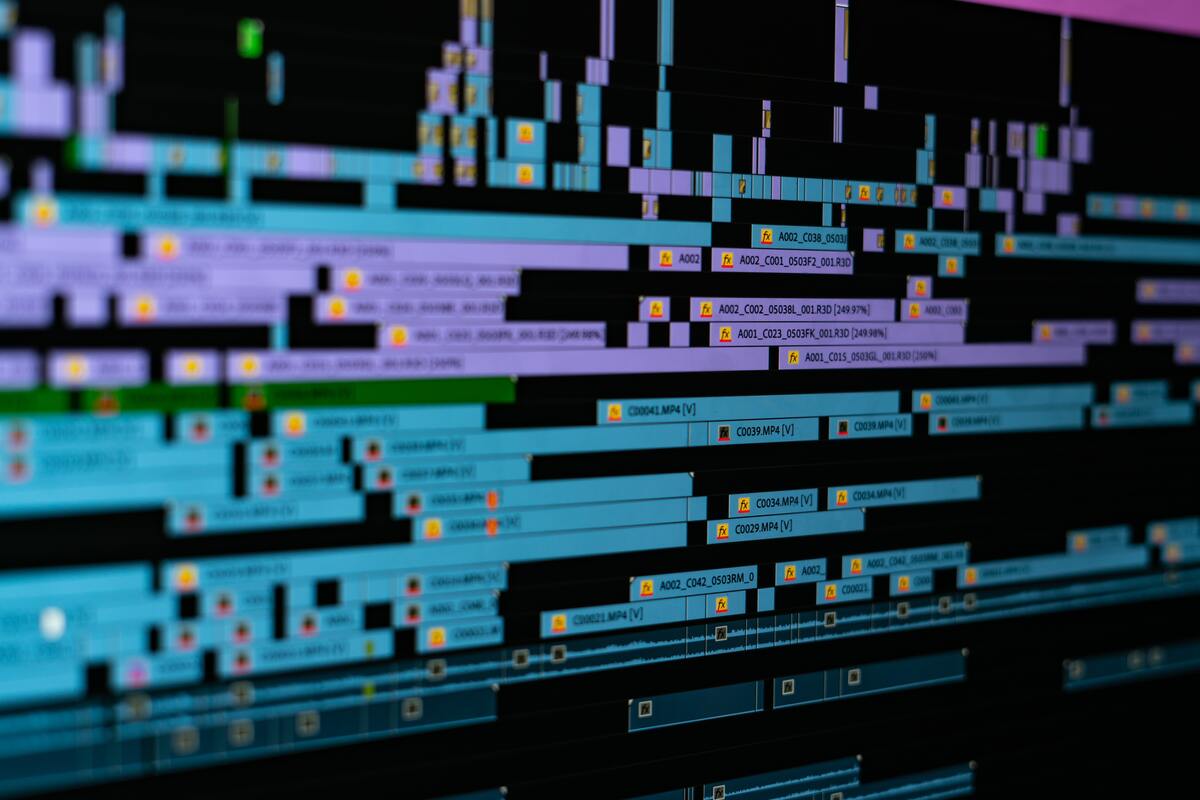 5. Collect your favorite b-roll shots
B-roll shots are extra clips you can add to your video for extra information or context. They work well when making narrative-style music videos to give your story some extra oomph.
Take a few of these kinds of shots while filming to add to your final video. Master filmmaking basics.
6. Sync music clips
Finally! Time to add the music to your video!
First, you'll want to drag your audio to your timeline. If your video uses a lot of scenes where the performer lip-syncs to the audio, listen through the track and pinpoint the drops and choruses.
If you need an in-depth tutorial, watch this Youtube video on editing your video to the beat.
Once you've matched your audio to the footage, play it through to ensure everything is synced up perfectly. To minimize bleed, make sure you have muted your camera audio files before exporting.
7. Add color and effects
If you didn't capture the right colors or white balance while filming, you can adjust these things in post-production.
You won't be able to perform miracles, but adjustments in exposure, brightness, and contrast can work wonders.
You can also add various effects depending on your chosen software. Don't litter the video with them, but adding some slo-mo clips or stabilizing your video can really give it that extra flare.
8. Include artists credits
A lot of music videos will either begin or end with credits. These may be title cards, logos, or just names. This kind of text might be one of the few instances of text in the whole video, so make sure it grabs the viewer's attention and is relevant.
Make sure you credit all the artists and people who worked on the project in the video or in the description – not having your work recognized sucks.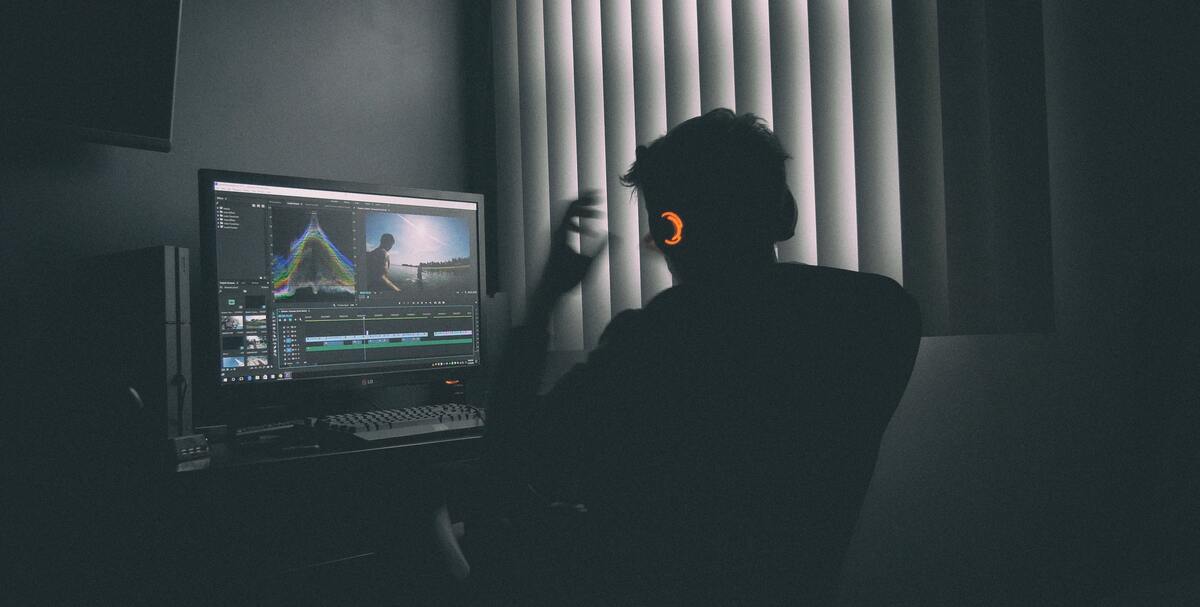 9. Export your video file
Now that you've edited a stellar music video, it's time to export it. This will vary from software to software, but most will be located in file settings and have a few format options for you to choose from.
The most common form used for web-based playback is H.264.
3 top music video editing softwares
1. Adobe Premiere Pro
Editing your music video in Premiere Pro couldn't be easier. It has three editing modes: Quick, Guided, and Expert.
First, upload your clips and audio to the software, then:
Use Merge Clips to sync your audio and video.
You can add in-scene dialogue, voice-overs, and Foley sound effects to your video with the 16 available audio tracks.
Using a Multi-Camera editing workflow you can sync footage from multiple cameras into your video.
You can also correct tone, adjust color, and stylize the look of your video using the controls available in the Lumetri Color panel.
Different interpolation options allow you to slow down or accelerate your footage.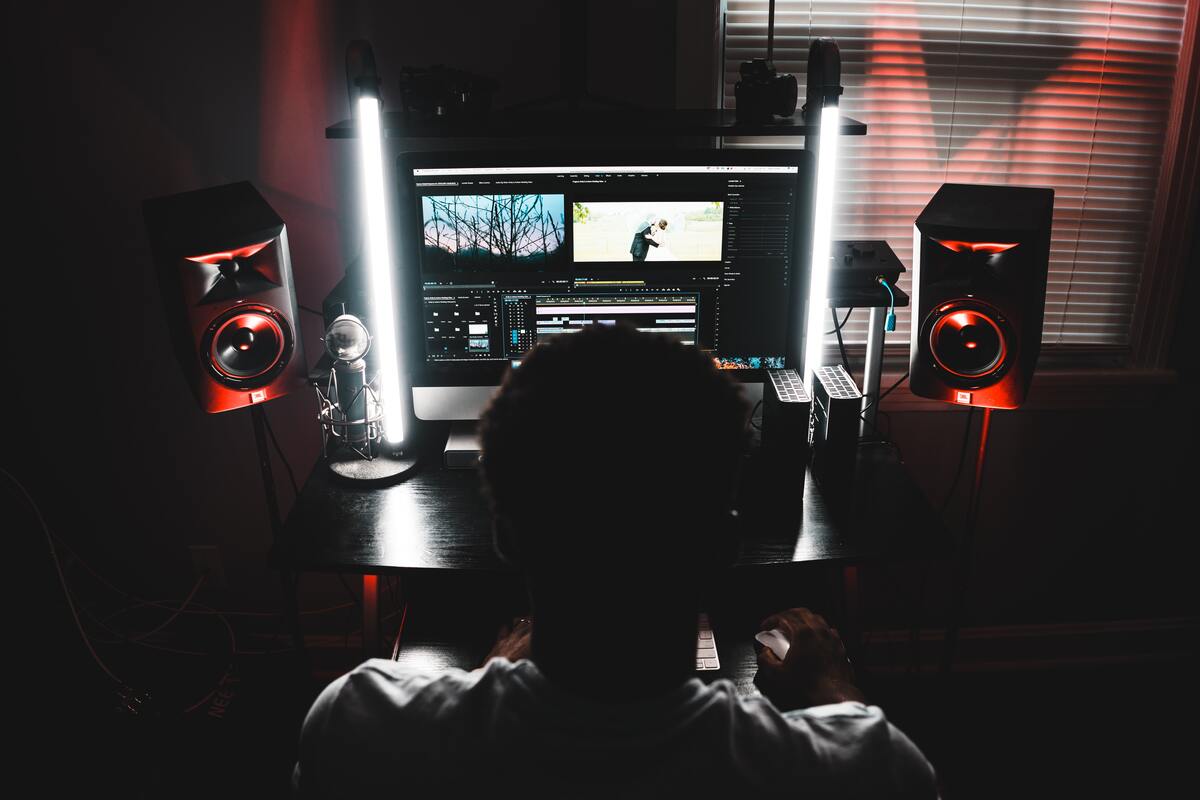 2. Filmora Video editor
This software is highly suited to a beginner or semi-professional. Anyone can learn how to use this software, and the results are vibrant and fantastic.
Here is a quick guide on how to edit your music videos using Filmora:
Click on Import and then Import Media Files to select and import your clips.
Drag the video to the timeline at the bottom of your screen. From there you can:
Split the video into multiple parts. Move the play head to where you want to make the split and right-click, then select split.
Detach the audio from the video. Right-click and select either mute or audio detach.
Add background music to your video. Filmora has an extensive library of sounds you can import, or you can import your own audio file.
Adjust the audio speed, volume, and other settings.
3. Now you can save and export your work. Click the export button and choose the appropriate format. Rename and change the saving location, and click export to begin the conversion.
3. Pinnacle Studio
Pinnacle Studio offers an extensive array of organizing, editing, and exporting options.
The workflow is simple to learn, so anyone can pick it up quickly.
It combines storyboard and timeline workflow for enhanced usability.
You can sort, import, and manage your own clips to make unique videos.
Some tools, such as video stabilization and 4k support are behind a paid upgrade.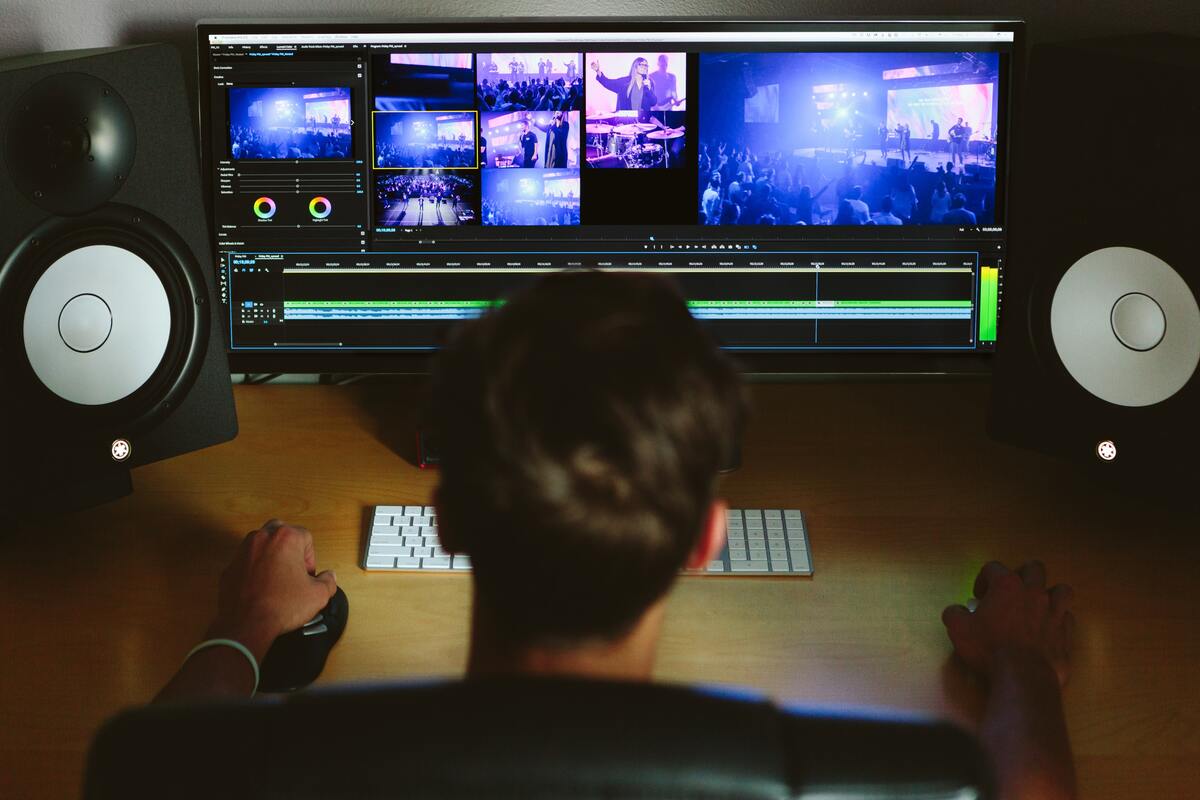 Up next: Become a better video editor
Editing a music video is often a bit more complicated process. Continue reading.
We've created a comprehensive guide on how to edit your videos.
How to edit a music video?
Editing a music video will depend on the software you choose to use. Generally, import the clips you have shot, merge them with your audio, and then fiddle around with effects and settings until you're happy. This can be quite a long process.
How long does it take to edit a music video?
This depends on your video. How long is your song? How complicated are you wanting to make it? All of these factor into your time scale. It may take many days of work to get your video perfect and ready for export.
Where can I edit a music video?
There is various software you can use to edit music videos- each suited to different skill sets. Filmora is great for beginners or semi-professionals. But if you're more well-versed in the field, try Adobe Premiere Pro.
How do I edit a music video on my phone?
There is actually plenty of free software for music video editing that you can find on your phone. Check out this Youtube video for an in-depth tutorial.
Popular listings for rentals