If you don't feel like using an expensive budgeting tool or budgeting software, it still doesn't make sense to be creating your own film budget from scratch. To save you time when filmmaking, we created one for you!
What you'll find in the template:
Auto-calculated expense formulas and grand total
Preliminary budget sheet
Prep expense sheet (ATL)
Production sheet (BTL)
Post-production expense sheet
Rental budget sheet
Other expenses sheet
Don't forget the budget will differ for each specific project and for all genres as for some feature films you might need more money for costumes and make-up and for other films as documentaries, more money for travel and logistics.
In this case, more is more. Always, remember to plan for enough budget for overtimes or "things-go-wrong" situations. This fully customisable template should have you covered in all situations. In the preliminary section you'll find a quick and short budget if you're in a hurry. In the latter sheets you'll find very detailed budgets of each part of the filming: prep, production and post-production.
ATL (Above-the-line)
This category includes the prep stage, and accounts for talent, and crew generally involved in development phase as writers, producers, director, art director, casting crew, choreographer, technicians and more...
BTL (Below-the-line)
BTL includes production and post-production budget expenses. Most of the things are covered in BTL.
In the production part, you'll find all labor and staff budget, locations, permits, vehicles, travel, equipment, props, set prep, construction and design or wardrobe and hair and make-up.
In the post-production, you'll need to count with budget for the film edit, sound edit, special or visual effects.
Rental Budget
Make sure you set aside some money that you can use to rent camera equipment and accessories, or anything else you might need on set. E.g. vehicles, props, studios or even generators.
Other expenses
This category includes all costs related to promotion, insurance, distribution, legal fees or overtimes.
If that's exactly what you're looking for, you can download your free template below.
If you're wondering what a film budget is and what should it include, head over to our blog and read more about what a film budget is. If you're looking for more templates, head over to our free templates section and take whatever you or your team needs for your next production.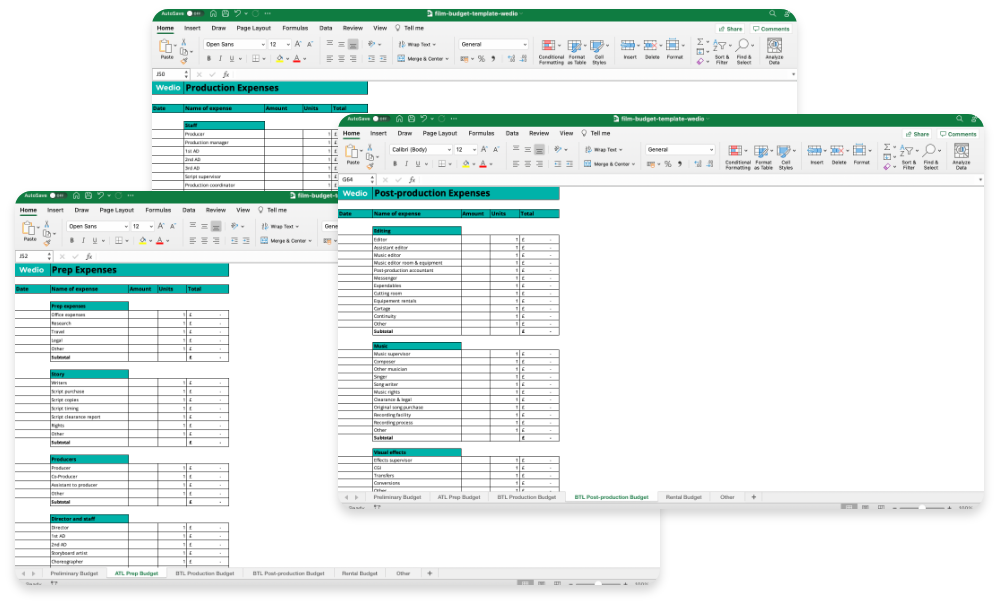 Let us know, which other templates you need and we'll create it for you!
...keep great stories alive!
Popular listings for rentals